Turlitava is a traditional one-pot dish from Northern Macedonia in the Balkan peninsula. It is a hearty, healthy, filling dish made with fresh vegetables and meat layered together and baked in the oven in a single clay pot.
Turlitava is derived from the Turkish words for 'mixed' (Turli) and 'pottery dish' (Tava). It is traditionally made with potato, eggplant, okra, green bean, pepper, courgette, tomato, onion, carrot, and garlic. Two types of meat are added to the same baking vessel, usually beef, lamb, or pork.
Turlitava is a colorful and nutritious meal that is easy to prepare. Like other authentic Macedonian recipes, it is baked in an earthenware pot. This is not essential as it can be cooked in any casserole dish or iron pot and any mixture of vegetables.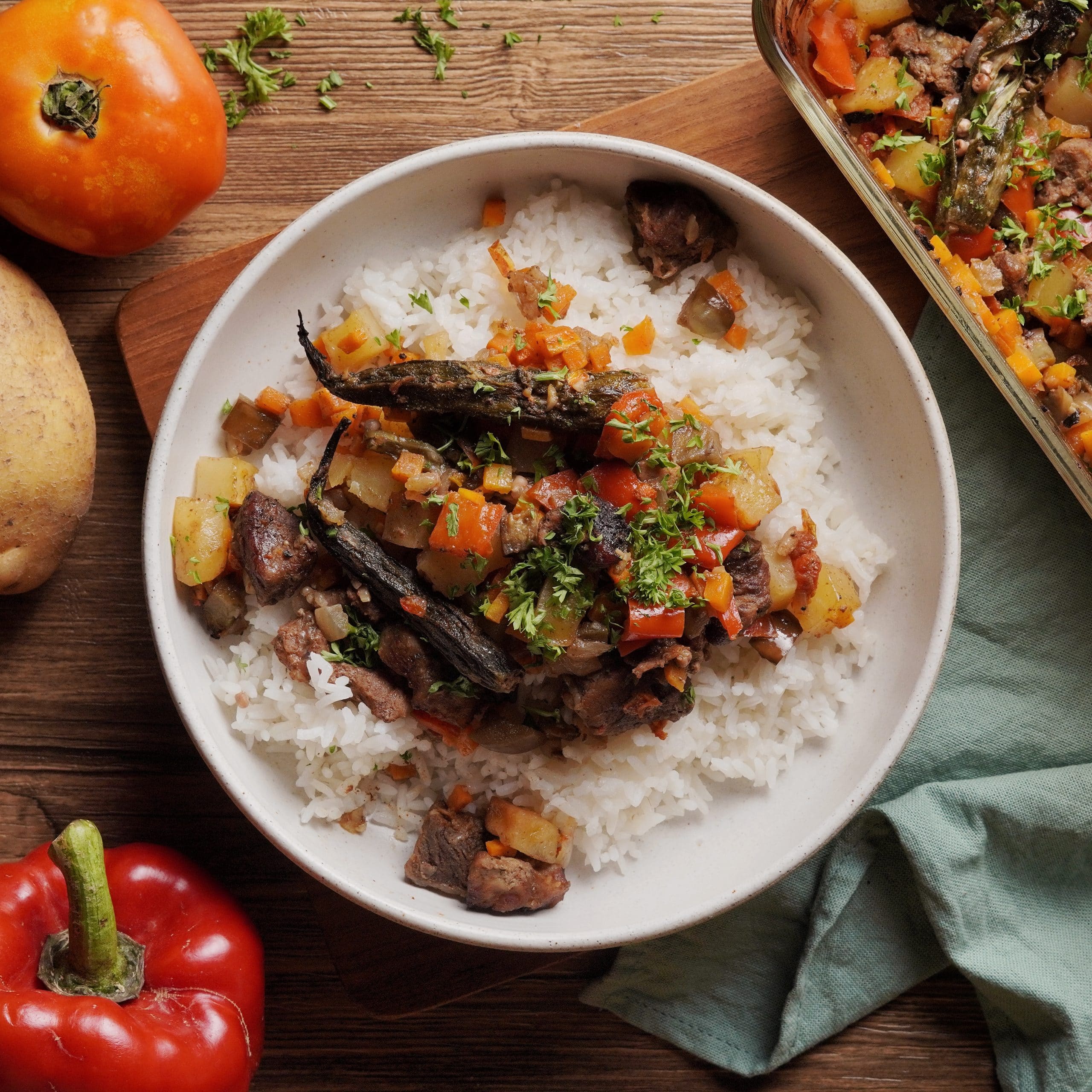 Equipment
Pottery dish or casserole dish that is at least 4 inches deep

Solid wooden spoon for stirring
Ingredients
1

lb

mix of meat

beef, lamb, or pork cut into chunks

2

tsp

sea salt ground

½

tsp

black pepper freshly ground

1

medium onion

peeled and chopped roughly

3

cloves

garlic

minced

2

medium potatoes

chopped roughly (peeled or unpeeled)

2

medium carrots

chopped roughly

1

medium eggplant

chopped roughly

2

red or green peppers

seeds removed and chopped

1

large tomato

roughly chopped

1½

cup

okra ends chopped off

1

Tbsp

paprika

¼

cup

olive oil

½

cup

water

1

bunch parsley

roughly chopped (for garnish)
Instructions
All ingredients ready? Let's begin!

Preheat the oven to 400ºF.

Top and tail the okra and blanch for 1 minute in salted water, rinse, drain, and set aside.

Season the meat chunks to taste with salt and pepper. Place inside the baking dish.

Mix in all the chopped vegetables and the okra.

Season with salt, pepper, and paprika.

Add olive oil and water and mix well.

Put in the oven and cook uncovered for an hour and 30 minutes.

Stir two or three times while baking.

Remove from the oven. Let the dish stand for 15 minutes.

Garnish with freshly chopped parsley.
Video
Nutrition
Calories:
423
kcal
|
Carbohydrates:
40
g
|
Protein:
30
g
|
Fat:
17
g
|
Saturated Fat:
3
g
|
Polyunsaturated Fat:
2
g
|
Monounsaturated Fat:
11
g
|
Trans Fat:
1
g
|
Cholesterol:
73
mg
|
Sodium:
1335
mg
|
Potassium:
1632
mg
|
Fiber:
10
g
|
Sugar:
12
g
|
Vitamin A:
7764
IU
|
Vitamin C:
124
mg
|
Calcium:
92
mg
|
Iron:
2
mg
Sides or Compliments
The traditional Macedonian way is to serve a Shopska salad before the meal. Crusty bread is eaten with most meals. The authentic drink of choice is homemade Rakija. This is an alcoholic fruit brandy often made with plums. Below are some further serving suggestions.
Shopska salad is made with fresh tomatoes, cucumbers, and cheese in white, green, and red colors reminiscent of the Bulgarian flag. This much-loved salad is served all over Bulgaria and South-eastern Europe.
Turlitava can be served on a bed of rice or couscous.
Plain or double cream yogurt can be served on the side.
Ajvar pepper spread is often served as a condiment or enjoyed on bread.
It is made with roasted red peppers, eggplant, and paprika fried with salt and olive oil for several hours. It is delicious and creamy.
Fresh coriander leaves can be used for garnish instead of parsley.
Skopsko beer is another popular beverage drunk with Turlitava.
Fruit on skewers can be served as a refreshing dessert. Choose a colorful combination of strawberry, apple, melon, peach, or apricot chunks, with a sweet date in the middle.
Notes & Tips
Turlitava ingredients can be combined in different ways. One way is to chop all the raw ingredients and mix them directly into the baking dish. The meat and vegetables can also be fried for a few minutes in a bit of olive oil before baking. Some recipes use a layering approach with cabbage leaves at the bottom and top.
Turlitava is baked without a lid. Do not cover with foil as this introduces steam and water into the pot and will dilute the flavors. The dish is ready when a rich red-and-golden crust has formed on top. This will not happen if the container is covered while baking. 
When using an unglazed or partially glazed pot, it is essential to wash it well and pre-soak it in clean water for at least 30 minutes. Place the pot with the Turlitava into a cold oven and then turn the heat on. Sudden temperature changes can cause clay pots to crack.
The vegetables for this recipe are chopped in big rough chunks. This prevents the end result from being just a mush of indistinct flavors. Keeping the peels of potato, brinjal, carrot, and other vegetables on adds to the dish's nutrition and colorful appearance. Different types of vegetables can be used for this dish.
Traditionally a mix of meat chunks is used for Turlitava. This can be beef, veal, lamb, pork, or even chicken. This recipe is just as delicious, with only one type of meat added. For a vegetarian dish, use just vegetables and bake for one hour only.
Substitutions
Okra is a green vegetable that is popular in various world cuisines. It has a unique flavor and has the side benefit of thickening stews. This recipe uses fresh okra, but you can also add tinned, frozen, or powdered okra.
Thickener Replacements
When replacing okra with other vegetables, add one of the following thickeners.
1 Tbsp gumbo file powder can be used instead of 2 cups okra.
Blend 2 tsp corn starch with 2 tbsp cold water.
Mix 2 tsp arrowroot with 2 tsp cold water.
Make a roux with 1 Tbsp flour mixed with 1 Tbsp butter and 1 minced clove of garlic. Stir into the stew while it is cooking.
Vegetable Replacements
Remember to add a thickening agent when replacing okra with one of the following options.
Use asparagus spears cut into chunks.
Use broccoli cut into florets.
Use green beans roughly chopped.
---
Recent Recipes