Easy & Fluffy Homemade Poffertjes
Poffertjes or mini-Dutch pancakes are a popular street snack in the Netherlands. As the name suggests, they are small, bite-sized pancakes made in a special dimpled pan, the Poffertjes pan and served with your favorite toppings from good old butter to decadent Nutella.
The Easy and Fluffy Homemade Poffertjes uses simple ingredients you probably already have in your pantry. Make sure you add warm milk to make the batter as this is what brings the yeast to life. The traditional Poffertjes is made with buckwheat flour but I have used all-purpose flour, you can use any flour you prefer, you can even make a gluten-free option with almond flour.
The whole process of making the batter and even the pancake is pretty straightforward. You just have to let the batter rest for about an hour. So, these are not the pancakes you whip up for a quick breakfast, but the plus side is that these can be made ahead. It lasts for about a week in the fridge, so make and save the batter in your fridge and you can dish out a breakfast feast whenever you want.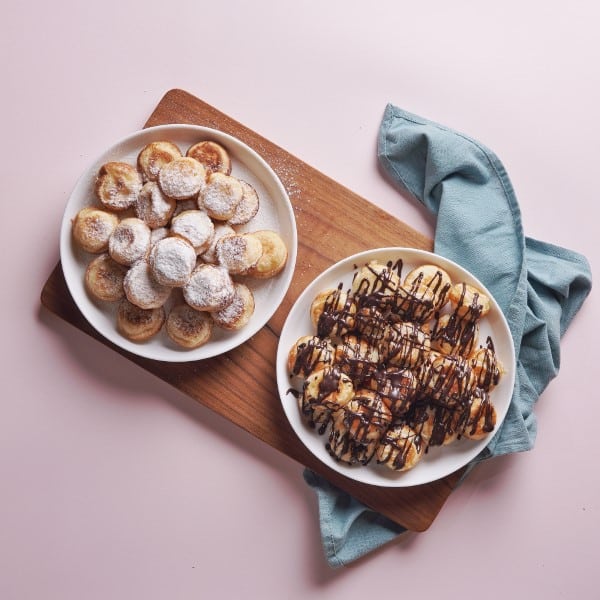 Equipment
1 Poffertjes pan or regular pan

1 skewer or chopsticks if using Poffertjes pan or a wooden spatula if using a regular pan
Ingredients
2

cups

of all-purpose flour

1 ½

cups

of milk

1 ½

teaspoons

of instant yeast

¼

cup

of sugar

1

egg

Powdered sugar to sprinkle on top

Unsalted butter
Instructions
All ingredients ready? Let's begin!

In a large mixing bowl add the all-purpose flour, sugar and yeast and combine.

Add one egg and mix together.

Add warm milk, the warm milk activates the yeast better. Mix everything together with a whisk or electric mixer.

Cover with a plastic wrap and set aside for 1 hour. This will let the batter rise.

In an hour the batter should have doubled in size. If it hasn't, cover the batter again and let it rest some more. Keep it in a warm place.

Heat the Poffertjes pan and spray with oil or dab each cup with butter.

Spoon a little of the batter into each cavity. Let it cook for a minute or two.

Once the top starts bubbling or forming little holes, flip it over with the skewer or chopsticks gently.

Let it cook on other side for about 1-2 minutes. Repeat for all the Poffertjes.

Remove from the pan, add a small slab of butter on top and sprinkle with powdered sugar.
Video
Nutrition
Calories:
369
kcal
|
Carbohydrates:
68
g
|
Protein:
13
g
|
Fat:
5
g
|
Saturated Fat:
2
g
|
Polyunsaturated Fat:
1
g
|
Monounsaturated Fat:
1
g
|
Trans Fat:
0.01
g
|
Cholesterol:
52
mg
|
Sodium:
54
mg
|
Potassium:
263
mg
|
Fiber:
3
g
|
Sugar:
19
g
|
Vitamin A:
208
IU
|
Vitamin C:
0.01
mg
|
Calcium:
130
mg
|
Iron:
3
mg
Tips & Tricks
You have to use warm milk to activate the yeast. Cold or room temperature milk will work but you will have to let the batter rest for about 2 hours.
Do not use hot milk as that will kill the yeast
Cook the Poffertjes for only a minute or two on each side. You want it slightly browned, because each Poffertjes is so small they can burn quickly
If you don't have a skewer or chopsticks, you can use a spoon or fork to flip the Poffertjes over.
You can use a small spoon to fill up each Poffertjes cup or a cookie scooper. You can also use a plastic bottle and squeeze the batter out or use an icing cone if your batter is not too thick.
Fresh cut fruits and Nutella can also be added to your plate of Poffertjes
Storage
You can make the batter ahead and store it in an airtight container in the fridge for 5-7 days. You can also freeze the batter for two months.
If you have leftover Poffertjes store them in an airtight container for 2-3 days. They will start drying out after. You can heat them up in the microwave. Add some butter to it. But I must say there is no replacement for fresh, warm Poffertjes.
FAQs
Can I make the Poffertjes in a regular pan?
Certainly. We use the Poffertjes pan to get the right shape, it doesn't contribute to the taste in any way. Although they do result in fun, fluffy and bite-sized pancakes. 

To make them in a regular pan, brush the pan with butter and heat it. Spoon small portions of the batter onto pan. Don't overcrowd, allow space between each mini pancake, so they don't fuse together as they cook. Once the batter starts bubbling, flip them using a wooden spatula and cook the other side for another minute or two. Take off heat, add a dollop of butter, sprinkle with powdered sugar and enjoy. 
Is Poffertjes different from Ebelskivers?
Poffertjes are Dutch Mini Pancakes made with yeast and Ebelskivers are Danish pancakes made with baking powder. While Poffertjes are topped with sugar, fruit or butter, Ebelskivers are stuffed with fruit or jam.
Substitutions
So, the Easy and Fluffy Homemade Poffertjes has only a few ingredients, and they are pretty basic at that, so there isn't too much to switch around.
All-purpose flour: Traditionally Poffertjes are made with buckwheat flour, you can use that or use ½ buckwheat flour and ½ all-purpose flour. You can also replace with almond flour if you want a gluten-free option.
Eggs: If you want a vegan version, swap the egg for a smushed banana or vegetable oil
Instant Yeast: You need yeast to make the batter rise. This is what makes the mini pancakes airy and fluffy. You can use baking powder but then you'll be making Ebelskivers.
Toppings: If you don't want a simple butter and sugar topping, you can try fruits like strawberries and blueberries. You can also try it with Nutella. If you are looking for a richer breakfast or making it into a dessert, top it with ice cream or whipped cream.
Accompaniments
The Easy and Fluffy Homemade Poffertjes can be a breakfast meal, snack or even dessert. You can have it as is with a generous helping of butter with your favorite beverage like coffee, tea or hot chocolate or you can have it with a side of fruit. You can also try it with good old fashioned maple syrup or jazz it up with some Nutella, jam or fruit preserve. You can also have with whipped cream or ice cream.
If you're into fun pancake like the Poffertjes, you'll enjoy the Fluffiest Potato Milk Pancakes. Or if you want more decadent desserts, be sure to check out this uber creative Chocolate and Popcorn Bar Slab.
---
Recent Recipes