I am fairly certain that almost every culture has chicken in its cuisine. I probably prepare and serve chicken 4 times a week, if not more. Chicken is affordable, high in protein, and just tastes good. In fall, I air fry whole Cornish game hens until the skin is crispy. In winter, I oven roast chicken thighs and drums with root vegetables. In spring, I brine skinless, boneless chicken breasts and bake them with fresh green veggies.
Summer is when I clean and prep my grill. I mostly use charcoal. I love grilling chicken in summer and eating outside. Chicken parts are great grilled, but my favorite is a spatchcocked chicken that has been marinated in an awesome sauce. A spatchcocked bird is one that has had the backbone removed. The chicken is then pressed until flat and grilled whole. The skin is crispy and the flesh is super moist because the bones are intact.
When grilling chicken, you really do need plenty of seasoning. This could be a dry rub or a liquid marinade. My preference is a marinade that is more wet than dry and infused with aromatics, herbs, spices, and acid. I always use olive oil as the base.
Calabrian chicken fits right into this description. The chicken is marinated in a spicy Calabrian chili paste with the addition of garlic (aromatic), rosemary (herb), balsamic vinegar (acid), and extra virgin olive oil.
Calabrian chili peppers are ruby red and delicate in appearance. Don't let their beauty fool you. These lovely little peppers are plenty spicy, not so hot that you will be crying, but hotter than a jalapeno. They are also a little fruity. I think Italian Calabrian chilis are perfect for adding to marinades for poultry and fish. They are also excellent in sauces for vegetable dishes and pasta.
This grilled Calabrian chicken recipe is super easy to make. You can marinate the chicken for a few hours or overnight in a chili-based sauce. It only takes about 25 minutes to cook. This gives you time to prepare simple, yet elegant, side dishes while the chicken is cooking.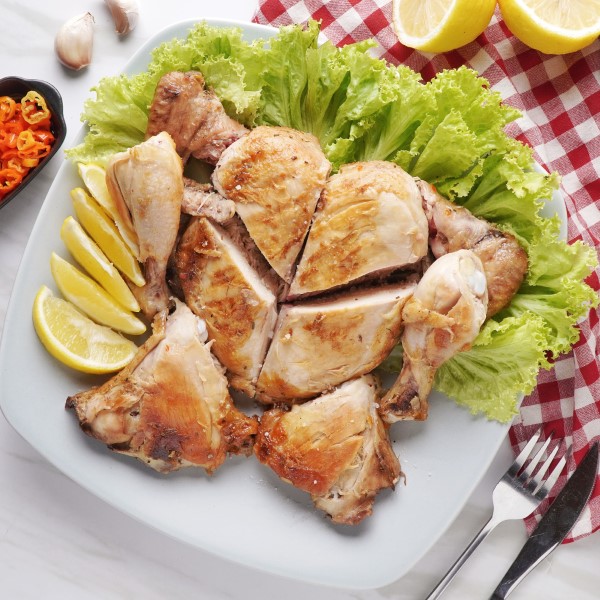 Ingredients
½

cup

jarred Calabrian chili peppers packed in oil

drained

2

garlic cloves

peeled

2

Tbsp

extra virgin olive oil

¼

cup

balsamic vinegar

1

tsp

dried rosemary

½

cup

extra-virgin olive oil

1

whole chicken

about 4 to 5 pounds

1 ½

tsp

coarse sea salt

divided

Lemon wedges for serving
Instructions
All ingredients ready? Let's begin!

In a food processor or mini-chopper combine the peppers, garlic, and 2 tablespoons of olive oil. Pulse until you achieve a paste. Set aside or store in the refrigerator until ready to use. This is your chili paste.

Rinse the chicken under cold water and pat dry with paper towels. On a clean cutting board, remove the backbone of the chicken with kitchen shears. Save this beautiful portion to make a flavorful bone broth – you can freeze it to use later. Turn the chicken over, lay it flat, and press the breast bone down with the heels of your hands. You will hear a cracking sound. This video shows how to spatchcock a chicken.

In a small mixing bowl, whisk together 2 tablespoons of the chili paste (reserve the rest for another dish), the vinegar, rosemary, and olive oil.

Place the chicken on a sheet pan and rub the marinade all over it, both sides. Cover with plastic wrap and refrigerate for at least 2 hours and even overnight.

Remove the chicken from the refrigerator 40 minutes prior to grilling so it can come to room temperature.

Build a charcoal fire in your grill or heat up your gas grill to 400°F or bring your cast iron pan/griddle to temperature. Clean the hot grill grates with an oiled paper towel wad placed in tongs.

Remove any excess marinade from the chicken with a paper towel so you don't get flare-ups. Season the chicken with half of the salt. Tuck the wing tips under the drumettes. Place the chicken on the grill skin side up. This is optional: Place 2 bricks wrapped in foil on top of the chicken or place a cast-iron skillet with a brick inside on the skillet. The weight helps the chicken to cook evenly. Grill for 12 to 15 minutes until nicely browned.

Turn the chicken over and place the weights back on top of the chicken, if using. Continue to cook until the skin is crisp and the internal temperature reads 165°F when checked with a digital meat thermometer, approximately 10 to 13 minutes.

Remove the weights and flip the chicken over. Cook for a minute or two to make sure any potentially raw juices from the weights burn off.

Place the bird on a clean cutting board and loosely tent with foil. Rest the chicken for 10 minutes before carving. Place your accompanying side dishes in serving bowls or platters while the chicken rests.

Carve the chicken into portions: thighs, drums, wings, and sliced breast meat. Place on a serving platter and season with the remaining salt. Serve with lemon wedges placed around the platter.
Video
Nutrition
Calories:
269
kcal
|
Carbohydrates:
4
g
|
Protein:
5
g
|
Fat:
26
g
|
Saturated Fat:
4
g
|
Polyunsaturated Fat:
3
g
|
Monounsaturated Fat:
18
g
|
Trans Fat:
1
g
|
Cholesterol:
17
mg
|
Sodium:
603
mg
|
Potassium:
116
mg
|
Fiber:
1
g
|
Sugar:
3
g
|
Vitamin A:
848
IU
|
Vitamin C:
2
mg
|
Calcium:
9
mg
|
Iron:
1
mg
Notes & Tips
This recipe will yield more chili paste than you need for grilling the chicken. Store the unused chili sauce in an airtight container in the fridge for 2 to 4 weeks for use in other dishes or for grilling more chicken.
The chicken really should be at room temperature before grilling. It is also important to rest the chicken before carving it into portions so that the juices are absorbed back into the meat. This ensures that the chicken isn't dry.
If spatchcocking a chicken seems intimidating, by all means, use chicken pieces. Just make sure the bones and skin are intact to maximize flavor and moisture. By the way, you can roast the chicken in your oven if you don't have access to a grill or it is a snowy winter day when you are craving Calabrian chicken.
Time Saving Steps
You can skip making your own chili paste by purchasing a jarred paste. I like to make my own because some jarred pastes don't have the quality of oil that I have in my pantry. If using prepared Calabrian chili paste, look for one with extra virgin olive oil.
As previously mentioned, you can use chicken parts for this dish. Or, you can ask your butcher to spatchcock the bird for you.
What to Serve with Calabrian Chicken
My favorite way to enjoy grilled chicken is when I serve it family-style at my patio table with both red and white dry/fruity wines right out of the bottle. I don't mind if everyone eats with their hands.
In keeping with the Italian theme, I like to serve this spicy grilled chicken with eggplant caponata alongside toasted baguette slices that have been rubbed with garlic.
I also like serving grilled corn on the cob with this dish, as long as you already have the grill fired up. Or, make some finger-friendly corn and pea fritters that you can dip into a little of the extra chili paste that you made.
Of course, a simple salad of spring greens is always welcome at the patio table.
---
Recent Recipes