Homemade Guyanese Sponge Cake
Guyanese sponge cake is not too different from other cakes you might be familiar with, though it might be more similar to a pound cake than a sponge cake. If I'm being totally honest, I would put it somewhere between the two, landing it firmly in the position of…cake. Just good ole cake. Either way, it's delicious! Popular at birthdays and during the Christmas season, this cake is usually a pleasant butter-yellow color but can be infused with different shades of the rainbow if you so choose. The cake doesn't traditionally have frosting or icing, but if you're the kind of person who likes a sugary glaze, you can always whip up something to add.
If you've never tried Guyanese cuisine before, you're missing out. Like most countries, Guyana has its own special mix of flavors and recipes, though it is still pretty accessible to those unfamiliar with it. Guyana is located in South America and shares its borders with several countries, including Brazil, Venezuela, and Suriname. Guyana also shares a large portion of its border with the North Atlantic Ocean.
If you want to explore other Guyanese recipes, try starting with Easy Guyanese bread. This special bread is braided in a unique shape and excellent as a side to almost any dinner. Maybe have it with your meal before serving up this sweet, special cake!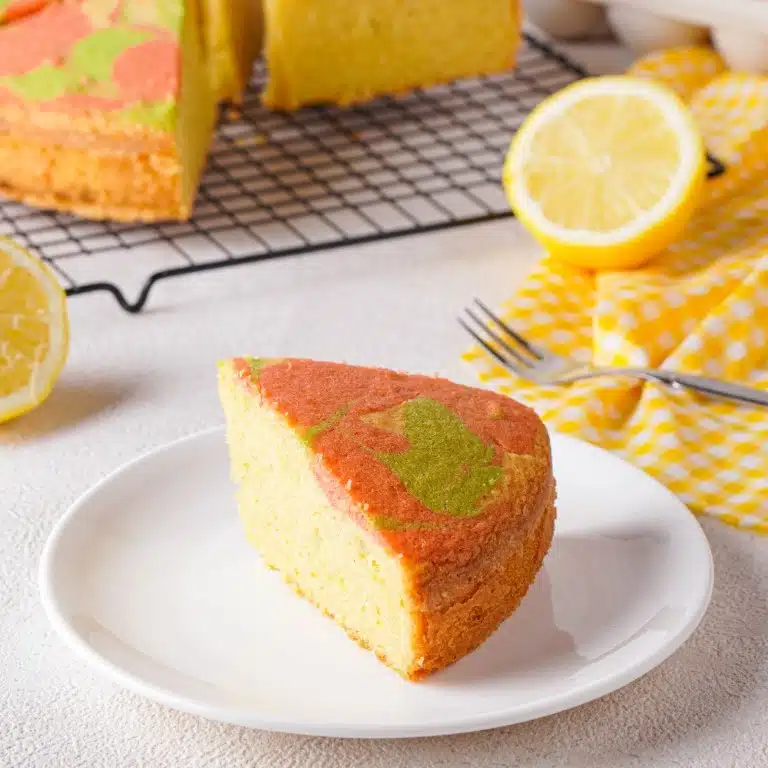 Ingredients
2

cups

softened butter

2

cups

sugar

10

eggs

2

tsp

vanilla extract

1 ½

tsp

rum

1

orange

1

lemon

3 ½

cups

flour

2

tsp

baking powder

½

tsp

salt

Optional: food dye
Instructions
All ingredients ready? Let's begin!

Preheat your oven to 350F. Grease two round 8 inch cake pans with butter and a little bit of flour, making sure to cover the sides as well.

In the bowl of a standing mixer (or, if you don't have one, in a regular mixing bowl) add the butter and sugar. Beat with the paddle attachment until light and fluffy.

Slowly mix in the eggs one at a time, beating well after each to incorporate.

Add the vanilla and mix until incorporated. Do the same with the rum.

Zest the outside of the orange and lemon then add both to the sugar-butter mixture and mix until combined.

In a new, clean bowl, add the flour, baking powder, and salt. Whisk to combine.

Slowly add the flour mixture bit by bit to the sugar-butter mixture. Make sure to carefully mix between additions.

If you want to use food coloring for your cake, now is the time to do so.

Separate the batter into a few different bowls and add a couple drops of different food colors to each. Mix each color into the batter until it reaches the desired shade (add a few more drops of food coloring if needed).

If not using food coloring, divide the batter and pour half into each pan. Use a spatula to scrape all the batter out of the bowl.

If using food coloring, alternate swirling the different colors into each pan, using roughly half for each. If you want, use a skewer or chopstick to further swirl the colors in the pan.

Put the cake in the oven for 45 minutes. Check after that with a skewer or fork. If the skewer comes out with batter stuck to it, it needs more time. It may need to cook for a little over an hour.

Once you can insert and remove a skewer without having batter stuck to it, remove the cakes from the oven.

Allow the cakes to cool for at least half an hour before turning them out to continue cooling on a rack. If the cakes stick to the pan, run a knife around the edges and try again.

Let cool before serving.
Nutrition
Calories:
495
kcal
|
Carbohydrates:
56
g
|
Protein:
7
g
|
Fat:
28
g
|
Saturated Fat:
17
g
|
Polyunsaturated Fat:
2
g
|
Monounsaturated Fat:
7
g
|
Trans Fat:
1
g
|
Cholesterol:
174
mg
|
Sodium:
372
mg
|
Potassium:
108
mg
|
Fiber:
1
g
|
Sugar:
33
g
|
Vitamin A:
936
IU
|
Vitamin C:
8
mg
|
Calcium:
65
mg
|
Iron:
2
mg
Notes & Tips
To store leftovers, cover them in an airtight container and leave out at room temperature. It will last for up to five days. You could also store in an airtight container in the fridge for about a week.
If you're making the cake in two circle cake tins, consider freezing one of them for later. Wait until it is fully cooled then wrap it in plastic wrap or tin foil before putting it in the freezer. It should last for several months. To defrost it, you can take it out of the freezer a day before serving and let it thaw at room temperature. You can also put it in the microwave for a little while, but it probably won't warm up evenly that way. 
Substitutions
If you're alcohol-free or don't like the taste, you can omit the rum entirely without fear of ruining the cake.
If you want a differently shaped cake, you can also use a bundt pan or a larger rectangular pan. Make sure to still grease them though.
Color Ideas
While you don't have to add color to your Guyanese sponge cake, it is fun to do so. Traditionally, when color is added, it's a few different colors that go into nice swirls in the pan. If you're stuck on what colors to use, here are a few suggestions to help you get started. I also suggest leaving some of the batter plain and uncolored to offer a lighter background–it really helps the colors pop that way. Plus, it's easier to avoid the different shades bleeding into each other and resulting in a muddy brown.
If you're making the cake for Christmas, why not use green and red colors along with an uncolored base to get a festive pattern? If you're using the cake as a birthday cake, ask the recipient what their favorite colors are and use those together.
Colors that go well together include:
Blue and purple
Pink and purple
Red and orange (especially during Autumn)
Yellow and green (especially in springtime)
Purple and orange (perfect for Halloween! Or check out our Delectable Halloween Bundt Cake) 
Regardless of the colors you choose (or if you choose not to use any), this cake is sure to be delicious!
---
Recent Recipes