Homemade Prosciutto & Cheese Pomme Paillasson
Pomme Paillasson is a French dish of shredded and fried potatoes. The potatoes are grated and pressed into a skillet with warm butter and oil. This forms a cake that cooks until golden brown and crispy on the outside and soft on the inside.
Pomme is the French word for potato and paillasson literally means doormat. This potato cake resembles pressed straw, which looks like a doormat. Don't let that description discourage you. Despite the straw-like appearance, this cake is delicious and super easy to make.
For our pomme paillasson recipe, we've added cured meat and cheese to the center to take the cake up a notch and make it more of an entrée than a side dish. We are using sliced prosciutto and shredded gruyere cheese. Gruyere is a type of Swiss cheese that is sharp and melts nicely. It perfectly complements the potatoes.
If I am serving pomme paillasson without a filling, it will be a side dish at dinner time with roasted pork or chicken and a green salad. Or, I will make individual straw potato cakes to serve as a snack topped with smoked salmon, sour cream, or applesauce, similar to latkes. When the cake is stuffed, it is a great brunch dish.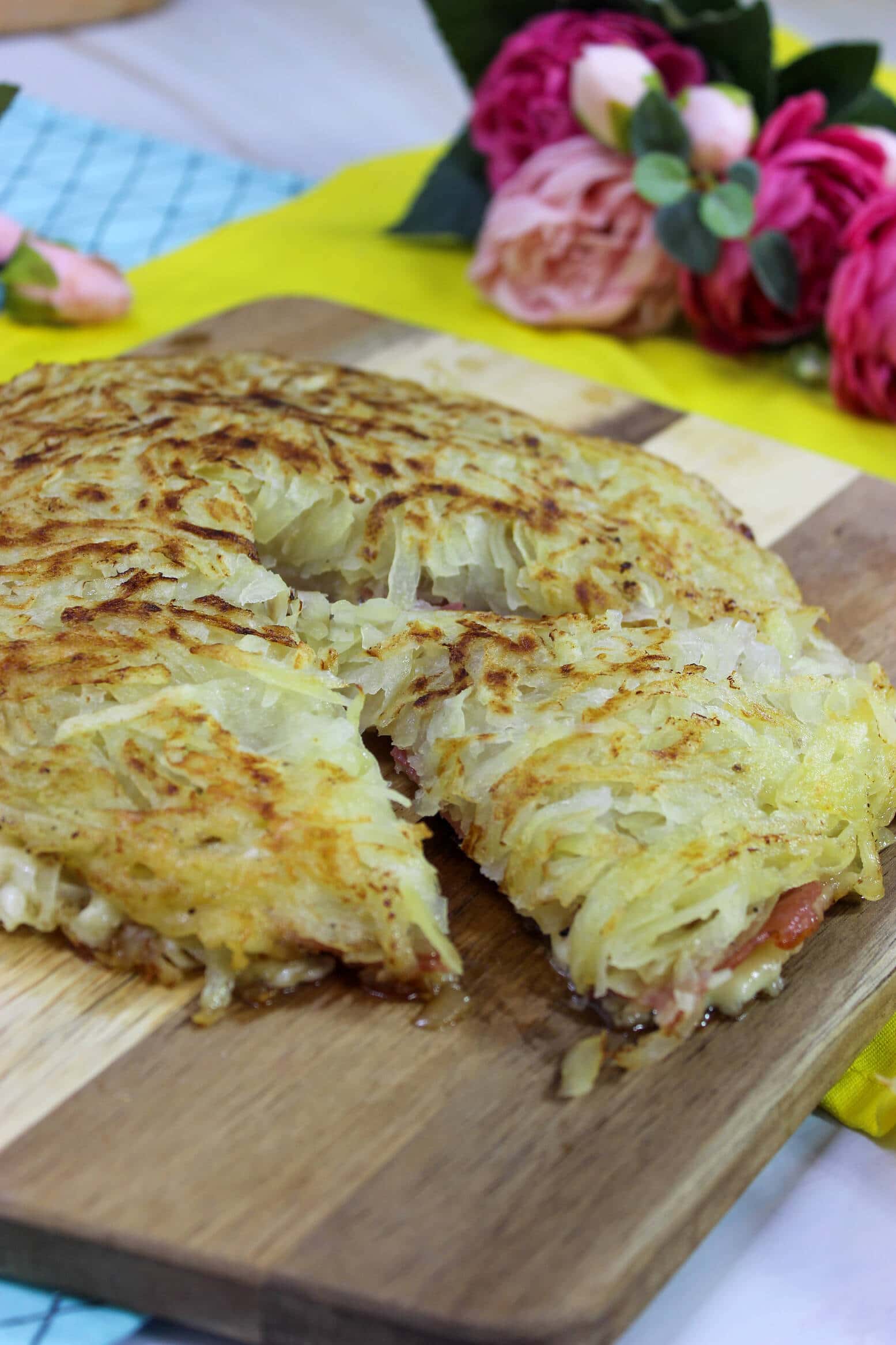 Ingredients
2

large russet potatoes

peeled and grated

6

slices

prosciutto

4

ounces

gruyere cheese

grated

2

Tbsp

unsalted butter

divided

2

Tbsp

olive oil

divided

1/2

tsp

sea salt

1/2

tsp

freshly ground pepper
Instructions
Place the grated potatoes between some paper towels or a clean kitchen towel. Press down to release some of the moisture.

In a 10-inch heavy non-stick skillet over medium heat, warm 1 tablespoon of butter and 1 tablespoon of oil.

As soon as the butter has melted, press 1/2 of the potatoes into a single layer in the pan. Season with 1/2 of the salt and pepper.

Add 3 slices of the prosciutto to the potatoes. Sprinkle the grated cheese all over the prosciutto. Add the last 3 slices of prosciutto. Then, cover the filling completely with the remaining potatoes. Season again with salt and pepper and press down with a spatula.

Cook the potatoes, moving the pan around a couple of times, until the bottom is golden brown and crisp, approximately 9 minutes.

Loosen the potato cake gently with a spatula. Slide it onto a large plate. Place another plate on top of the potato cake and invert (turn upside down). Add the remaining butter and oil to the pan. As soon as the butter melts, slide the potato cake back into the pan, browned side up. Continue to cook until the underside is again golden brown and crispy and the cheese has melted, approximately 8 minutes longer.

Loosen the potato cake with a spatula and slide it onto a clean cutting board. Cut into 4 wedges and serve while hot.
Video
Nutrition
Calories:
425
kcal
|
Carbohydrates:
34
g
|
Protein:
14
g
|
Fat:
27
g
|
Saturated Fat:
12
g
|
Polyunsaturated Fat:
2
g
|
Monounsaturated Fat:
12
g
|
Trans Fat:
1
g
|
Cholesterol:
54
mg
|
Sodium:
476
mg
|
Potassium:
818
mg
|
Fiber:
2
g
|
Sugar:
1
g
|
Vitamin A:
450
IU
|
Vitamin C:
11
mg
|
Calcium:
313
mg
|
Iron:
2
mg
Notes and Tips
Potatoes have a lot of moisture. When frying potatoes, you need to remove some of the moisture so that the potatoes crisp up and get a nice golden brown or straw color. After shredding the potatoes, pat them dry with a clean kitchen towel or paper towels. You have to do this rather quickly and right before they go into the hot pan because potatoes will discolor if allowed to sit exposed to oxygen for any length of time.
To be gluten-free compliant, make sure you read the label of the cured meat you are using. Some packaged meats do contain gluten.
The cooking fat in the dish needs to be hot, but not smoking hot. The goal is to achieve a crispy exterior while ensuring the interior of the cake is fully cooked through.
You do need to be careful when flipping this cake over. That is why I recommend having 2 plates standing by to assist you. I have a friend who places a plate right on top of the skillet and flips it over to release the potatoes onto the plate. I find this a little awkward when working with a hot skillet. If you are confident, you can try this method.
Substitutions and Shortcuts
While I recommend Yukon Gold potatoes, russet and red potatoes will also work for this recipe. If you avoid nightshade vegetables, go for sweet potatoes. My choice would be Japanese white sweet potatoes because they are starchier than orange sweet potatoes. If you want to save a step, go ahead and pick up some pre-shredded potatoes. These are generally in the frozen foods aisle and may be labeled as hashbrowns.
The prosciutto in the recipe is my personal choice. Feel free to use any cured meat you prefer, such as sliced ham, salami, sliced turkey breast, capocollo, corned beef, or cooked bacon.
The cheese is also up for grabs. Gruyere is an intensely flavored Swiss cheese that melts well. Emmental would be a fine substitute. Jarlsberg could also be used in this dish. It is a little better priced than Gruyere. Not a fan of Swiss cheese? Try Monterey Jack, muenster, or Havarti.
What to Serve with Potato Cakes?
A filled potato cake is a hearty and comforting dish. If I am serving this for brunch, I like to make a large batch of creamy scrambled eggs with fresh herbs. I will also roast some fresh asparagus or green beans. Of course, mimosas will also be on the menu.
I like this as a cool-weather dish. In fall and winter, I love making a big pot of vegetable soup. Vegan farro soup is perfect for this. Allow the soup to simmer while the pomme paillasson is frying. Cut the cake into slender wedges that you and your fellow diners can eat with your hands while enjoying a steaming bowl of soup.
---
Recent Recipes