Easy Sweet Potato Lasagna
Lasagna is one of those welcome comfort foods that everyone loves and can't seem to eat enough. The combination of hearty sauce, cheese, and pasta makes the perfect meal. For general information on lasagna, check out All about lasagna.
This recipe offers a vegetarian spin on a classic lasagna, perfect for meat-free Mondays. Although this is a vegetarian lasagna, you don't miss out on the luscious cheesiness and richness of a regular lasagna — it's still got a bright tomato sauce, three oozy kinds of cheese, and traditional lasagna noodles.
This lasagna recipe is unique because it is packed full of vegetables, including tomatoes, onions, and spinach, with a particular boost from sweet potato. Try to find those gorgeous, orange-fleshed sweet potatoes, as they combine the usual vitamin A antioxidant punch with additional vitamins C, B, and D.
Making lasagna can be an effort, but this recipe offers a couple of shortcuts. Instead of a bechamel or white sauce, the recipe uses ricotta and cottage cheese combined with easy tinned sweet potato puree (with no added sugar). It also uses a jar of marina sauce and oven-ready lasagna sheets to save time. And because the recipe is meatless, it bakes quickly. A heart-warming casserole of pasta goodness — in less than an hour!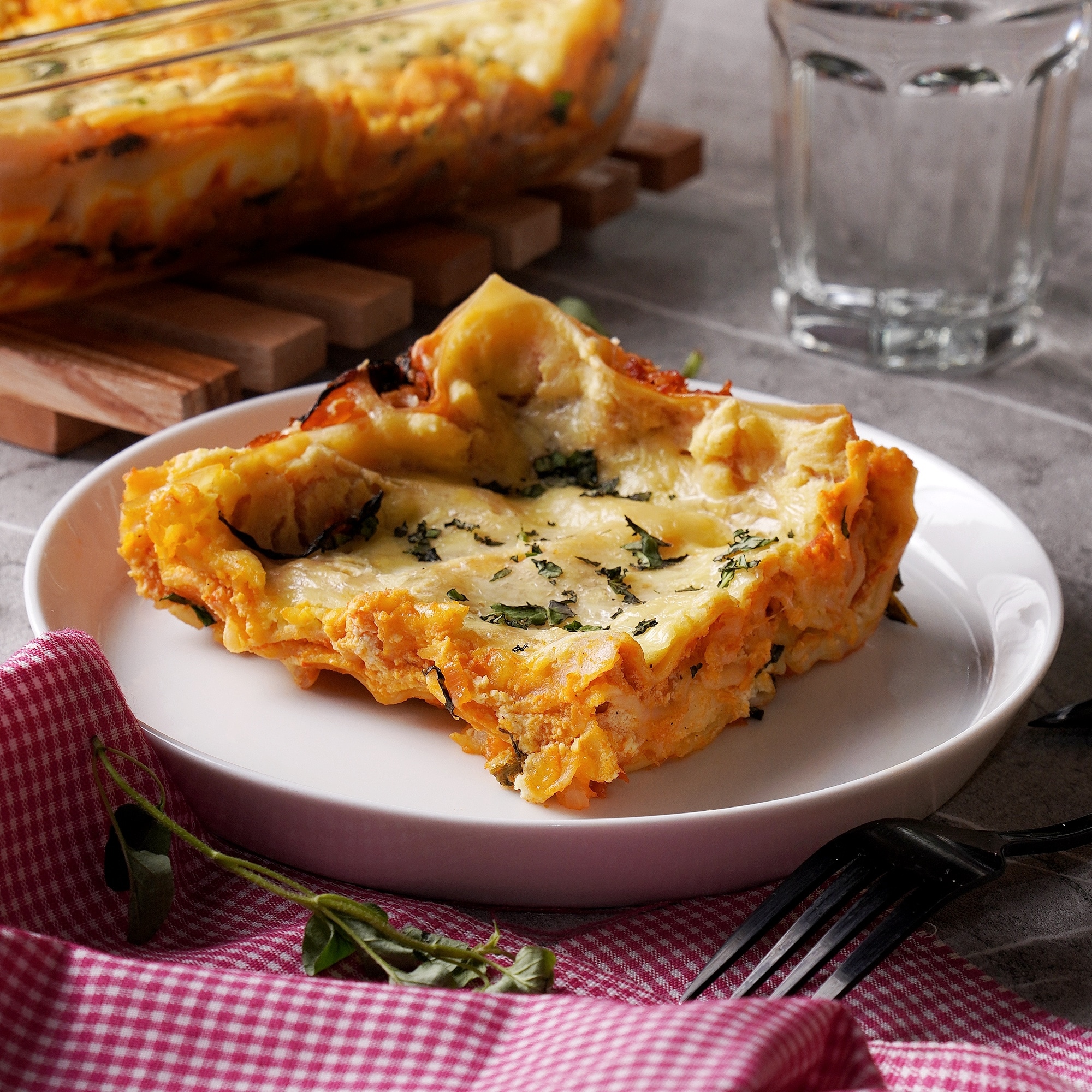 Ingredients
Sweet Potato Cheese Sauce
1 ½

cups

whole milk ricotta cheese

1 ½

cups

cottage cheese

1 ½

cups

cooked sweet potato puree

or use 1 15 oz can

¼

tsp

nutmeg
Tomato Sauce
2

TBS

olive oil

1

onion

2

garlic cloves

2

packed cups fresh spinach

1 24

oz

jar marinara sauce

1

tbs

oregano

Salt and pepper to taste
Other
1

packet oven-ready lasagna sheets

1

cup

shredded mozzarella cheese

Handful of fresh basil
Instructions
All ingredients ready? Let's begin!

If you're going to bake the lasagna immediately, start by preheating your oven to 350⁰F (180⁰C).

Grease or spray a deep casserole dish with non-stick spray.

Make the sweet potato cheese sauce by folding the sweet potato puree, ricotta cheese, and cottage cheese with a spatula. Set aside.

Move on to the tomato sauce. Finely dice the onion, mince the garlic, and roughly chop the spinach.

Heat your olive oil in a heavy frying pan. Add the onion and cook for 5 minutes.

Add your chopped spinach and minced garlic to the pan and cook for another 2 minutes.

Pour in the marinara sauce. Heat to a simmer. Simmer for 2-3 minutes.

Assemble your lasagna by layering ½ cup tomato sauce, cover with lasagna sheets, and adding ½ cup cheese sauce.

You may have to break the lasagna sheets to fit your casserole dish.

Repeat the layers until you have used all the sauce.

Bake for 25 minutes. Remove the sweet potato lasagna from the oven and top with mozzarella cheese.

Put the thoroughly cheesy lasagna back in the oven for another 10 minutes until the cheese has melted and turned golden brown and bubbly.

Allow the lasagna to stand for 10-30 minutes before serving so that the layers can set and not slide apart as you cut into them.

Garnish with freshly chopped basil before serving.
Video
Nutrition
Calories:
277
kcal
|
Carbohydrates:
22
g
|
Protein:
15
g
|
Fat:
15
g
|
Saturated Fat:
7
g
|
Polyunsaturated Fat:
1
g
|
Monounsaturated Fat:
6
g
|
Cholesterol:
42
mg
|
Sodium:
690
mg
|
Potassium:
651
mg
|
Fiber:
4
g
|
Sugar:
9
g
|
Vitamin A:
10863
IU
|
Vitamin C:
18
mg
|
Calcium:
246
mg
|
Iron:
2
mg
Notes & Tips
Make sure that you strain your ricotta thoroughly to prevent soupy lasagna.
This lasagna is a fantastic dish to prepare in advance. Assemble the lasagna a day ahead, cover it tightly, and refrigerate. This process allows the layers to combine and settle. Take the lasagna out of the fridge half an hour before baking.
Even better, assemble the lasagna and freeze it. Thaw the lasagna before baking. Or cover the frozen lasagna with foil and bake for an hour, removing the foil for the last five minutes of baking.
Make sure your casserole dish is deep enough to take at least five layers — a thicker lasagna is more delicious.
Check the lasagna as it bakes — nobody can rescue an overbaked, dry lasagna.
Refrigerate leftover lasagna for up to three days or freeze for up to a month. Defrost the leftovers before heating them in the microwave or oven.
Serving Suggestions
Serve the lasagna with a green salad, especially with some bitter leaves, like arugula or endives.
Soak up the lasagna sauce with some crusty bread, breadsticks, or garlic bread.
While you're baking the lasagna, why not roast some vegetables to serve on the side? Brussels sprouts, broccoli, cauliflower, and peppers all roast beautifully.
If you find lasagna a rich, heavy dish, serve some freshly steamed beans, peas, and asparagus alongside.
For other serving suggestions, take a look at What to serve with lasagna.
Substitutions
Instead of using a can of sweet potato puree, bake two sweet potatoes at 350⁰F (180⁰C) for 40-60 minutes. Peel and puree the potato before using it in the lasagna.
If you don't have a jar of marinara sauce, substitute it with a can of chopped tomatoes and a couple of tablespoons of tomato puree. Add some dried basil and paprika. Cook your sauce for an additional 10 minutes.
Use frozen spinach instead of fresh. However, make sure it doesn't become watery by thawing it and squeezing out the water.
If you don't have any spinach, use Swiss chard or kale — but beware, as both need longer cooking to soften like spinach.
Amp up the vitamin load of the tomato sauce by adding chopped mushrooms, grated carrots, and diced bell peppers along with the spinach.
Use gluten-free lasagna noodles to create a gluten-free dish. Or replace the lasagna noodles entirely with finely sliced zucchini — use a mandolin to get paper-thin slices so there will be no need to cook them in advance.
Replace the sweet potato with a can of pumpkin puree for a delightful fall dish.
Instead of the ricotta, use another soft cheese, like goat's cheese or crème fraiche.
Add a layer of pesto for extra flavor.
Combine the mozzarella with Parmesan cheese for an extra-luscious cheese topping.
For a healthy, non-vegetarian sweet potato lasagna, brown a pound of ground turkey along with the onions.
---
Recent Recipes