Simple Smoky Vegan Salami
Whether you are a devout vegan or just a meatless Monday dieter, you likely crave salami once in a while. Traditional salami is an earthy, well-seasoned, cured log of either ground pork or beef. Imagine taking all those same flavors and transforming them into a vegan version without the meat.
Vegan salami is a real thing and you will find plenty of vegan salami recipes with different ingredients to satisfy a variety of personal tastes. The one ingredient that seems to be universal is vital wheat gluten. When mixed with a liquid, such as broth, wheat gluten takes on the texture of animal protein.
The recipe described here includes a lot of dried spices and herbs that you probably already have in your pantry. This isn't hard to make but it does take a little energy because you will be kneading the "dough". So, give yourself about 70 minutes on a weekend afternoon to make this delicious salami that you can enjoy as a snack or as you would pepperoni on a pizza with vegan cheese.
What Makes This Recipe Interesting?
What I like about this vegan salami recipe is that I have most of the ingredients on hand, except for the vital wheat gluten. Wheat gluten is easy enough to find at your healthy foods market or online.
The liquid smoke in this version of salami is what makes this truly taste like a cured or smoked meat salami. Don't skip the liquid smoke. The herbs and spices are pretty much what you would find in a traditional salami.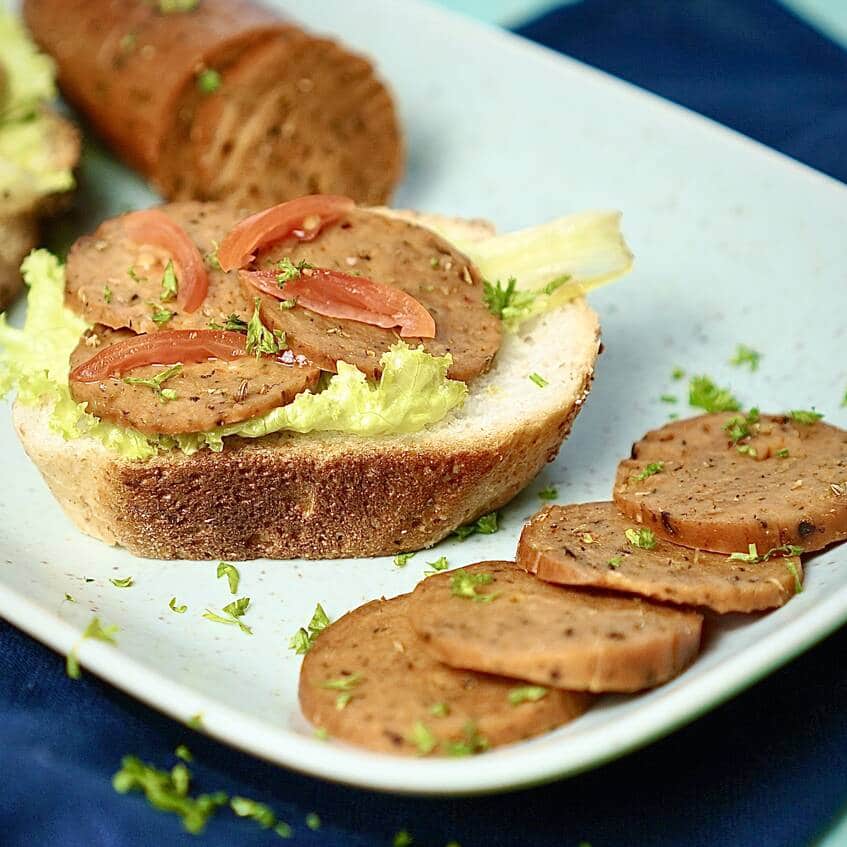 Equipment
Parchment paper

Aluminum foil
Ingredients
1

cup

vital wheat gluten

2

tsps

smoked paprika

2

tsps

garlic powder

1

tsp

fennel seeds

1

tsp

onion powder

1

tsp

dried oregano

1

tsp

dried parsley

1

tsp

sea salt

1

tsp

freshly ground black pepper

1/8 to 1/4

tsp

cayenne pepper flakes

1/2

cup

low sodium vegetable broth

2

TBS

tomato paste

1

TBS

extra virgin olive oil

1

TBS

soy sauce or tamari

2

tsps

liquid smoke
Instructions
Assemble your ingredients and double-check you have everything.

In a large mixing bowl, whisk together the wheat gluten, paprika, garlic powder, fennel seeds, onion powder, oregano, parsley, salt, pepper, and cayenne until well combined.

In a separate bowl, whisk together the broth, tomato paste, olive oil, soy sauce, and liquid smoke until well combined.

Pour the wet ingredients into the dry and stir well until the mixture begins to come together until it resembles a ball of dough.

Place the ball on a clean cutting board. Using your hands, knead and press the ball for 1 to 2 minutes until smooth and completely combined.

Cut the ball of salami in half. Roll the 2 pieces into the shape of a salmi log that is approximately 6 inches long.

Wrap each salami in parchment paper and then wrap these in aluminum foil, making sure the foil is long enough to overlap. Twist the ends of the foil to close around the salami.

Add just enough water to a large wide pot that you can fit a steamer basket into, without allowing the water to rise above the basket. Bring this to a boil and then reduce the heat to maintain a low simmer. Place the salami inside the basket and cover the pot. Steam for 45 to 60 minutes, keeping an eye on the water to make sure it doesn't completely boil away. Check the salami at 45 minutes and continue to cook until it feels solid and able to hold its shape.

Place the salami on your cutting board and gently remove the foil and paper. The salami should appear smooth and feel firm to the touch.

Allow the salami to cool completely. Slice and enjoy as you would any sliced deli meat in sandwiches, on a charcuterie board, or as a pizza topping.

Seal and store in the refrigerator for up to one week or in the freezer for up to three months.
Video
Nutrition
Calories:
110
kcal
|
Carbohydrates:
6
g
|
Protein:
16
g
|
Fat:
3
g
|
Saturated Fat:
1
g
|
Polyunsaturated Fat:
1
g
|
Monounsaturated Fat:
2
g
|
Sodium:
609
mg
|
Potassium:
117
mg
|
Fiber:
1
g
|
Sugar:
1
g
|
Vitamin A:
410
IU
|
Vitamin C:
1
mg
|
Calcium:
39
mg
|
Iron:
2
mg
Shortcuts and Substitutions
Spice is what gives food its character and ethnic identity. The herbs and spices in this salami recipe are what you would find in meat salamis that have been prepared and served in Western European cultures, such as garlic, oregano, and fennel.
You can put your own spin on the recipe by swapping out certain herbs and spices for others. For instance, caraway seeds can be used in place of fennel seeds or sage can replace the oregano. And, leave the cayenne out completely if you aren't a fan of heat.
If you want to make this even more interesting with a bit more texture, add some chopped pistachios or fresh aromatics, such as minced garlic. For the appearance of fat, you can add soaked large tapioca pearls. Just leave yourself about 4 hours for the pearls to soften.
The red color comes from the addition of tomato paste. For an even darker hue of red and a touch of sweetness, add some cooked and puréed beets.
You are probably wondering if there is a substitute for the wheat gluten, especially if you can't or prefer not to eat gluten. The wheat gluten is a protein that gives this recipe the structure and elasticity it needs to come together. Unfortunately, I have not found a suitable substitute for it in making vegan salami.
You can bake this salami in a 375-degree oven on a baking sheet for 50 minutes if you don't have a wide pot and a steamer basket.
Success Tips
When mixing the "dough" for the salami, it will stretch and pull, so knead it well for about 1-1/2 minutes to make sure all of the ingredients are evenly incorporated for uniform flavor throughout. However, don't knead it to the point that it becomes stiff and hard. That would result in a chewy texture.
Allow the salami to cool completely before you slice into it. In fact, refrigerating it will help it to further firm up before slicing and serving.
---
Recent Recipes