Sous Vide Egg Bites Recipe
If you aren't familiar with the sous vide method of cooking food, this simple recipe for sous vide egg bites is a good place to get your feet wet with this technique.
Sous vide is a method of cooking food low and slow in a water bath at a specified temperature for a determined period of time. Foods, such as animal proteins or vegetables are vacuum-sealed in plastic bags before being submerged in heated water. The water circulates around the sealed packages of goods. The result is evenly cooked proteins and produce. You can also cook items in mason jars with lids. This is perfect for cooking liquids, such as eggs and custards.
Sous vide egg bites are similar to individual souffles. The eggs are often beaten or blended with milk, cream, or cottage cheese. I like to add shredded cheese and perhaps some diced ham to my eggs for more flavor and texture. This is a great breakfast or brunch if you are following a ketogenic or gluten-free diet. Egg bites are also great for a breakfast on the go. You can prepare them a day or two ahead, store them in the refrigerator, and pop them in the microwave for a short time at home or at the office.
A side note: When you see eggs in the display case at Starbucks, those are sous vide egg bites that they heat up in the microwave for a fast meal to go.
For this egg bite recipe, you will need either a sous vide machine or a sous vide immersion circulator and a large pot. A home sous vide machine resembles a slow cooker with a temperature gauge. The water circulates inside the base. A sous vide immersion unit is a heated circulator stick or rod that attaches to the side of a stockpot, Dutch oven, or a special sous vide bucket. It heats up to the temperature you set it to. You will also need six 4-ounce mason jars with their lids to make this dish.
It should be mentioned that there are also sous vide ovens. For this recipe, we are using the countertop sous vide technique.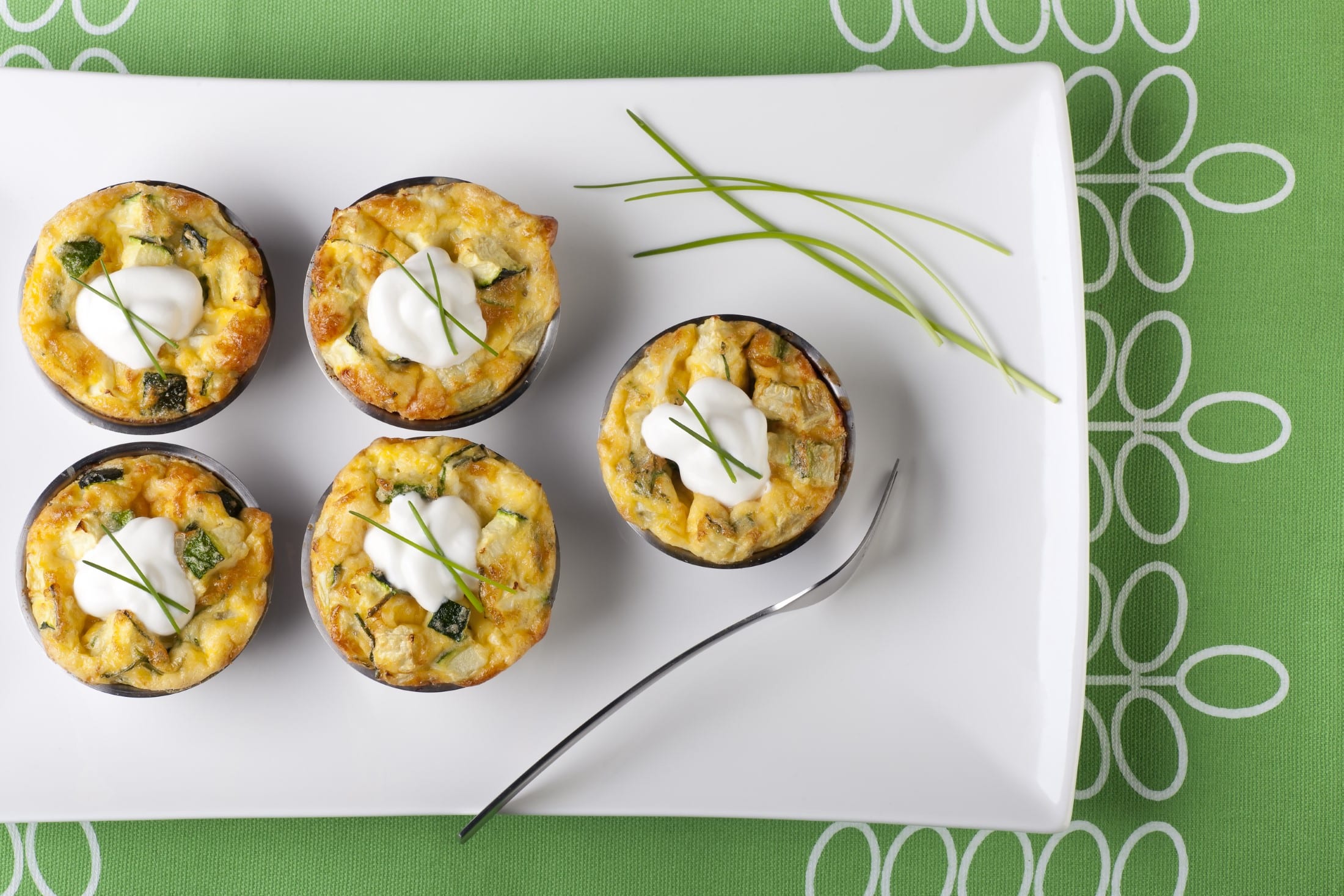 Ingredients
6

large whole eggs

1/4

cup

half and half

1/2

cup

shredded gruyere cheese

1/2

cup

diced cooked ham

1/4

tsp

sea salt

1/4

tsp

freshly cracked black pepper

Extra virgin olive oil or softened butter
Instructions
Fill a large stockpot, Dutch oven, or sous vide machine with about 2-1/2 inches of water. Turn on the immersion circulator or sous vide mechanism to 172°F. While the water bath is preheating, prepare the jars and the eggs.

Coat all interior surfaces of six 4-ounce mason jars lightly with olive oil or softened butter.

In a large mixing bowl, whisk together the eggs with the half and half, salt, and pepper until frothy. Fold in the shredded cheese and ham.

Ladle or spoon the egg mixture into the mason jars so that each jar is 3/4 full. You want to leave enough room for the eggs to expand or rise. Screw the lids on each jar until secured but not overly tight.

Using tongs, transfer the jars to the preheated water bath. The water should be higher than the jar lids so they are fully submerged. Cook for 1 hour or until the eggs are fully set.

Remove the jars with the tongs and place them on a sheet pan or wire rack to rest until cool enough to handle.

Unscrew the lids. Run a dinner knife around the inside perimeter of each jar to loosen the egg bites. Overturn the jars over a plate and tap to drop the egg bites out. Or, you can eat them right out of the jar. Enjoy while warm.
Nutrition
Calories:
115
kcal
|
Carbohydrates:
1
g
|
Protein:
8
g
|
Fat:
9
g
|
Saturated Fat:
4
g
|
Polyunsaturated Fat:
1
g
|
Monounsaturated Fat:
3
g
|
Trans Fat:
0.02
g
|
Cholesterol:
177
mg
|
Sodium:
227
mg
|
Potassium:
81
mg
|
Sugar:
1
g
|
Vitamin A:
368
IU
|
Vitamin C:
0.1
mg
|
Calcium:
102
mg
|
Iron:
1
mg
Notes and Tips
The way the sous vide method works is by cooking with low heat for a long time in a water bath. The most important tip I can offer is to have patience and honor the process. The results are perfect if you are Zen about the timing. You can always cook the egg bites the day before you want to serve them so they are ready to go in the morning.
It is very important to only tighten the jar lids until secure. A good practice is to tighten the lids and then back off one turn to slightly loosen. This is critical. Otherwise, the jars could crack under pressure while the eggs are cooking and expanding.
Substitutions and Additions
You can add anything you want to your egg bites, such as cottage cheese, spinach, red bell peppers, smoked salmon, bacon, and fresh herbs. I even enjoy a few splashes of sriracha on the cooked egg bites. You can easily keep this recipe vegetarian by eliminating the ham. These can also be paleo compliant by omitting the cheese and using plant-based milk, such as coconut or almond milk.
If you are watching your cholesterol, you can definitely make this recipe with just egg whites. If you are vegan, try this with plant-based eggs and vegan cheese. I haven't tried this yet, but I intend to. I eat vegan eggs often and they never disappoint as a chicken or duck egg replacement.
If you don't have a sous vide appliance or immersion circulator, you might like these baked and grilled egg cup recipes:
---
Recent Recipes