Sweet & Soft Chocolate Panettone
Panettone is a yummy dessert that is usually described as a cross between cake and bread. I think that description really holds up! Panettone is a sweet, soft bread that is often made in honor of holidays, especially Christmas and New Years. There is a traditional way of making it that requires a lot of time, but this recipe is way easier.
The hardest part of making panettone is getting the bread to rise properly. However, if you follow the directions, you shouldn't have an issue. The last time I tried to do this, I left the bread to rise in a spot that was too cold, so it didn't rise at all. I think I also accidentally used the wrong kind of yeast… don't do that. It will turn out very dense and hard.
This version of panettone uses bittersweet chocolate and vanilla for its flavor. It takes about three hours to make, because you will need to proof it twice before baking, so make sure to plan in advance.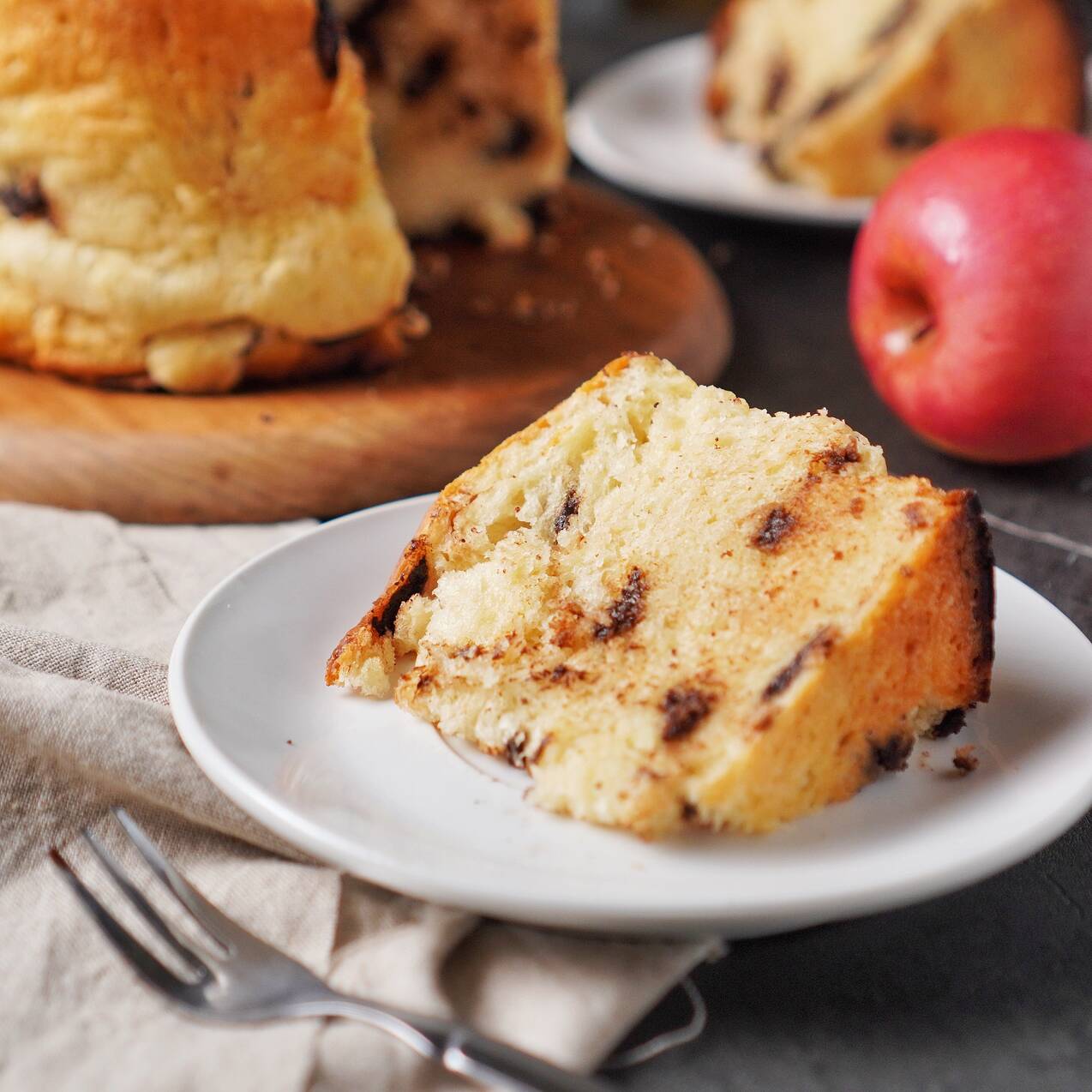 Ingredients
4

cups

flour

2

tsp

salt

¼

cup

sugar

2½

tsp

instant yeast

1½

cups

milk

½

cup

boiling water

5

tbsp

unsalted butter

plus more for greasing

1

tsp

vanilla extract

6

oz

65% cacao bittersweet chocolate
Instructions
Assemble all your ingredients, got it all? Good!

Use a large mixing bowl and combine the flour, salt, sugar, and instant yeast. Whisk together.

In a different, microwave-safe bowl, melt 4 tbsp of butter then add the milk, boiling water, and vanilla. Whisk together.

Pour the liquids into the dry ingredients bowl and fold together with a spatula until mixed. Make sure to mix until everything is incorporated and it becomes a sticky ball of dough.

Cover the bowl and dough with plastic wrap and leave to rise in a warm spot for about 2 hours, or until the dough has doubled.

Preheat the oven to 375F and make sure the oven rack is in the middle. Prep a panettone mold by generously greasing it with soft butter.

Chop the chocolate into small pieces, no bigger than ½ inch chunks.

Remove the plastic wrap from the dough and add the chocolate chunks.

Using your hands or two forks or spatulas, fold opposite sides of the dough in towards the middle. The dough will deflate, but that's okay!

Rotate the bowl and continue this movement until the chocolate is incorporated. I don't recommend kneading the dough on your counter for this step, because it is supposed to be a sticky dough.

Transfer the dough into the previously prepared panettone mold and leave it to rise again. Do not cover it this time, but do put it in a warm spot. Let it rise for 25 minutes, or until it has doubled.

Place the mold on a baking tray (to prevent spillage) and put it in the oven. Bake for 40-45 minutes. The top should have evenly browned when it's done.

Remove from the oven and use oven mitts to move the mold onto a cooling rack.

Melt 1 tbsp of butter and brush it across the top of the bread using a pastry brush.

Allow the panettone to cool for about an hour before removing the mold and cutting into it.
Video
Nutrition
Calories:
479
kcal
|
Carbohydrates:
69
g
|
Protein:
11
g
|
Fat:
18
g
|
Saturated Fat:
10
g
|
Polyunsaturated Fat:
1
g
|
Monounsaturated Fat:
5
g
|
Trans Fat:
1
g
|
Cholesterol:
25
mg
|
Sodium:
607
mg
|
Potassium:
287
mg
|
Fiber:
4
g
|
Sugar:
17
g
|
Vitamin A:
303
IU
|
Vitamin C:
1
mg
|
Calcium:
78
mg
|
Iron:
4
mg
Notes & Tips
You can store this chocolate panettone covered at room temperature for 5 days.
If you don't have or can't find a panettone mold, you can make one yourself. Use a circular cake pan as a base and stand parchment paper up around the edges. You'll want the parchment paper to stand up about 7 inches. You can cut several pieces of parchment paper and staple them together to complete the circle and add extra layers for security.
You can also use the dough to make mini panettones! Stand a piece of parchment paper up in the cups of a muffin mold and evenly divide the dough to put in the cups. Bake this for 20-ish minutes, then keep checking on it. It won't take as long as a full-sized loaf, so you'll need to keep an eye on it until you figure out how the smaller version cooks in your oven.
Reader Pro Tip: "I love frying panettone in a pan with butter and smearing it with nutella" – Thanks Dom!
Origins of Panettone
Panettone comes to us from Milan, Italy. Throughout the years, it has become globally popular, especially in Europe and the Americas. Apparently, panettone has been around since the ancient Roman Empire! This version uses chocolate and vanilla, but it is more traditional to make panettone with citrus and dried fruits. There is a name for the shape of panettone, which I never knew until I looked it up. The shape is called "cupola," which refers to the circular base that rises up tall.
If you want to serve your panettone with a traditional accent, you can serve it with sweet dessert wine. If you want to get really fancy, you could make "crema di mascarpone": a spread made from mascarpone cheese, eggs, fruit, and amaretto. It's always a good idea to have an elegant dessert like this that kids will enjoy and can also be served with a special kick for the grown-ups.
What Does Panettone Taste Like?
If you have never had something like this before, you might wonder how it tastes, especially if it's described as a cross between bread and cake. Panettone is really just a sweet bread. This version tastes like a chocolate pancake and it has the texture of a bread roll.
If you check out this bundt cake, you'll see that the crumb pattern is tight and moist. Regular cake, like this candy corn cake, isn't as heavy as a bundt cake, but it is moist and crumbly. Compared to those examples, panettone is more like bread in texture.
Overall, panettone is an old, unique dessert probably unlike most desserts you've tried before. If you like bread, cake, and chocolate, this is the recipe you want to take a gamble on. It's so yummy that I need to go eat another piece…
---
Recent Recipes