Homemade Vietnamese Honeycomb Cake (Banh Bo Nuang)
Banh Bo Nuang is a Vietnamese dessert that is absolutely spectacular. Because of this cake's unique structure, it is also known as Vietnamese Honeycomb Cake. If you cut the cake open you will see why. The cake is soft and chewy, but it has a textured appearance similar to artisan bread or a honeycomb. This lifted, airy structure is the key component to this dessert and it can be very difficult to achieve. If you'd rather a slightly simpler cake, you can't go wrong with this tres leches cake.
Before You Get Baking
Before you start this recipe, there's a few things you need to know. Cakes are notoriously finicky, and this one is no exception. If you keep a few things in mind before you get your hands dirty, your chances of success will skyrocket!
Please do not try to substitute any of the ingredients below. I know it's often easier and cheaper to make a few small tweaks, but this cake will notice. If you're having difficulty finding the appropriate ingredients, look first at any local Asian markets you have, and then online.
The most important thing you need to remember: you need single-acting baking powder. Most baking powders we use are double-acting, which are no good here. Baking powder is one of those ingredients we use in our baking that we don't really think about, but it causes a chemical reaction that is necessary for leavening certain dishes. Without dumping too much science on you, double-acting baking powder causes two chemical reactions at different times. Single-acting baking powder only causes one chemical reaction. For banh bo nuang, that single chemical reaction is all you need.
Now that you have these details, go ahead and make your cake!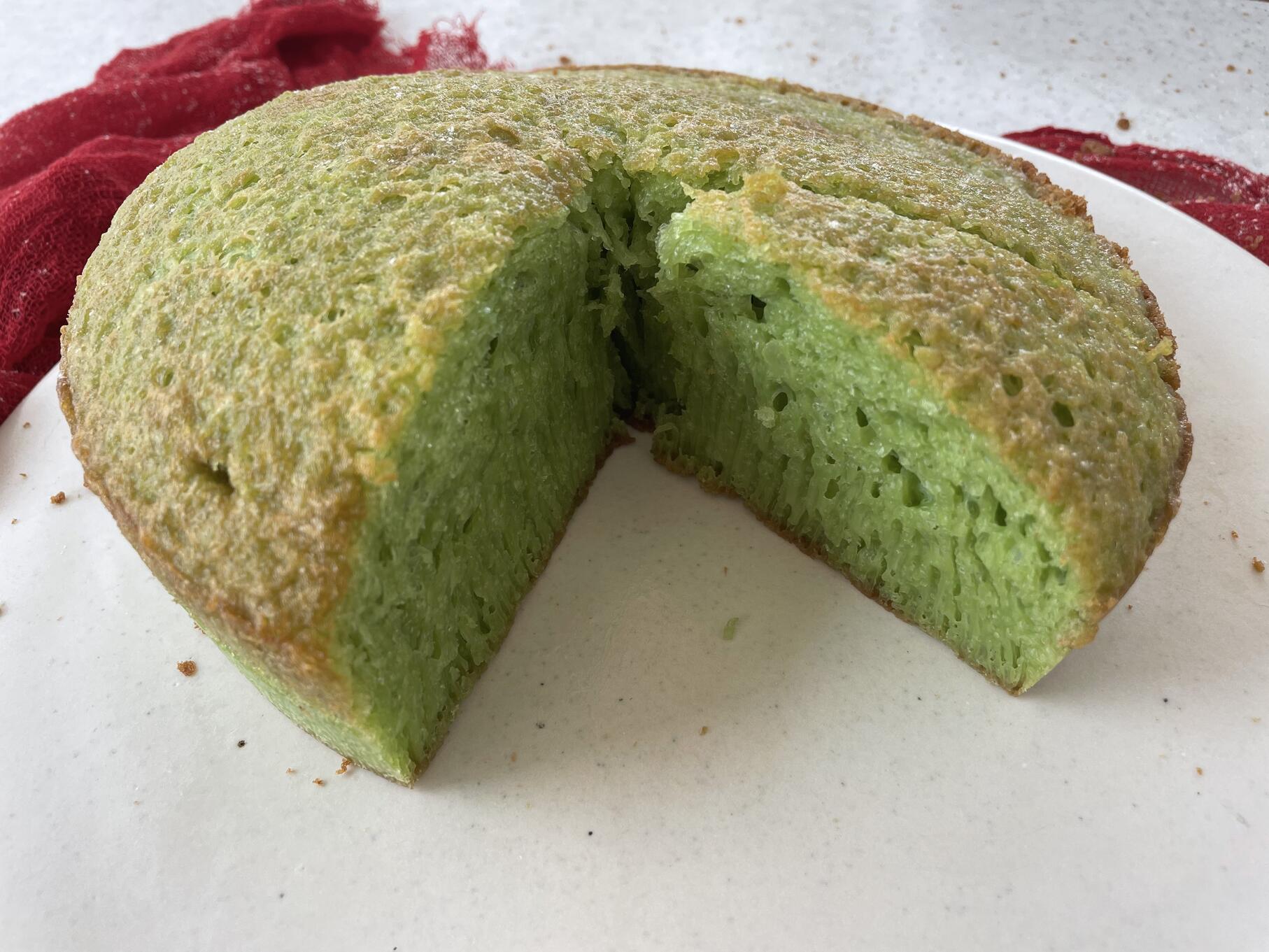 Ingredients
1

cup

coconut cream

¼

tsp

salt

½

tsp

pandan extract

¾

cup

white caster sugar

1

tbsp

vegetable oil

5

large eggs

room temperature

1

cup

tapioca starch

2

tbsp

rice flour

2 ½

tsp

single-acting baking powder
Instructions
Preheat your oven to 350F.

Prepare an 8 or 9-inch circular cake pan with tall sides by greasing the bottom with a little bit of vegetable oil and putting it in the oven to heat. Do not grease the sides of the pan.

In a small pot, combine the coconut cream, salt, and pandan extract, and sugar. Heat this over low heat and stir continuously until everything is dissolved and combined. Remove from heat and add the oil. Stir to combine and then set aside and allow to cool to room temperature.

In a medium mixing bowl, add the eggs. Use a whisk to press open the egg yolks, but don't actually whisk the eggs. You want the yolks broken up, but you don't want to add too much air in here.

Carefully pour the coconut mix into the egg bowl and gently and slowly whisk to combine.

Use a sieve to shake half of the tapioca starch into the wet ingredients so there are no clumps. Gently stir with the whisk until just combined. Again, you don't want to whisk hard and add too much air.

Sift the rest of the tapioca starch into the bowl along with the rice flour and single-acting baking powder. Whisk again gently for a minute or until everything is thoroughly incorporated and there are no lumps, but do not overmix.

Remove the cake pan from the oven. Pour the batter into the pan. Using heat protective gloves, raise and firmly tap the bottom of the pan against your counter several times to remove air bubbles.

Put the cake into the oven and allow to bake for 40 minutes. The cake should rise slightly, but not as much as a normal cake would. Ideally, the cake will be done when you can shake the pan without the center jiggling.

When the cake is done, remove it from the oven and let it cool upside down in the pan on a cooling rack. This is to prevent the cake from sinking, but if it has risen over the edges of the pan, let it cool right-side-up, otherwise it will just squish.

Allow the cake to cool in the pan until it is only slightly warm to the touch, about 45 minutes. Now you can remove it from the pan, place it upright, cut, and serve.

This cake is best served warm and with a nice cup of hot tea. Enjoy!
Video
Nutrition
Calories:
537
kcal
|
Carbohydrates:
72
g
|
Protein:
9
g
|
Fat:
26
g
|
Saturated Fat:
20
g
|
Polyunsaturated Fat:
1
g
|
Monounsaturated Fat:
3
g
|
Trans Fat:
1
g
|
Cholesterol:
205
mg
|
Sodium:
491
mg
|
Potassium:
281
mg
|
Fiber:
1
g
|
Sugar:
38
g
|
Vitamin A:
297
IU
|
Vitamin C:
2
mg
|
Calcium:
185
mg
|
Iron:
3
mg
What Is Pandan?
Pandan is a tropical plant that resembles a baby palm tree. It is often found in Southeast Asia, hence why it is so popular in Vietnamese cuisine. It has a very mellow taste, often being described as a cross between vanilla and coconut. Pandan is used for a lot of different kind of dishes and you can buy it as a liquid or a paste. It can also be found in a lot of drinks! It will usually be pretty clear if something has pandan in it, because its beautiful green color is hard to miss.
Notes & Tips
It might be possible that you will be unable to find single-acting baking powder, or perhaps the price will be too restrictive. That is okay! You can make it yourself using baking soda and cream of tartar. Try substituting the single-acting baking powder with 2 tsp cream of tartar and 1 tsp baking soda. Do not substitute single-acting baking powder for regular baking powder. If you're interested in the science behind it, you can read up on it here.
If you get discouraged, don't give up. There are a lot of variables in this recipe, most of them things that are out of a baker's control. The brand and quality of the product you use has a big impact. I know a lot of people have had to try several different brands of tapioca starch and pandan extract. I myself haven't tried a wide variety yet, so I can't recommend the best. If you feel like buying too much of different kinds would be wasteful, remember that you can always use the ingredients for other recipes. Pandan and tapioca starch are both very popular ingredients for a lot of South Asian recipes. Use it as an excuse to explore more cuisine!
This honeycomb cake can be stored in an airtight container at room temperature for up to five days. Pop your slice in the microwave for 20 seconds to emulate that just-baked warmth.
---
Recent Recipes