Crunchy & Delicious Turkish Knafeh
Knafeh is a delicious, crunchy traditional Middle Eastern dessert with sherbet and cheese. It is also known as künefe in some instances. You can find variations of it all over the Arab world, from Egypt to the Levant. It is such a popular dessert that there are cities in the Middle East where even Knafeh festivals are held! It's a dessert that is a part of the rich and diverse cultures of the regions where it is made.
Turkish Knafeh, with its superb balance of cheese and sherbet, offers a common flavor that brings together the cuisines and cultures of the Middle East, Mediterranean, and Anatolia. This crisp on the outside, soft on the inside dessert is traditionally served on special occasions and holidays. It might just be the perfect dessert for you to charm your guests at family gatherings, parties, birthdays, etc.
Try to choose the butter and pistachios that best suit your taste. What makes knafe the most delicious is the quality of the materials used and the care given to every ingredient. Keep in mind that the knafeh should be cooked well until it is crispy and golden brown on each side. So when you dip your fork, you can hear a rustle. The unsalted cheese in the knafeh will give it a mild taste, where you can also feel the taste of milk. So prepare your pan and indulge your sweet tooth with this classic Turkish Knafeh recipe!
What Makes This Recipe Interesting?
This delicious cheesy dessert can both be served hot and cold.
Knafeh is a dessert served especially on special occasions and festivities. It is usually accompanied by sides such as buffalo milk, melon, pistachios, and almonds. It is also very common to serve it with clotted cream or ice cream.
Turkish knafeh is traditionally cooked on the stove by turning the pan slowly. This recipe can also be cooked using the oven.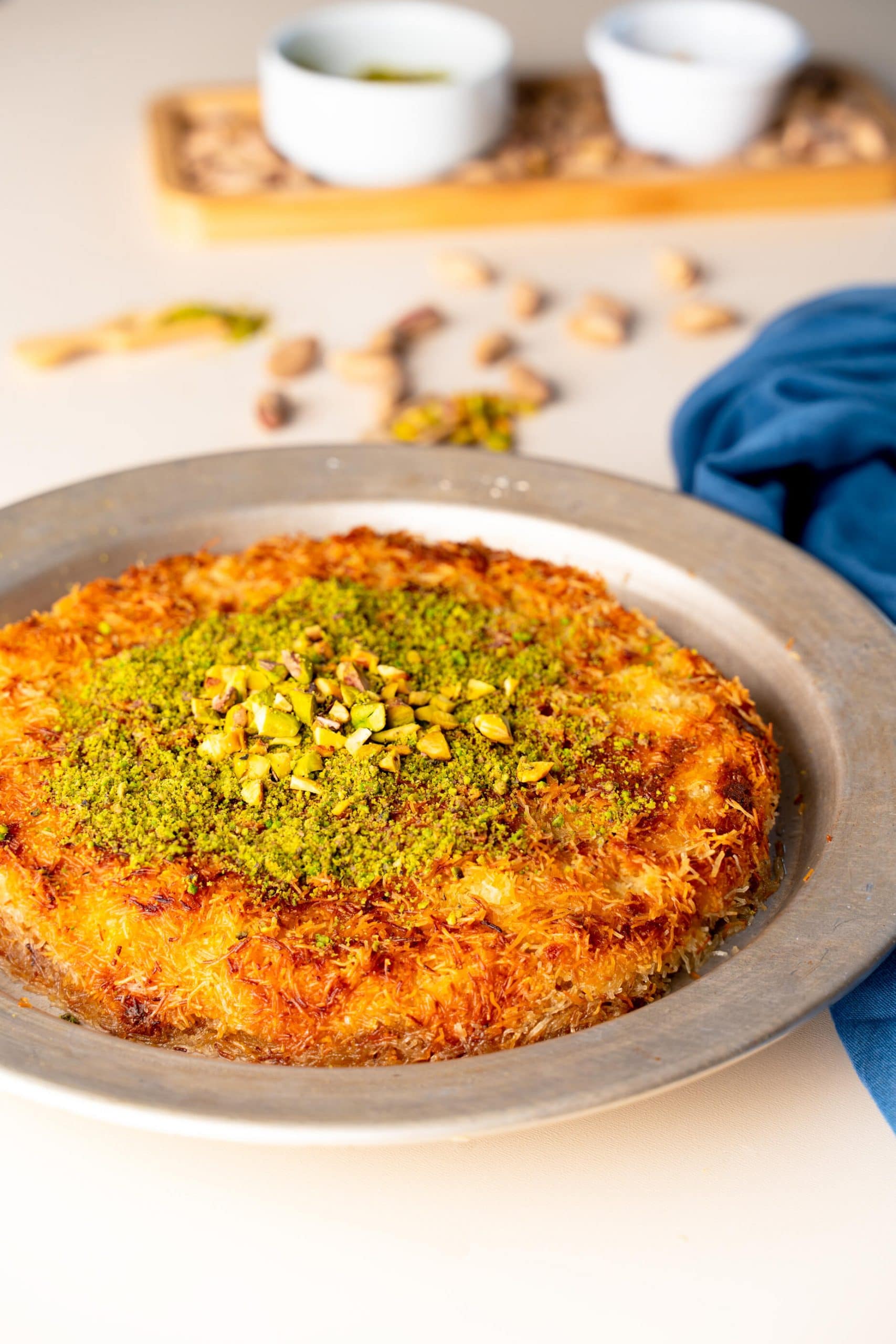 Ingredients
150

g

shredded phyllo dough

kataifi

6

tbsp

sugar

6

tbsp

water

½

tsp

lemon

80

g

knafeh cheese

sliced

4

tbsp

butter

30

g

pistachio

both finely and roughly chopped, for serving
Instructions
To prepare the sherbet (simple syrup), mix cold water and sugar in a deep saucepan and start cooking on low heat. Dissolve the sugar by constantly stirring before the water begins to boil.

After it starts to boil over low heat, let it boil for another 3-4 minutes. At this stage, the syrup will not be drop by drop, it will have reached the consistency to be poured like a string.

Turn off the stove and add the lemon juice. After mixing the lemon juice, set it aside to cool.

To moisten the shredded phyllo dough, heat butter in a small pot just enough to melt but not too hot.

Cut the shredded phyllo dough into small pieces with your hands in a mixing bowl.

Pour the melted butter on the shredded phyllo dough. Moisten all shredded phyllo dough pieces by absorbing butter by linting with your hand. While doing this, be careful not to knead by applying pressure so that it does not turn into a regular dough. With gentle movements, keep the shredded phyllo dough in the form of strings and moisten it.

Preheat the copper knafeh pan. Spread butter on the bottom of the pan. Place half of the shredded phyllo dough to cover its bottom and press it in the pan on low heat. Smooth the pieces on the edges with a spatula so that they do not burn.

Cut the cheese into string pieces with your hands or knife.

Place the cheeses on the shredded phyllo dough, leaving 1 cm of space on the edges.

Then place the remaining shredded phyllo doughs to cover the cheese completely. Press on the top and shape by pressing the edges with a spatula.

When the bottom is completely golden brown, press down lightly with your hand. Turn the knafeh over with a wide spatula or using a flat plate or lid. Don't forget to add butter to the pan when turning it upside down.

When both sides are golden brown, pour the cooled syrup over it and cook on low heat for 1 more minute.

Add chopped pistachios on it and serve hot or warm.

Enjoy the combination of melted cheese and sherbet.
Video
Nutrition
Calories:
314
kcal
|
Carbohydrates:
41
g
|
Protein:
10
g
|
Fat:
13
g
|
Saturated Fat:
5
g
|
Polyunsaturated Fat:
2
g
|
Monounsaturated Fat:
5
g
|
Cholesterol:
23
mg
|
Sodium:
322
mg
|
Potassium:
146
mg
|
Fiber:
2
g
|
Sugar:
19
g
|
Vitamin A:
256
IU
|
Vitamin C:
1
mg
|
Calcium:
174
mg
|
Iron:
2
mg
Notes & Tips
Only one of the sherbet or knafeh should be hot. If both are hot, the shredded phyllo dough will soften and the desired crispiness will not be achieved. If both are cold, the knafeh will not absorb the sherbet. In order to achieve the right taste, it is necessary to pour cold sherbet over the freshly cooked knafeh.
Always cook your sherbet on low heat. While making sherbet, cooking it on high heat before the sugar melts will cause the water to boil immediately. Preparing sherbet on high heat or with hot water will cause the sugar to crystallize. Crystallized sugar will create an undesirable texture in the knafeh. Adding lemon juice to the sherbet will also prevent sugar crystallization.
Substitutions & Shortcuts
In order for the cheese in it to reach the desired consistency, knafeh should be cooked slowly. It is ideal for cooking the shredded phyllo dough on low heat so that they do not burn before the cheese is completely melted. The copper pan is the most preferred equipment for cooking all sides of the knafeh equally. If a copper pan cannot be found, a Teflon pan can be used.
If you want to add a different taste to knafeh, you can add 1 tablespoon of molasses or any other natural syrup of your choice or double cream during the moistening phase with the butter.
Questions?
What cheese is used to make knafeh?
Since knafeh cheese is a cheese produced specifically for this dessert, it is the ultimate cheese that will bring its flavor to its peak. But since it might be challenging to find, you can also use string cheese or mozzarella cheese. Whatever cheese you choose, make sure it is unsalted.
Can you freeze knafeh?
You can prepare the knafeh to be frozen by following the steps in the instructions, but not heating it. You can freeze the knafeh in the freezer for 3 months and cook it whenever you want.
What to serve with knafeh?
Turkish knafeh is usually served with clotted cream and pistachios. Clotted cream and pistachios will balance the sweetness of the sherbet and enhance its taste in every bite.Goat's milk ice cream is also one of the best compliments of Turkish knafeh.
In addition, drinking cold goat's milk with knafeh may make you want to eat more of this rich sherbet dessert.
What's knafeh made of?
Turkish knafeh's main ingredient is a type of phyllo dough called Kataifi. It's made of melted cheese between layers of Kataifi. It is sweetened with sherbet, a kind of simple syrup, and served with pistachios.
Where did knafeh come from? Where was knafeh originated?
Although the exact origin of knafeh is not clear, it can be said that it was invented by the interaction of cultures in the Middle East and the exchange of ingredients between different cultures. Each local cuisine and culture has their own way of making this delicious dessert.
---
Recent Recipes