Homemade Hojaldres Panama
I have been on a flatbread kick for a few years. I have made flatbreads with all types of flours and meals. I've tried wheat flours, bean flours, cornmeal and corn flour, nut meals, root vegetable flours, rice flours, and the list goes on. I have fried, baked, grilled, and even air-fried flatbreads.
Until recently, my flatbread recipes were all savory. Then I discovered hojaldres. Hojaldres are flatbreads that are both savory and sweet, making them perfect for breakfast, lunch, or dinner. These small circles of dough are slightly sweetened with granulated sugar. They are fried in a good amount of vegetable oil to make them airy on the inside and crisp on the outside.
Hojaldres are similar to Lebanese Manakish flatbread. Yet, they differ in that these are leavened with baking powder and an egg rather than yeast. Both do have the addition of sugar. Hojaldres are a little like Native American frybread that is super light and crisp but with fewer ingredients in the dough.
Hojaldres are very popular in Panama. They are also enjoyed in Uruguay and Colombia. These can be enjoyed with a little bit of confectioner's sugar or jam for breakfast. They are sometimes topped with sausages and tomato sauce for lunch or dinner. Basically, you can top hojaldres with anything you like that is either sweet or savory.
There are slightly different variations of hojaldres Panama. Some recipes skip the sugar altogether. Other recipes leave the egg out that I have included. I like the richness and levity the egg adds. Most recipes call for oil in the dough. I like to use butter so that the bread has a bit of a pastry texture.
I use a stand mixer with a dough hook attachment to make the dough. I do this because it incorporates the egg better than doing it by hand. However, you can make this dough in a mixing bowl and then knead it by hand on a lightly floured work surface before resting it.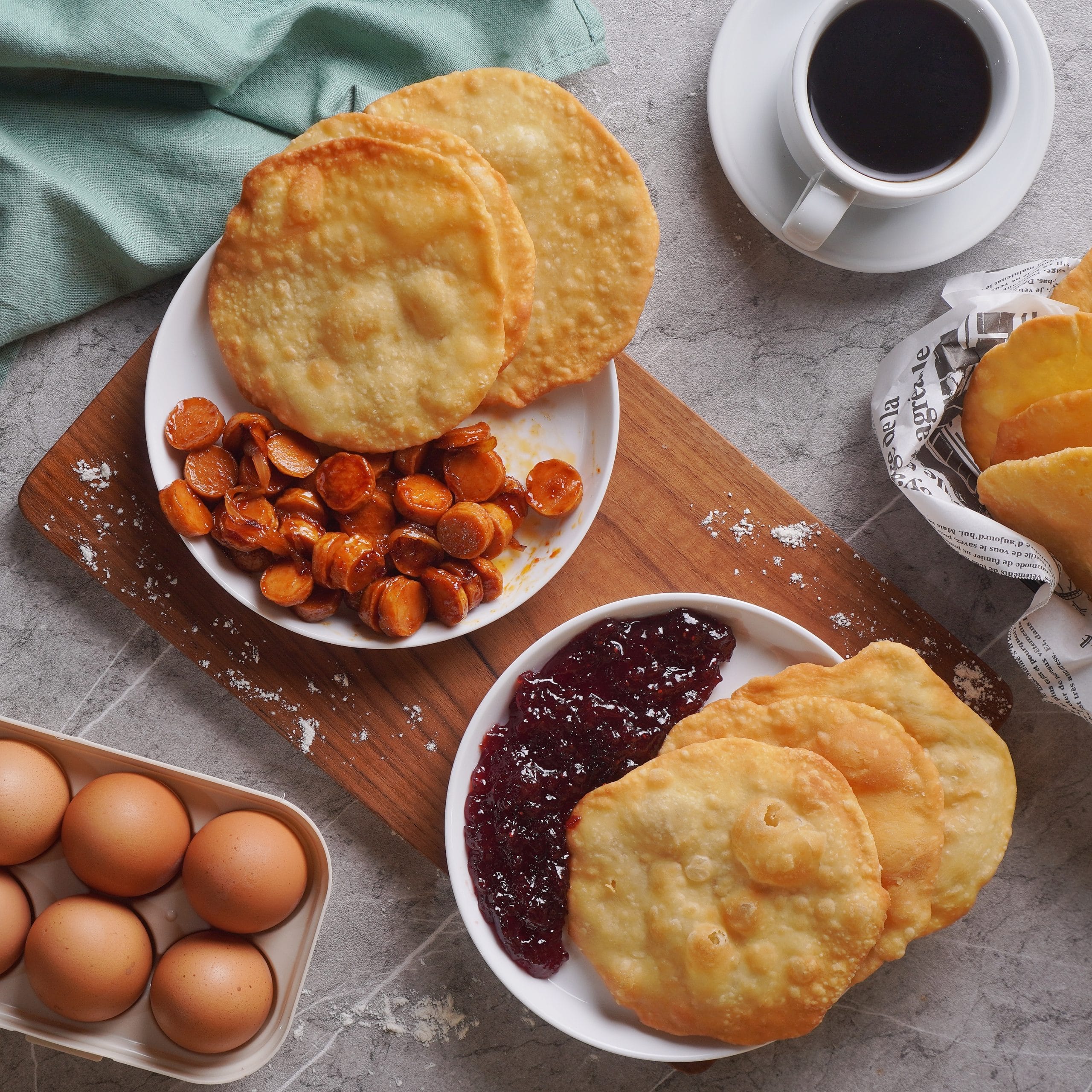 Ingredients
3

cups

all-purpose flour

sifted

2

tsp

baking powder

1

Tbsp

granulated sugar

2

tsp

sea salt

1

whole egg

lightly beaten

1

Tbsp

unsalted butter

melted

1

cup

room temperature water

more or less as needed

Vegetable oil for frying
Instructions
All ingredients ready? Let's begin!

In the bowl of a stand mixer, add the flour, baking powder, sugar, and salt. Stir all together to combine well.

Make a well in the center of the dry ingredients and add the egg and butter.

Using the dough hook attachment, mix everything at low speed. Gradually add the water until the dough eventually comes together into a ball. Only use as much water as you need.

Lightly flour a flat work surface. Place the ball of dough on the surface and cover with a clean kitchen towel. Allow the dough to rest for 1 hour and 15 minutes.

Divide the dough into 12 balls.

Add a good amount of oil to a skillet over medium-high heat. Allow this to come to a temperature of 350°F while you roll out your balls of dough.

On your floured work surface, roll out each ball of dough into 4 to 6 inch rounds, dusting with more flour as needed.

Start frying the flatbreads as soon as the oil reaches temperature while continuing to roll the others.

Fry about 2 minutes per side until golden brown and slightly puffed up. Drain on paper towels.

Serve the hojaldres with powdered sugar dusted on top or with savory meats and vegetables.
Video
Nutrition
Calories:
132
kcal
|
Carbohydrates:
25
g
|
Protein:
4
g
|
Fat:
2
g
|
Saturated Fat:
1
g
|
Polyunsaturated Fat:
1
g
|
Monounsaturated Fat:
1
g
|
Trans Fat:
1
g
|
Cholesterol:
16
mg
|
Sodium:
465
mg
|
Potassium:
39
mg
|
Fiber:
1
g
|
Sugar:
1
g
|
Vitamin A:
49
IU
|
Calcium:
47
mg
|
Iron:
2
mg
Notes & Tips
Resting the dough helps it to relax and expand a bit for an airy interior once fried. You can rest it for as little as 30 minutes and as long as 2 hours.
This recipe works best in a cast-iron skillet or a heavy-bottomed pan
The key to frying these flatbreads perfectly is to make sure there is a good amount of oil in the pan and it is hot. I recommend at least ½ inch of oil so the flatbreads are submerged. To check the correct temperature, you will need a deep-frying thermometer design for checking oil. I will be 100% honest and say that I don't always use a thermometer. You can check the oil by inserting the end of the handle of a wooden spoon into the oil. The oil will bubble rapidly (not spitting and splattering) around the spoon end when it's ready for frying. 
Substitutions & Recommendations
You can make this flatbread recipe gluten-free by using a gluten-free flour blend and gluten-free baking powder. You can also make it vegan by using vegetable oil rather than butter and eliminating the egg.
For frying, you do need an oil that has a high smoke point so the flatbreads cook properly. Some oils with higher smoke points include avocado, peanut, canola, and grapeseed. You could also try beef tallow or coconut oil, which are fairly common in Latin American cuisines.
Toppings for Hojaldres
The Hojaldres Panama are actually really good just by themselves with a hot cup of strong coffee or as a snack between classes or meetings. But they are definitely great when served with tasty toppings. Here are some ideas:
Confectioner's sugar
Fruit jam
Chocolate hazelnut spread
Scrambled eggs
Grilled sausage, peppers, and onions
Refried beans and cotija cheese
Fresh corn salsa
---
Recent Recipes