Homemade Malagasy Romazava
Malagasy romazava is a bone-warming stew with a variety of different meat and greens. It is the national dish of Madagascar and I bet it tastes even better with the fresh greens found there! Malagasy romazava is a nutritious and filling dish that will leave you feeling stuffed in the best way.
My favorite time to serve this dish is on a cold day, regardless of the season. Something about it makes me think of a winter wonderland and my childhood at the same time. And, honestly, you can't beat the combination of good quality meats with freshly cooked, healthy greens.
This dish is traditionally served with steamed rice, which is pretty easy to make, but if you've never done it before, I explain how below the recipe.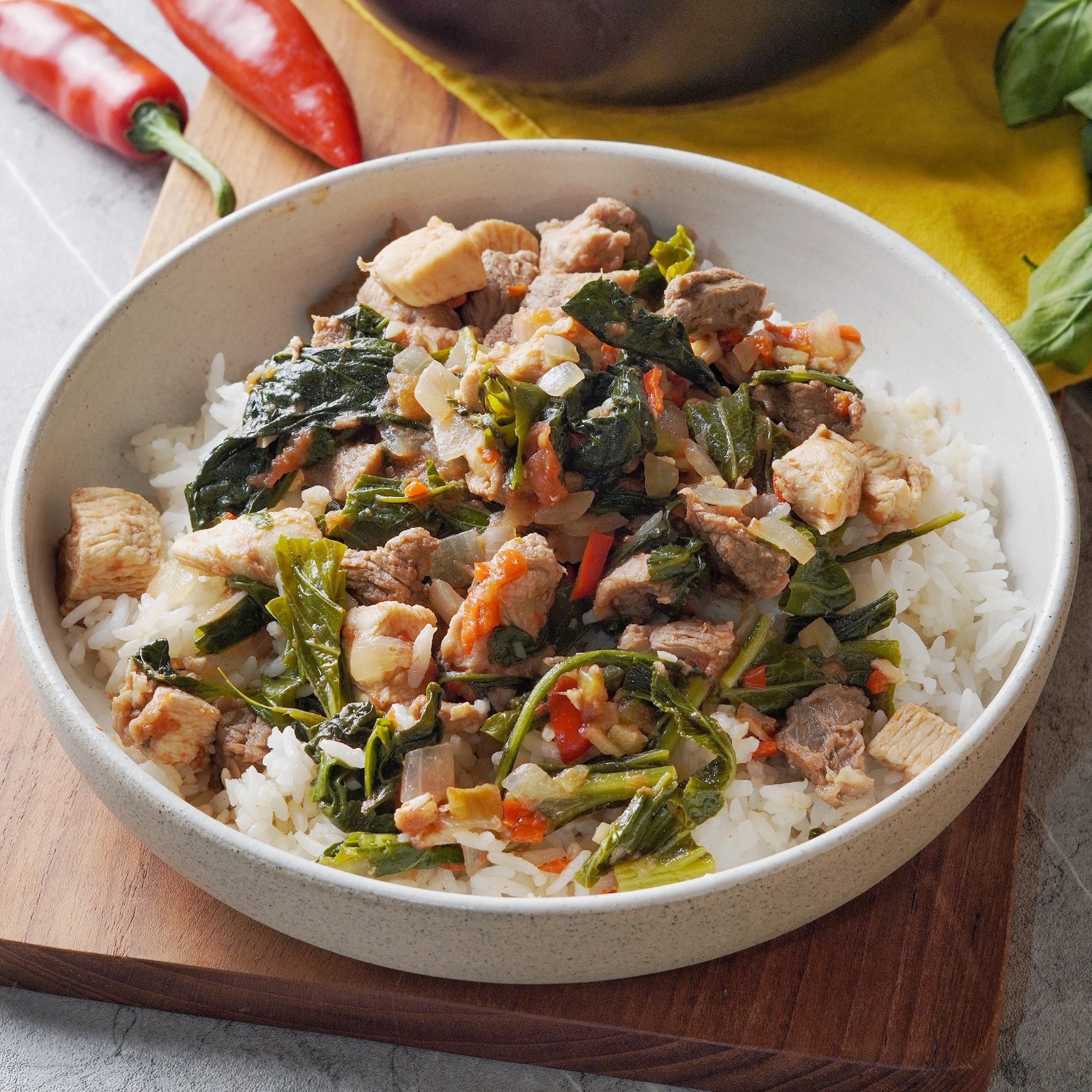 Ingredients
2

tbsp

vegetable oil

1

lb.

beef chuck

1

lb.

pork loin

1

lb.

chicken breast

1 14

oz

can diced tomatoes

2

cups

chicken broth

1

onion

6

garlic cloves

2½

inch

fresh ginger root

3

serrano chilies

1

bag mustard greens

1

bag arugula leaves

1

bag spinach leaves
Instructions
All ingredients ready? Let's begin!

Prep the beef by going over it and cutting off any excess fat that you do not want. Cut the beef into bite-sized cubes (about an inch in size).

Prep the pork loin by doing the same and chopping it into bite-sized pieces.

If your chicken breast still has skin on, cut it away and chop the rest of the breast into bite-sized pieces. (Sidenote: I like to lightly cook the skin and feed it to whatever cat or dog is around instead of throwing it away).

Peel and dice the onion. Peel and mince the garlic. Peel and mince the ginger root.

Cut the chilies in half and remove the seeds, then mince the chilies.

Roughly chop the mustard greens. Set aside.

If you have a large dutch oven, use that. If not, use a large pot. In the pot, heat the vegetable oil over medium heat.

Add the beef chunks and cook until all sides of the beef are browned. This involves turning each piece so it can cook evenly and shouldn't take more than 10 minutes.

Once the beef has browned, add the can of tomatoes, the chicken broth, onion, garlic, ginger, and chilies.

Bring the liquid to a boil then immediately turn the heat to low or medium low so it can simmer. Put the lid on the pot and leave it to simmer for 30 minutes.

After 30 minutes, add the pork and chicken chunks. Turn the heat up and bring to a boil again before turning the heat back down to low. Put the lid on again and let simmer for another 10-15 minutes.

Add all of the greens to the pot. Stick them down a little bit with a wooden spoon to try to mix them in. The greens will probably need to be shoved in a little bit until they wilt.

Put the lid back on and let simmer for 10 more minutes.

Season with salt and pepper to taste then it is ready to eat!
Video
Nutrition
Calories:
531
kcal
|
Carbohydrates:
10
g
|
Protein:
74
g
|
Fat:
21
g
|
Saturated Fat:
8
g
|
Polyunsaturated Fat:
2
g
|
Monounsaturated Fat:
9
g
|
Trans Fat:
1
g
|
Cholesterol:
225
mg
|
Sodium:
870
mg
|
Potassium:
1535
mg
|
Fiber:
2
g
|
Sugar:
5
g
|
Vitamin A:
261
IU
|
Vitamin C:
17
mg
|
Calcium:
85
mg
|
Iron:
5
mg
Notes & Tips
Any leftovers can be stored in a covered container in the fridge for five days. Just pop it in the microwave when you're ready to eat again.
Serving Suggestions
You can eat this stew on its own, but I highly recommend eating it over fresh, steamed rice. It stretches the meal farther and the rice is great for soaking up all those juices and flavors. If you have never made steamed rice before, here's how:
Add two cups of uncooked, white rice to a pot. Use cold water to rinse out the rice. You can do this by putting the rice in a sieve and running it under cold water, but I usually just put the water into the pot, use my hands to swirl it around, then dump the water out. Rinse the rice at least twice in cold water, but you can do it as many times as you want.
Fill the pot with 2 cups of water and a pinch of salt. Put a lid on and bring to a boil on your stovetop. Reduce the heat to medium low and let the rice cook that way for about 30 minutes, or until it is fluffy.
If you cook rice on a stovetop, you can stir it every so often to prevent it sticking to the bottom. If you have a rice cooker, follow the instructions for that. Usually, rice cookers involve the same 1:1 ratio of rice and water but they are easier because you don't have to put them on the stove and worry about it burning at the bottom of the pan.
Malagasy romazava is so filling that I doubt you will want sides, but just in case you do, I recommend a Bulgarian shopska salad. The Mediterranean ingredients combine into a salad that is very bright and fresh, because you don't want another rich-bodied dish as a side for this hardy stew.
I know that an hour after dinner or so the urge often strikes to eat again, so here is a delicious dessert you can use to round off your night with a bang. This chocolate banana pudding is a lot easier than it looks because you can build it like a lasagna. It is light and fluffy with chocolate running throughout and full of sweet bananas, which make it a good dessert to come after such a heavy stew.
Substitutions
If you want, you can substitute chicken broth for beef broth or vegetable broth. Sometimes I even mix two different ones depending on what I find in my pantry.
Vegetable oil can be substituted as well. Olive oil or rapeseed oil will work just as well. I do not advise using butter though, unless it is the only thing you have.
You also have a little leeway to add more meat if you want. If you buy a pack of two chicken breast or a little more than a pound of pork or beef, it is fine to use all that up as well.
---
Recent Recipes