Lasagna is a staple Italian cuisine, but there's no denying that the pasta dish is pretty meat-heavy. What if you could combine lasagna with some extra veggies and less meat, resulting in an overall healthier meal than usual?
Turns out, you can do just that with this asparagus lasagna recipe. Tasty from start to finish, this lasagna recipe is just as cheesy and delicious as standard lasagna. But instead of shredded or ground beef, you'll use a little bit of pancetta mixed with an asparagus and tomato mixture that floats in between heavenly layers of cheesy lasagna sheets. Even better, this lasagna dish can be completed from start to finish in less than an hour, even if you decide to shred your own Parmesan cheese (which we definitely recommend). Let's take a closer look at this asparagus lasagna recipe in detail.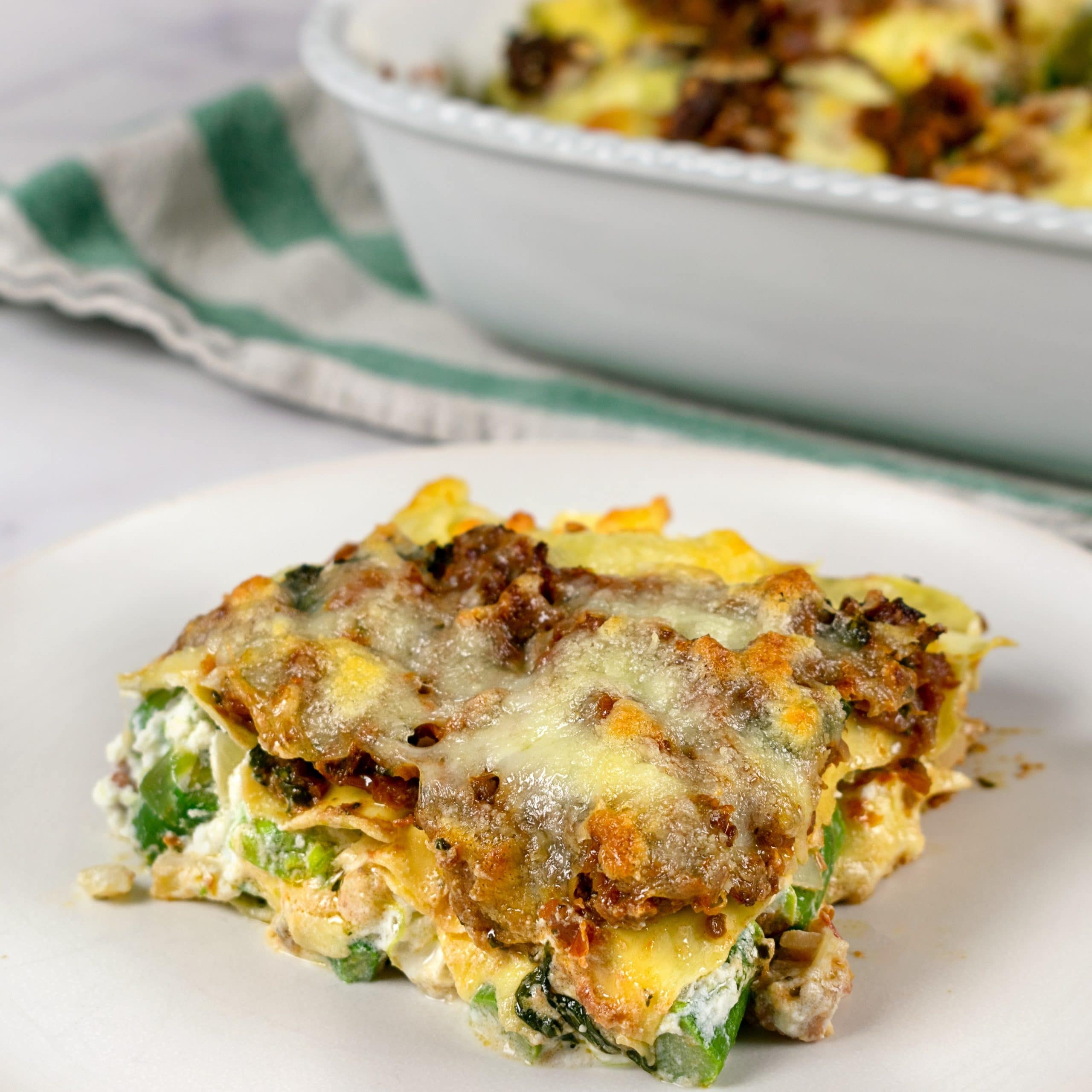 Ingredients
9

fresh lasagna sheets

1

teaspoon

olive oil

1

tablespoon

olive oil

separate

1 1/2

cups

fresh basil leaves

½

cup

grated Parmesan

¾

cup

grated Parmesan

separate

17

ounces

sun-dried tomatoes

drained

¼

lb

pancetta

diced

2

garlic cloves

minced

1

medium onion

diced

15

ounces

whole milk ricotta cheese

4

bunches of asparagus

cut into pieces

1

teaspoon

salt

1/2

teaspoon

fresh ground black pepper

2

tablespoons

butter

2

cups

shredded whole milk mozzarella cheese
Instructions
Preheat oven to 350°F. Boil a large pot of salted water over high heat, then add 1 teaspoon of the olive oil. Add the lasagna pasta and cook until it is tender but still firm to the bite. This is called "al dente". Drain the pasta as soon as it's done.

While pasta is boiling, cut asparagus stalks into about 1-inch pieces. Combine the basil and sun-dried tomatoes once finished using a food processor or pulsing mixer.

Transfer the mixture into a small bowl and stir in ½ cup Parmesan.

Place the pancetta into a large skillet under medium-high heat. Brown the pancetta until it's crisp, then remove the pancetta using a slotted spoon. Add 1 tablespoon of olive oil plus the minced onion and garlic. Cook the mixture for about four minutes or until tender.

Next, add the asparagus to the skillet and cook until the asparagus chunks are tender, around another four minutes or so.

Put the asparagus and the pancetta/olive oil mixture in a larger bowl, then add the ricotta cheese, salt, and pepper. Stir well to combine all the ingredients.

Take a 9 x 13" baking dish and sprinkle the sun-dried tomato mixture on the bottom.

Place some of the lasagna sheets on the bottom, then scoop half of the asparagus mixture inside.

Sprinkle mozzarella cheese and the remainder of your Parmesan on top, then repeat the process for one more layer of lasagna noodles and asparagus mixture.

Top the lasagna sheets with the sun-dried tomato mixture, Parmesan, and mozzarella.

Sprinkle the top of the lasagna with butter, then place the completed lasagna into the oven. Bake for about 25 minutes or until the cheese is totally melted.
Video
Nutrition
Calories:
626
kcal
|
Carbohydrates:
65
g
|
Protein:
34
g
|
Fat:
29
g
|
Saturated Fat:
13
g
|
Polyunsaturated Fat:
3
g
|
Monounsaturated Fat:
10
g
|
Trans Fat:
1
g
|
Cholesterol:
107
mg
|
Sodium:
1010
mg
|
Potassium:
2333
mg
|
Fiber:
8
g
|
Sugar:
24
g
|
Vitamin A:
1420
IU
|
Vitamin C:
26
mg
|
Calcium:
518
mg
|
Iron:
8
mg
Notes & Tips
When you first create this asparagus lasagna recipe, you might see that the sauce looks a little thin. Don't let the appearance deceive you; once all the ingredients firm up, it should be an appropriate consistency and taste great with your pasta sheets.
However, you can add more asparagus if you prefer more of a veggie texture to your completed asparagus meal. Additionally, be sure to cook the asparagus thoroughly beforehand. If you don't cook the asparagus until it's tender before placing it in between the lasagna sheets, it could come out too hard or crunchy for your guests.
For the best results, go for thin asparagus rather than thick stalks. Remember to cut the lower ends of the asparagus off with a knife if they aren't pre-cut.
One more thing — when it comes to Parmesan, fresh is best. Grate your own Parmesan if at all possible. Lots of pre-shredded Parmesan has preservatives or other synthetic ingredients that can prevent it from melting properly. This takes more time, but it's well worth it in terms of flavor and dish quality.
Do not cut the cheese into chunks. That could also mess with how easily the cheese melts.
Common Questions
Is asparagus lasagna vegetarian?
No, as this recipe includes pancetta, which is a type of pork. However, you can easily adapt this recipe for vegetarian diets by removing the pancetta. There are no other meat products included.
Can you make this recipe vegan-friendly?
Unfortunately, no, as it involves the use of several different types of cheese. However, there are other vegan recipes available for you to check out, like this vegan pesto lasagna.
How can you tell if asparagus lasagna is ready to eat?
Simply check the cheese on the outside of the baking dish. If it looks slightly brown, odds are the dish is ready. You can alternatively use a baking thermometer and stick it into the middle of the lasagna to check the temperature.
Shortcuts
If you want to cut your cooking time short, pre-shredded your Parmesan cheese and cut your asparagus together while the oven warms and the pasta cooks. Both tasks combined should take you about 10 minutes, which is all you really need for both prior steps.
Timed right, everything could be ready to cook on schedule and you can get this recipe out to your hungry family in as little as 40 minutes from start to finish.
Sides or Compliments
As a tasty Italian dish, lasagna — even meat-light lasagna like this asparagus lasagna – has tons of applicable sides depending on your diet. Breadsticks are one great option. Chewy ciabatta bread, asiago, and garlic bread are all excellent choices.
Alternatively, try a tomato feta salad to give yourself some extra veggies and fiber instead of more carbs (ideal if you're on a diet!). In fact, any green salad can do the trick and complete your meal.
---
Recent Recipes