The Air Fryer Electricity Cost To Run Guide
Key Takeaways
When one factors in the preheating period and differences in cooking time, air fryers are, on average, 60% – 70% more energy efficient than electric ovens and approximately 30% more efficient than deep fryers at single batch performance. 
Although estimated at maximum power consumption, which means the actual bill will be slightly lower, using an entry-level 700-watt air fryer costs about $0.16 per hour, while a popular best-seller like the 1300-watt Instant Vortex Plus 6-in-1 (4-quart) will set you back no more than $0.30 if used continuously for 60 minutes. 
Air fryers are cheaper and more affordable to run than conventional deep fryers, electric ovens, and other cooking appliances. Air fryers feature a highly energy-efficient design, utilizing a lower wattage to heat a compact cooking space while still managing to accommodate similarly large quantities of food and cook them at a rapid pace. The energy savings as compared to traditional deep frying and oven-based methods that require a higher wattage and longer cooking periods are immense. Discover the cost to cook each meal with air fryers and how this compares to other cooking methods in terms of time, energy, and savings with our air fryer electricity cost-to-run guide.
Air Fryer Electricity Cost To Run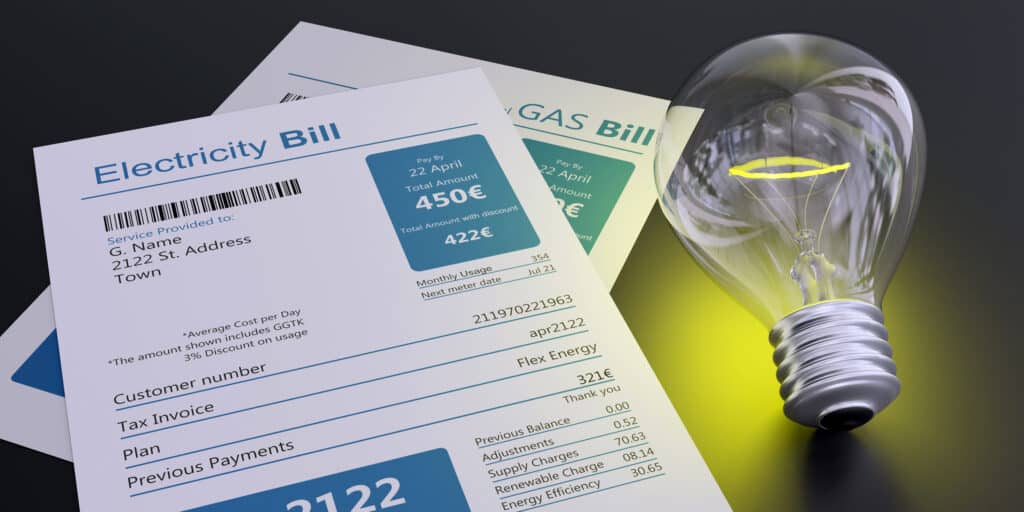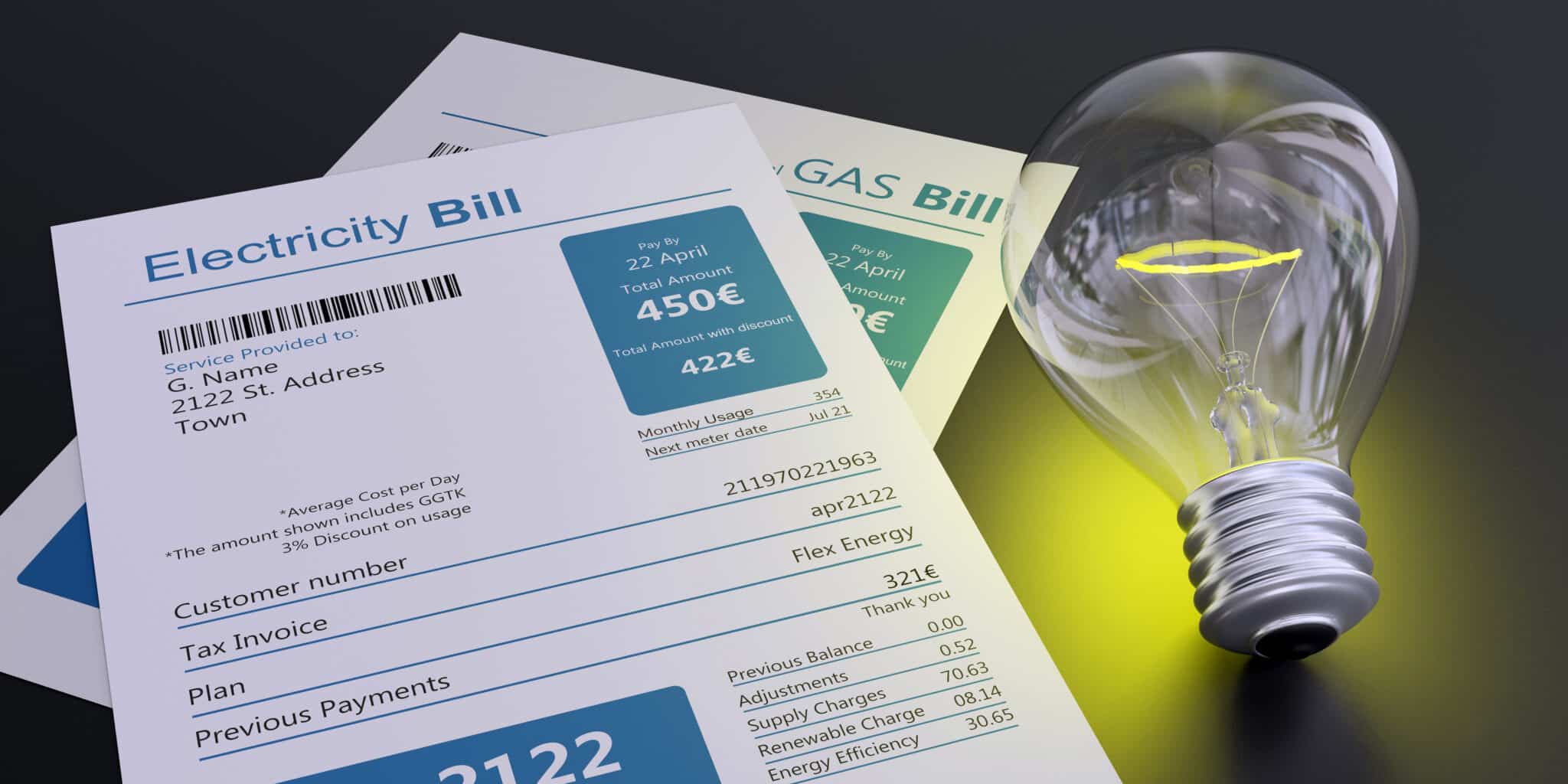 Here is a rough breakdown of the electricity cost to run each particular wattage of air fryer at a rate of 23.1 cents per kilowatt hour, the New York statewide average at the time of writing, while assuming the maximum ongoing power draw possible from the appliance. Please note there are efficiency differences between various models and manufacturers. While accurate to a relatively close degree, these approximate costs will vary.
| | | |
| --- | --- | --- |
| Wattage | Air Fryer Capacity | Cost To Run Per Hour (At 23.1 Cents / Kwh) |
| 700 Watt | 2-3 quarts | $0.163 |
| 800 Watt | 2-4 quarts | $0.187 |
| 900 Watt | 3-5 quarts | $0.211 |
| 1000 Watt | 3-6 quarts | $0.235 |
| 1100 Watt | 4-6 quarts | $0.259 |
| 1200 Watt | 4-7 quarts | $0.283 |
| 1300 Watt | 4-8 quarts | $0.307 |
| 1400 Watt | 5-8 quarts | $0.331 |
| 1500 Watt | 5-9 quarts | $0.355 |
| 1600 Watt | 5-10 quarts | $0.379 |
| 1700 Watt | 6-10 quarts | $0.403 |
| 1800 Watt | 6-11 quarts | $0.427 |
| 1900 Watt | 6-12 quarts | $0.451 |
| 2000 Watt | 7-12 quarts | $0.475 |
| 2100 Watt | 7-13 quarts | $0.499 |
| 2200 Watt | 8-13 quarts | $0.523 |
The above-listed costs will always be higher than actually billed due to the variable power consumption affected by each appliance's thermostat. The thermostat within an air fryer affects the power consumption because it helps regulate the temperature. Air fryers use more power when heating up and less power while maintaining the desired temperature. This means that you can't directly calculate the billed cost to run from the raw wattage because the actual power consumption of the appliance will depend on how much it is being used.
The thermostat helps to ensure that the air fryer uses only the necessary amount of power to cook the food to the desired temperature, and this will vary depending on the usage scenario. For example, if you use the air fryer for an hour to cook a meal, it may use more power than if you use it for a shorter amount of time to warm up leftovers. The wattage listed on an air fryer is simply the maximum amount of power it could potentially use, but it doesn't necessarily reflect the actual power consumption during use.
How Air Fryers Compare To Traditional Deep Frying Equipment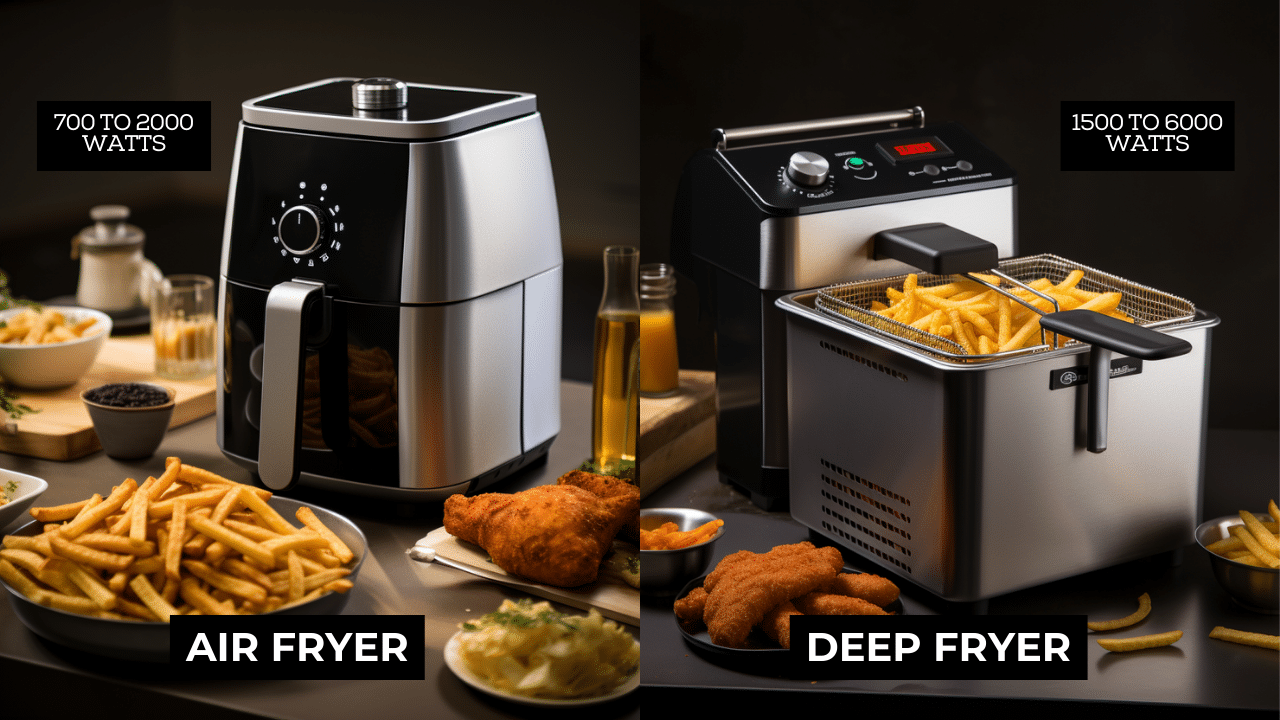 A typical air fryer has a wattage of around 700 to 2000 watts, while deep fryers can range from 1500 to 6000 watts or higher. The higher wattage of deep fryers is necessary to heat the large amounts of oil required for deep frying. Additionally, most deep fryers take 10 to 15 minutes to reach frying temperature, whereas most air fryers are preheated in 3 minutes or less. The only advantage to the significantly higher running cost is that almost all deep-fried foods cook in under 5 minutes which is far faster than any air fryer can match. However, in single batch performance, air frying and deep frying arrive at a near-equal cost. 
For a matching task such as making french fries, you're looking at around 20 minutes of air frying plus the preheating period of 3 minutes as opposed to 5 minutes of deep frying once preheated, followed by a 3-minute refry – That's 23 minutes of air frying as opposed to 18 to 23 minutes of deep frying. A deep fryer of equal wattage to an air fryer only becomes more efficient when cooking several batches of food in a row.
How Air Fryers Compare To Electric Ovens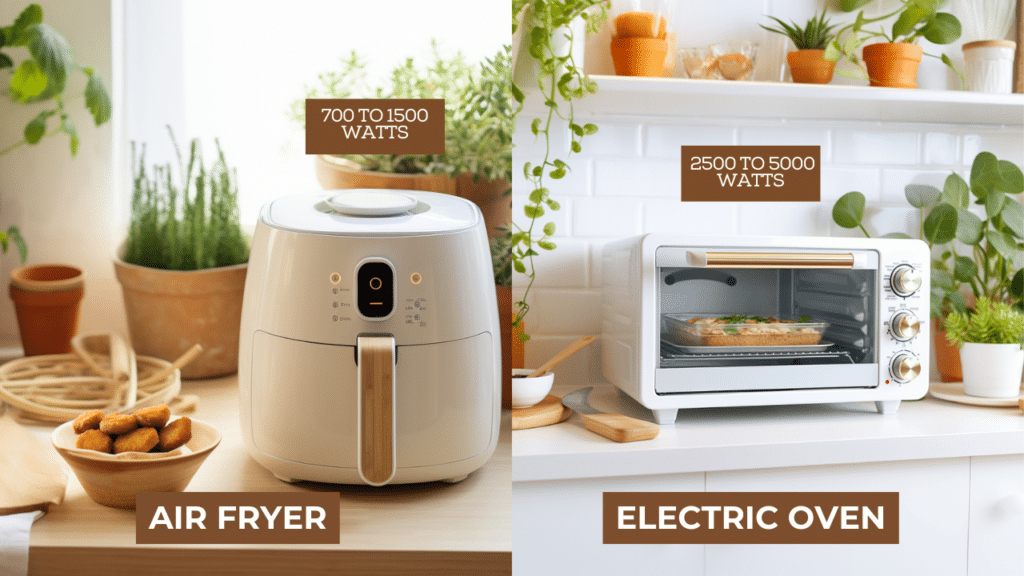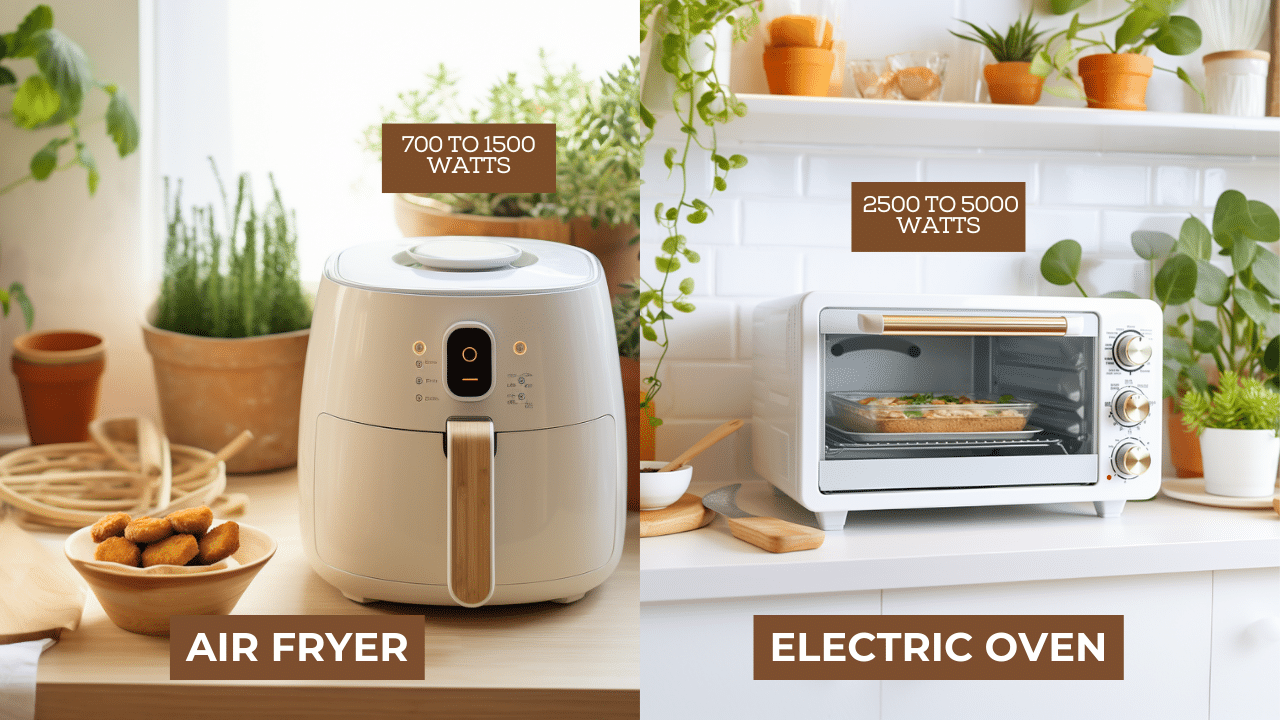 Home-grade electric ovens draw between 2500 to 5000 watts on average at maximum temperature. Even at medium heat, a 2000-watt, 24-inch electric oven pulls approximately 1300 to 1500 with the top and bottom elements on. Entry-level air fryers begin at 700 watts. The average mid-range air fryer is only powered by 1000 watts, and 2023's best-seller, the Instant Vortex 6-Quart Air Fryer, is a 1500-watt model. One seldom finds higher unless looking for a massive capacity. 
Even though air fryers consume less raw wattage making them cheaper to run, they are also more energy efficient. There's less surface area to cover than a conventional electric oven which means slightly quicker cooking times and far faster preheating. The majority of air fryers preheat to 400°F in 3 minutes or less, while the biggest units take no more than 5. Although most electric ovens claim to preheat in 15 minutes flat, 20 minutes appears to be the golden number for most units, with older ovens taking up to half an hour.
Air Fryer Vs. Electric Oven Vs. Deep Fryer (Inclusive Of Preheating Period)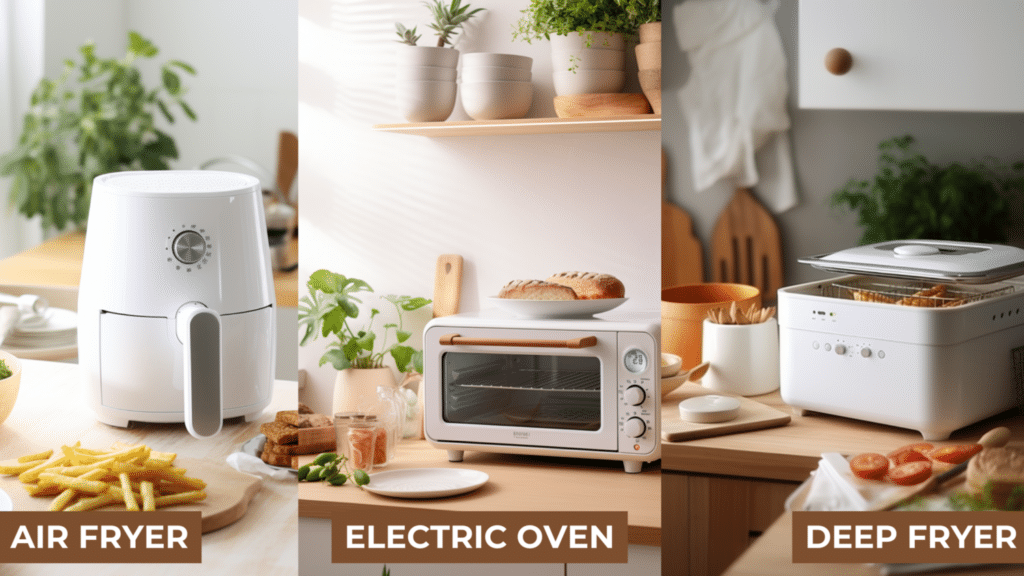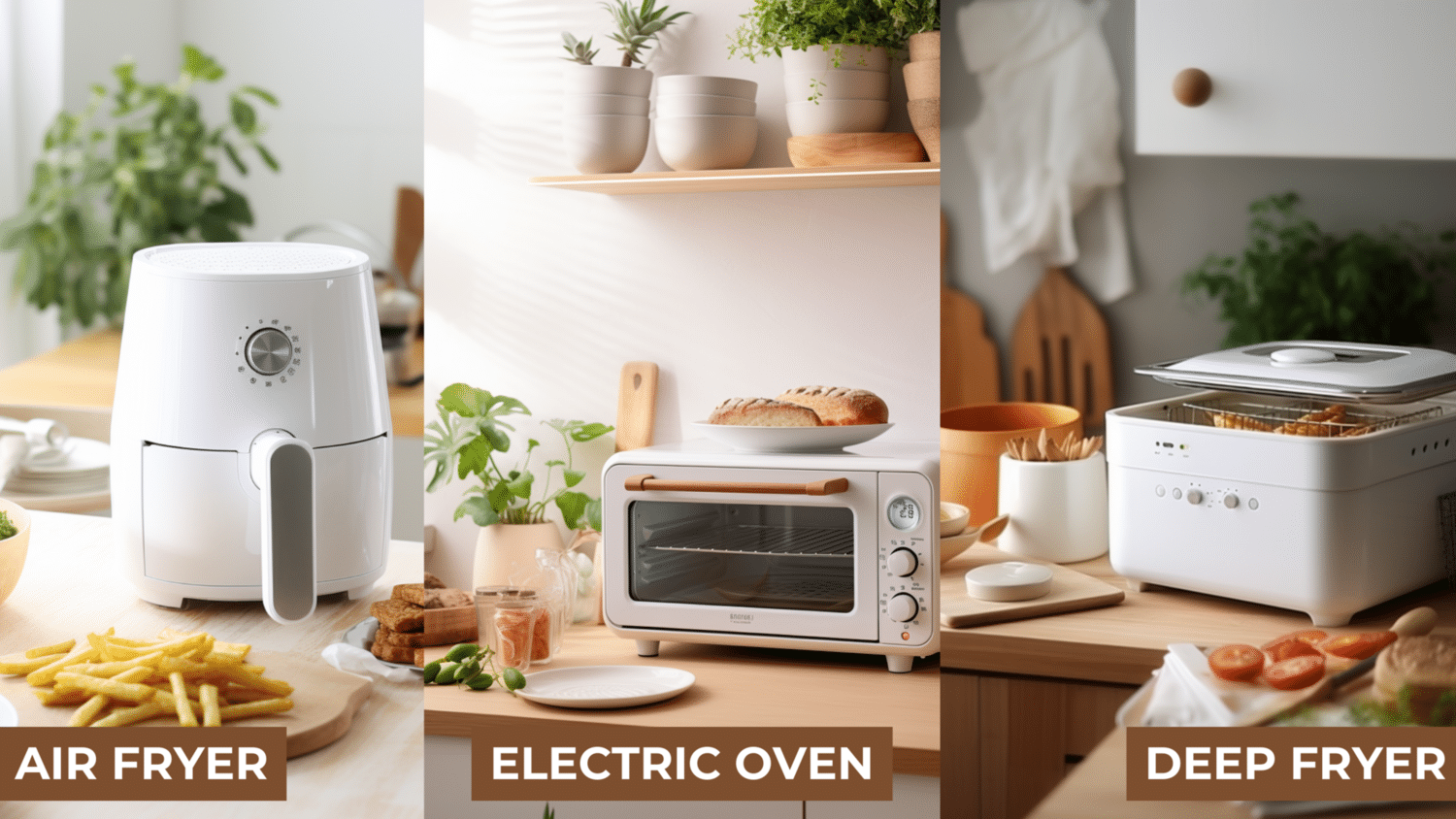 | | | | |
| --- | --- | --- | --- |
| Food Type | Cooking Medium | Cooking + Preheating Time | Cost To Cook (Maximum Power Draw) |
| Beef Burgers | Air Fryer | 13-15 | $0.023 |
| Beef Burgers | Electric Oven | 30-35 | $0.069 |
| Beef Burgers | Deep Fryer | 15-17 | $0.046 |
| Chicken Pieces | Air Fryer | 18-22 | $0.023 |
| Chicken Pieces | Electric Oven | 40-45 | $0.138 |
| Chicken Pieces | Deep Fryer | 18-20 | $0.046 |
| Breaded Fish Fillets | Air Fryer | 13-15 | $0.023 |
| Breaded Fish Fillets | Electric Oven | 35-40 | $0.092 |
| Breaded Fish Fillets | Deep Fryer | 15-17 | $0.046 |
| Roast Potato Wedges | Air Fryer | 23-27 | $0.023 |
| Roast Potato Wedges | Electric Oven | 45-50 | $0.138 |
| Roast Potato Wedges | Deep Fryer | 18-20 | $0.046 |
| Crumbed Mushrooms | Air Fryer | 11-13 | $0.023 |
| Crumbed Mushrooms | Electric Oven | 30-35 | $0.069 |
| Crumbed Mushrooms | Deep Fryer | 15-17 | $0.046 |
Please Note: All costs are variable based on make, model, usage scenario, and the electricity cost in your area. The table assumes rates based on 1000 watt air fryer, 3000-watt electric oven, and 2000-watt deep fryer @ 23.1 Cents / Kwh.
Air Fryer Running Cost – Frequently Asked Questions
Have you been left wondering anything about air fryer running costs? Here are the answers to all the frequently asked questions about the electricity cost of an air fryer.
How Does The Price Of An Air Fryer Compare To Traditional Deep Frying Equipment?
The price of an air fryer can vary greatly, but it is generally more affordable than traditional deep frying equipment such as deep fryers and stockpots. However, it's important to keep in mind that air fryers come in different sizes with various features, so the cost can range from under $50 to over $300. On the other hand, deep fryers can cost anywhere from $50 to $500, depending on their capacity, features, and brand. It's also worth noting that while deep fryers are a one-time purchase, they require frequent replacement of oil, which can add up in cost over time. Air fryers, on the other hand, do not require oil and use hot air to fry food, which can result in lower ongoing costs and a healthier cooking experience. 
Is An Air Fryer More Cost-Effective Than An Oven?
Air fryers are more cost-effective to buy and run than electric ovens due to being powered by a lower wattage while also preheating faster. Mid-range air fryers often retail for under $100, whereas entry-level electric stoves generally fetch at least $700-$800 or more. Additionally, at equal tasks, air fryers are 30 – 35% more energy efficient than an electric oven. Cooking times are also quicker, lowering the cost of cooking even further. 
Does An Air Fryer Use A Lot Of Electricity?
No, an air fryer does not use a lot of electricity. At equal wattage to other cooking appliances, air fryers use less electricity thanks to their size, the thermodynamics of air frying and consequently shorter cooking durations, and the lightning-quick preheating period. Unlike deep frying and grilling, baking, or roasting in an electric oven, the thermostat of an air fryer regulates the power consumption on the fly relative to the quantity of food being cooked, which ensures that only as much electricity as is needed is used instead of the full power draw pulled to sustain the heat of a large oven or deep fryer.
What Are The Best Air Fryers?
The best air fryer is a choice that depends on your personal cooking habits, the capacity required, the features needed, and general preferences. However, some of the best-selling brands in the USA include the Ninja Air Fryer range, Instant Vortex Air Fryers, GoWISE USA, Phillips, Chefman, Gourmia, Cusimax, and Crownful. If you're on the hunt for a new air fryer and crave the even cook, color, and crispiness only spit-roasting can provide, be sure to check out our review of the best air fryers with rotisserie available.
---
Recent Recipes