All The Zaxby's Vegan Menu Options
The first thing that you notice when you walk into a Zaxby's is the smell. It smells like chicken, and it makes your mouth water as soon as you walk in. Zaxby's is a fast food restaurant that offers chicken fingers, wings, sandwiches, and salads. They have an extensive menu that includes vegetarian options like the Grilled Veggie Sandwich, Spicy Black Bean Burger, or Buffalo Bleu salad without the chicken.
But what if you are vegan? Can someone who doesn't eat diary or meat still enjoy this restaurant chain? The answer is yes! They also offer vegan-friendly side dishes such as fries without cheese sauce or fried okra with no batter. Zaxby's even has some desserts with vegan options, including a Chocolate Chip Cookie Dough Blizzard Treat made from soy milk and brownie bites in vanilla ice cream!
This post will show you every vegetarian and vegan option on the menu at Zaxby's so that nobody goes hungry. Here is a quick overview:
| Menu Item | Type | Notes |
| --- | --- | --- |
| Basket of Celery Sticks | Sides | Order without ranch |
| BBQ | Sauces | |
| Citrus Vinaigrette Dressing | Salad Dressing | |
| Crinkle Cut Fries | Sides | |
| Insane | Sauces | |
| Lite Vinaigrette Dressing | Salad Dressing | |
| Nuclear | Sauces | |
| Pickle Spears | Sides | |
| Side Salad | Salad | |
| Sweet & Spicy | Sauces | |
| Teriyaki | Sauces | |
| Tater Chips | Sides | |
| Texas Toast | Sides | order without butter or cheese |
| Tongue Torch | Sauces | |
| Wimpy | Sauces | |
| Zaxby's Basket of Fries | Sides | |
Note: Cross-contamination can occur. Menu items as of 1/13/2023. Some item are only available at certain locations. Please ask your server to confirm these options as they may have changed.
Side Salad
The Side Salad is one of the vegan and vegetarian options at Zaxby's. The salad comes with mixed greens, tomato, cucumber, green peppers, red cabbage slaw (seasonal), croutons, and a choice of dressing, such as olive oil. While ranch and blue cheese are available options, they are not vegan. For those who are vegan or want to keep it gluten-free, the best option is to choose an oil and vinegar dressing. The Side Salad is a great option for those who are a little health conscious; however, it is not going to fill you up. So, you would want to order something else with this dish.
Tater Chips
Zaxby's has a side dish called tater chips. It is also vegan, as they are fried in rice bran oil. For those who want gluten-free, it would be best to order the plain chips without seasoning; however, for everyone else, there are two options: ketchup or hot sauce -both of which are vegan. However, make sure that you ask for 'no ranch' because tater chips at Zaxby's are usually served with ranch as a dipping, which is not vegan-friendly. Some locations serve tater chips with chicken as well. So, ask before ordering.
Crinkle Fries
Zaxby's Crinkle Fries is a vegan-friendly side dish. For those who want gluten-free, it is best to order the plain fries without cheese sauce or fried okra with no batter. However, for everyone else, there are two options: ketchup and hot sauce – both of which are vegan friendly. They are made using rice bran oil and are seasoned with salt.
We would recommend ordering these fries to go with the Grilled Veggie Sandwich because it will make a more balanced meal. While Zaxby's has some vegan-friendly side dishes, none of them are filling enough on their own without meat; or they don't have any meat in them. So, it is best to order three side dishes if you are not going to eat any meat.
Celery Sticks
Zaxby's also has celery sticks. While they come with ranch dressing by default, always make it clear before ordering. Some locations serve peanut butter with celery sticks. So, it is better to ask the staff about the same. Overall, it is a pretty good side, but it won't make you full. Nevertheless, there are around 20 sticks on the platter, which is enough for two people to share if they are not going to eat any main course.
Texas Toast
While Texas Toast is technically not a vegan-friendly sandwich as it comes with cheese options like cheddar, pizza mozzarella, or provolone – none of which are vegan – you can always substitute it with mayo and barbecue sauce, which Zaxby's website says is egg-free and dairy-free. Always make sure that you notify the staff about what you want at the time of ordering. However, the customization option differs from location to location. That is, not all locations offer vegan-friendly seasoning.
Sauces
While Zaxby's is popular for its trademark sauces like BBQ, ranch, and blue cheese, there is a variety of vegan options as well. For those who want to keep it vegan, the best options include:
BBQ Sauce
Teriyaki Sauce
Sweet and Spicy
Insane
Nuclear
Tongue Torch
Wimpy
Before you order any of these sauces for dipping your Texas toast, celery, chips, or fries, please make sure to enquire about the ingredients in these sauces. This is because certain sauces may contain eggs and milk.
Beverages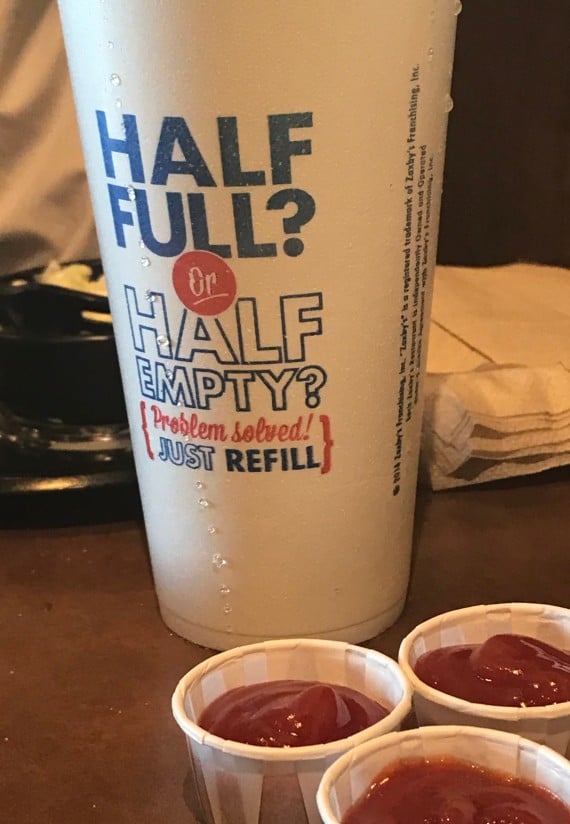 Zaxby's also has a variety of beverages for vegan customers. There are iced tea, lemonade, and fruit punch available without any dairy-based ingredients or additives in them. For all other drinks like sodas and shakes – please make sure to ask if they contain milk before ordering. It is worth mentioning that Zaxby's does not serve any vegan milk at all. However, the most popular vegan-friendly beverages ordered at Zaxby's include:
Barq's Root Beer
Cherry Coke
Hi-C Fruit Punch
Lemonade
Sprite
Mello Yello
Fanta
Diet Dr. Pepper
Coke Zero
Diet Coke
Coca-Cola
Unsweet Tea
Iced Tea
Sweet Tea
Apple Juice
The best thing about the beverage options available at Zaxby's is that they not only serve drinks from popular brands but also have their own line of drinks that are ideal for vegan customers.
What About Zaxby's Onion Rings? Are they Vegan-Friendly?
Unfortunately, Zaxby's onion rings are not vegan-friendly as they come with cheese. The only way to make the onion rings vegetarian (but not vegan) is by ordering them without the breading and dipping of your desired sauce instead, which does not make sense because eating onion rings with a sauce or dipping doesn't taste good. One thing you can do is order a vegan-friendly sauce from someplace else or make your own vegan sauce at home.
Overall, Zaxby's has options for everyone
These are some of the vegan dishes available at Zaxby's. Their vegan menu is in the process of expansion, and you can expect to see more vegan options in the near future. Till then, these are some of the best vegan dishes to try at Zaxby's.
Looking for more vegan options? Read our McDonald's list or Popeyes list.
---
Recent Recipes