Boba are small balls or pearls that are used to sweeten a drink known as bubble tea. This drink is a popular beverage served in many Asian cultures. The drink was reportedly first made and served in Taiwan. But it can be found anywhere now. In fact, a tiny tea shop opened up in my small town about a week ago. This is a tea that generally has condensed milk added to it along with tapioca pearls or boba. You can find small boba milk tea shops that serve a variety of flavors of the tea in to-go cups with a lid and a straw.
In this recipe, we are going to focus on making boba or tapioca pearls. These pearls take some time to make, but it is worth it because you can ensure that the ingredients are clean. Some store-bought boba have preservatives, gums, dyes, and other ingredients that you may not be interested in eating. Boba pearls are available online and in specialty markets.
The only ingredients you will need to make these boba are tapioca starch, brown sugar, and water. Tapioca starch is a powder made from cassava root. Cassava is a starchy root vegetable that is native to South America. Tapioca is commonly used as a thickening agent. For boba, the tapioca forms chewy little balls that look like bubbles in the tea. I have only seen white tapioca starch in my markets, but I am told that there are cassava roots that are purple in color, which would be interesting for this recipe.
When you make boba from scratch, it is best to use them right away while they are fresh. When purchased online, they arrive dried in packages. If you don't use them all, just place them in a well-sealed plastic baggie and place them in your freezer. To use boba right away, try our vegan taro iced tea recipe. These little gems are both gluten-free and vegan. I also include instructions on how to cook the boba for tea after the recipe section.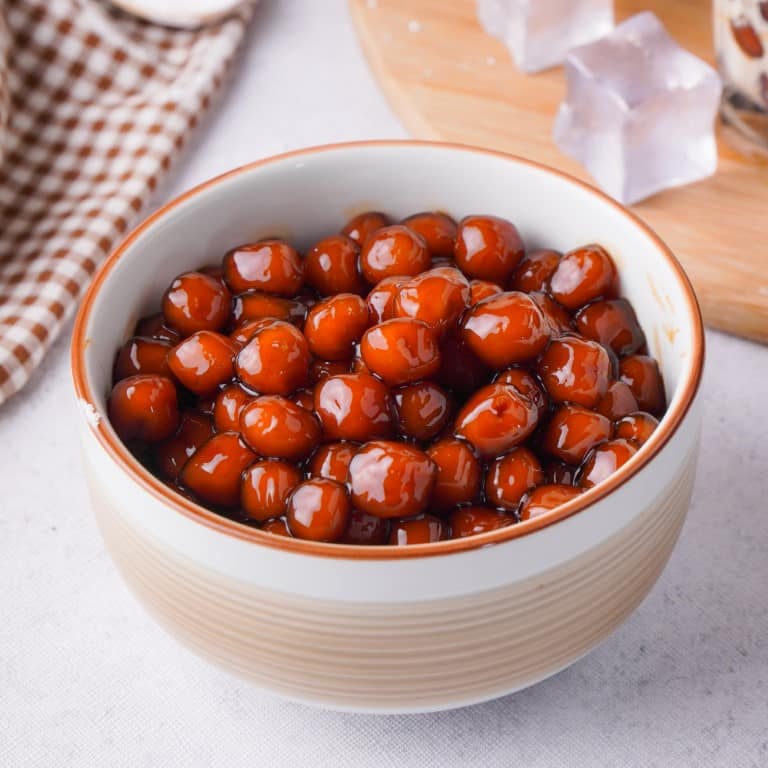 Ingredients
1

cup

tapioca starch

divided, + more for kneading and dusting

5

Tbsp

brown sugar

⅓

cup

of water
Instructions
All ingredients ready? Let's begin!

In a medium saucepot over medium-high heat, bring the water to a boil. Add the brown sugar and stir to dissolve it.

Once the sugar dissolves, turn the heat off. Add 1/2 cup of the tapioca starch to the pot and stir to combine well.

Slowly add the remaining 1/2 cup of tapioca starch, a little at a time, and keep mixing until a sticky dough forms and comes together. Set the pot aside to cool just until you can work it with your hands.

Dust a clean, dry work surface with a bit of the tapioca starch. Transfer the dough to the work surface and knead a few minutes until it feels elastic and workable.

Using a rolling pin dusted with tapioca starch, roll the dough out to 1/4-inch thickness. Using a sharp knife, slice the dough into 1/4-inch wide strips. Then, slice the strips at 90 degrees to form 1/4-inch cubes.

Dust a plate with a little tapioca starch. Roll each cube into a small sphere. Place them on the dusted plate so they don't adhere to one another.

At this point, you can cook the boba for use in tea or wrap them well and freeze them for later use.
To Cook the Boba
In a large saucepot over medium-high heat, bring 8 cups of water to a boil. Add the boba pearls to the pot and cook for 7 minutes.

Reduce the heat to low and allow the pearls to continue to simmer for 8 minutes longer. As soon as the boba float to the surface of the water, remove them with a slotted spoon to a bowl. Empty the pot. Return it to medium-high heat. Add 3 ounces of water to the pot and bring it to a boil. Stir in 2 tablespoons of brown sugar and cook until it reduces to a syrupy consistency, approximately 5 minutes.

Meanwhile, submerge the cooked boba in a bowl of ice water for 5 minutes.

Reduce the heat under the pot of syrup to low. Drain the boba and add them to the lightly simmering syrup. Steep in the syrup for about 7 minutes, then remove from the heat.

Add the warm boba to hot tea with milk or cool the pearls for about 15 minutes if adding them to cold tea.
Nutrition
Calories:
157
kcal
|
Carbohydrates:
41
g
|
Protein:
0.02
g
|
Sodium:
5
mg
|
Potassium:
26
mg
|
Sugar:
15
g
|
Calcium:
13
mg
|
Iron:
0.5
mg
Notes & Tips
This recipe for Boba needs your full attention and you do need to work quickly for success.
The dough can be a little hot, so wearing gloves is a good idea.
Add more starch or water as needed to get the correct consistency that allows you to form the small balls.
What Does Boba Taste Like?
Boba is interesting in texture and flavor. It mostly tastes sweet from the brown sugar. Tapioca starch really doesn't taste like much. The sugar syrup turns the light pearls a darker color so you can see them in the milky tea. I liken the texture to that of chewy gummy bears or maybe jelly beans.
You can actually alter the flavor of boba by adding a few drops of food-grade essential oils, such as peppermint or lavender. You can also change the color with the use of a couple of drops of food coloring.
---
Get Foodie Deals
We collect great foodie-focused deals from across the web daily. Get yourself or your favorite foodie a great deal at big name stores.
Recent Recipes