Barbequed Beef Heart Skewers or kebabs is traditional Peruvian street food. This top-rated recipe uses marinated cubes of cow heart on a barbeque stick grilled on an open fire. The distinctive taste-sensation of this recipe is due to the Peruvian chili Aji Panca that adds a smokey and fruity flavor to the marinade.
Anticuchos de Corazon is an inexpensive, nutritious organ-meat dish from the 16th century Inca Empire. During the colonial era, it became popular in Peru when it was served to slaves. Today, it is sold in South America as a street food served with boiled potato and mild Ají Amarillo sauce.
Anticuchos are made with different ingredients in various countries. If you enjoy barbequed meat and world cuisine, you should try this fully Paleo recipe. The chef and world traveler Anthony Bourdain compared Peruvian food to other cuisines saying that it is not like anything else, 'It's really awesome.'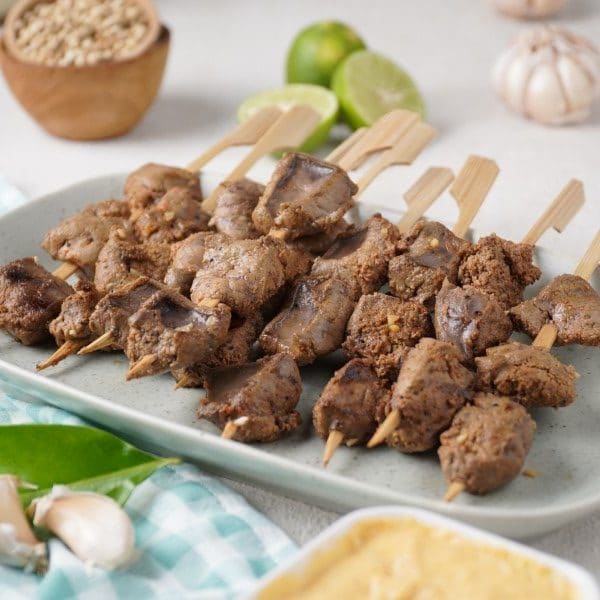 Equipment
Barbeque skewers or bamboo sticks

Blender
Ingredients
Making Anticuchos De Corazon:
1

lb.

beef heart

4

Tbsp

extra-virgin olive oil

1

tsp

cumin powder

ground

1

tsp

black pepper

ground

1½

tsp

Himalayan salt

fine

6

garlic cloves

minced

½

cup

lime juice

freshly squeezed

3-4

Tbsp

ají panca paste

substitutes in notes
Making Ají Amarillo Sauce:
½

cup

Ají Amarillo

chopped (substitutes in notes)

2

Tbsp

oil

3

cups

water

2

eggs

1

tsp

salt

1

tsp

mustard powder

¼

cup

sour cream

¼

cup

white vinegar

1

bay leaf

1

garlic clove

Salt and pepper
Instructions
All ingredients ready? Let's begin!
Preparing the Anticuchos:
Prepare the heart by removing the fat, veins, and connective tissue. Cut into chunks of equal size, 0.5 inches thick by 2.5 – 5 inches wide.

In a glass container, combine 2 tablespoons of olive oil, lime juice, garlic, ají panca paste, salt, black pepper, and cumin for the marinade.

Stir the meat chunks into the marinade.

Cover with a lid and refrigerate for 1 to 8 hours.

If using bamboo skewers, make sure to pre-soak in water for 30 minutes or more. Put the meat chunks on the metal or bamboo skewers and leave a small space between each piece of meat.

Prepare the coals for the barbeque and clean the grid or cooking grate. Alternatively, put the oven on the medium grill (325 – 375⁰F).

When the coals or oven is medium-hot, grill the heart skewers for 2 to 3 minutes on each side (medium-rare) or for 5 to 8 minutes (medium to well done).

During cooking, you can brush the meat with the remaining olive oil. Be careful not to overcook as the meat will toughen.

It is best when served immediately.
Preparing the Ají Amarillo dipping sauce:
Boil the whole eggs in the water with salt for 10 minutes. Cool and remove the shells.

Prepare the Ají Amarillo wearing gloves and a mask as it can be pretty spicy and irritate some people. Cut the stem off, slice open lengthwise, and use a spoon to remove the pips. Discard the seeds and stem. Soak the Ají in water for 10 minutes

Use a small pan to combine the Ají Amarillo, oil, garlic, and bay leaf. Stir until soft and golden, remove the pot from the heat and take out the bay leaf.

Blend all the ingredients together till smooth.
Video
Nutrition
Calories:
422
kcal
|
Carbohydrates:
12
g
|
Protein:
25
g
|
Fat:
31
g
|
Saturated Fat:
6
g
|
Polyunsaturated Fat:
5
g
|
Monounsaturated Fat:
18
g
|
Trans Fat:
1
g
|
Cholesterol:
231
mg
|
Sodium:
1617
mg
|
Potassium:
591
mg
|
Fiber:
1
g
|
Sugar:
4
g
|
Vitamin A:
554
IU
|
Vitamin C:
58
mg
|
Calcium:
73
mg
|
Iron:
6
mg
Substitutions
This recipe is traditionally made with beef hearts, but other types of meat can be cubed and used instead of heart meat. The Inca way was to use llama meat, but chicken, beef cuts like steak or fillet can be used. Exotic meats with similar nutrition benefits to organ meat are yak, ostrich, elk, bison, or alligator meat.
If you substitute the beef hearts with chicken cubes, then add some cut veggies like peppers, mushrooms, or onion to the skewers. Chicken cubes should be cut into 1 x 1-inch chunks.
The ají panca paste is a crucial ingredient for getting the traditional taste of this recipe right. It is made from a Peruvian pepper with a sweet, smokey, berry-like flavor. It can be ordered online by searching for pasta de pimienta roja. It can also be substituted with 1 or 2 tablespoons of ancho chili powder.
A garlic and lime marinade can also be excellent in combination with Anticuchos. Just leave out the chile paste, cumin, and black pepper. Add 1 tablespoon of oregano to make this a garlic-herb marinade. The lime juice in the marinade can be replaced with half a cup of red wine vinegar.
For a dressing that can be basted onto the skewers while they are cooking, use the following: garlic, onion, chopped coriander leaves, lemon juice, and beer. Spread this over the skewers with a sprig of parsley as a brush substitute.
The ají Amarillo dipping sauce gets its yellow color from the yellow, or sometimes orange, Ají chili peppers. Use 3.5 Tbsp yellow chili paste if fresh chilies are not available. Other types of chilies like Cajamarca or Ají Cito can also be used.
Serving Suggestions
Beef heart skewers can be served as an appetizer with toasted plantain chips.
Serve it as a main meal with boiled potatoes, freshly steamed or grilled corn, and a green side salad.
Anticuchos Kebabs can be served with various pepper sauces with varying degrees of heat. In Bolivia, this dish is served with Peanut sauce and roasted potatoes.
What Are The Benefits Of Using Beef Heart?
Organ meat like heart and liver fall into the red offal category of meat cuts. These meats were highly sought after traditionally. Then like now, it is still affordable yet nutritious. The heart is a chunk of tasty, lean muscle meat that is nutrient-dense.
The heart has a low-fat content but is high in protein. It contains vital minerals like iron and is rich in vitamin B12 and B9 (folate). Beef heart is a good choice for those on a paleo diet or those wanting to lose weight.
---
Recent Recipes