Best Deep Fried Sushi Roll
Deep-fried sushi rolls might be a western invention, but it's a good one. This is a hot item in many Japanese American restaurants. It is truly unique.
This sushi roll starts with sticky rice on the outside. The nori sheet is inside and it is stuffed with your favorite sushi ingredients of protein, vegetables, and fruits. The roll is dipped in an egg wash and then in panko breadcrumbs. The coated roll is deep-fried until golden and crisp. The crunchy roll is sliced and generally served with Japanese-style mayonnaise or a sweet and spicy sauce.
I don't bother using beautiful sushi or sashimi grade fish because the heat of the oil will almost completely cook it. You can use good salmon, lightly cooked shrimp, cooked and shredded chicken or pork, and imitation crab. I am not really a fan of imitation crab, so I would rather use lightly cooked real crab for this recipe.
The veggie/fruit component can be just about anything. Asparagus, cucumbers, avocados, carrots, bell peppers, scallions, etc. all work well. I also like to add a little wasabi paste for some heat. Some recipes call for cream cheese as a base for the veggies. That is definitely an American ingredient addition.
For my version of a deep-fried sushi roll, I call for sushi rice, nori sheets, cooked shrimp, cooked or raw asparagus spears, red bell pepper slices, avocado, and a little wasabi paste. This gives you a variety of textures and colors so the roll is really bright when you slice into it. I like to serve it simply with coconut aminos because it is a slightly sweet version of soy sauce (without the soy or gluten). But for this recipe, I have included instructions for making spicy mayonnaise. I top everything with minced scallions and toasted sesame seeds.
You will need a bamboo sushi mat and plastic wrap to make these rolls. A mini home deep fryer is also awesome, but a deep frying pan or Dutch oven will also work.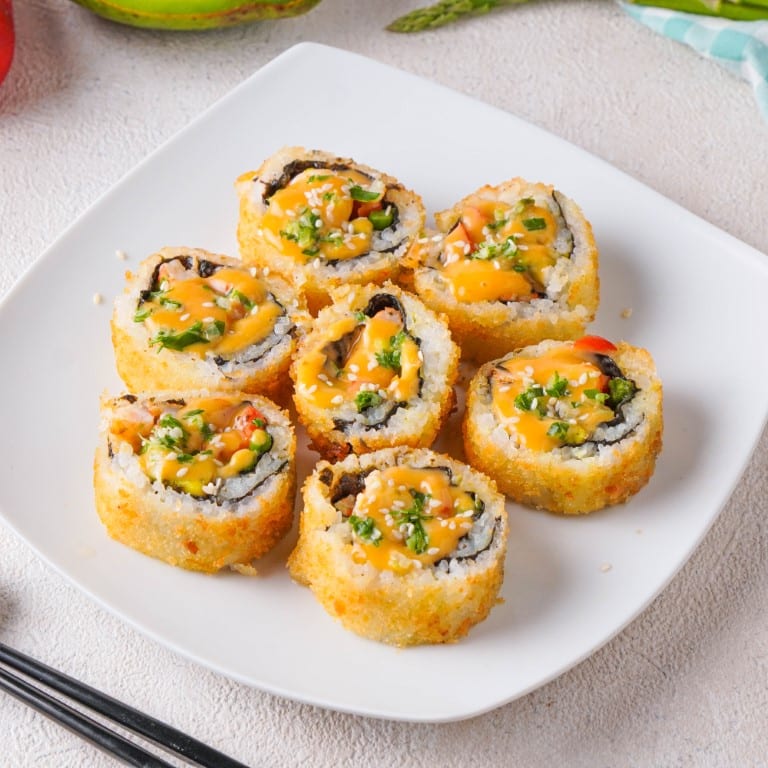 Ingredients
Sushi Rice
1

cup

Japonica or short-grain white rice

rinsed very well

1

cup

of water

1

Tbsp

rice vinegar

1

Tbsp

mirin

1

tsp

sugar

½

tsp

sea salt
Spicy Mayonnaise
⅓

cup

mayonnaise

1

Tbsp

sriracha

2

tsp

rice vinegar

2

tsp

soy sauce or tamari

1

tsp

cane sugar
Sushi Rolls
2 to

asted nori sheets

1

cup

cooked sushi rice

more if needed

1 ½

tsp

wasabi paste

optional

4

medium fresh asparagus spears

raw or lightly steamed

6

long slices of red bell pepper

12

medium cooked shrimp

6

avocado slices

1

whole egg

½

cup

panko breadcrumbs

1

cup

vegetable or fruit oil

grapeseed, canola, avocado
Spicy mayonnaise
2

scallions

minced

1

tsp

sesame seeds
Instructions
All ingredients ready? Let's begin!
Sushi Rice
In a medium saucepot over high heat, add the rice and water and bring this to a boil. Reduce the heat to a low simmer and cover the pot. Cook for 15 minutes without opening the lid.

Turn the heat off and allow the rice to rest for 10 minutes. While the rice is resting, whisk together the vinegar, mirin, sugar, and salt in a small mixing bowl. Set this aside.

Fluff the rice gently with a fork. Pour the wet vinegar over the rice and gently fold it into the rice with a fork or a wooden spoon to coat evenly. Set the rice aside and allow it to come to room temperature.
Spicy Mayonnaise
In a small mixing bowl, whisk together the mayonnaise, sriracha, vinegar, soy sauce, and sugar. Set aside until ready to serve.
Sushi Rolls
Line your bamboo sushi mat with plastic wrap.

Place one sheet of nori at the top edge of the mat.

Have a small bowl of water nearby. Spread 1/2 cup of rice (more if needed) over the nori, using wet fingers to press it down. Turn the nori sheet over so the rice is on the mat.

Spread 1/2 the wasabi over the nori. Layer 2 asparagus spears on the nori about 1-inch from the end closest to you. Then, place 3 of the strips of bell pepper next to the asparagus. Line up 6 shrimp next to the pepper strips. Finally, add a row of 3 avocado slices.

Starting at the end closest to you, carefully roll the nori and rice over the filling with the aid of the mat, making sure to press the mat to make the roll tight. With patience, continue to roll tightly until all the filling is rolled up. Set the roll aside, seam side down, and make the next one.

Crack the egg into a small bowl and whisk until the yolk and white are combined. Pour this into a shallow bowl large enough to hold the rolls. In another shallow bowl or plate, spread out the panko breadcrumbs.

Pour the oil into a large skillet over medium-high heat and allow it to warm up. Or, heat oil in your deep fryer.

Dip the sushi rolls in the egg and then coat them with the breadcrumbs.

Place the rolls into the hot oil and cook until golden brown and crisp. If cooking in a skillet, turn the rolls 3 or 4 times to get all surfaces golden brown. This will take about 3 to 5 minutes if the oil is hot enough.

Transfer the tempura rolls to a clean cutting board. Using a sharp serrated knife, slice the sushi rolls into 3/4-inch thick pieces.

layer the rolls on individual serving plates. Spoon the spicy mayonnaise over the pieces. Sprinkle scallions and sesame seeds over the sushi and enjoy while warm and crunchy.
Nutrition
Calories:
639
kcal
|
Carbohydrates:
71
g
|
Protein:
14
g
|
Fat:
34
g
|
Saturated Fat:
6
g
|
Polyunsaturated Fat:
18
g
|
Monounsaturated Fat:
9
g
|
Trans Fat:
0.1
g
|
Cholesterol:
87
mg
|
Sodium:
954
mg
|
Potassium:
685
mg
|
Fiber:
7
g
|
Sugar:
12
g
|
Vitamin A:
6012
IU
|
Vitamin C:
237
mg
|
Calcium:
87
mg
|
Iron:
3
mg
Notes & Tips
You can definitely prepare the sushi rice a day ahead of time and store it in the refrigerator until ready to use. I do suggest bringing it to room temperature just before assembling the rolls.
The oil needs to be fairly hot so the coating will get crisp rather quickly and the inside of the rolls don't get soggy. The best way to see if the oil is hot enough is to place a little water on your fingertips and flick it into the oil, standing back from the pan. If the oil spits when the water hits it, it is hot enough.
Substitutions
Wasabi: Wasabi paste can be a little strong for some. Kids especially may turn their noses up at this spicy condiment. You can omit it or substitute it with grated ginger, hot mustard, grated daikon radish, or prepared horseradish. I also like adding kimchi to sushi rolls. It is a little crunchy and spicy.
Shrimp: You can buy already cooked shrimp either fresh or frozen. But don't go for canned shrimp because it is way too salty. You can also make this with fresh tuna or salmon, keeping in mind that the fish will start to cook when the rolls are fried in hot oil. If you want to save a little money, you can opt for imitation crab. You can skip the fish if you are vegetarian and use either smoked tofu, baby corn cobs, or hearts of palm.
Spicy Mayonnaise: If you want an easy sauce for the sushi rolls, I suggest using coconut aminos that are salty and slightly sweet. Another nice sauce is sweet chili sauce.
Toppings: For a little more heat, use minced jalapeno pepper instead of scallions to garnish the sliced rolls. Instead of sesame seeds, you can sprinkle shichimi togarashi seasoning over the pieces.
---
Recent Recipes