Best High Phenolic & High Hydroxytyrosol Olive Oil Brands
If you're a health-conscious consumer, you've probably heard about the many benefits of olive oil. But did you know that not all olive oil is created equal? High phenolic and high hydroxytyrosol olive oil are considered to be the highest quality and most beneficial types, thanks to their high levels of antioxidants and other beneficial compounds. Here is a look at the best high phenolic and high hydroxytyrosol olive oil brands, with an overview of the health benefits and rating systems as well.
Table of Contents
Top 20 Best High Phenolic, High Hydroxytyrosol Olive Oil Brands
What Is High Phenolic, High Hydroxytyrosol Extra Virgin Olive Oil?
High phenolic extra virgin olive oil, also known as high polyphenol EVOO, is a variety of olive that's specifically produced to have a concentration of phenolic compounds which are highly effective at protecting the body from oxidative stress. There are over thirty phenolic compounds present in olive oil, which includes primary hydroxytyrosol and its derivatives, oleuropein, oleocein, and oleocanthal, to name but a few.
Polyphenols are potent antioxidants which means that they can help protect the body from damage caused by free radicals, which are unstable molecules that can cause harm to cells. They also promote profound anti-inflammatory effects that lower the risk of disease and cancer. The only way to consume a healthy amount of phenolic compounds is to either take in copious quantities of extra virgin olive oil or to switch to a high phenolic, high hydroxytyrosol brand.
The purity of high phenolic olive oil is much higher than other types, and the acidity is lower, which results in a more balanced flavor palette and longer-lasting shelf stability. Each phenolic compound infuses flavor into the olive oil, and given the high concentrations, the taste of olives, fruity flavors, and floral, herbaceous notes is greater. The higher the polyphenols, the spicier the peppery aftertaste of the oil, and the deeper and richer the color.
How High Phenolic, High Hydroxytyrosol Olive Oils Are Evaluated
Every olive oil producer cites a breakdown of the active phenolic compounds present in their blend. While some supply a certification verifying fifteen or more polyphenols, the most common information given is the concentration of polyphenols, oleocanthal, and hydroxytyrosol.
Virgin olive oil with a polyphenol count of up to 120 is considered low, whereas oils with 220 and above are considered medium strength. Any with a concentration of above 400 are high phenolic brands, and the total can reach all the way up to 3000 milligrams per kilogram, in which case just a teaspoon a day is needed to deliver the health benefits.
Oleocanthal shares similar anti-inflammatory benefits to ibuprofen. It is the compound responsible for the characteristic pepperiness of olive oil. Standard extra virgin olive oil can carry as little as 2 milligrams per kilogram of oleocanthal, whereas high phenolic brands often have up to 1000 milligrams per kilogram present.
Out of all phenolic compounds, hydroxytyrosol and its derivatives are known to be the strongest antioxidants. It's the oxygen radical absorbance capacity of hydroxytyrosol that makes it such a powerful scavenger of free radicals. Hydroxytyrosol is also one of the only antioxidants that can cross the blood-brain barrier, effectively detoxing the brain and nervous system. Regular extra virgin olive oil has anything between 2 and 14 milligrams per kilogram of hydroxytyrosol, whereas high-phenolic brands can reach as high as 300 milligrams or more.
Best High Phenolic & High Hydroxytyrosol Olive Oil Brands
Whether frying, dipping bread, making delicious olive oil popovers, whipping up salad dressing or simply drinking a dash for health purposes, the highest quality oil possible is always what you're looking for. Here are the eighteen best high phenolic & high hydroxytyrosol olive oil brands available to online shoppers.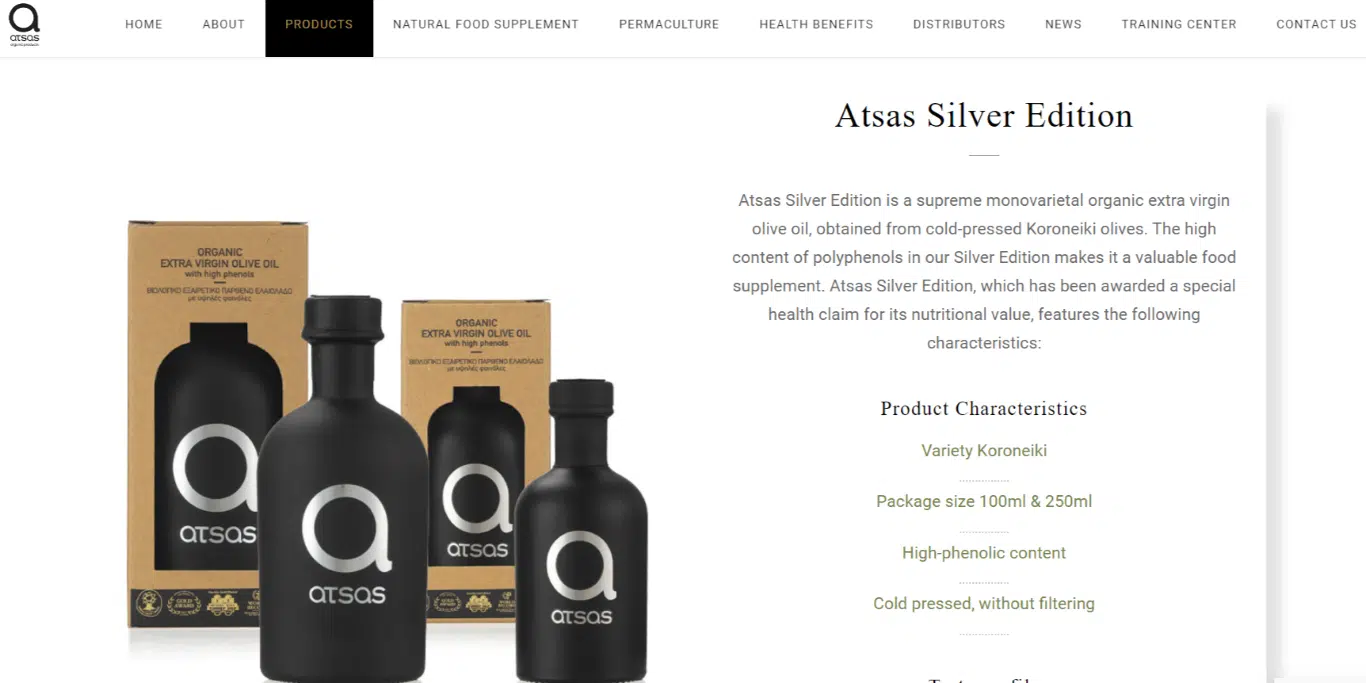 Origin: Cyprus
Olive Type: Kalamon & Koroneiki
Affordability: Very Low
Product Line Overview
With some of the highest quality-control measures in the business, Atsas Extra Virgin Organic Olive Oil is a multi-award-winning variety. It's so strong that it's taken first place in numerous competitions and the highest in polyphenols out of all reviewed at just short of 3000 in the Limited Edition. It even comes with a full product analysis proving the superior breakdown of active ingredients.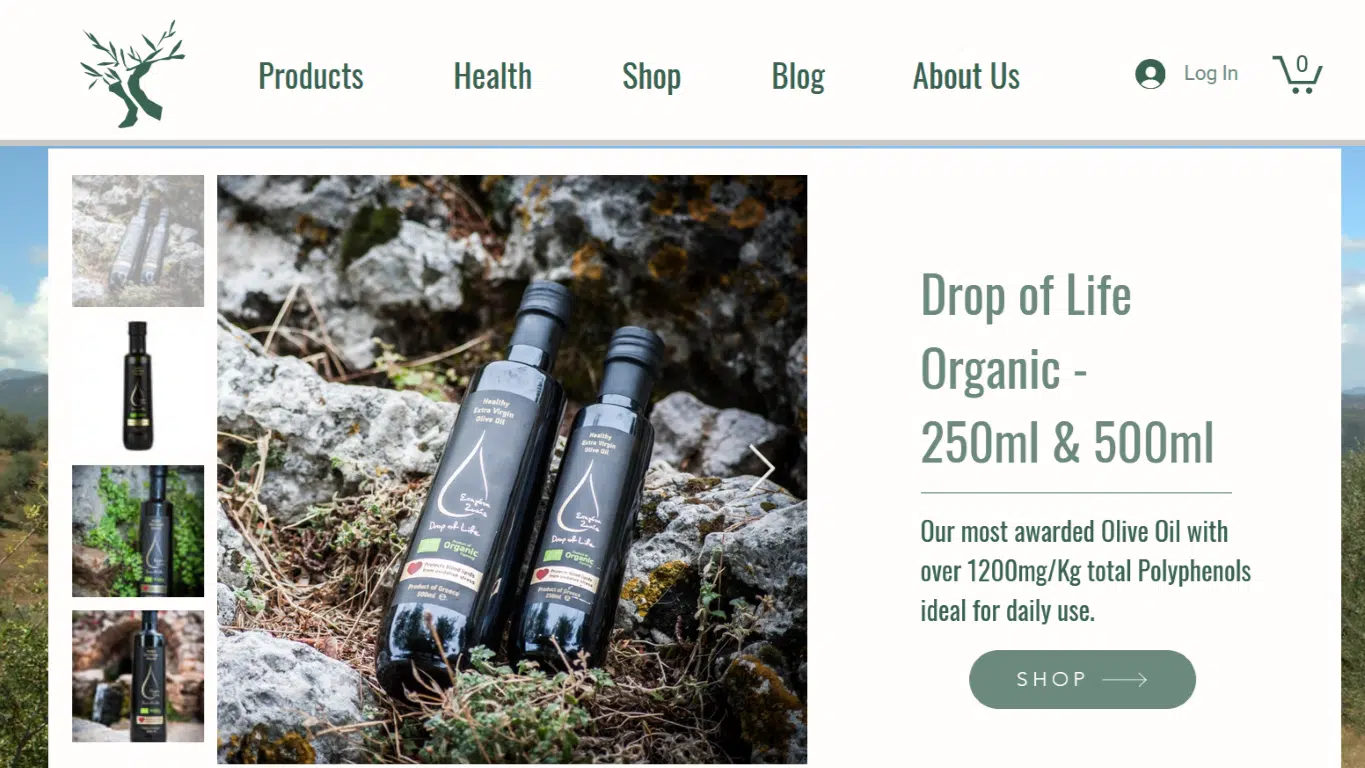 Origin: Greece
Olive Type: Olympia
Affordability: Very Low
Product Line Overview
Limited edition harvests are common to high-quality EVOOs, but Drop of Life produces just 150 bottles each year, which are as good as gold. The 2021 harvest proves its worth, while the beautiful appearance of the bottle and the option of a luxury wood gift box makes it the ideal present to a loved one or yourself. The other ranges are far more affordable than the ultra-select top-end option but pack a phenolic punch that other brands struggle to compare to.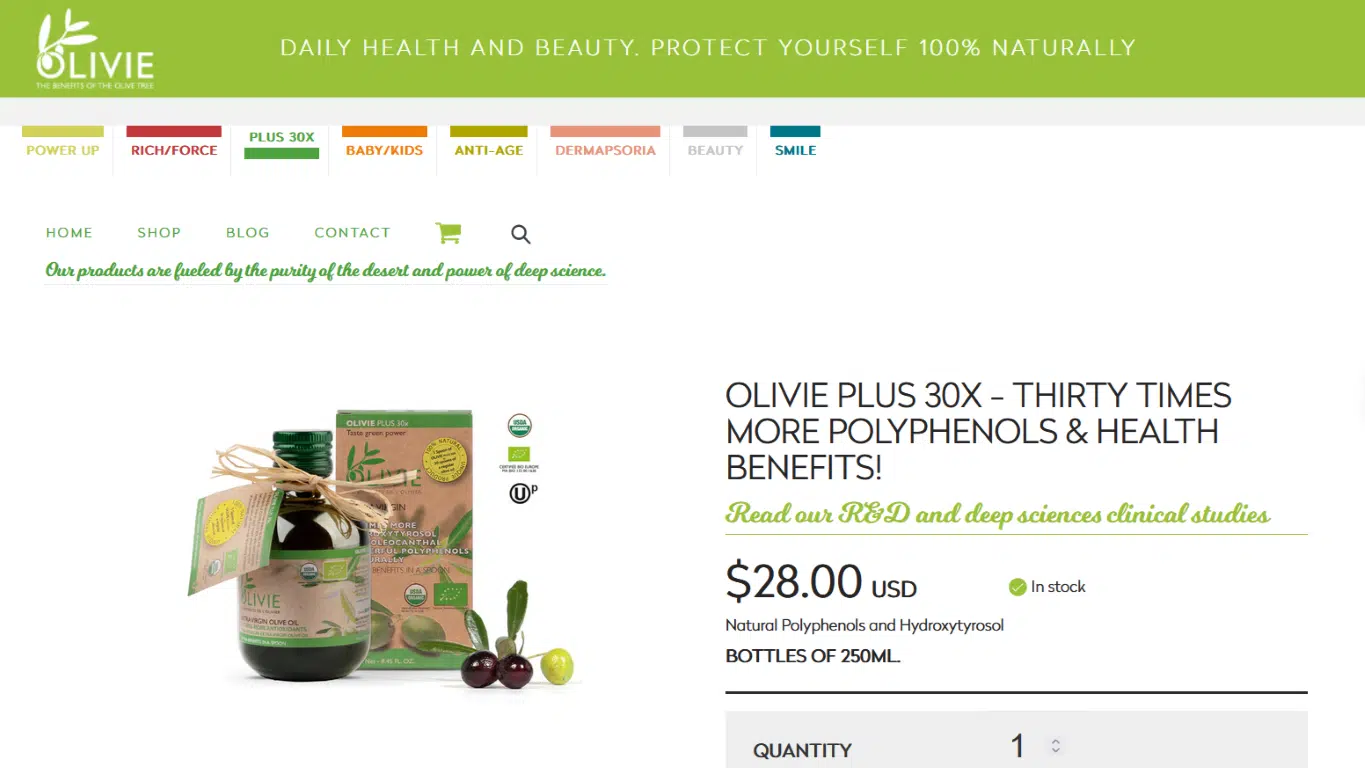 Origin: Morocco
Olive Type: Picholine
Affordability: Low
Product Line Overview
With a pungent, bitter, peppery tanginess that's instantly detectable, Olivie Les Binefaits De L'Olivier Moroccan Desert Olive Oil has clear strength worthy of being considered a superfood. From having the highest hydroxytyrosol count out of all oils reviewed to an impressive concentration of polyphenols, this is simply one of the best. It is strong enough for internal and external use but a little too strong to be used for all culinary purposes unless you favor the bitterish off-sweet butteriness. One also has the peace of mind of knowing that your oil comes from a company that's been proudly producing fine olive oil for over 125 years.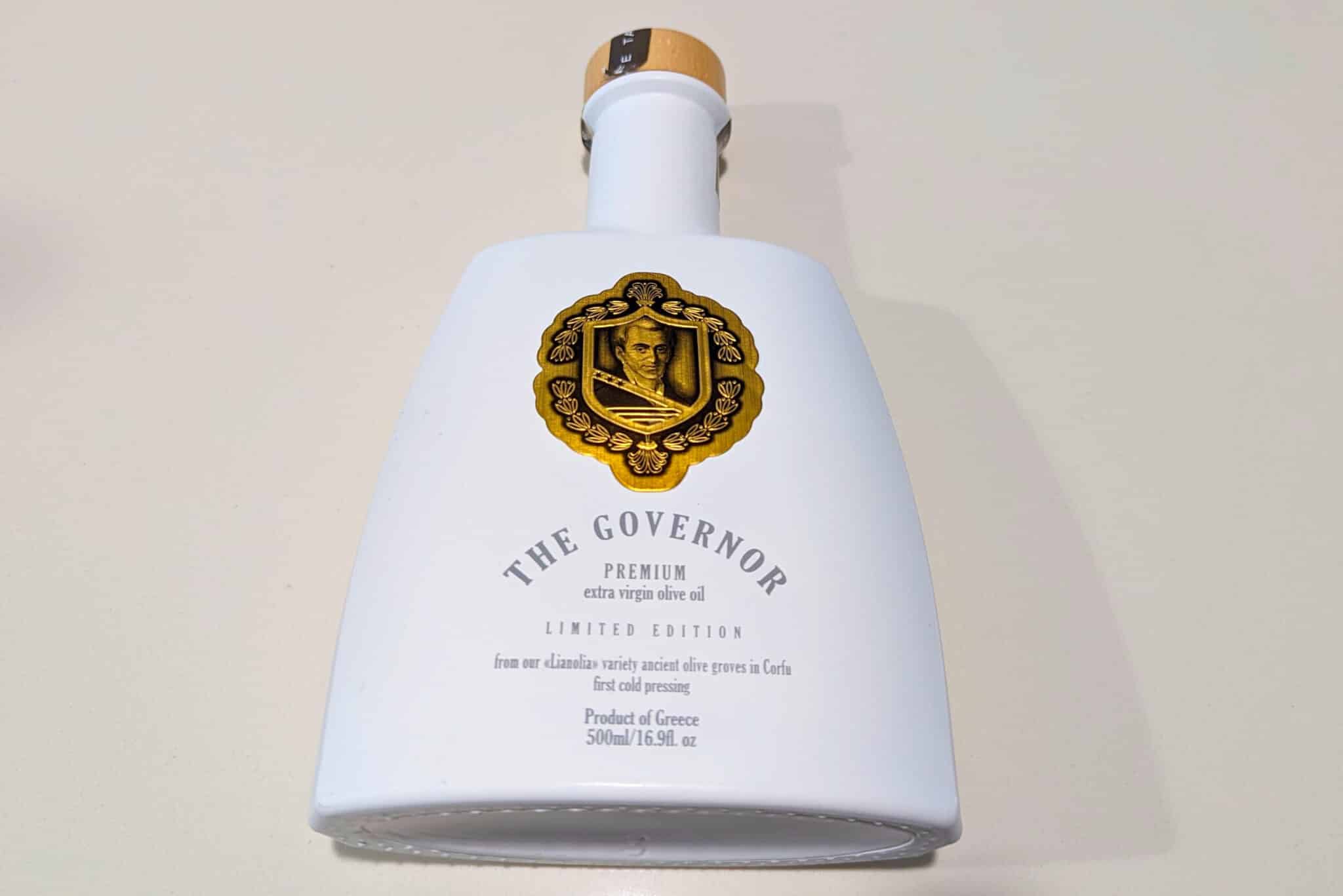 Origin: Corfu, Greece
Olive Type: Choraitiki & Olympia
Affordability: Moderate
Product Line Overview
For multi-award-winning oil that comes in one of the most gorgeous bottles, you can't go wrong with any edition of The Governor Premium Extra Virgin Olive Oil. Two varieties offer luxury olive oil accessible to all, boasting more than twenty awards between them. One ideal for cooking and supplementation, when the other, unfiltered, is robust and perfect for health and cooking purposes. Both offer a full report of the phenolic breakdown of each harvest online.
Tasting Notes: Among all the olive oils tasted so far, The Governor indisputably offers the best flavor. It exhibits a remarkable balance between its smooth flavor and high polyphenol content, which typically imparts a strong bitterness. In fact, despite the elevated level of polyphenols, The Governor manages to maintain an enjoyable taste, ensuring that the bitterness does not become overwhelming. When considering both the polyphenol concentration per milliliter and the flavor per milliliter, this olive oil currently stands as the most favored in our selection.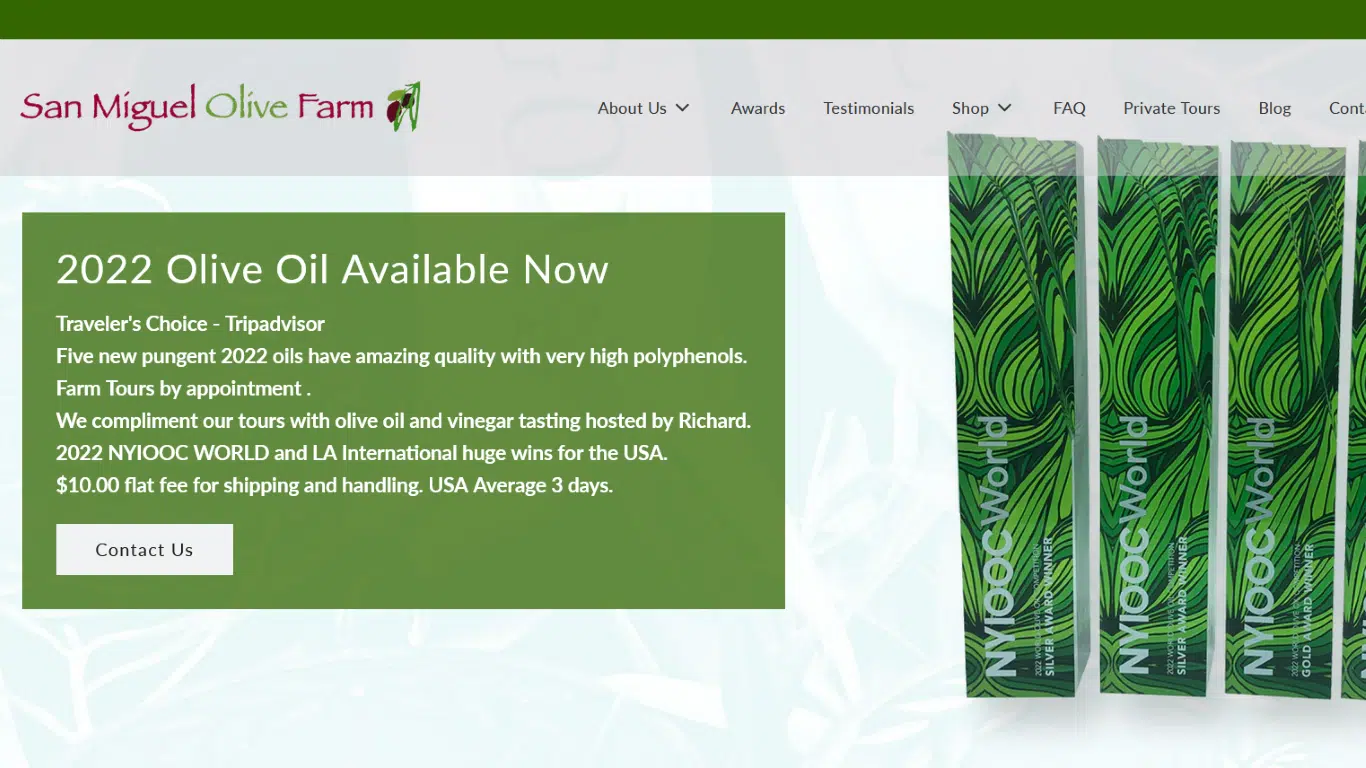 Origin: California
Olive Type: Tuscan Gold Eleganza Elite
Affordability: High
Product Line Overview
Californian olive oil manufacturer San Miguel Olive Farm carries a massive range of high phenolic olive oils of the highest quality. Affordable, accessible, and a farm that's won countless competitions, including no less than 143 awards received from 2011-2022, there's every reason to give this popular producer a try. In addition to no less than six very high polyphenol olive oils, there are also various kinds of vinegar on offer. San Miguel is so confident about their products that in-person tours of the farm are available for those who want to see just how they arrive at such superior flavor and quality.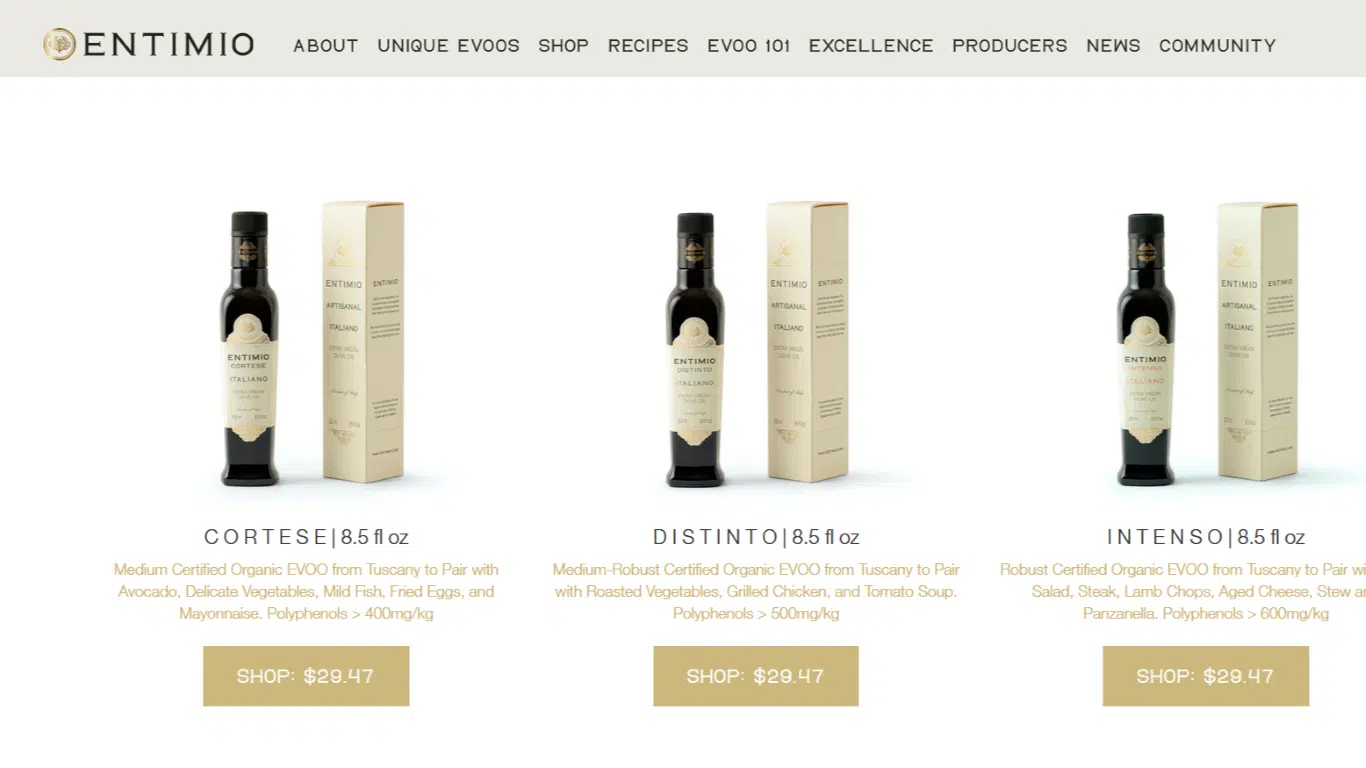 Origin: Tuscany
Olive Type: Family Grown Heirloom Tuscan Olives
Affordability: Moderate
Product Line Overview
Entimio Artisinal Italian harvests direct from Tuscany are in high demand. The polyphenol content is far higher than any conventional olive oil but still within a range where one doesn't need to use them exclusively for health benefits. With every blend falling beneath 600, the bitterness is there but backed up by a rich, smooth texture and peppery taste that leaves an awesome flavor in your mouth. There's enough difference in taste and consistency between the various harvests that many fans may enjoy trying them all.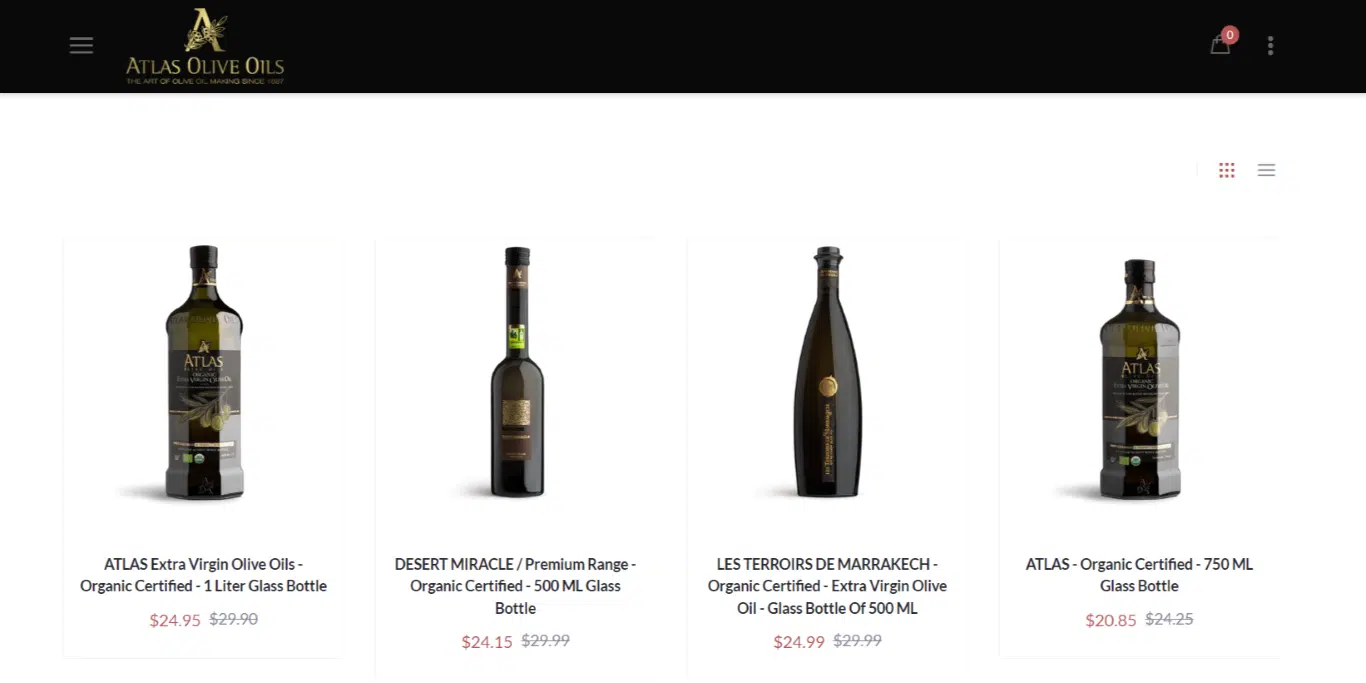 Origin: Marrakech, Morocco
Olive Type: Arbequin, Arbossan Koroneiki, Dahbia, Picholine du Languedoc, Picholine Marocaine, Menara, Haouzia
Affordability: High
Product Line Overview
With both a high and ultra-high phenolic offerings, Atlas Olive Oils SARL delivers single-farm Moroccan olive oil straight from the foot of the Atlas Mountains. It's olive oil of the highest quality grown in the remotest of deserts. It's ideal for cooking thanks to the extreme depth of flavor that always carries the clear taste of olives. You'll also find that Atlas oils are far mellower and smoother than most other varieties. Unlike many inferior oils, it's a 100% pure product with considerable discounts waiting for those who buy in larger quantities. Every bottle and metal can is well-designed and comes with a built-in spout to facilitate easy pouring.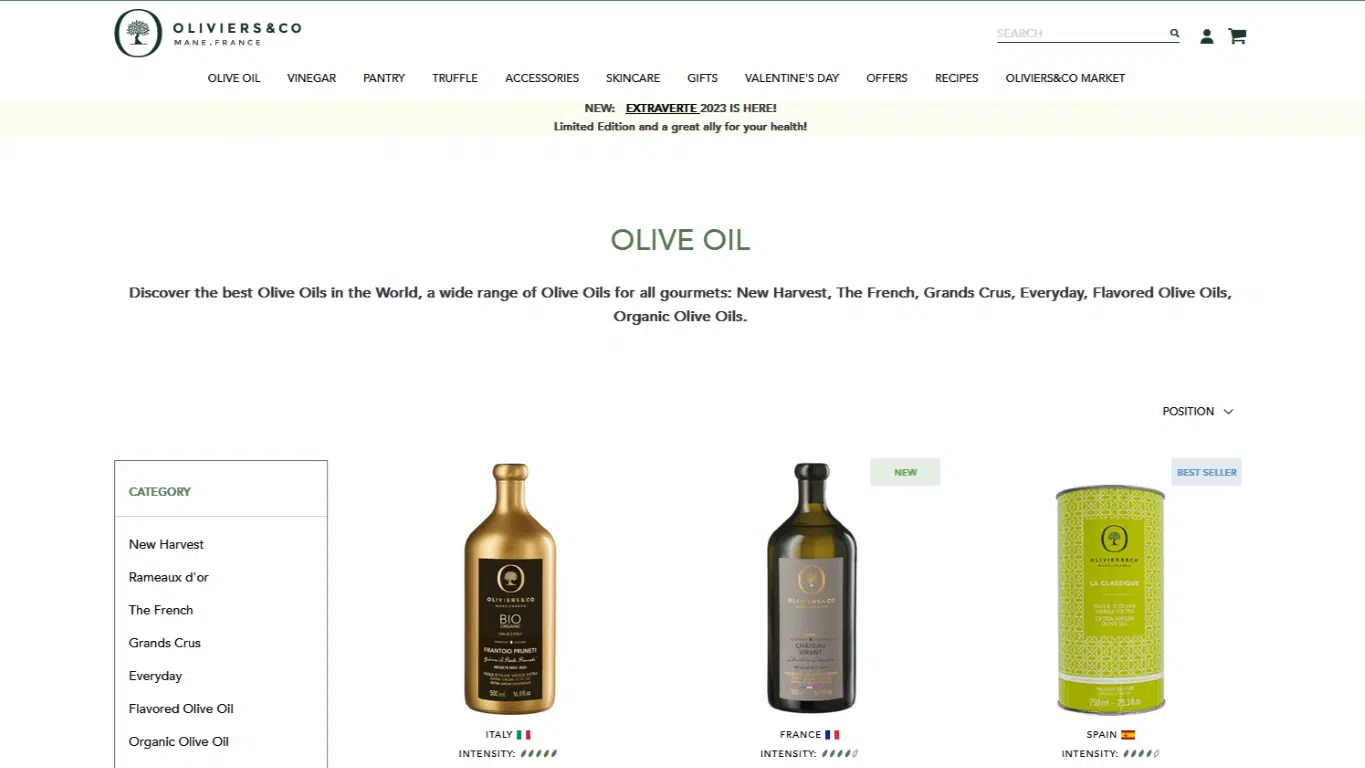 Origin: Italy, France, Spain
Olive Type: Frantoio, Picual
Affordability: Moderate
Product Line Overview
Medal-winning Oliviers & Co Organic Extra Virgin Olive Oil is one of the few varieties that comes ultra-high in polyphenols while still retaining the clear taste of the olive fruit itself. It's so good that it's been featured on PBS and is as close to a must-try as you can get for anyone who is looking for an affordable buy that works for both health and cooking purposes. Its producer Sakellaropoulos Organic Farming has taken over one-hundred awards for its premium quality organic produce of various types, and there is no more esteemed product than their olive oil.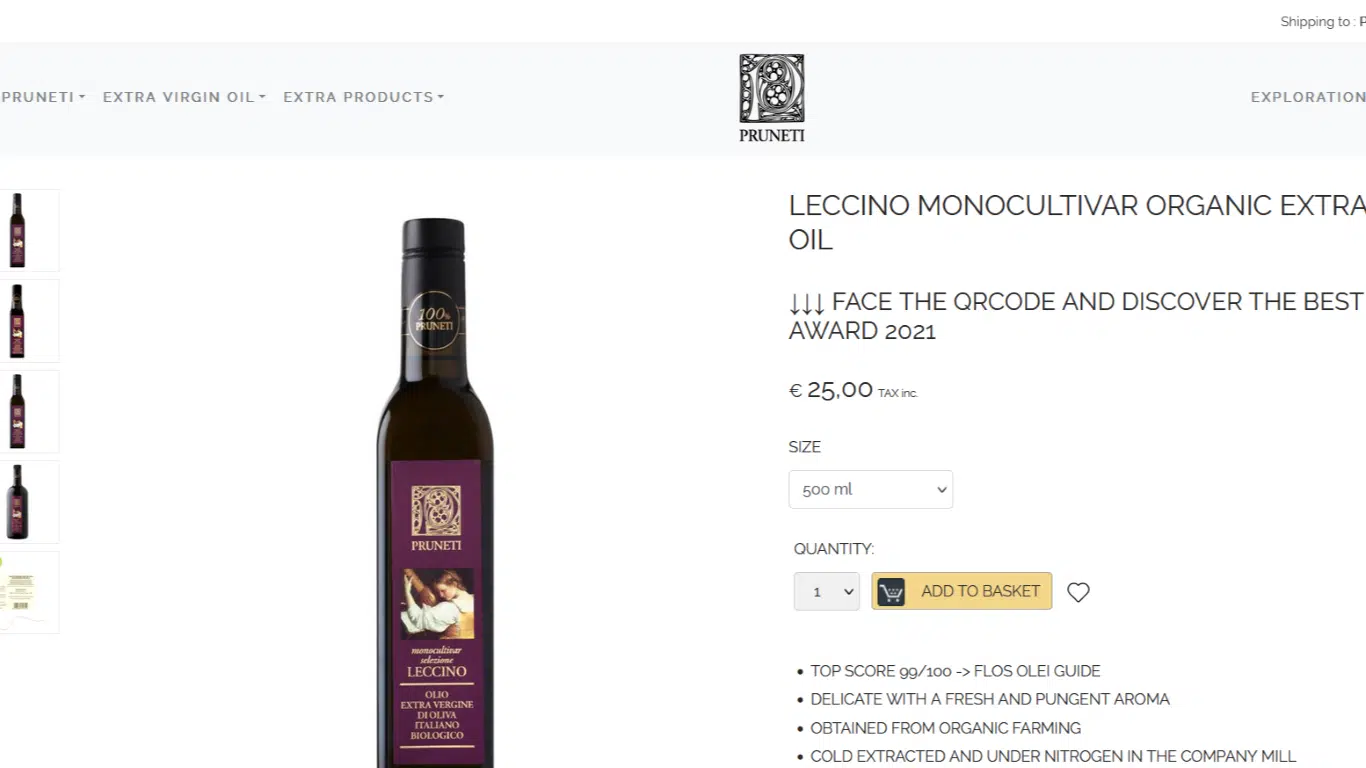 Origin: Italy
Olive Type: Leccino
Affordability: Moderate
Product Line Overview
For medium-intensity oil with very high phenolic content, you can't go wrong with Pruneti Leccino Organic Italian Olive Oil. As an import from Tuscany grown by a single farm for over 160 years, It's a must-try for anyone who values flavorful Italian olive oil. The Leccino olives are handpicked early, which results in a fruity taste with light pepperiness like few other EVOOs can compare to.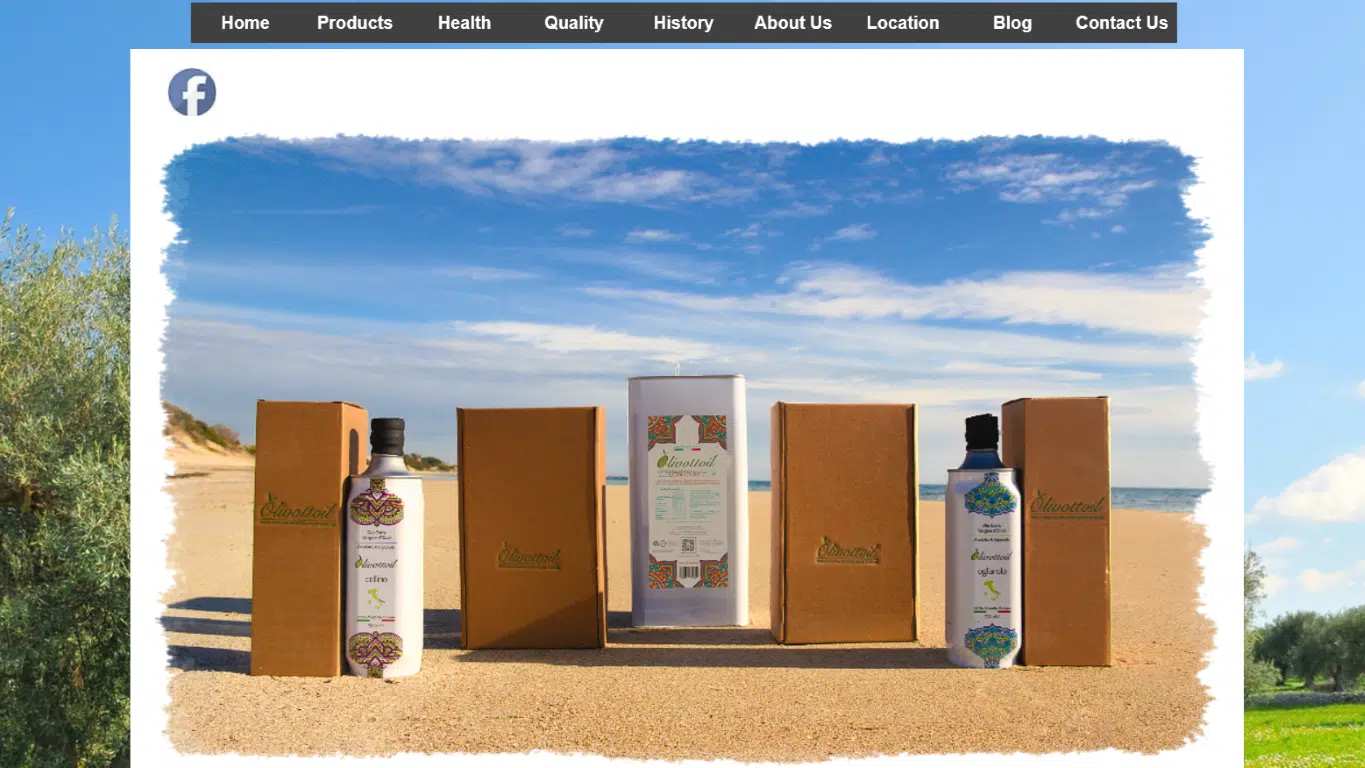 Origin: San Polo in Chianti, Firenze, Italy
Olive Type: Ogliarola & Celllino
Affordability: Moderate
Product Line Overview
It's hard to beat the extreme value offered by Olivottoil Italian Extra Virgin Olive Oil. Few other brands can match its quality at its price. With all blends carrying over 800 milligrams per kilogram of polyphenols, the cost at roughly half of most competing premium brands is astounding. There's no catch – you're getting pure Italian oil with rich flavor packing pepperiness, and complex blanketed taste notes and aromas.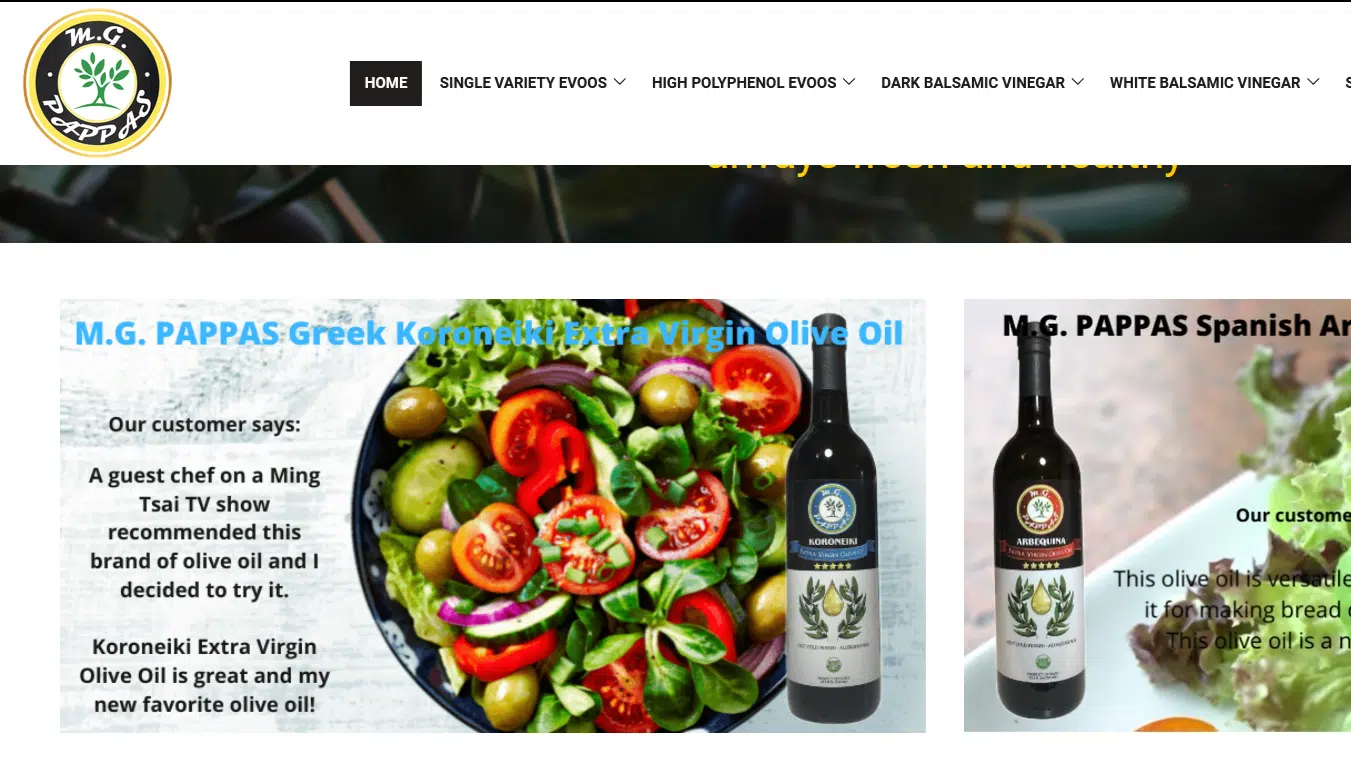 Origin: Greece, Spain, Italy
Olive Type: Koroneiki, Kalamata, Arbequina, Hojiblanca, Picual, Caratina
Affordability: High
Product Line Overview
Earthy, rich, and moderately high in polyphenols, M.G. PAPPAS Greek Extra Virgin Olive oil is ideal for those who are looking for something that's fruity, fresh, and packed with prominent second aromas. Its acidity is among the lowest out of any oil reviewed but results in a lighter-than-normal flavor that carries more noticeable undertones. There are only two high polyphenol olive oils sold specifically as such, but the rest of the M.G. PAPPAS range is filled with tasty, healthy alternatives that are well worth a try for fans of Greek EVOO. To date, the brand has taken over 300 awards making its oils well worth sampling.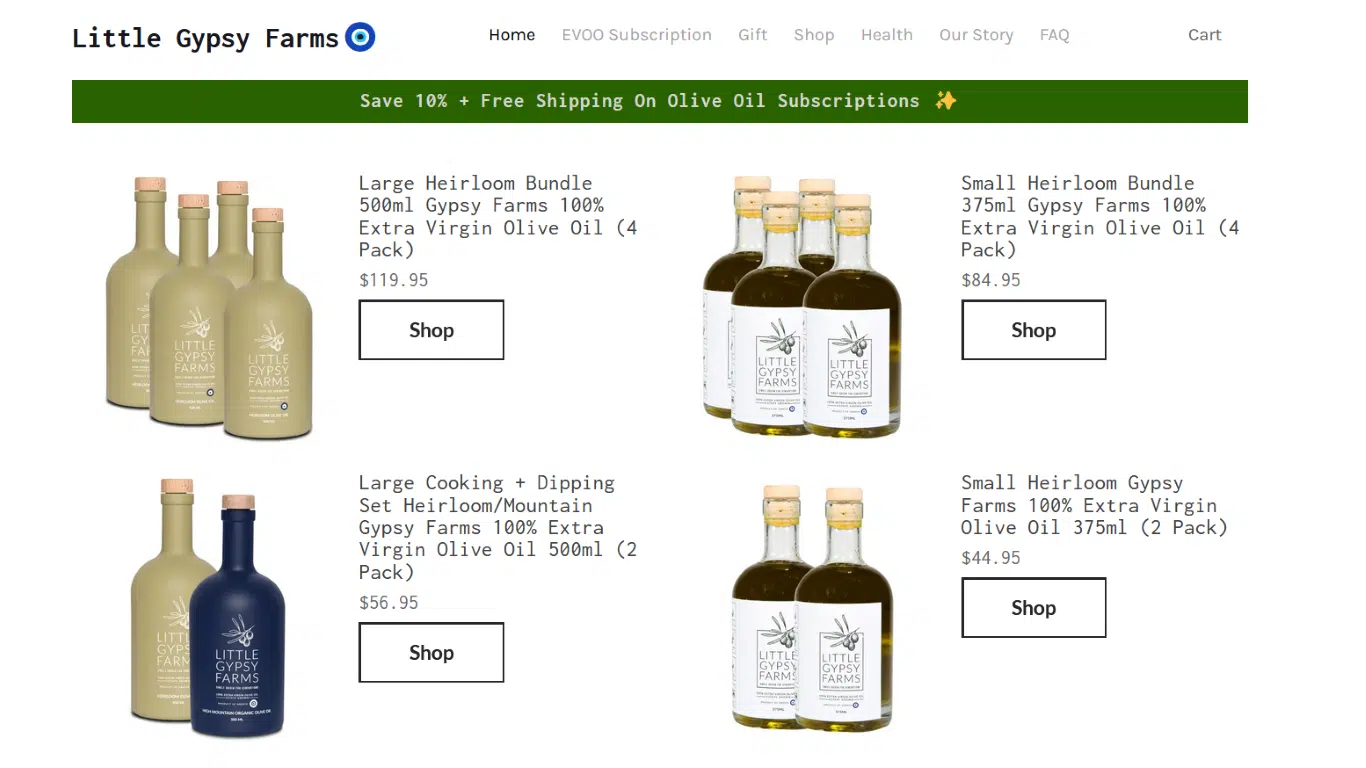 Origin: Greece
Olive Type: Koroneiki
Affordability: Very Low
Product Line Overview
Little Gypsy Farm Estate Grown Greek Extra Virgin Olive Oil is one of the highest quality oils to arrive out of the Mediterranean. The gold award-winning single-origin EVOO is made from an heirloom grove that has been growing for over one hundred years. There are higher polyphenol oils, but few that can come to the well-balanced flavor that leans away from bitterness, granting nuttiness and a green undertone reminiscent of artichoke instead. It's most unfortunate that even though hydroxytyrosol is clearly present and is so stated by the manufacturer, no count is listed. Given the quality and taste, it must be considerable. There's even a subscription service for those who fall in love with the brand.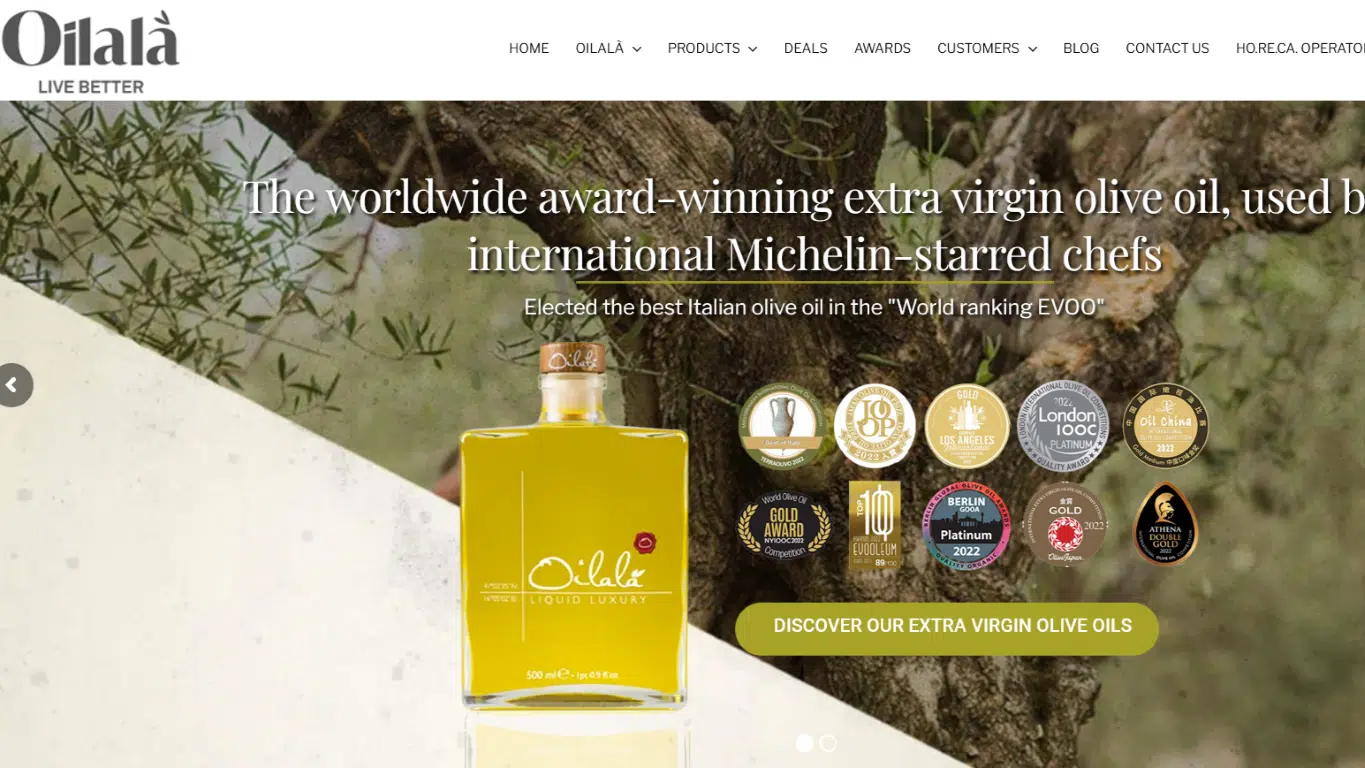 Origin: Italy
Olive Type: Coratina
Affordability: High
Product Line Overview
If you see yourself using a lot of high-polyphenol olive oil, then you should definitely consider Oilala Extra Virgin Olive Oil. Only one of the brand's products lists its polyphenol count, but fortunately, this is a bulk buy (oil in a box). The acidity is considerably higher than most high-end brands, but this barely affects the flavor. It's also one of the only types with its hydroxytyrosol count listed instead of vaguely stating its inclusion. Oilala has several olive oils available, but it is only the Coratina variety that's very high in polyphenols. Expect a fresh olive flavor with light but distinct pepperiness and a lower degree of bitterness than other similar strength EVOOs.
Origin: Italy
Olive Type: Unspecified
Affordability: Low
Product Line Overview
Virgreen Italian Olive Oil comes straight from a region of Southern Italy where it's been farmed and produced for over one hundred years. It arrives at a considerably higher cost than most premium EVOOs, but when factoring in the limited production of just 3800 liters per year, the rate is quite reasonable. It's also one of the few brands that lists its hydroxytyrosol count, and at 3.63 milligrams per kilogram, it's roughly two to three times the concentration of regular extra virgin olive oil. Whether for flavor or strictly health, Virgreen comes highly recommended.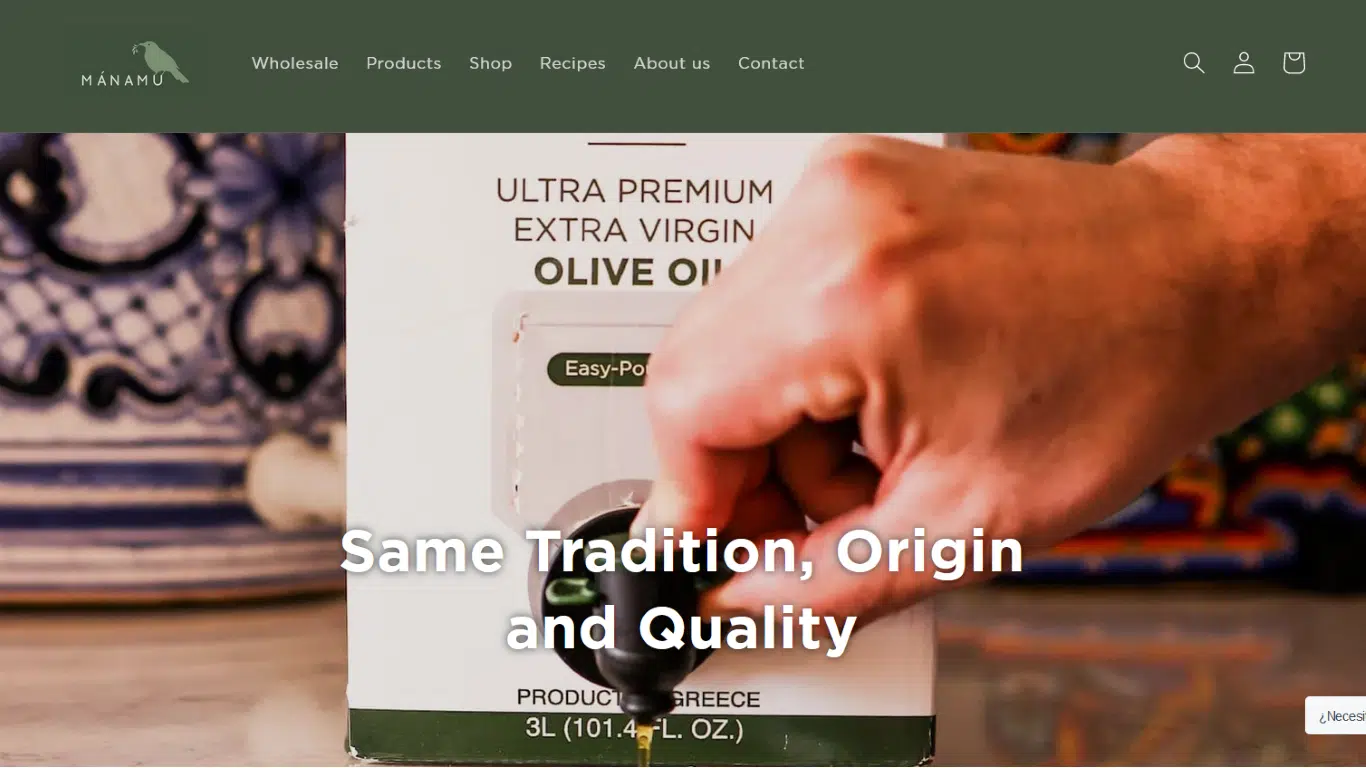 Origin: Greece
Olive Type: Koroneiki
Affordability: Moderate
Product Line Overview
Manamu Extra Virgin Olive Oil is a herbaceous Greek olive oil that's fantastic for cooking purposes while delivering a healthy, strong dose of polyphenols and hydroxytyrosol as well. There's no degree of bitterness to speak of, only woody, earthy notes, welcoming aromatics, and the fresh flavor of olives. Even though it's far from the strongest, the listed hydroxytyrosol count makes it worthy of consideration. We suggest Manamu if you're looking for a high-phenolic olive oil with which you can drench your food with any excessive bitterness or pepperiness.
Origin: Chaldiki, Greece
Olive Type: Galani, Chondroelia
Affordability: Moderate
Product Line Overview
Sourced from Northern Greece, Yanni's Finest Greek Extra Virgin Olive Oil is of such high quality that's is received a string of awards over the years. The pepperiness is present but subdued, which makes this one of the best-tasting olive oils of its strength around. It's a little lighter than competitors like Colavina, but at the same time, this allows the underlying flavor and aroma notes to shine. Instead of a bottle, Yanni's Finest arrives in a tin, and each comes with a certificate of analysis clearly stating the chemical breakdown.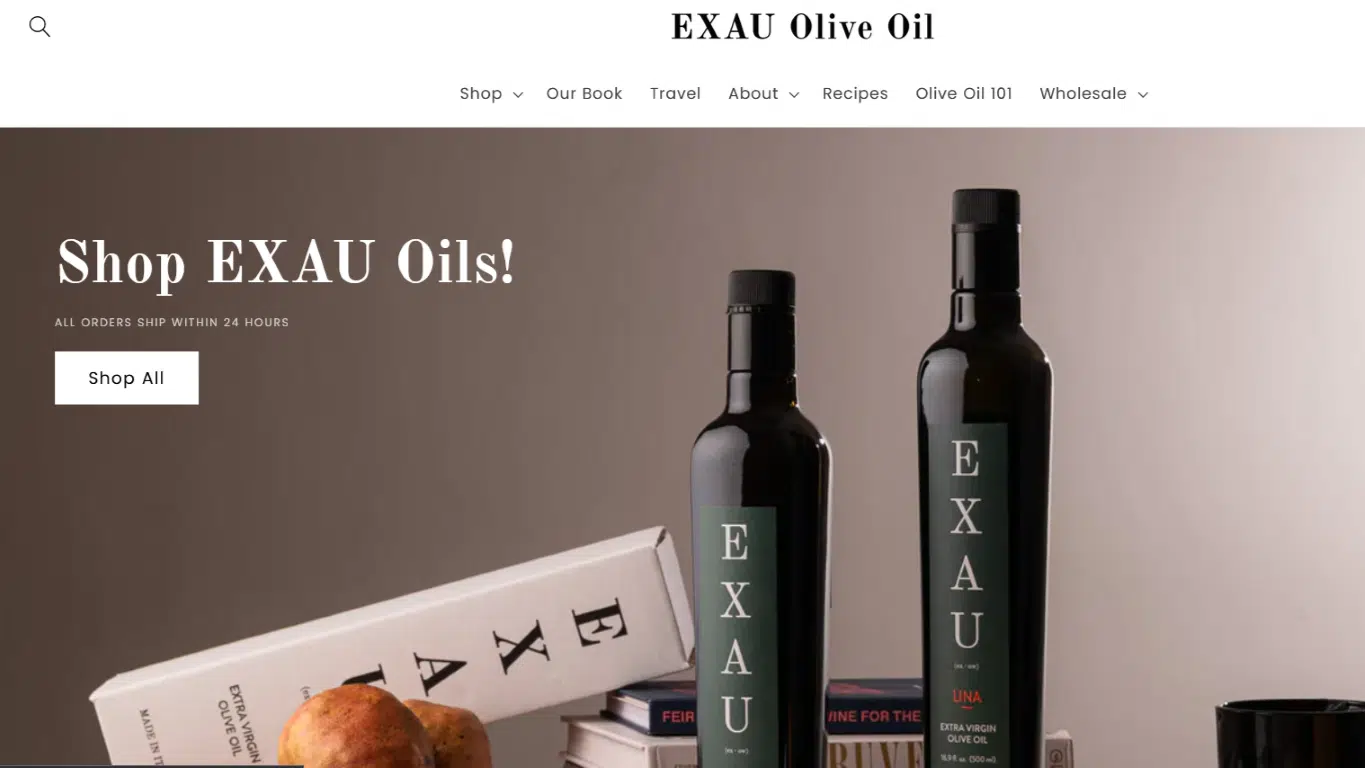 Origin: Calabria, South Italy
Olive Type: Coratina, Carolea
Affordability: High
Product Line Overview
There are lots of exceptionally high quality, high polyphenol olive oils available commercially, but few have been recommended as highly by as many prominent people as Exau Extra Virgin Olive Oil. From celebrity chefs to Oprah herself naming it one of her favorite things, this Italian olive oil has all the qualities to become a new favorite no matter who you may be. All the flavor notes, from the robust fresh taste of olives to just the right degree of burn, are all there without any overpowering degree of bitterness or earthiness either. It's pricey but worth it.
Frantoi Cutrera – Segreto Degli Iblei
Origin: Iblei Mountain Region, Sicily
Olive Type: Castelvetrano
Affordability: High
Product Line Overview
About the only difference between Frantoi Cutrera – Segreto Degli Iblei Olive Oil and other premium Italian varieties is that the olives are mechanically harvested instead of being picked by hand. This does seem to manage to bring the price down ever so slightly, but the quality remains unaffected and of the highest caliber. After all, the farm itself is the most awarded olive oil producer in all of Italy, holding over 650 wins in various global competitions. Expect a flavor that's fresh and light instead of robust and intense, with outstanding balance despite the slightly high acidity in comparison to other brands. It's the ideal choice for anyone who uses olive oil on everything.
Premium Gold Sitia Early Harvest Extra Virgin Olive Oil
Origin: Sitia Region, Eastern Crete, Greece
Olive Type: Koroneiki
Affordability: Moderate
Product Line Overview
The strong but smooth flavor of Premium Gold Sitia Early Harvest Extra Virgin Olive Oil is what'll keep you coming back for more. It's one of the strongest-tasting varieties of Greek olive oil available, so keep this in mind if you're after the green taste prominently. It's ultra-low acidity as well, which means that you'll be tasting the full complex flavor profile instead of a green start and peppery finish alone.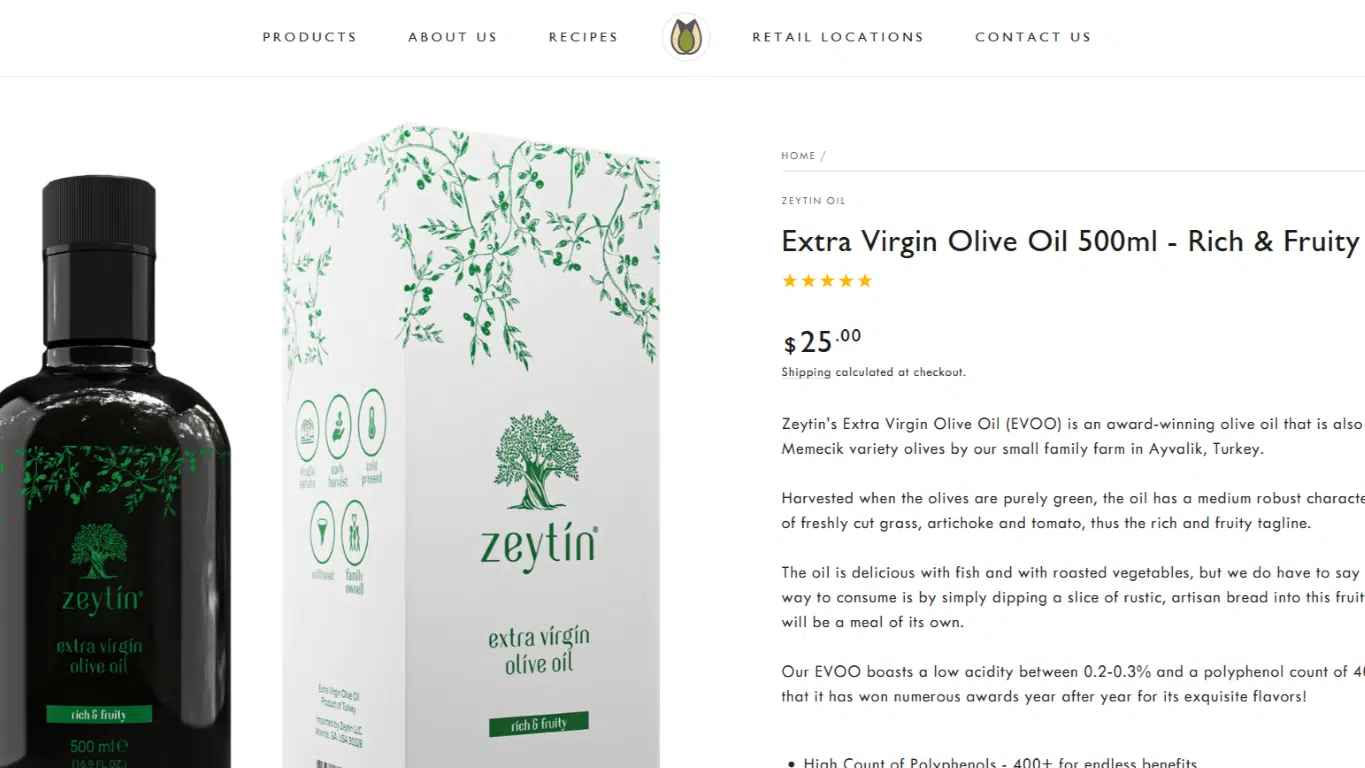 Origin: Ayvalik, Turkey
Olive Type: Memecik
Affordability: High
Product Line Overview
Peppertux Farm's Zeytin Organic Extra Virgin Olive Oil is aimed at a culinary market more than health benefits alone, but each of the brand's products is still packed with enough polyphenols to help the body immensely. The acidity is low, especially in the First Harvest Limited edition. It's Turkish olive oil at its best and a must-try for anyone who prefers lighter, more complex taste notes over an intense bitter taste, as is the case with most gourmet high phenolic EVOOs.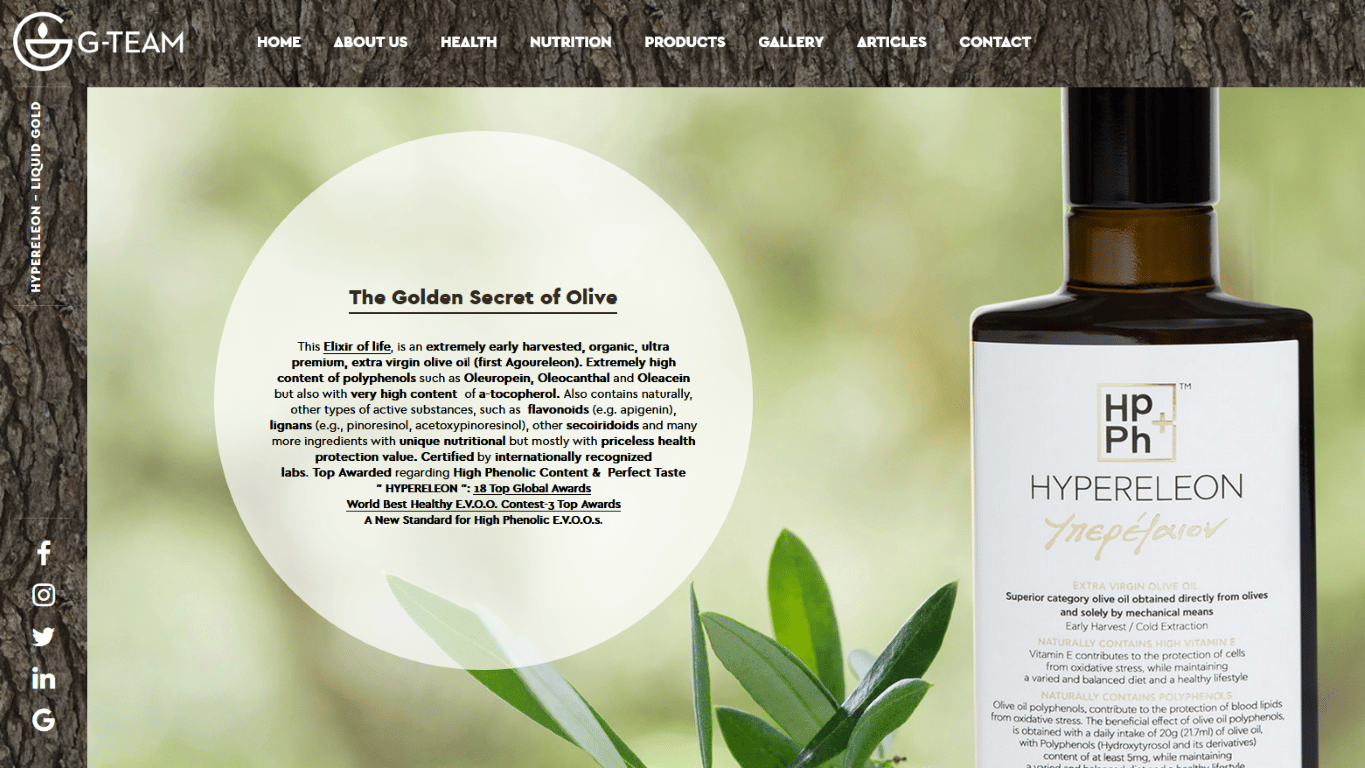 Origin: Corinth, Trizina and Arcadia in Peloponnese, Greece
Olive Type: Koroneiki
Affordability: Very Low
Product Line Overview
For a brand that carries some of the highest polyphenol olive oils in production, G-TEAM Hyperelion's range is outstanding and easily one of the best choices out there, albeit at a premium price. All varieties beat most of the competition while keeping the acidity low. They're smaller (bottle size) than one would expect, which leans towards medicinal use, but those looking for intensity will be impressed overall. The only reason the company stocks small bottles only is to preserve its product. That's how much they value quality. The entire product has all germs eradicated by means of ultraviolet light as well. There are no compromises made whatsoever.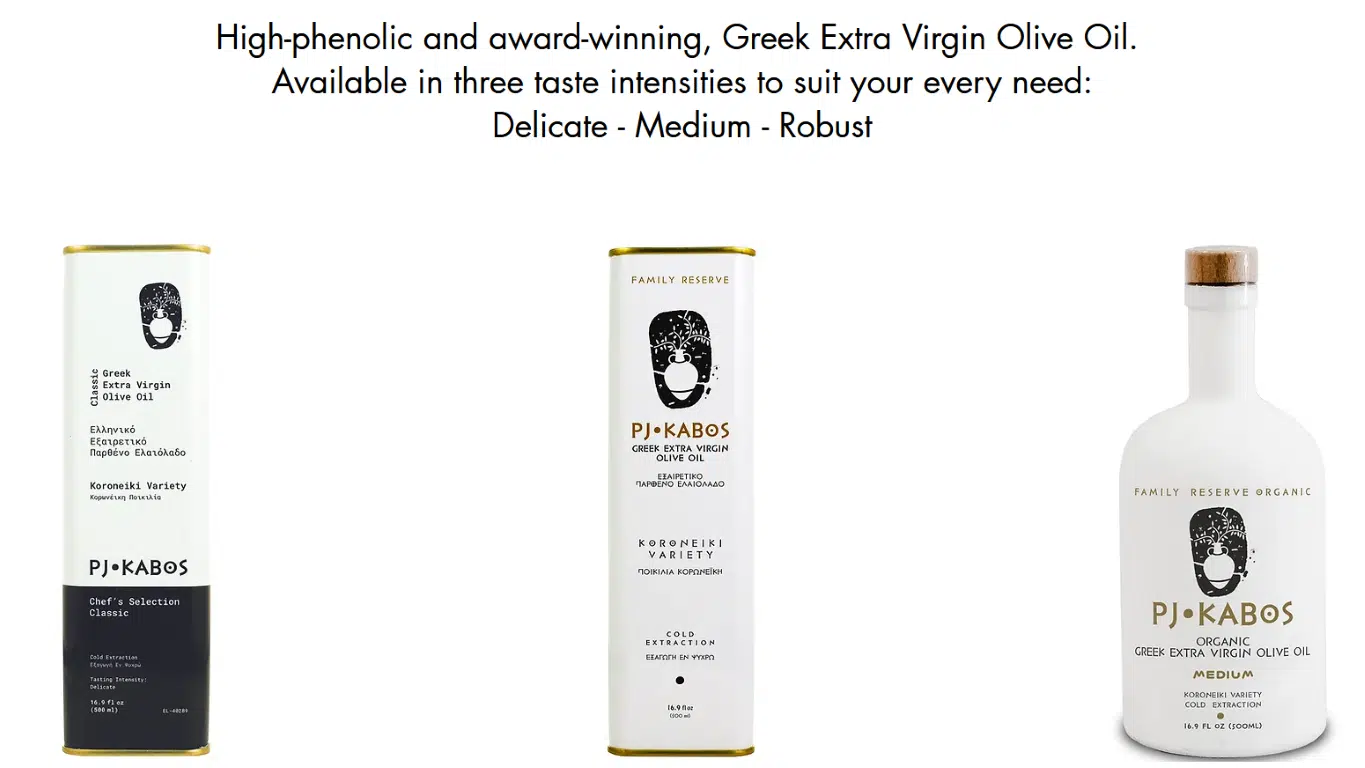 Origin: Peloponnese, Greece
Olive Type: Koroneiki
Affordability: Moderate
Product Line Overview
As the name of one of its skews suggests, P.J. Kabos Organic Greek Extra Virgin Olive Oil is a flavorful favorite of many cooks around the world. The Chef's Selection is the lightest but the range gets quite robust with a pleasing bitterness and peppery finish as each drop sampled goes down. The Family Reserve comes fortified with ample hydroxtyrosol while the overall phenolic content is just as great as the low acidity. We could not recommend P.J. Kabos EVOOs more as one of the best mild intensity ranges.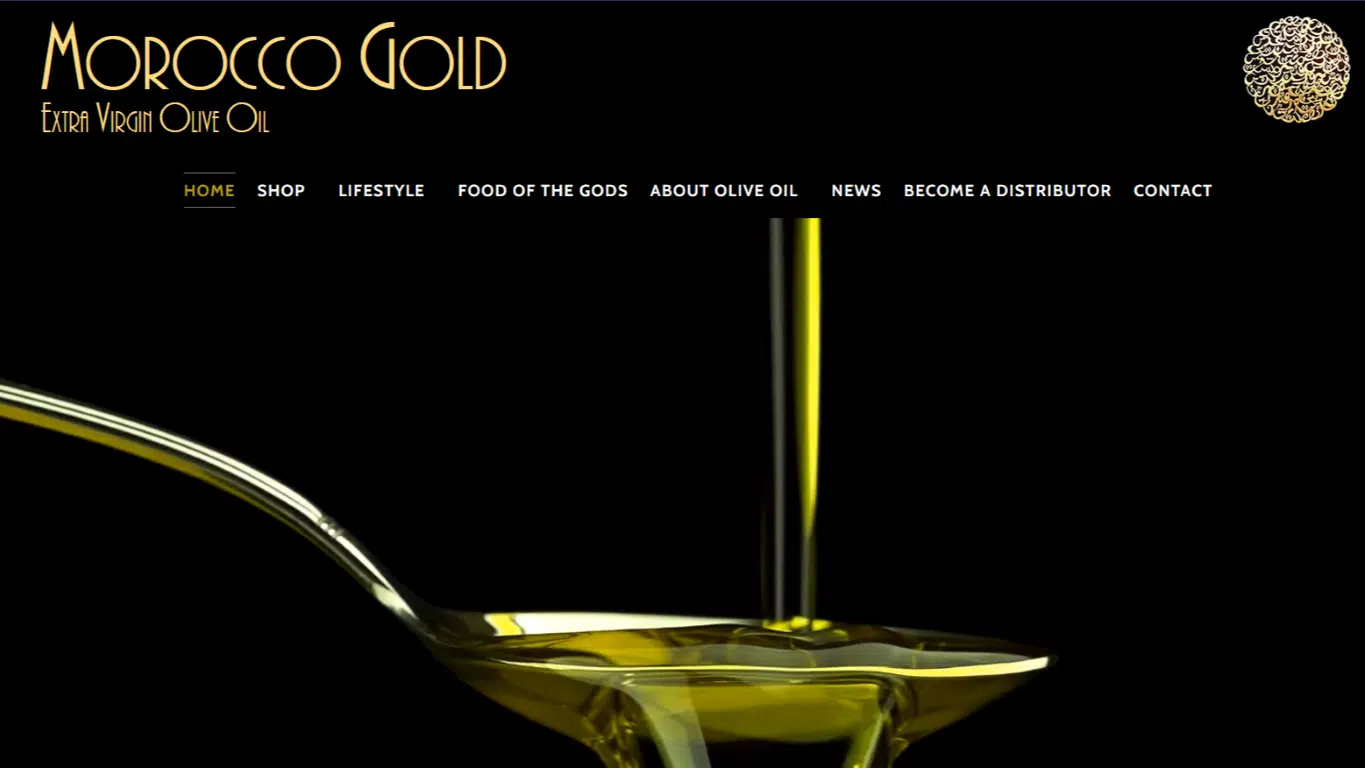 Origin: Atlas Mountains, Beni Mellal Region, Morocco
Olive Type: Picholine
Affordability: Moderate
Product Line Overview
This award-winning oil originating from the Beni Mellal area of Morocco carries a herbaceous, fruity flavor with a mild but prominent peppery finish and hints of almond within its richness. The price is just under what one would expect to pay for such an ultra-high polyphenol EVOO. Another upside for those gifting is how the beautiful bottle comes gorgeously packaged. Morocco Gold Single Estate Extra Virgin Olive Oil is worth every last cent. The brand has truly gone the extra mile.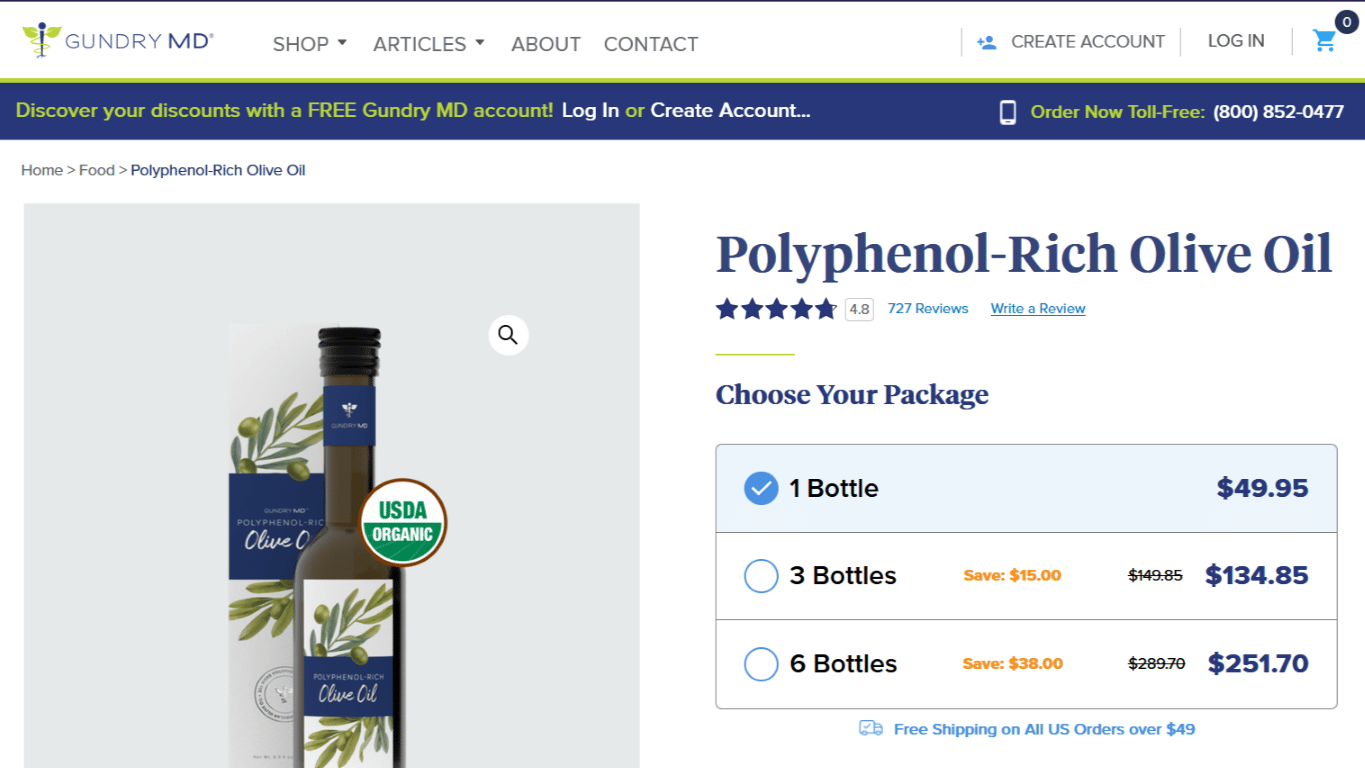 Origin: Morocco
Olive Type: Unspecified
Affordability: Low
Product Line Overview
As an early purveyor of high phenolic extra virgin olive oil in the USA who pushed marketing hard, Gundry MD is well known. The company is a firm presence in the wellness sector and their quality is near-impossible to fault. Just keep in mind that you're getting roughly half the gourmet premium olive oil you get with other brands with the same or higher polyphenol count. Also, hydroxytyrosol is listed, but the concentration isn't. However, if you value brand reputability and proven products above all, Gundry MD will serve you well by delivering smooth, rich flavor, strong pepperiness, and faint bitterness, just like good olive oil should. It's not as herbaceous or fruity as some brands, but it sure is robust.
Origin: Southern Kalamata, Greece
Olive Type: Koroneiki
Affordability: Low
Product Line Overview
The crazy-low acidity of Liokareas Rx High Phenolic Extra Virgin Olive Oil sets it apart from all the rest. Not only does this ensure fantastic longevity of the oil itself, effectively locking in the polyphenol concentration, but it translates to purer, more pronounced flavors and aromas as well. It's an olive oil that has ranked number one for two consecutive years, and when one looks at its composition and phenolic breakdown, it's easy to see why. Even the color is clearer. This is also the highest hydroxytyrosol extra virgin olive oil out of all the products reviewed. Shoppers may have to splash out, but this is one brand that over-delivers in every way.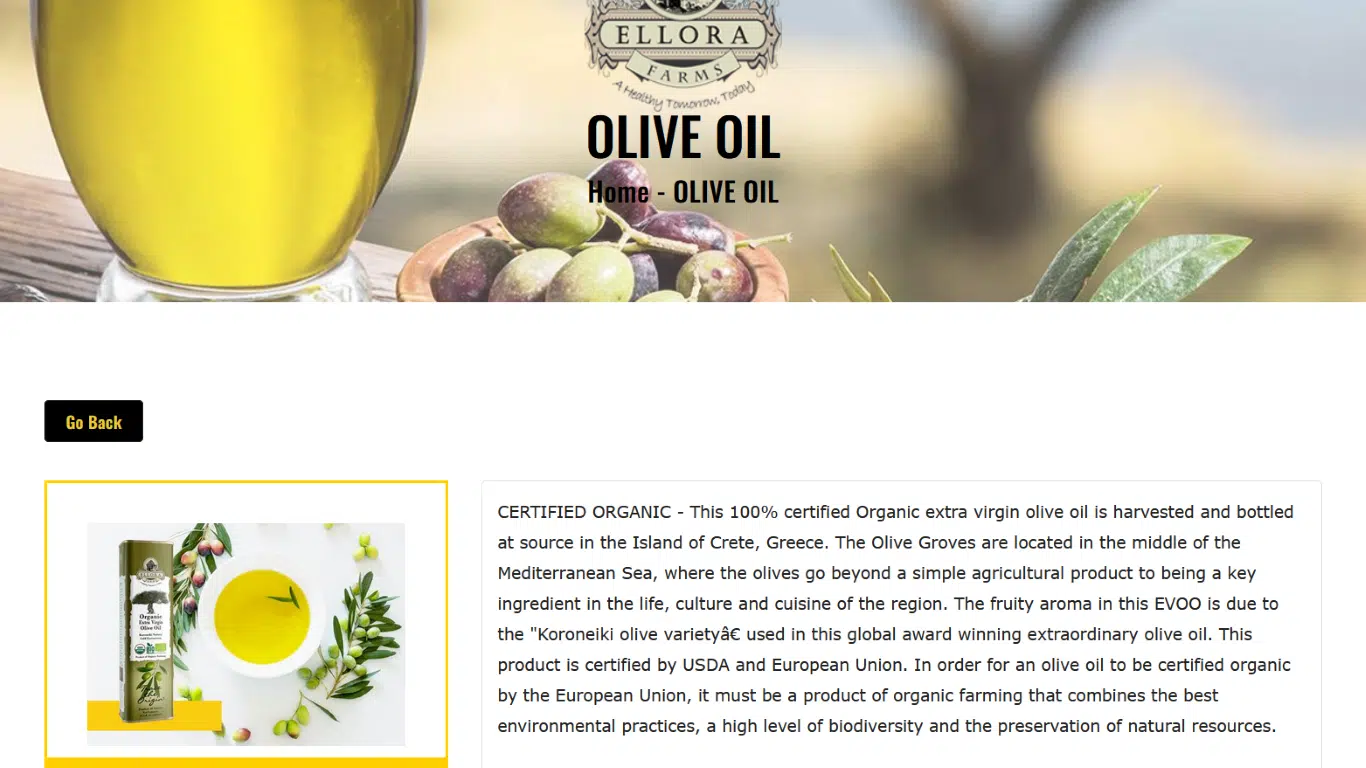 Origin: Crete, Greece
Olive Type: Koroneiki
Affordability: High
Product Line Overview
With a depth of flavor that's up there with the best, reasonable acidity, and a mid-range polyphenol count, Ellora Farms Extra Virgin Olive Oil is one of the healthiest and most affordable for daily use. Sold in metal canisters, Ellora's oil comes in greater quantities and is created for those who use a lot of olive oil. It tastes like one of the best Greek olive oils made especially for those who value a complex flavor profile inclusive of fruitiness and herbaceous notes. This should come as no surprise as Ellora Farms is one of the few PDO-certified brands out there, which means every batch is fully traceable – just enter the tracing number from your label on the company website.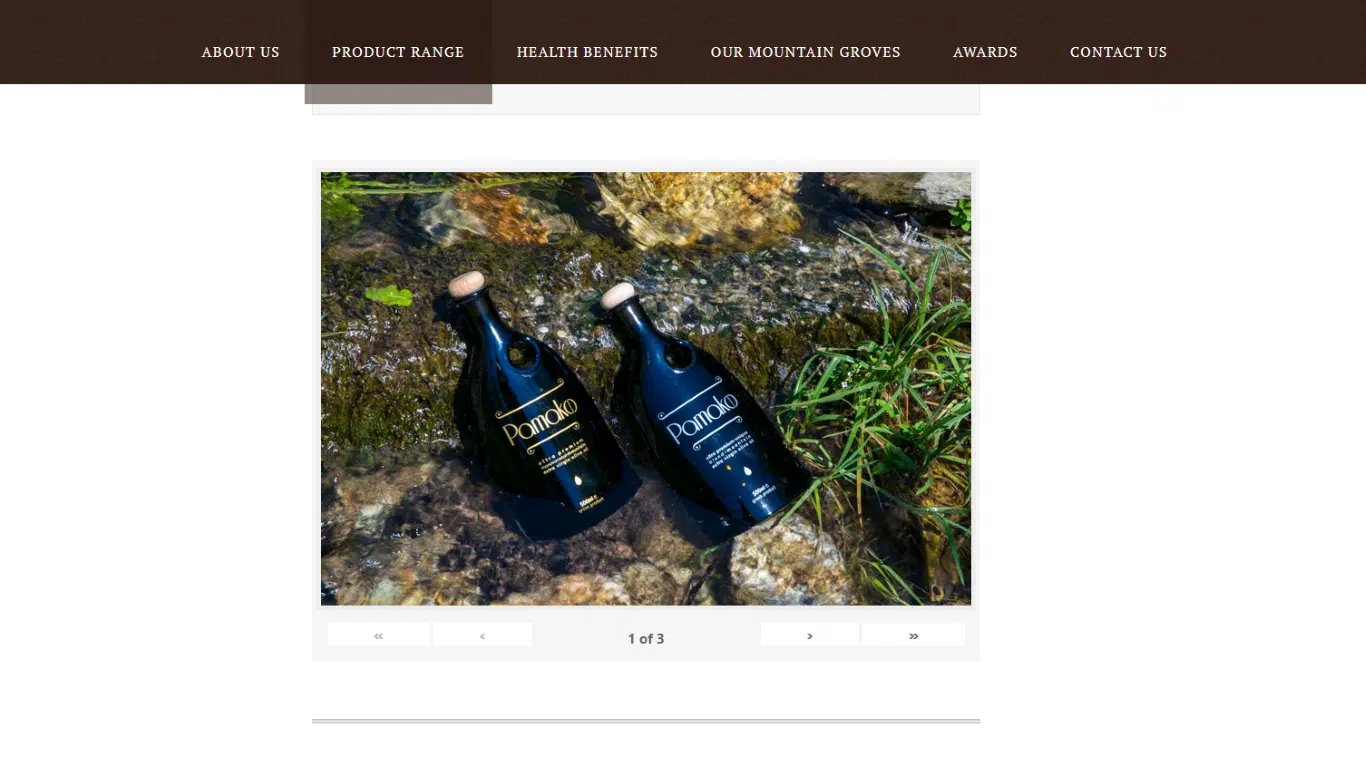 Origin: Selino, Crete, Greece
Olive Type: Tsounati
Affordability: Moderate
Product Line Overview
Pamako Ultra-Premium Monovarietal Olive Oil has one of the highest polyphenol concentrations out of all varieties reviewed. Given the ridiculously high strength, the price is actually quite affordable. For what some easily charge up to three times the amount for, shoppers receive gourmet EVOO straight from the mountainous region of Crete and derived from a rare type of olive not commonly used by other Greek purveyors. In terms of flavor, there's nothing quite like it. The intensity grants richness with immense complexity and depth of flavor while remaining supremely smooth with enough pepperiness to let you know you're getting the phenolic intake you've paid for.
The Health Benefits Of Polyphenols
The phenolic compounds present in high concentrations in high phenolic and high hydroxytyrosol olive oil brands can benefit the entire body when integrated into a balanced diet or consumed at a fixed quantity daily for strict medicinal benefits. Here are some of the primary benefits established by modern science.
Cardiovascular Health
High polyphenol and high hydroxytyrosol olive oil have been shown to lower blood pressure and improve heart health by reducing inflammation, and oxidative stress in the body to such an extent that patients studied have a lower risk of heart disease when following an olive-oil-rich diet.
Cancer Prevention
Several studies confirm the anti-tumorigenic effects of many of the properties inherent to olive oil. Hydroxytyrosol is an effective cancer preventative due to the way that it protects against and repairs oxidative DNA damage. Additionally, the flavonoid Luteolin present in olive oil is a proven anti-tumorigenic against lung cancer, oesophageal cancer, and colorectal cancer.
Brain Health
The polyphenols in olive oil have been shown to have neuroprotective effects and may help to improve cognitive function and reduce the risk of age-related cognitive decline. Studies have found that the compound oleuropein-aglycone, in particular, a key phenolic compound present in EVOO, has a positive neuroprotective effect.
Anti-Inflammatory Properties
The phenolic compounds present in extra virgin olive oil have profound anti-inflammatory action that has bee proven to have joint protective effects. Hydroxytyrosol, tyrosol, and oleuropein are all strong anti-inflammatories with equally effective antioxidant effects that are expressed throughout the body. Consuming high phenolic olive oil regularly may be beneficial for conditions such as rheumatoid arthritis and osteoarthritis.
Weight Management
The monounsaturated fats in olive oil can help to promote feelings of fullness which helps balance a healthy weight-loss diet. This is one of the reasons why the Mediterranean diet has become famously known for weight loss and longevity.
Skin Health
Olive oil contains potent antioxidants which can help protect the skin from damage and may be beneficial for skin conditions such as eczema and psoriasis. Applying it topically is known to improve skin barrier function and hydration. Also, olive oil is rich in vitamins A and E, both of which are important for healthy skin. Vitamin A helps to reduce wrinkles and keeps the skin looking youthful, while vitamin E helps to protect skin cells from damage caused by the environment. The anti-inflammatory properties also reduce redness and alleviate itching and similar skin conditions too.
Hair Health
High phenolic olive oil nourishes the hair far better than any other variety due to its high concentration of fatty acids and antioxidants, effectively promoting growth while repairing damage. The scalp is moisturized, and dryness is combatted, which improves hair strength and reduces breakage.
Improved Digestion
Olive oil has a beneficial effect on plasma lipid metabolism which means that it increases bile flow and both the acids and cholesterol needed to boost digestion. The phenolic compounds in olive oil also improve bile salt synthesis in the liver, and it lowers gastric acid secretion, which means less gas and indigestion.
High Phenolic & High Hydroxytyrosol Olive Oil – Frequently Asked Questions
Have you been left wondering anything about high phenolic, high hydroxytyrosol olive oil? Let's dive into the frequently asked questions.
---
Recent Recipes