Easy Low FODMAP Enchilada Sauce
Mmm, enchiladas – the perfect warm and spicy dinner as the weather cools down and we hunker down for another winter season. Even though you might really love enchiladas, however, you might also think that these classic Mexican eats are no longer an option if you're following a low FODMAP diet.
But that's not the case at all! In fact, you can enjoy low FODMAP enchiladas with the right sauce recipe and some smart planning. If you don't know where to start, you've come to the right place because we've put together the perfect recipe for red low FODMAP enchilada sauce. While you can make enchilada sauce with green chilies instead, we find red sauce to be perfect for bringing out the savory flavors in most enchilada recipes.
With that said, let's break down our low FODMAP enchilada sauce recipe step-by-step.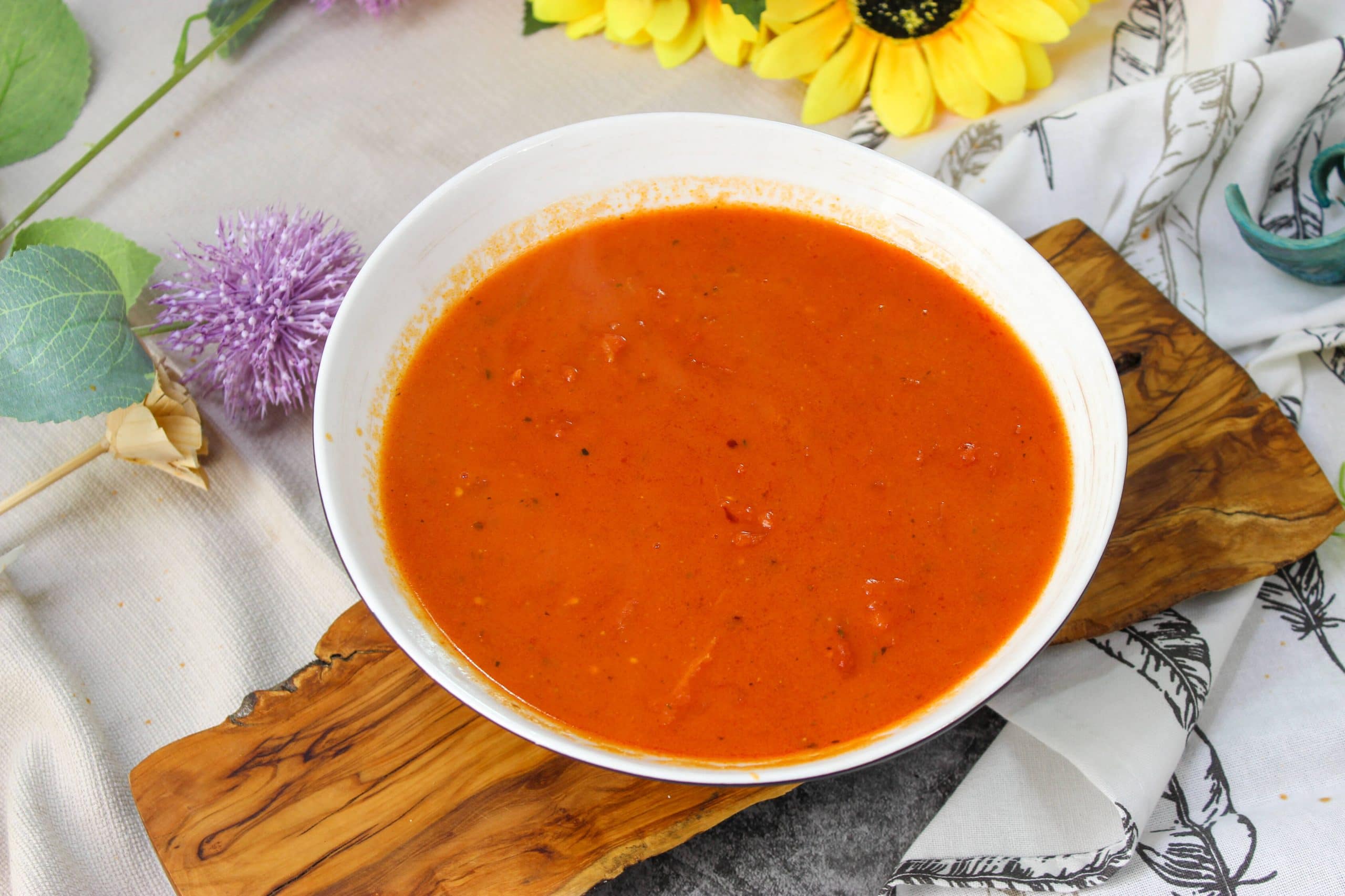 Ingredients
¼

cup

low FODMAP all-purpose flour

usually gluten-free

¼

cup

low FODMAP garlic infused olive oil

2

teaspoons

chili powder

2

cups

low FODMAP chicken stock. You can either make your own or purchase it at a grocery store

14.5

ounces

diced tomatoes

1/2

teaspoon

cumin

1/2

teaspoon

oregano

1/2

teaspoon

salt
Instructions
Whipping up this low FODMAP enchilada sauce recipe is quick and easy. To begin, heat your oil in a medium-sized pot (not a pan!) until it is hot and simmering.

Next, whisk in your all-purpose flour and stir frequently for about two minutes. This will create a basic roux, which forms the base and core texture of the sauce.

Then whisk in your chili powder and cook the resulting mixture for about 15 to 30 seconds. Afterward, slowly whisk in your broth or stock depending on which you purchased.

Almost immediately after, whisk in the cumin, oregano, tomatoes, and salt. Stir everything thoroughly so all the flavors are combined properly. Bring the resulting sauce to a simmer over medium heat and continue to stir often for around 10 minutes.

After the 10 minute mark, set the sauce aside and let it rest for five minutes. At this point, you're all set; you should have about 3 cups of sauce in total. Once it is settled, it will keep for about a week in an airtight container if refrigerated.
Video
Nutrition
Calories:
142
kcal
|
Carbohydrates:
10
g
|
Protein:
3
g
|
Fat:
10
g
|
Saturated Fat:
2
g
|
Polyunsaturated Fat:
1
g
|
Monounsaturated Fat:
7
g
|
Cholesterol:
2
mg
|
Sodium:
327
mg
|
Potassium:
237
mg
|
Fiber:
1
g
|
Sugar:
3
g
|
Vitamin A:
285
IU
|
Vitamin C:
7
mg
|
Calcium:
31
mg
|
Iron:
1
mg
Notes & Tips
As you can see, this red low FODMAP enchilada sauce recipe is pretty quick and easy to whip up. However, you can make the flavors even bolder and more interesting by grinding your own red chilies. This does take a little longer, but it could be well worth it if you are putting together a home-cooked meal from scratch.
We recommend looking for red Serrano chilies to grind up your own chili powder. You'll probably need between three and four chilies at minimum in order to make 1 to 2 teaspoons of powder, plus dry out the chilies beforehand.
This isn't strictly necessary to enjoy this low FODMAP enchilada sauce recipe, but it will certainly impress anyone who takes a bite!
We'd also recommend keeping track of the heat on your stovetop carefully. It's possible to boil the sauce and burn it on the bottom of the pot. To avoid this, start off with low heat and gradually crank it up to medium heat while keeping it under close supervision.
Substitutions
While we use garlic-infused olive oil for our low FODMAP enchilada sauce recipe, you have another option: onion-infused oil. The key thing to remember is that you can't include pure onions or garlic in your olive oil or sauce. These ingredients are, unfortunately, relatively high in FODMAPs. On the plus side, however, olive oil infused with both ingredients is pretty common at most traditional grocery stores.
In addition, you can go with vegetable stock or broth if you don't want chicken stock for your enchilada sauce. Once more, just make sure it is a low FODMAP choice to stick to your diet.
Common Questions
What if I need to make more low FODMAP enchilada sauce for my recipe?
If that's the case, you can fortunately just double all of the ingredient amounts above and make double the amount of enchilada sauce in a single session in your kitchen. So this recipe is perfect for creating plenty of enchilada sauce for you and your family if everyone follows a low FODMAP diet, or if you just want to spread this recipe around for bragging rights.
What about green sauce?
If you want to adjust this recipe slightly, you can simply use 2 teaspoons of green chilis or green chili powder (if you can find it), the red chili powder is much more common and easier to find at your grocery store.

However, you'll also want to substitute the diced tomatoes for green chilies and maybe a few jalapenos. Feel free to experiment, but keep in mind that this low FODMAP enchilada sauce recipe is really meant for red sauce lovers.

Of course, you can always just use chili verde salsa in a pinch!
Can you substitute the all-purpose flour for tapioca flour, rice flour, or other substitutes?
Technically, sure. But we've only ever made this recipe using all-purpose and gluten-free flour, so your mileage may vary in terms of flavor inconsistency. While rice flour and tapioca flour should be fine in terms of FODMAP content, we can't speak to how they may change the flavor of the resulting sauce.

Additionally, you should avoid coconut flour, which will include some amount of FODMAPs no matter what.
Sides and Pairings
Naturally, this red low FODMAP enchilada sauce goes perfectly with enchiladas with beef, dark chicken meat, and pork. You can easily make low FODMAP enchiladas by substituting a couple of ingredients or avoiding tortillas that include FODMAPs. No matter what kind of meat you prefer, it will be low FODMAP (since protein doesn't usually include fermentable carbs unless sauces or seasonings are added).
In addition to regular enchiladas, you could pair this sauce with tacos, burritos, or other Mexican dishes depending on your preferences.
---
Recent Recipes