Breakfast is my favorite food. While I am happy to eat pizza for breakfast every single day, I do like a big, scrumptious spread. My current favorite are Blinchikis, which are basically a type of Russian crepe. They are a little thicker than pancakes, but they are light and soft and taste delicious with some chocolate hazelnut spread, honey, berries or even some sour cream. I love them because they can be sweet or savory. You can make Blinchikis with cheese or meat like pulled pork, beef and rice etc. as well as well fruits and jellies and spreads. Additionally, the Best Homemade Blinchikis are so easy to make, you can whip it up in minutes and requires very few ingredients.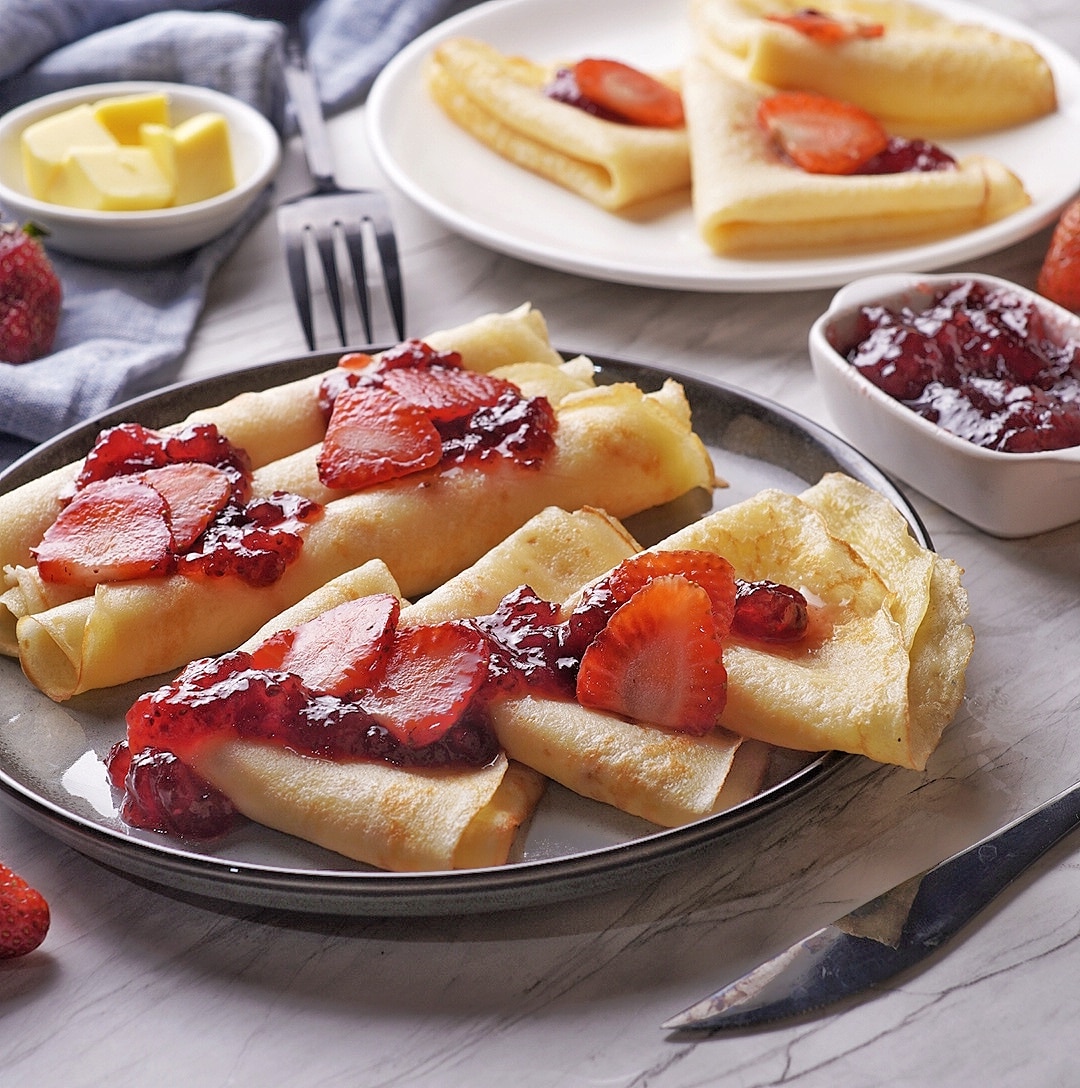 Ingredients
1

cup

all-purpose flour

1

cup

milk

1

egg

1

tablespoon

sugar

½

teaspoon

salt

1

tablespoon

of vegetable oil
Toppings
Butter

Fresh cut strawberries
Instructions
All ingredients ready? Let's begin!

In a large bowl add the flour, salt and sugar and combine them well.

Add the egg and mix well.

Slowly add the milk, while continuously mixing it together, ensuring no lumps form. You can use a blender to do this to get it really smooth.

Cover the batter and let it rest for about 30 minutes.

After 30 minutes place a large non-stick pan on the stove.

Brush lightly with butter.

Drop a ladle of batter in the center of the pan and then swirl the pan around allowing the batter to spread in a thin circle.

Cook for about a minute or two, you will notice the top of the Blinchiki turning a soft golden color.

Flip and cook on the other side, another 2 minutes.

Repeat the process with the remaining batter.

Roll or fold the Blinchikis, pat some butter on top and add some strawberries. Enjoy warm.
Video
Nutrition
Calories:
139
kcal
|
Carbohydrates:
20
g
|
Protein:
4
g
|
Fat:
5
g
|
Saturated Fat:
1
g
|
Polyunsaturated Fat:
1
g
|
Monounsaturated Fat:
2
g
|
Trans Fat:
1
g
|
Cholesterol:
32
mg
|
Sodium:
220
mg
|
Potassium:
93
mg
|
Fiber:
1
g
|
Sugar:
4
g
|
Vitamin A:
105
IU
|
Calcium:
57
mg
|
Iron:
1
mg
Tips & Tricks
Blend all the ingredients to save time and to guarantee a smooth, lump-free batter
You have to allow the batter to set for a minimum of 15 minutes
Don't cook the Blinchikis on high heat, they are thin, delicate crepes, so heat the pan well and cook them in medium low heat
If you're unable to swirl the batter on the pan, then drop a ladle of batter and use the ladle, press down on the center and spread it around.
Make sure the pan is hot before you start spreading the batter
Use a non-stick pan, the Blinchikis come out better
The final Blinchikis should be airy and light, so don't over blend or over whisk. Also spread the batter in a thin layer, it should not be thick like a pancake.
You can add about ½ teaspoon of baking soda if you want really airy and lacy Blinchikis
Storage
If you have any leftovers of the Best Homemade Blinchikis, you can store them in the fridge for about 3 to 4 days. You can also freeze these Blinchikis. First freeze them in a single layer, once frozen, layer them with parchment paper between each so that they don't stick and then store them in a Ziplock bag or airtight container and then leave them in the freezer for up to two months. To thaw, let them sit out overnight in the fridge. Then heat them on the stove top. Add some butter to the pan first.
You can also make the batter a few days ahead. Keep it in the fridge for about 2 to 3 days.
FAQs
What is a Blinchiki, is it the same as Blini?
A Blinchiki, is a Russian crepe that is light and airy and cooked in a thin layer over a hot pan. The Blinchiki doesn't use a rising agent like baking powder or yeast, but it can be incorporated into the batter. Blinchikis are very common in Russia and Eastern Europe and are often incorrectly referred to as Blinis. Blinis are very similar to Blinchikis, except that Blinis are smaller and are made with yeast. Blini is also what is eaten when spring starts as a celebration of the harvest and the sun. Blini is often filled with fish, eggs, pickles and butter amongst others. Blinchikis are traditionally filled with cheese, meats and rice, jams and fruits. Blinchikis are usually made with buckwheat flour. Nowadays Blinis and Blinchikis are used interchangeably.
Should I top the Blinchikis with fruits, meat or jam or should I stuff the Blinchikis?
One of the best things about the Blinchikis, besides how awesome it tastes and how easy it is to make, is that you can make it your own.

If you are making it with meat, rice or cheese, stuff the Blinchikis. Make the Blinchikis as per the instructions, then cook your meat or filling, place it in the center of the cooked Blinchikis and wrap it up like a burrito. Heat the pan again and toast the stuffed Blinchikis on all sides. 

If you are using, butter, jam, compote or even sour cream, you can spread it on the Blinchikis and consume or dip the Blinchikis in them. 
Substitutions
The Best Homemade Blinchikis is a simple dish with some basic ingredients that doesn't require many substitutions, but we can make them more allergy and lifestyle friendly.
If you want to make vegan Blinchikis replace the egg with smushed banana and the butter with vegetable oil. And replace the whole milk with almond or any nut milk of your choice.
If you want to make gluten-free Blinchikis, use almond flour.
Traditionally Blinchikis were made using buckwheat flour, so if you want to make an authentic Blinchiki you can opt for buckwheat flour or half buckwheat flour and half all-purpose flour
Now the fillings or toppings are the best part of the Blinchikis. You can make it simple with just some butter and fruit or you can spread it with Nutella, fruit compote, jams or jellies. You can also stuff it with rice and meat, cheese, beans, sour cream as well as vegetables like mushrooms and cabbage.
Accompaniments
The Best Homemade Blinchikis can be breakfast, lunch, dinner, snack or dessert because it is that versatile and goes with everything. If you're having it for breakfast just some butter or jam and fruit would do. For a more filling meal like lunch or dinner, add some meat and cheese or even some fish or caviar to it. For dessert top it up with ice cream, whipped cream and some fresh cut fruit. If it is a quick snack, you can have it as is or with butter or dipped in sour cream.
For more easy and delicious homemade indulgences try Aunt Holly's Banana Bread or the Sweet and Soft Chocolate Panettone.
---
Recent Recipes