An ube smoothie is made using ube (pronounced "ooh bay"), or purple yams. This is a popular beverage common in the Philippines and other parts of Asia.
Not to be confused with taro or the Okinawa sweet potato, the ube purple yam has a subtly distinct sweet flavor of its own that makes it perfect for this refreshing drink. The smoothie takes just a few minutes to prepare and will definitely hit the spot on a hot summer day. It is also a great introduction to Filipino and southeast Asian cuisine.
This recipe makes one serving. Discover what makes ube so tasty and why it's more than just an Instagram trend. This purple yam has serious staying power. Try it once and you'll be hooked.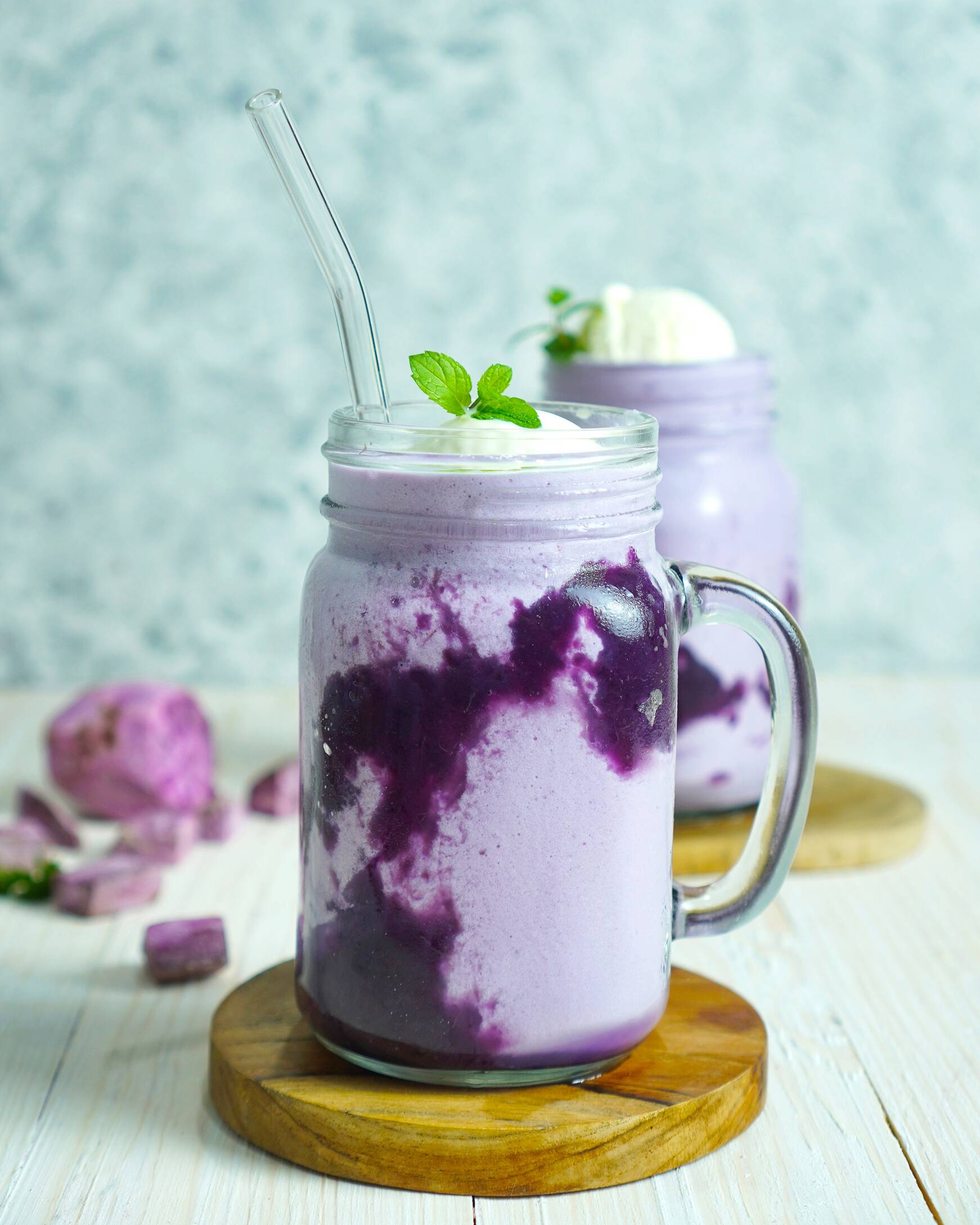 Ingredients
1/2

cup

all-purpose cream or dairy-free alternative

1

cup

milk or milk alternative

1/4

cup

sugar

6

ice cubes

1

scoop

vanilla ice cream

optional

2

cup

cubed purple yam

25

mg

water
Instructions
To prepare the ube:
Peel purple yam and cube into 1-inch large pieces

Place in a small pot and cover with water

Boil on high heat until ube turns soft

Remove and strain the water
To prepare the milkshake:
Puree the only the purple yam cubes and add the 25 mg water. Pulse on medium-high until a smooth texture

Add the cream and milk to the puree. Pulse on medium-high until thoroughly mixed together

Mix in sugar and pulse on medium-high for one minute until smooth

Add the ice cubes and process until smooth, about one or two minutes more

Serve in a tall glass and top with vanilla ice cream if you like
Video
Nutrition
Calories:
622
kcal
|
Carbohydrates:
82
g
|
Protein:
9
g
|
Fat:
30
g
|
Saturated Fat:
18
g
|
Polyunsaturated Fat:
1
g
|
Monounsaturated Fat:
8
g
|
Cholesterol:
108
mg
|
Sodium:
118
mg
|
Potassium:
1496
mg
|
Fiber:
6
g
|
Sugar:
39
g
|
Vitamin A:
1418
IU
|
Vitamin C:
26
mg
|
Calcium:
246
mg
|
Iron:
1
mg
Notes & Tips
You will need a blender to make the ube milkshake. If you do not have a blender, a hand mixer would be an appropriate alternative. Place all the ube smoothie ingredients in a large bowl and mix well with a hand mixer before adding the ice and ice cream. Blending the yam first is vital otherwise it will not mix as well with the other ingredients.
Substitutions
First off, you can frozen or powdered purple yam to replace fresh purple Yam. The great thing about making smoothies is that you can mix and match a lot of the ingredients. Here are some ideas for what you can include or substitute as other ingredients with the ube.
Two high-protein ingredients like Greek yogurt (or a dairy-free alternative) and chia seeds
Fiber support like oats, dates, or pumpkin purée
A touch of "good" fat like coconut oil or ground flax seeds
Optional sides or compliments
Ube smoothies taste great and are very filling on their own, but there are a few optional sides that can take this sweet beverage to the next level.
Crunchy granola to balance out the ube's sweet taste and add some extra protein
For breakfast, serve your ube smoothie with eggs and bacon, or your favorite vegan bacon alternative
If you find that you are still hungry after eating your smoothie, you might want whole grain toast and fruit for a light second meal
Questions
How do you shop for ube smoothie ingredients?
If you're shopping in the US, ube is not a common root vegetable found in most American grocery stores. Your best bet is to look in a specialty international food store. If you can't find ube in its tuber root form, you can also buy ube spread or ube flavor extract online from any major online retailer.
What are the best ways to store the ube smoothie?
This smoothie is so tasty that we doubt you'll have leftovers. However, in the event that you do have a little extra to finish later, you can keep it safely in the fridge for up to 72 hours. Keep in mind that you will need to re-blend it or shake it again before you drink it because of separation.

You can also freeze your ube smoothie. It should be stored properly to maintain best quality. Put your smoothie in an airtight container and in the main part of the freezer, away from the door. This prevents temperature fluctuations. To defrost the smoothie, put it in the microwave for 15 seconds at a time until it is soft enough for your taste.
What does an ube smoothie taste like?
Ube is probably unfamiliar to a lot of people who did not grow up with Asian cuisine. It is very sweet and frequently used in making desserts. As mentioned previously, ube is frequently confused with taro, but they couldn't be farther apart in terms of taste. Ube's delicate sweet flavor is commonly compared to vanilla. Taro is much more earthy.
How can I serve my ube smoothie in a creative way?
The presentation can be just as important as the taste itself. Here are a few ideas for serving your ube smoothie deliciously.

Bowl: Once you have mixed the smoothie, place it in a bowl and add a fruit garnish on top for decoration. Blueberries work well as a garnish because their flavor really compliments the ube.

Glass container: Mason jars are a great way to serve smoothies because they have a cute, retro look. The recipe above makes one smoothie, but you can multiply the ingredients to make several and serve to a crowd. Don't forget the decorative garnish.

Decorative straw: Put some fruit on the straw for a flavor infusion.
What is the nutritional profile of ube?
As a starchy root vegetable, ube is loaded with carbs, potassium, and vitamin C. Vitamin C is proven to support immune system function and brain health. Ube is also full of antioxidants, especially anthocyanins. Studies show that anthocyanins can lower blood pressure and protect against type 2 diabetes and cancer.
What is the history of the ingredient ube / purple yam?
The purple yam has been cultivated in Austronesian cultures for thousands of years. They were easily suited for long sea transport and quickly spread throughout the region. Archeological evidence suggests that ube was first cultivated in the Philippines and New Guinea. Today, ube is used in the Melanesia region for ceremonial events. It has a spotlight in the Philippines for traditional and modern dessert dishes. In addition to milkshakes, ube can take the form of delicious ice cream treats surrounded by sweet rice dough.
---
Recent Recipes