Crunchy Cat Tongue Cookies
If you're craving something sweet, fragrant, and deliciously dainty with your tea (or coffee), then Langues de Chat, translated as Cat Tongue cookies, are just the treat for you. These butter cookies virtually dissolve on your tongue. Their texture is similar to French Tuile Cookies, although a bit cakier. Langues de Chat cookies are well known for their long, thin shape. Their cute name reminds us of the tongues of a cat.
Soft in the middle, crisp around the edges, the origin of these light cookies is European. The original recipe appears to come from 17th century France, but the cookies also have Dutch and Italian roots. They are known as "Lingue di Gatto" in Italy and "Katte tong" in the Netherlands.
They're also known as "Kue lidah kucing" in Indonesia. This Asian variation of the Cat Tongue cookie has a Dutch influence because of the historical ties between Indonesia and the Netherlands. In Japan, you will also find a variation of the Langue de Chat cookie — in this instance, it is a square sandwich cookie with a layer of white chocolate between the two squares.
Cat tongue cookies are super easy to make, and once you've made them once, we guarantee that you will want more of their delicious buttery crunch. The key to making the perfect Langues de chat cookies ​​is creating a soft, fluffy batter.
To make, you will need to beat egg whites until stiff and fold them into butter, sugar, and flour. This cookie dough must be piped into thin strips to create the cat tongue shape. Finally, you will need to bake the cookies until their edges are golden brown.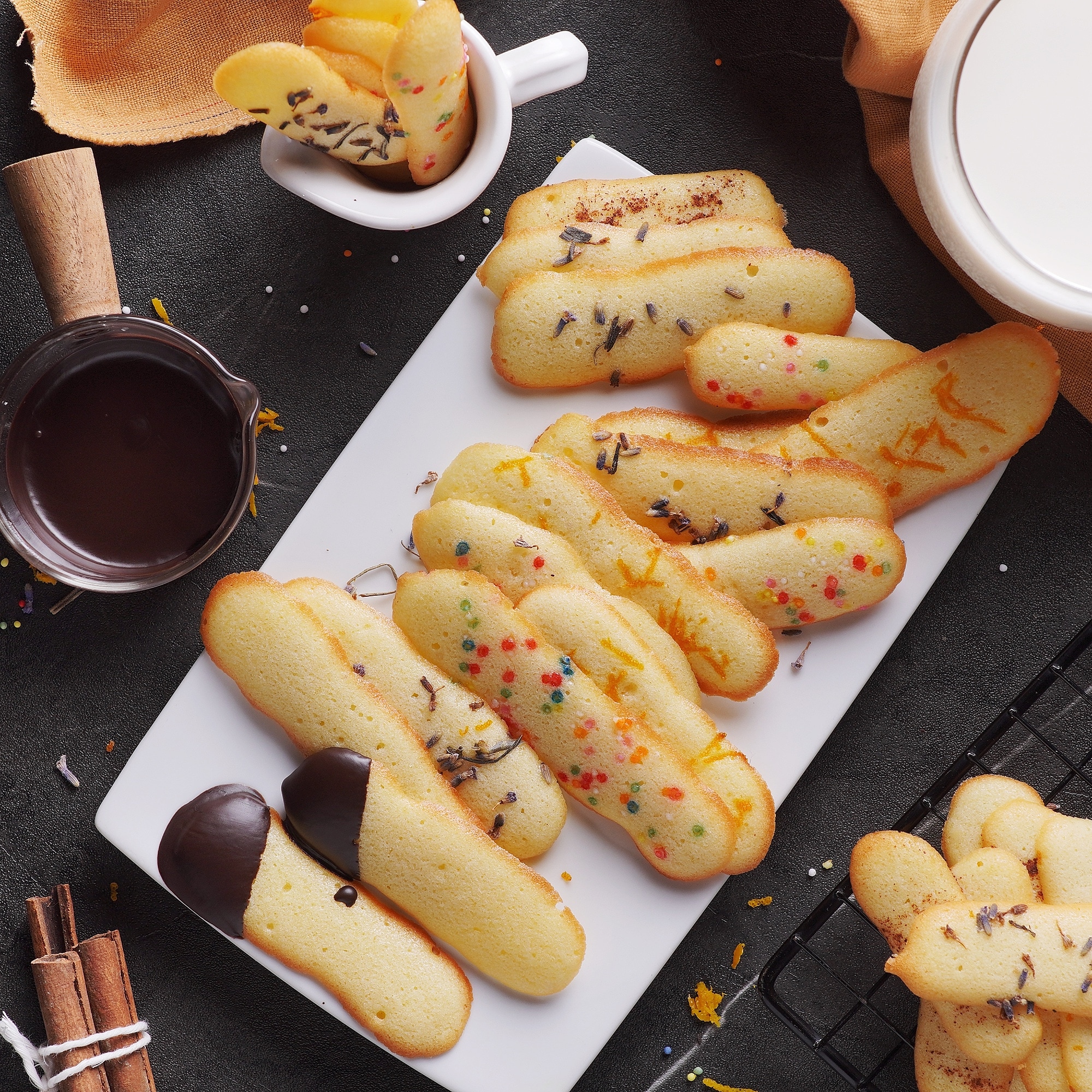 Equipment
Electric mixer (to beat the egg whites)

Two mixing bowls

Wooden spoon or spatula

Piping bag with ½ tip (or a zip lock bag with ½ inch corner cut off)

Palette knife, for loosening from the baking sheet

Wire cooling rack
Ingredients
4.4

oz.

unsalted butter

softened

4.4

oz.

superfine caster sugar

½

tsp

vanilla extract

3

egg whites

4.4

oz.

plain flour
Optional Garnishes
Dried lavender flowers

Ground cinnamon

Lemon or orange zest

'Hundreds of thousands' or other sprinkles

Chopped pistachios

Cocoa nibs

Melted chocolate – use your favorite quality dark

white, or milk chocolate.
Instructions
All ingredients ready? Let's get baking!

Begin by preheating your oven to 390⁰F.

Line two baking sheets with parchment paper. If you don't have parchment paper, you can lightly grease the baking sheets.

Fit a piping bag with a ½ inch tip.

Using a large bowl, beat the superfine sugar into the butter. You need to beat until the mixture is light and fluffy. Mix in the vanilla extract.

In a separate bowl, beat the egg whites until they reach the stiff peak stage.

Gently fold your stiffly beaten egg whites into the butter mixture.

Gently fold the flour into this mixture.

Spoon the batter into the prepared piping bag.

Pipe 3 inch long strips onto the prepared baking sheets. You should leave about 2 inches between each strip – enough space for the mixture to spread.

If you're garnishing the cookies, sprinkle them with lavender, cinnamon, zest, hundreds of thousands, pistachios, or cocoa nibs. Just use one garnish on each cookie.

Bake the cookies in the preheated oven until golden around the edges, approximately 5-8 minutes.

Allow the cookies to cool on the baking sheet for a few minutes before loosening them carefully with a palette knife.

Transfer them to a wire rack to cool completely and become crisp.

If you want chocolate-dipped cookies, allow them to cool completely before dipping.
Video
Nutrition
Calories:
34
kcal
|
Carbohydrates:
4
g
|
Protein:
1
g
|
Fat:
2
g
|
Saturated Fat:
1
g
|
Polyunsaturated Fat:
1
g
|
Monounsaturated Fat:
1
g
|
Trans Fat:
1
g
|
Cholesterol:
5
mg
|
Sodium:
3
mg
|
Potassium:
6
mg
|
Fiber:
1
g
|
Sugar:
2
g
|
Vitamin A:
57
IU
|
Calcium:
1
mg
|
Iron:
1
mg
Notes & Tips
These cookies can darken quickly, so keep an eye on them and your oven temperature while baking.
Instead of piping the cookies onto a flat baking sheet, they can also be baked in a cat's tongue mold pan or plaque. This pan is known as langue-de-chat in French and is also used for ladyfingers and éclairs.
Variations
Although these cookies are great as simple vanilla-flavored butter cookies, the variations are endless, and you can really allow your imagination to take over.
Chocolate Langue de Chat cookies
You can make chocolate Langue de Chat cookies by substituting 20% of the flour for unsweetened cocoa powder. This variation is excellent with cocoa nibs sprinkled on top as a garnish.
Rainbow Langue De Chat Cookies
Everyone loves a rainbow. Once your batter is prepared, divide it into a few different bowls — as many colors as you'd like to make. Add a few drops of the individual food color to each bowl and mix well. Then spoon each different color batter into its own piping bag.
Pipe thin strips of each colored batter next to horizontally or vertically to form one three-inch-long strip.
Curly Langue de Chat Cookies
If you want curly cat tongue cookies, work quickly to release them from the baking sheet and place them on the rolling pin so they will curl. If they begin to crack before they're curled, you can briefly return them to the oven to warm them again.
Funfetti Langue de Chat cookies
Add a few teaspoons of hundreds of thousands to your batter before piping and baking for a funfetti cookie. Funfetti is always a hit with the little ones.
Sides Or Compliments
Aside from the garnishes suggested in the recipe, these cookies are great when paired with ice cream or sorbet, creme brulee, or chocolate mousse. They can also be sandwiched together with a ganache, whipped cream, or jam filling.
Storage
Langues de Chat cookies are best eaten the day they're made, but you can store the leftovers in an airtight container for around two days, depending on the humidity in your area. They may last longer than two days in a dryer area.
All About Crunchy Cat Tongue Cookies
These delightful and versatile little treats are super easy and quick to make, and they will, without a doubt, add an elegant touch to your tea or dinner parties.
---
Recent Recipes