Easy Lacto-Fermented Blueberries
Fermented fruit? It might not be the first thing that comes to mind to "pickle" but fermented fruits make a great base for sauces, dressings and to add surprise crunch and flavor to all sorts of dishes. The first time I made them (experimented, really), I expected them to be quite salty but the salt taste was mild and the berries surprisingly crunchy.
I'm using the lacto-fermentation process – a very easy way to ferment anything to get those gut health benefits. You don't need a fancy vacuum sealer for this – and handheld pump will get the job done.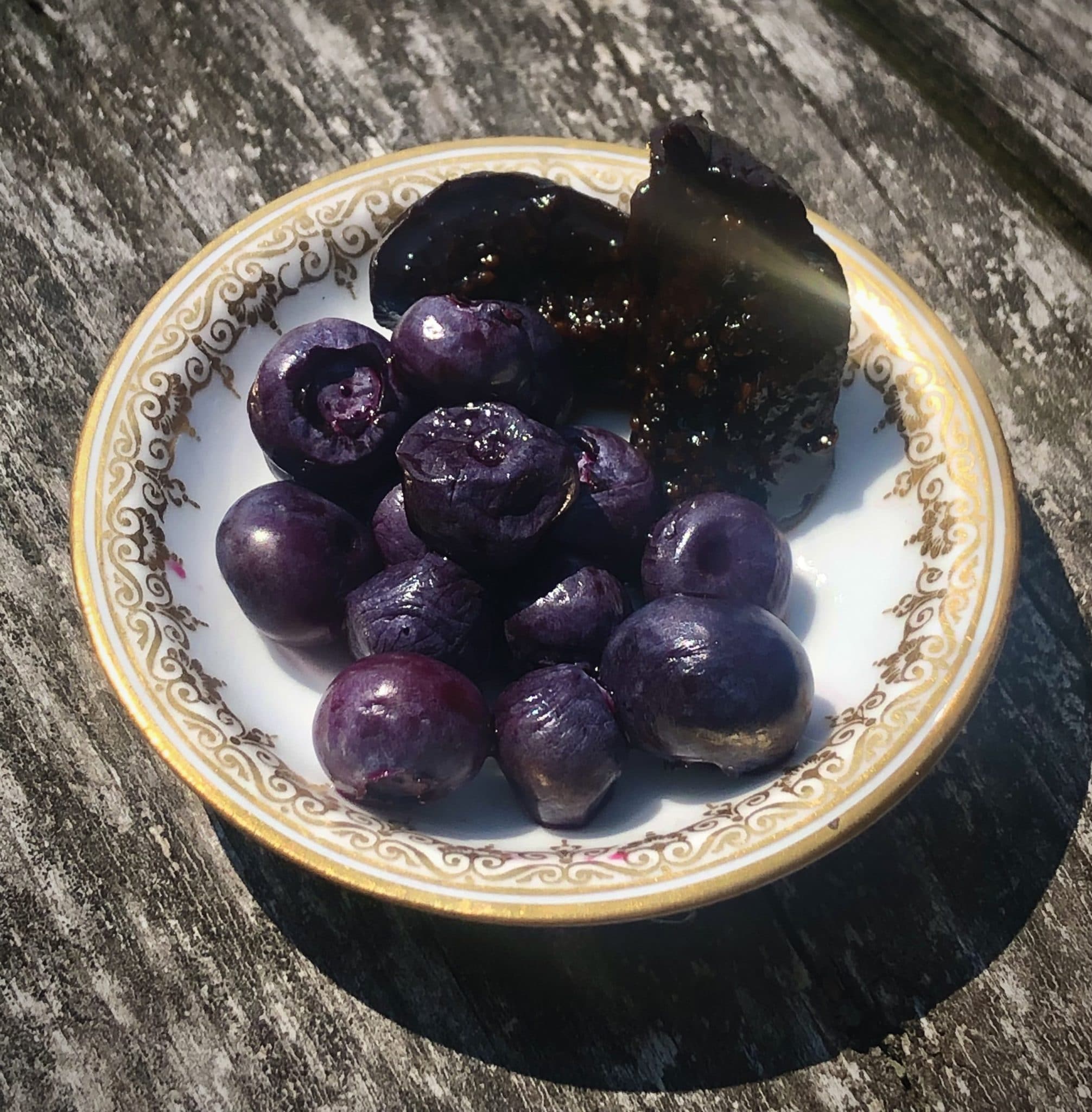 Instructions
Clean blueberries and weigh in grams. Multiply weight of blueberries by .03 to calculate how many grams of salt is needed.

Place blueberries and salt in a vacuum sealable bag and shake well to distribute the salt. Carefully spread berries out then remove air and seal bag.

Store at room temperature and allow the bag to become fully pressured/puffed up (3-10 days). At that point, they're ready. Transfer to jar and refrigerate. Use within a month for best flavor (they become sourer with age).
Notes
I've used a lower amount of salt for this recipe but you can try a bit less (.02 for the salt multiplier). Don't go lower if you plan to store for a while since you'll have a greater chance of spoilage.
You can freeze the fermented berries for a few months keeping in mind that they'll soften up a bit.
Add some dried cocoa nibs or freeze-dried raspberries to the fermentation process to complement the final flavors of the blueberries.
Puree the berries to make a tart and mildly salty sauce or add brown sugar or sweet, dried fruits like figs for a sweeter sauce.
You can also create dressings by adding balsamic vinegar or mayonnaise – with or without sugar – that are great on a salad or as a dipping sauce.
---
Recent Recipes