Easy Miso Peach Ice Cream
Warm, sunny days call for bowls of ice cream. There are a lot of classic flavors such as vanilla, chocolate, strawberry, and peach. As yummy as all those are, you might be looking for something that is a little more unique. If so, you have come to the perfect place.
This recipe is a combination of sweet peach and savory white miso, an ingredient used in many Japanese dishes. If you want to learn a little bit more about miso, there is some info below the recipe for you. White miso has a milder flavor than red miso, so it pairs very well with the sweetness of summer peaches.
Before beginning this miso peach ice cream, please read through the instructions and consult the instructions for your ice cream machine. This recipe needs a lot of time to chill and most ice cream machines need another several hours to properly freeze the ice cream. I recommend making the base the day before so you can leave it to chill overnight. The longer you leave it, the more time the flavors have to infuse the milk and the more likely you are to end up with a better ice cream.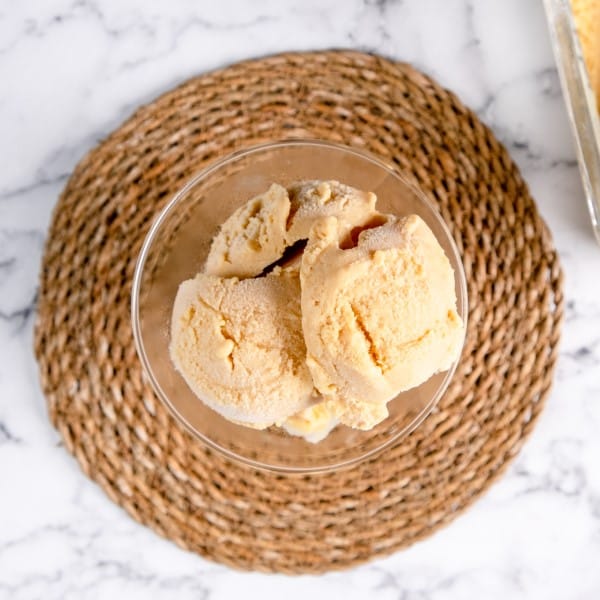 Ingredients
1 ¼

cup

milk

1

cup

sugar

5

eggs

¼

cup

white miso

1 ¾

cups

heavy whipping cream

1

tsp

vanilla

3

peaches
Instructions
Peel the peaches using a knife. It helps if you score several small slices across the surface of the peach (almost as if you were cutting it into slices but without going deep). You can then peel up one corner of the peel and pull it. It should come off fairly smoothly.

Cut the peaches in halves and remove the pit. Cut into small chunks.

In a small pot, add half of the milk and half of the sugar. Put the pot over medium heat and stir constantly until the sugar melts.

Add the peach chunks to the pot and continue cooking on medium heat for about 10 minutes. The goal is to make the peaches soft.

Remove from heat and allow to cool for a few minutes before transferring the mixture to a blender or food processor.

Add the white miso to the blender and pulse until there are no chunks.

In a new, medium pot add the heavy whipping cream and remaining milk. Heat over medium temperature until the edges begin to bubble, then remove from heat.

Separate the yolks from the egg whites. Set aside or discard the egg whites.

Add the rest of the sugar to the egg yolks and mix with a whisk or fork.

Slowly pour a few tablespoons of the hot milk into the egg while whisking constantly to prevent the egg from scrambling.

Whisk a for a minute before transferring the egg mixture into a saucepan and placing on the stovetop over low heat.

Continue to stir constantly with a whisk or spatula for about 8 minutes or until it becomes thick. You are aiming for a custard consistency, so it should be thick enough to coat the back of a spoon.

Remove from heat and pour the rest of the milk into the custard. Mix to incorporate.

Add the fruit-miso paste and the vanilla with the rest of the ingredients and stir again.

Strain into a bowl through a sieve in order to remove any clumps or skin that may have formed on the milk.

Cover and leave in the fridge for a minimum of 2 hours or until the mixture has cooled completely.

When the milk mixture is fully cooled, you may transfer it to the bowl of your ice cream machine and freeze according to machine's instructions. This often takes another several hours.

If you prefer softer ice cream, you can serve immediately after the machine has finished. If you prefer harder ice cream, you can put it in the freezer for another few hours to stiffen up.

This can be served on its own or garnished with a few peach slices. Enjoy!
Nutrition
Calories:
503
kcal
|
Carbohydrates:
48
g
|
Protein:
10
g
|
Fat:
31
g
|
Saturated Fat:
18
g
|
Polyunsaturated Fat:
2
g
|
Monounsaturated Fat:
8
g
|
Trans Fat:
0.01
g
|
Cholesterol:
221
mg
|
Sodium:
528
mg
|
Potassium:
310
mg
|
Fiber:
2
g
|
Sugar:
45
g
|
Vitamin A:
1555
IU
|
Vitamin C:
3
mg
|
Calcium:
139
mg
|
Iron:
1
mg
Notes & Tips
This miso peach ice cream can be stored in a freezer-safe and air-tight container in the freezer for several months. Please note, homemade ice cream tends to get really hard in the freezer, so if that happens, you can pop it in the microwave for a few seconds to soften. This also helps with scooping the ice cream out of the container, as that can be difficult when it is so hard. Just make sure the dish you store it in is also microwave safe.
I recommend using this recipe for any overripe peaches you have. That way they are already very soft and may not take as long to cook. Plus, you get to use up peaches that would otherwise be thrown away.
What is Miso?
Miso is a common seasoning in Asian cuisine, most often used in Japanese dishes with origins in China. Miso is a soybean-based seasoning but can also include rice, barely, seaweed, or other additives. The soybeans must first be fermented before they can be made into miso, which is almost always a thick paste. Miso is used in a wide variety of dishes, from the popular miso soup to fish and meat entrees.
There are a few different ways miso can be prepared, which means there are few different tastes you can find in it. The most common miso is a bit salty and usually has a heavy umami taste running through as well. However, it can also be made sweet or even fruity.
The type of miso used in this recipe is white miso, which is one of the most common types. The other most common miso is red miso, which has a slightly stronger flavor. You can also find mixed miso, which is generally a blend of both red and white miso.
Where To Find Miso?
Miso is gaining popularity in the US, so there is a good chance you can find it in the international food aisle of your local grocery store. If not, the best place to look would be any Asian food market. You can also find miso online through amazon or other online food vendors. Lots of Asian food shops also have online stores and are willing to ship, so if you do not have a shop local to you, you might be able to find one online.
---
Recent Recipes