Simple & Fun Alcohol Gummies (With Extra Flavor Ideas)
Alcohol gummies are a very fun way of consuming your booze. They are great for any kind of party and help add a little extra humor to your get together. They can be made with a practically infinite combination of flavors, so everyone can be satisfied. It is always fun to play around with textures, so this is a good way to do that while still getting the buzz you want.
These alcohol gummies are made in a similar way to jello, but they are stiffer and chewier like a gummy bear. If a gummy texture specifically does. not appeal to you, you can make equally fun "shots" by using jello and leaving it in that consistency. To make jello shots more fun, you can suck them into a large plastic, party syringe which make a great little cocktail for Halloween parties and more. If you check out these jello shots, you can find even more flavor combinations.
The crucial part of these alcohol gummies is the shape. You will need some sort of mold to shape the gummies. Ideally, you can find gummy bear molds or something similar. Anything like that can be purchased in stores or off amazon. In a pinch, you can use ice cube molds, but it will probably make a bigger candy which might not be what you want. The best kind of mold to use is a silicone mold as it should be easy to pop the gummies out when they are finished. Silicon molds are great because they can also be reused for a myriad of purposes. It can be worth investing in one to use for making ice, candy, and chocolate.
An optional addition to this is food coloring. Food coloring helps make the gummies extra attractive and can indicate what flavor they taste like. If you want to use food coloring, only use a few drops and add it when you add the liquid.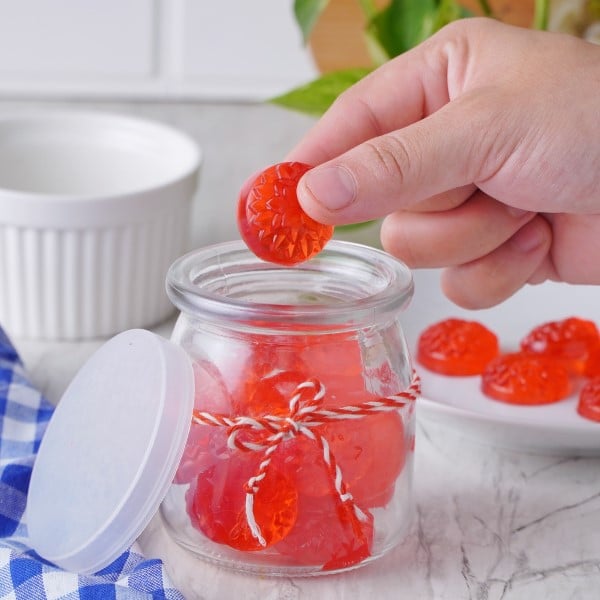 Ingredients
½

cup

alcohol

½

cup

sugar

3

packets of unflavored gelatin
Instructions
All ingredients ready? Let's begin!

In a small pot or pan, add the gelatin and sugar. Without heating it on the stovetop, whisk to make the gelatin and sugar combine.

Add the alcohol (and food coloring if using) and whisk again until even and well mixed.

Now put the pan over medium-high heat and stir for about 5 minutes or until the gelatin and sugar have completely dissolved. You do not want the mixture to get too hot though, or the alcohol content will burn off.

Once fully combined, you are ready to put the liquid in your mold. This is easiest done with a thick plastic syringe or eye dropper, but you can also just do it with a spoon or very carefully pour it. However you do it, fill the mold with the liquid.

Put the filled mold in the fridge and allow to rest for a minimum of 30 minutes, however it is ideal if you can leave it to cool for several hours.

After the gummies have been allowed to fully set, pop them out of the mold and serve!
Video
Nutrition
Calories:
49
kcal
|
Carbohydrates:
7
g
|
Protein:
1
g
|
Fat:
1
g
|
Saturated Fat:
1
g
|
Monounsaturated Fat:
1
g
|
Sodium:
3
mg
|
Potassium:
1
mg
|
Sugar:
7
g
|
Calcium:
1
mg
|
Iron:
1
mg
Notes & Tips
These gummies can be stored in an airtight container in the fridge for up to 7 days. 
I like to serve these gummies in small glasses for each serving, or set it up like a buffet bar by putting all the gummies of one flavor in their own dish (usually a large bowl) and setting them out side by side. I then put a serving scoop or ladle in the bowl so people can help themselves to their preferred flavors. 
Serving Suggestions
You can make cocktail gummies by mixing any cocktail before pouring into the mold. That way you can have your favorite drinks in handy candy shapes. You could also make individually flavored gummies so you can then combine the gummies into cocktails. For example, instead of making a Manhattan flavored gummies by using bourbon, vermouth, and cherry, you could make bourbon gummies, vermouth gummies, and cherry gummies. That way you can use the bourbon gummies for a manhattan combo or for an old-fashioned combo.
You could also make some gummies only with juice, or use some juice mixed with the alcohol, as a lot of cocktails include juice or soda. Alternatively, any cocktails that call for juice can substitute it for juice-flavored liquors. For example, instead of lemon juice, use lemon vodka. The way you mix and match these gummies are totally up to you. I also like to put the gummies in my actual drinks, so they add a little sweetness and can soak up even more alcohol before I get to them at the bottom of the glass.
Flavor Suggestions
Here is a list of flavors you can use in your gummies. Keep in mind that this recipe works with any alcohol, so you can make up your own combos as well. Again, you could use these combos for the gummies or make a handful of lime gummies, rum gummies, grand marnier gummies, etc., and then mix them together in your glass (or mouth).
Martini: gin, dry vermouth, a drop of olive juice.
Greyhound: vodka, grapefruit juice, lemon juice.
B-52: kahlua, Irish cream, grand marnier.
Blue lagoon: coconut rum, blue curacao, pineapple juice, lime juice, orange juice.
Mai tai: rum, grand marnier, amaretto, pineapple juice, lime juice.
Whisky sour: whiskey, lemon juice, orange juice.
Long island iced tea: vodka, rum, gin, tequila, triple sec, lemon juice.
Sex on the beach: vodka, peach schnapps, cranberry juice, orange juice.
Strawberry margarita: strawberry vodka, tequila, triple sec, lime vodka.
Pina colada: coconut rum, pineapple juice, cream.
Mimosa: cointreau, orange juice, vodka.
Cosmopolitan: vodka, triple sec, cranberry juice, lime vodka.
Tequila sunrise: grenadine, tequila, orange juice.
Black forest cake: vodka, white creme de cocao, chambord, cream.
White Russian: vodka, coffee liqueur, cream.
Woo woo: vodka, peach schnapps, cranberry juice, lime vodka.
Lotus martini: gin, blue curacao, lychee syrup, grenadine.
Negroni: campari, sweet red vermouth, gin, orange vodka.
Passionfruit twist: passionfruit rum, lime vodka, vanilla vodka.
Bloody Mary: vodka, tomato juice, worcestershire sauce, tabasco sauce, lemon vodka.
---
Recent Recipes