Buta kimchi is a pork stir-fry dish that is popular in Japan, especially in the izakaya establishments that serve drinks and small plates of food. You might liken this style of eating and drinking to a Spanish tapas bar.
Buta kimchi dish is basically pork (buta) and kimchi that is super quick and easy to prepare. The pork is tender and a bit sweet, especially if it is pasture-raised and has foraged on wild greens, nuts, fruits, and insects. The kimchi is fermented cabbage that is spicy and complex in flavors.
Kimchi is actually a Korean staple that the Japanese culture has fully embraced. It is commonly made with Chinese or Napa cabbage with aromatics, such as onions, garlic, and ginger. The mixture is generously seasoned with salt and chili pepper flakes. This is allowed to ferment naturally for approximately one week or even longer. The result is a spicy condiment with beneficial probiotic properties.
There are many variations of kimchi using other cruciferous leafy greens and perhaps the addition of carrots, bell peppers, or daikon radish. Kimchi is available in the refrigerated section of most markets. You can also make your own using our kimchi primer recipe or our lacto-fermented bok choy kimchi recipe. Both are excellent choices for buta kimchi.
I think the best pork to use in buta kimchi is the boneless center-cut pork chop. This is a very lean cut that you can slice thinly against the grain to ensure it remains tender. As mentioned, I am very fond of the meat from pigs that are raised naturally and feed on organic and wild foods. The flavor is superior to commercially raised hogs that are fed grains and soy and likely administered hormones and antibiotics. Sustainably and humanely raised pork is so easy to find these days and worth every bite. My favorite are the heritage breeds that have enjoyed a diet that includes acorns and apples — yum.
Trust me when I tell you that this recipe is both easy and super tasty. It is a great appetizer or small plate to have with friends while sharing sake, a beer, or even a smooth whiskey, as the Japanese might do. Of course, you don't have to indulge in alcohol while enjoying buta kimchi. I sometimes order fragrant and toasty bancha twig or green tea to have with my izakaya-style small plates.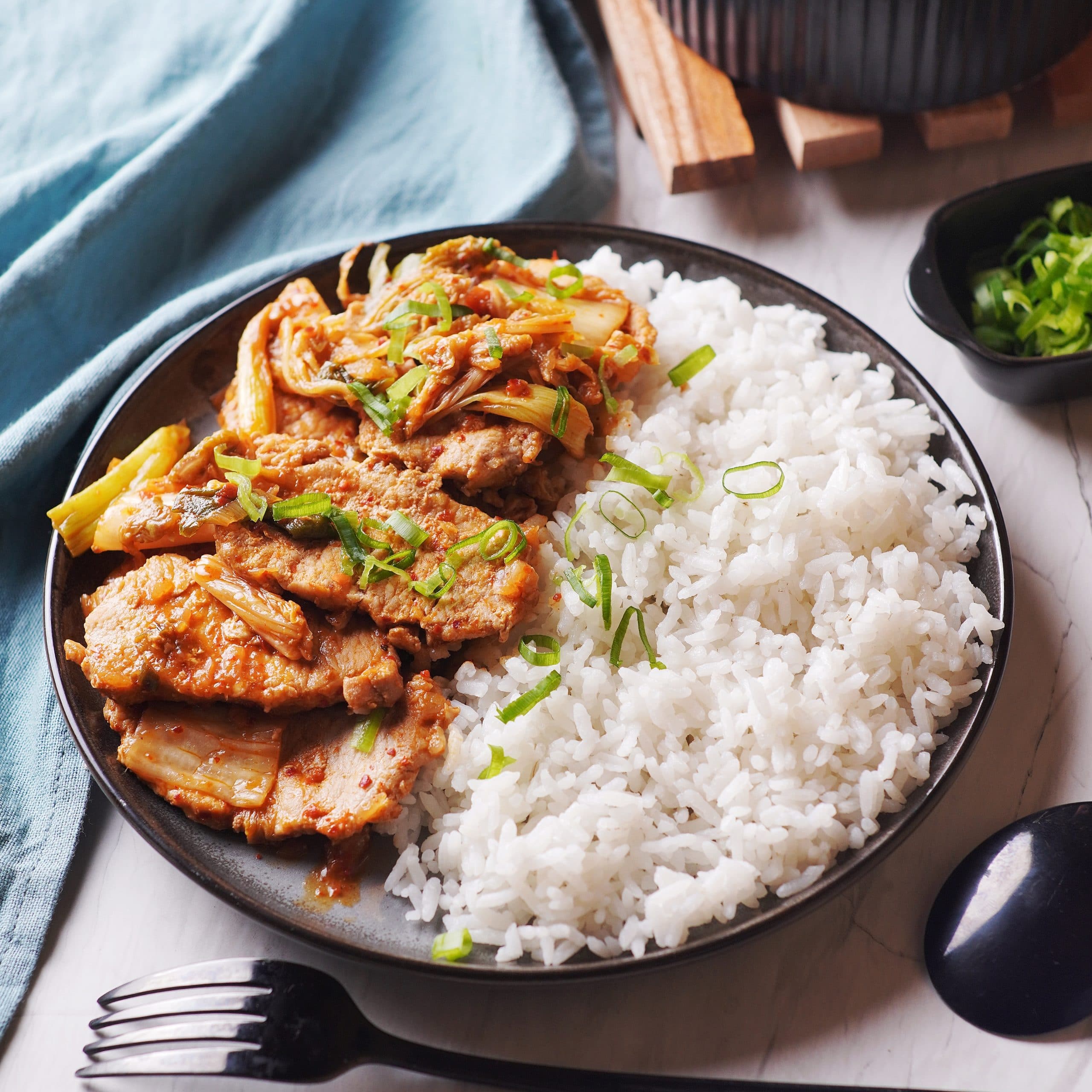 Ingredients
2

center-cut boneless pork chops

5 oz & 1.25-inches thick each

3

scallions

1

Tbsp

toasted sesame oil

1

cup

prepared kimchi

1

tsp

soy sauce or tamari

1

tsp

semi-dry sake

1

tsp

brown sugar

optional
Instructions
All ingredients ready? Let's begin!

Give the pork chops a quick rinse under cold water and pat dry with paper towels. Slice the pork against the grain of the muscle fibers into very thin pieces. Set aside to come to room temperature.

Slice the scallions on the diagonal into 1 ½ inch long pieces.

In a large skillet or wok over medium-high heat, add the sesame oil and pork.

Stir fry the pork until just browned, approximately 1 minute.

Add the kimchi and scallions and cook for another minute until warmed through.

Stir in the soy sauce, sake, and sugar (if using).

Allow this to cook until most of the liquid is absorbed or has evaporated.

Serve immediately with cooked white or brown rice.
Video
Nutrition
Calories:
144
kcal
|
Carbohydrates:
2
g
|
Protein:
15
g
|
Fat:
8
g
|
Saturated Fat:
2
g
|
Polyunsaturated Fat:
2
g
|
Monounsaturated Fat:
3
g
|
Trans Fat:
1
g
|
Cholesterol:
45
mg
|
Sodium:
118
mg
|
Potassium:
280
mg
|
Fiber:
1
g
|
Sugar:
1
g
|
Vitamin A:
92
IU
|
Vitamin C:
2
mg
|
Calcium:
12
mg
|
Iron:
1
mg
Notes & Tips
When preparing the pork, make sure you give just a quick rinse under very cold water or rinse, dry, and then wrap in plastic wrap and freeze for about 10 minutes. The cold meat will be much easier to slice thinly. Then, set it aside to warm up to room temperature for about 15 minutes.
To keep this dish gluten-free and paleo compliant, use tamari or coconut aminos in place of soy sauce. As well, swap out the sesame oil for coconut oil. Use cauliflower rice instead of actual rice. And, omit the sugar.
Substitutions & Additions
If you don't want to shell out the big bucks for boneless center-cut pork chops, you can use sirloin chops. These generally come with the bone in and can benefit from marinating or brining for at least 15 minutes. I don't recommend shoulder or blade chops as they are not terribly tender when cooked quickly. They are better when braised.
If you are using a tougher cut of pork, brine it in a solution of 2 cups of filtered water with 2 tablespoons of kosher salt and a teaspoon of brown sugar for 15 minutes and up to 4 hours. Rinse the brine off before slicing. To marinate pork, place the chops into a light coating of sake, some juice from the kimchi, and a ½ teaspoon of arrowroot or kudzu starch for about 30 minutes and up to 4 hours.
Kimchi is not everyone's cup of tea because of the spice level. You can find mild kimchi, but you have to read the labels. Or, you can do what my mother did. She cooked her pork pieces with sauerkraut with a little bit of brown sugar. As kids, we loved this and it was so easy to make. The combination of sour and sweet with tender pork was a bit addictive.
This is a small dish or an appetizer. If you want to make a more substantial meal or entrée, feel free to add cooked vegetables, such as carrot slices, red bell peppers, shitake mushrooms to the dish. You can also serve the buta kimchi on a ramen or rice bowl with fresh herbs, pickled daikon radish, edamame, and a runny poached egg.
---
Recent Recipes