When the weather starts to warm up and days just keep getting longer, I crave a refreshing drink to watch the sunset with. But I always seem to run into the same problem. By the time I want to pull a drink together, the heat has worn me down and I have lost all inspiration. I end up with a refreshing but also boring tequila and orange juice that doesn't lend itself to the mood of the evening like I want.
So, I have decided to get a head start on my heat-tired self and find the perfect cocktail for long summer evenings that can act as my go-to drink. I can confidently say that I have found the exact drink I have been craving: the Bahama mama. Not only is this a visually beautiful drink, but its flavor is also complex enough to wow any guests you want to impress and tastes like a real treat after a fun day in the sun.
Admittedly, this was not the first time that I had heard of a Bahama mama. I remember my parents trying to recreate the drink after they went to the Bahamas on vacation, though they always complained that the drink seemed to fall a little flat compared to the classic tiki cocktail that they had on their holidays. Luckily, thanks to the joys of the internet, I have been able to recreate a Bahama mama that received my mother's high praise – a win if there ever was one!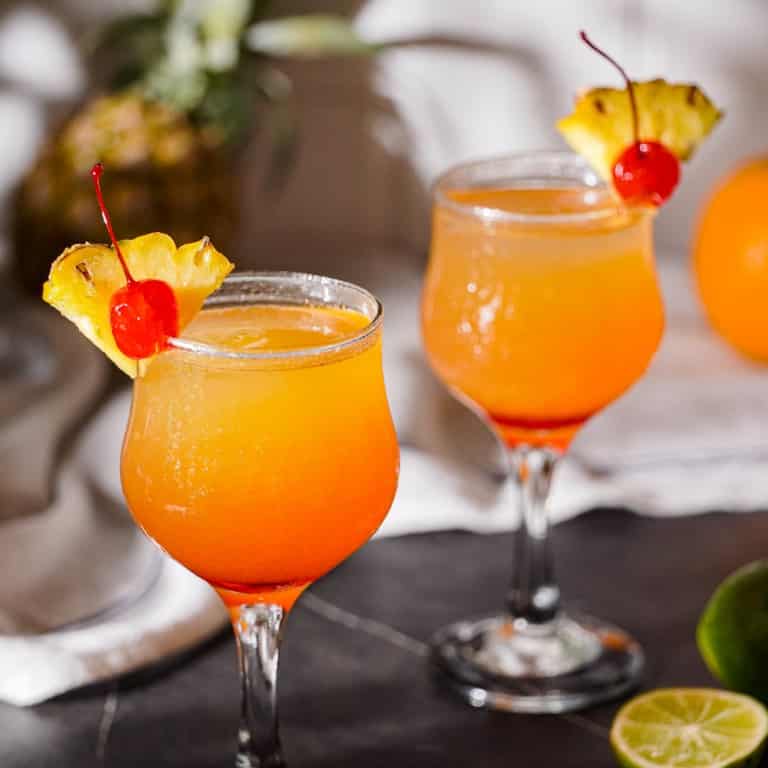 Ingredients
½

cup

coconut rum

¼

cup

Captain Morgan

2

tablespoons

Grenadine

½

cup

pineapple juice

½

cup

orange juice

2

tablespoons

Sprite

6

medium sized ice cubes

1

tablespoon

of lime juice

Candied cherries

Pineapple wedges
Instructions
All ingredients ready? Let's begin!

Use a large pitcher to start making your Bahama mamas. Add the coconut rum, Captain Morgan, pineapple juice, orange juice, and Sprite directly to the pitcher.

Take a large stirrer or a large spoon and mix everything together until the various drinks are well combined.

Prepare 2 large glasses by adding 3 medium sized ice cubes to the glasses.

Pour the mixed drink evenly into the 2 glasses, making sure to pour over the ice cubes.

Top each glass off with 1 tablespoon of Grenadine. Pour it into the glasses in a circular motion to give the drink a more appealing look.

Squirt around ½ tablespoon of lime juice into each drink.

Finally, garnish the Bahama mamas with a wedge of pineapple and a candied cherry on a stick.
Nutrition
Calories:
326
kcal
|
Carbohydrates:
47
g
|
Protein:
1
g
|
Fat:
0.3
g
|
Saturated Fat:
0.03
g
|
Polyunsaturated Fat:
0.1
g
|
Monounsaturated Fat:
0.04
g
|
Sodium:
10
mg
|
Potassium:
308
mg
|
Fiber:
2
g
|
Sugar:
34
g
|
Vitamin A:
179
IU
|
Vitamin C:
79
mg
|
Calcium:
28
mg
|
Iron:
1
mg
Notes & Tips
You can use a cocktail shaker to prepare the 2 Bahama mama cocktails individually if you prefer. However, I have found that doing so takes more work than the drink actually requires, so save yourself the effort and stick to a large pitcher. Or, if you don't have a pitcher on hand to prepare the drinks in, use a large mixing bowl and ladle the drink into the glasses.
There is a lot of liquid in a Bahama mama so make sure that your cocktail glasses are big enough to serve the cocktail in. Of course, you can always serve the drink in smaller glasses but the Grenadine and lime juice used to top off the drink will need to be adjusted accordingly.
When I have a bit of time to spare, I have found these Bahama mamas can benefit from a refreshing dollop of whipped cream. You will have to serve the cocktails straight away if you add whipped cream as the cream will start to separate and melt into the drink. But the extra touch can be a real treat, especially when topped with that candied cherry.
A Bahama mama is the perfect drink to serve as a slushy or iced. Instead of serving the drink with ice cubes, use plenty crushed ice instead and make sure to give the drink a thorough mix when you pour it over the ice.
Substitutions To Use In Bahama Mama
The issue with making a Bahama mama is that buying the ingredients can be quite a costly task. Sure you can use them for other drinks as well, but if you are not an adventurous drinker, buying a whole bottle of grenadine can be a waste of money. Luckily the Bahama mama is quite a forgiving cocktail that allows for a lot of substitutions.
Grenadine is a kind of bar syrup that gives any drink a delicious deep red colour. However, you can easily replace the syrup with pomegranate syrup or even pomegranate juice to achieve the same colour and flavouring in your Bahama mama. Take the substitution a step farther and add some simple syrup to the pomegranate juice in a 2:1 ratio for that extra sweetness.
Bahama mama is a type of tiki cocktail, meaning that it is made using either dark or light rum. Or, in this case, both. You cannot really swap out coconut rum for another type of rum as it is what punctuates the Bahama mama's tropical flavour. Although you can use a mixture of coke and coconut water if you are aiming for an non-alcoholic alternative.
As for the dark rum aspect of Bahama mama, Captain Morgan is one of the more affordable dark rum options. It is also very widely available. However, any dark rum of choice will work perfectly well instead.
Like with the coconut rum, it is hard to replace pineapple juice in a Bahama mama as it is essential in proving the cocktail with the tropical, summer-night flavour. But if you are allergic to pineapple juice or struggle to enjoy cocktails that include the juice, you use and equal amount of mango juice or more orange juice. Though if that is the case then you may better enjoy our easy orange crush which is a lot more citrus based than a Bahama mama. Alternatively, if you find our Bahama mamas to not be tropical enough for you then a pina colada may be the perfect alternative.
---
Recent Recipes