Simple Chiapaneca Bread Soup (Sopa de pan Chiapas)
Sopa de pan Chiapas (Chiapaneca Bread Soup) is a filling one-pot meal from the Mexican state of Chiapas. It has everything you need for a well-rounded dinner: vegetables, proteins, and carbohydrates in one satisfying dish. The soup is made with squash, carrots, plantains, and bread, all simmered in a tomato and chicken broth. Let's dig into the recipe.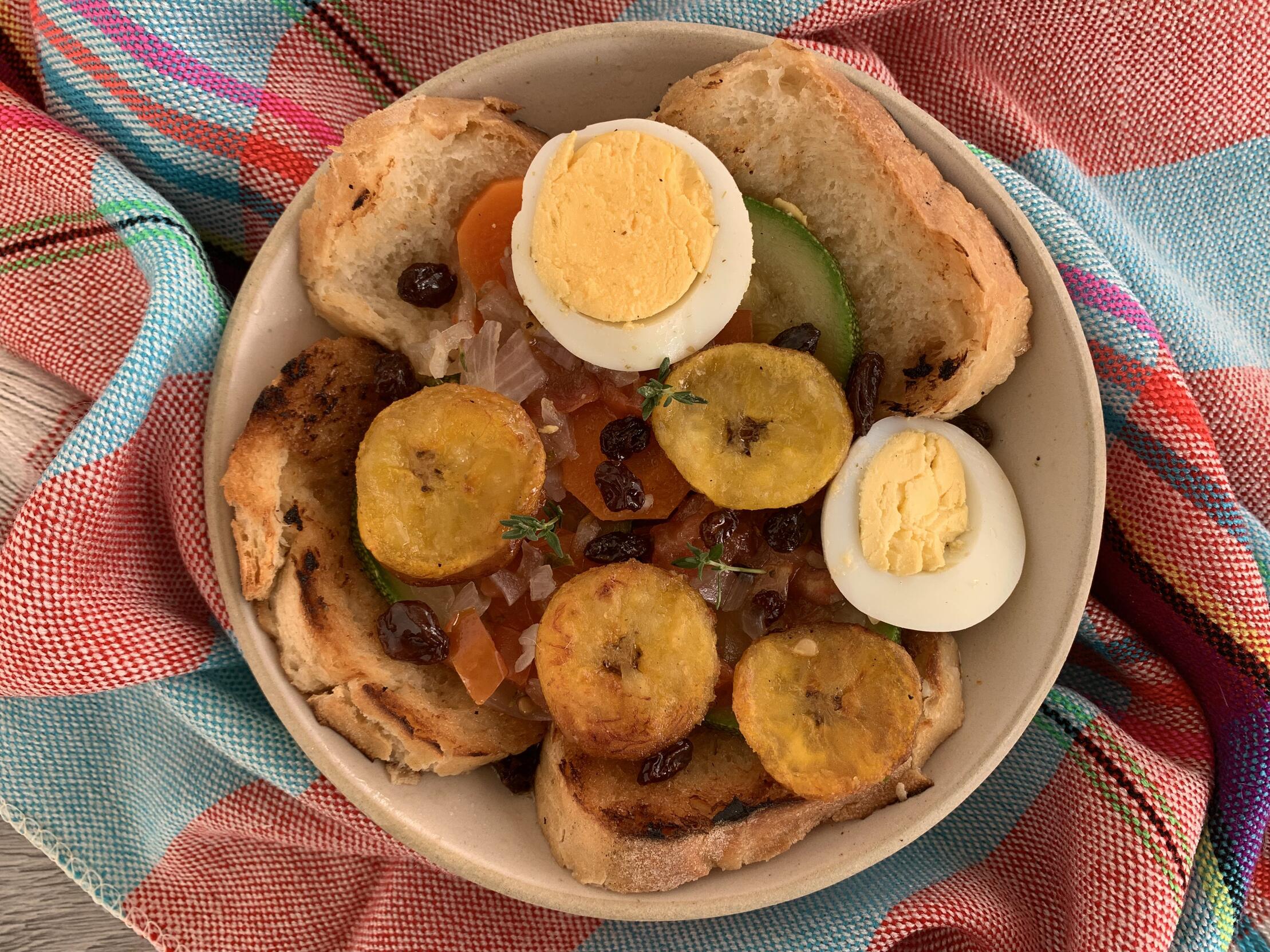 Ingredients
3

bolillos

sliced (see shopping notes)

1 1/2

cups

vegetable oil for the frying

2

medium carrots

skins removed

2

zucchini squash

2

large eggs

2

plantains

see shopping notes

2

medium tomatoes

1

medium onion

1

garlic clove

8

cups

chicken stock

3

sprigs of thyme

1

ounce

oregano

2

tablespoons

sugar

2

ounces

raisins

Salt to taste
Instructions
Lightly fry the bolillo slices in some vegetable oil until just crispy (one to two minutes). Allow to drain on paper towels.

Cook the carrots and squash until they can be pierced with a fork but stay firm (six to eight minutes). Let cool, chop into medium slices, and set aside.

Hard boil the eggs and peel the shell off, taking care to make sure all the tiny shell pieces are removed. Slice the eggs and set aside.

Slice the plantains into medium-sized pieces and fry in five tablespoons of vegetable oil until they are light golden in color (about five minutes). Set aside.

Chop the tomatoes, onion, and garlic into small pieces. Lightly fry in a saucepan with three tablespoons of vegetable oil.

Add the chicken broth to the saucepan and stir in the oregano, thyme, and two tablespoons of sugar.

Simmer for ten minutes, then taste and season with salt.

Strain the broth and set the vegetables aside. Turn the heat to low.

Arrange the fried bread slices in the bottom of a large casserole dish.

Place a layer of vegetables, hardboiled egg, and plantains on top of the bread slices. Scatter some raisins on top.

Repeat this process, alternating the layers of bread with the layers of vegetables, hardboiled egg, and plantains.

Pour the hot broth over the casserole until it just covers the top layer of ingredients.

Cover the casserole dish with a lid and let rest for five minutes.

Serve hot.
Video
Nutrition
Calories:
828
kcal
|
Carbohydrates:
59
g
|
Protein:
14
g
|
Fat:
62
g
|
Saturated Fat:
6
g
|
Polyunsaturated Fat:
17
g
|
Monounsaturated Fat:
38
g
|
Trans Fat:
1
g
|
Cholesterol:
64
mg
|
Sodium:
568
mg
|
Potassium:
1167
mg
|
Fiber:
6
g
|
Sugar:
23
g
|
Vitamin A:
4711
IU
|
Vitamin C:
32
mg
|
Calcium:
157
mg
|
Iron:
4
mg
Notes & Tips
The total recipe time should be about 40 minutes, including preparation and cooking. Casseroles are great because they're super easy to prepare and delicious to eat.
Where to find bolillos
Bolillos are Mexican white bread. Next to the tortilla, they are a staple of Mexican cuisine. You can find bolilos at most Mexican bakeries or make your own.
Where to find plantains
You can find plantains at most major grocery stores year-round.
Optional sides or compliments
Bread soup is plenty filling on its own, but here are some ideas for what to serve with it.
Mexican street corn bake: an easy one-pan meal that delivers big on south-of-the-border flavor. Street corn is a common Mexican street food made with grilled corn on the cob and a spicy mayonnaise, chili powder, and lime sauce.
Patio pintos: pinto beans in a spicy tomato and chili sauce.
Simple arugala salad: for something a bit lighter, pair the hearty bread soup with a simple green salad. All you have to do is toss some arugala with olive oil and lemon juice.
What does bread soup taste like?
Bread soup is a special combination of sweet and salty, with a little bit of the heat that you'll find in most Mexican dishes. It will taste a bit like a tomato casserole when it's finished. The bread and vegetables will soak up a lot of the chicken and tomato broth, resulting in a delicious and complex flavor profile.
Storage
Bread soup can be easily refrigerated or frozen. It reheats well. Here is how to store it for optimal quality.
Refrigerate the soup in a covered airtight container within two hours of making it. It will last for three to four days in the fridge.
To freeze the bread soup, freeze it in a covered airtight container or heavy-duty freezer bag. Properly stored, it will last for four to six months but remain perfectly safe beyond that time.
Cooked bread soup that has been thawed in the fridge can be kept for an additional three to four days before reheating it. If the soup was thawed in the microwave or cold water, it should be consumed immediately.
History
The cuisine of Chiapas has a rich and varied history. It is the result of interactions between Spanish colonizers and the native population. This created a new style of cooking and combination of exotic flavors. However, the cuisine still retains its indigenous heritage.
Sopa de Pan was introduced to Chiapas by the Spanish. It is also called fiesta soup, since it was traditionally served on the eve of Holy Week.
Common questions
What can I use as a substitute for chicken stock?
If you do not want to use chicken stock, you can use light veal stock or vegetable stock instead. Tomato juice can also be used as a replacement.
How can I make this recipe gluten-free?
You can make this recipe gluten-free by replacing the bolillos with your favorite gluten-free bread. It will taste a little different, but the end result will be the same.
Can I add chipilín to this recipe?
For food buffs, chipilín is a culinary staple in parts of southern Mexico, Guatemala, and Central America. Because of its earthy and sour flavor, it is never eaten raw. You can add it to bread soup for additional authentic flavor.
---
Recent Recipes