Simple Cuban Tres Leches Cake
Tres leches translates from Spanish to three kinds of milk. A tres leches cake, or pan tres leches, is a sponge cake that is soaked in three kinds of milk: cream, evaporated milk, and sweetened condensed milk.
The idea of soaking a cake likely originated in medieval Europe. Soaked cakes became popular in Mexico in the 19th century. This particular milk-soaked cake can commonly be found throughout Central, South, and North America, as well as the island of the Caribbean today. Tres leches cake is especially popular in many Cuban households.
Recipes for tres leches cake appear to have a lot of ingredients and steps. It really is simpler than it sounds to prepare, bake, and assemble. The result is a super-rich, sweet, and somewhat gooey dessert. You will want to eat it with a spoon. It is delicious with a cup of strong Cuban coffee.
What Makes This Recipe Interesting?
This traditional Cuban cake is one of the best-tasting sweet treats you will ever experience. The cake is sweet and so are the milks that you pour over it.
This is the type of cake that you will find being served for every occasion. It can be eaten as an everyday snack, made for a birthday celebration, and served during a quinceañera. This cake recipe can be baked and soaked in advance so you aren't doing it last minute.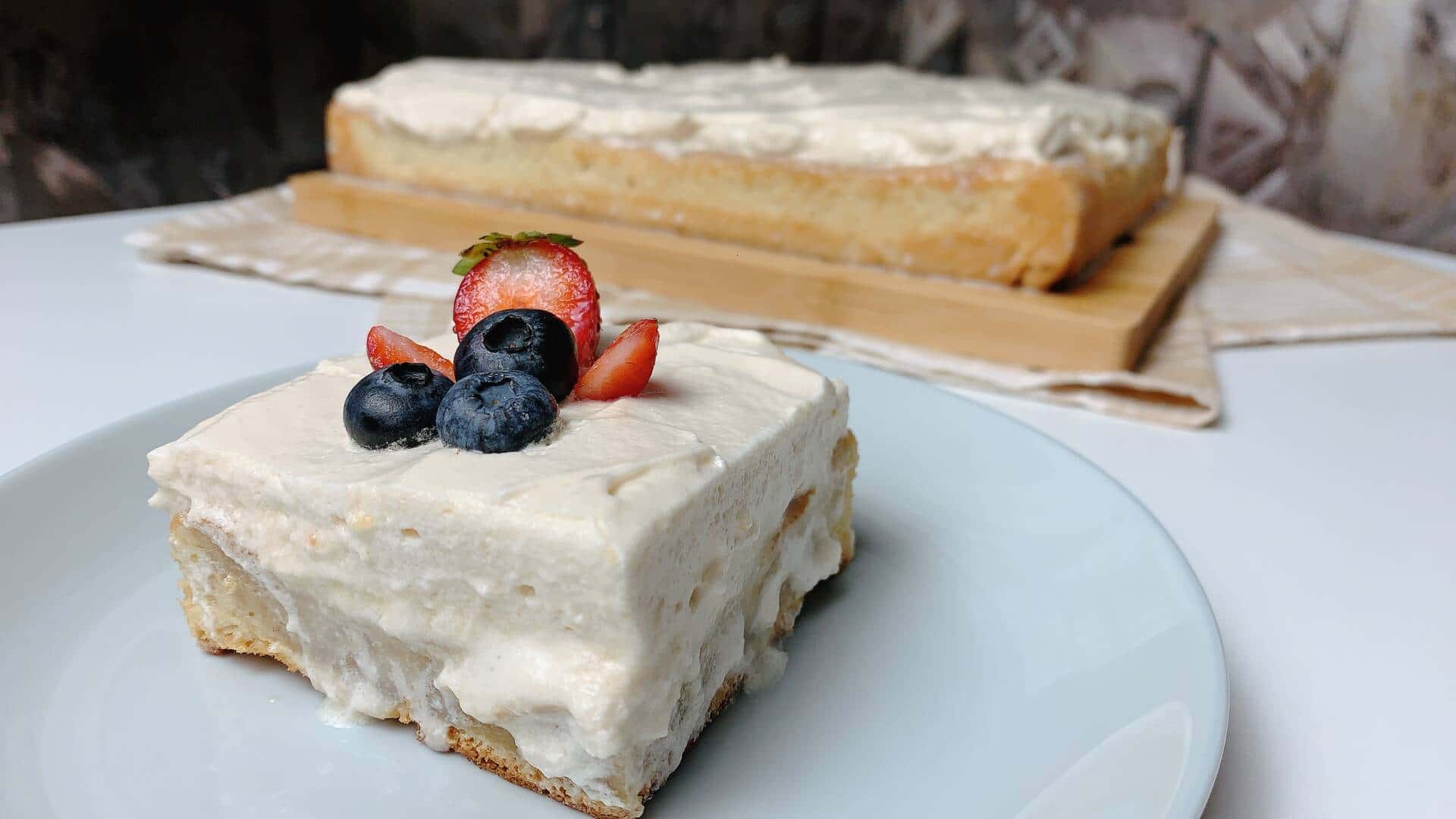 Ingredients
Cake
1

cup

all-purpose flour

1-1/2

tsps

baking powder

1/2

tsp

sea salt

1/4

tsp

ground cinnamon

5

large eggs

separated

2

tsps

pure vanilla extract

1/3

cup

whole milk

1

cup

cane sugar

divided
Milks
1

cup

light cream

1

14 ounce can sweetened condensed milk

1

12 ounce can evaporated milk
Icing
4

large egg whites

1

cup

cane sugar

1/3

cup

water

1

tsp

pure vanilla extract
Instructions
Cake
Preheat the oven to 350°F. Grease a 9 x 13-inch baking dish with butter or vegetable oil

In a mixing bowl, whisk or sift together the flour, baking powder, salt, and cinnamon.

Separate the yolks and whites of the eggs into 2 medium bowls. Add 3/4 cup of sugar to the yolks. Beat with a hand mixer until well combined. Add in the milk and vanilla to the egg and sugar mixture and beat again until just combined.

Add the egg yolk and sugar mixture to the flour and stir with a spatula to combine.

Clean the mixer blades. Add 1/4 cup of sugar to the egg whites and beat on high speed until there are soft peaks, approximately 3 minutes.

Gently fold the egg white mixture into the cake batter.

Pour the batter into the prepared baking dish and bake for about 35 minutes to a golden brown or until a toothpick or sharp knife inserted in the center of the cake comes out clean.
Milks
In a medium bowl, whisk together the cream, condensed milk, and evaporated milk.

Pour the milk mixture over the warm cake and allow to soak in for 30 minutes. Cover with plastic wrap and place in the refrigerator for 2 to 4 hours.
Icing
In a saucepan over medium-high heat, combine the sugar and water. Cook until it starts to form a soft ball. It should be at 235°F. You can check the temperature with a candy thermometer.

While the sugar is coming up to temperature, beat the egg whites on high speed with the hand mixer or a stand mixer with a whisk attachment.

When the sugar reaches the soft ball stage, slowly pour it into the egg white mixture while continuing to beat. Add in the vanilla and beat until just combined.

Spread the icing evenly over the entire cake. Serve while cold. You can dress it up with fresh fruit slices.
Video
Nutrition
Calories:
470
kcal
|
Carbohydrates:
85
g
|
Protein:
10
g
|
Fat:
10
g
|
Saturated Fat:
5
g
|
Polyunsaturated Fat:
1
g
|
Monounsaturated Fat:
3
g
|
Trans Fat:
1
g
|
Cholesterol:
160
mg
|
Sodium:
329
mg
|
Potassium:
149
mg
|
Fiber:
1
g
|
Sugar:
68
g
|
Vitamin A:
424
IU
|
Vitamin C:
1
mg
|
Calcium:
77
mg
|
Iron:
2
mg
Substitutions and Shortcuts
There aren't too many shortcuts you can take with this recipe if you want to keep it authentic. However, if you are really pressed for time, use a boxed yellow cake mix and put your effort into making the icing. I can't guarantee it will be as light and fluffy as the homemade cake, bit it will work in a pinch.
Some recipes call for whole milk or heavy cream as the first dairy component in the soaking milk. This recipe is in-between with light cream. You can make the soaking milk lighter or creamier by substituting the light cream with whole milk or heavy cream.
While it isn't necessary to top your iced cake with fruit, I think it is an attractive and delicious addition. The fruits I like are what you might find in the Caribbean. Try pineapple, mango, papaya, or banana slices that have been dressed with lemon juice to keep them from discoloring.
Tips for Success
The key to this cake being light and airy is to take your time with the egg whites. Beat or whisk them into soft peaks and gently fold them into the batter. This helps to form some little pockets where the milk mixture can seep into the cake.
While the cake is baking, keep an eye on it. At 25 minutes, check to see if it is golden and firm. Check it by inserting a toothpick in the center. If it comes out clean, with no wet batter, the cake is ready.
The cake gets better as it sits in the milks. Pour the mixture over the cake while it is warm. Once it cools down, cover it and refrigerate for a few hours.
---
Recent Recipes