Refreshing Shrimp Ceviche
Ceviche is one of those dishes that immediately takes you somewhere. Whether you're sitting in a restaurant, enjoying it on your back deck, or you're actually on the beach, it resonates with you. Your taste buds take you to a tropical oasis and for just a few minutes, you're on vacation on the beach somewhere.
This is why creating ceviche at home is something that you need to learn how to do, right in the comfort of your own home. It's almost too easy and will leave you 100% satisfied. There are so many positive elements to the dish, you simply can't go wrong.
This shrimp ceviche, Acapulco style, can be made with just a few simple ingredients but packs a boat load of flavor. Ceviche Acapulco is also known as Mexican ceviche. We could consider this a Mexican-style shrimp cocktail, with lots of twists and turns that you're going to love.
To make ceviche, all you need is seafood (shrimp for this recipe), acid (I've seen orange soda in some recipes!), fresh herbs, and a few fresh fruits and vegetables (usually including some spicy peppers). Within the hour you'll have yourself fresh ceviche.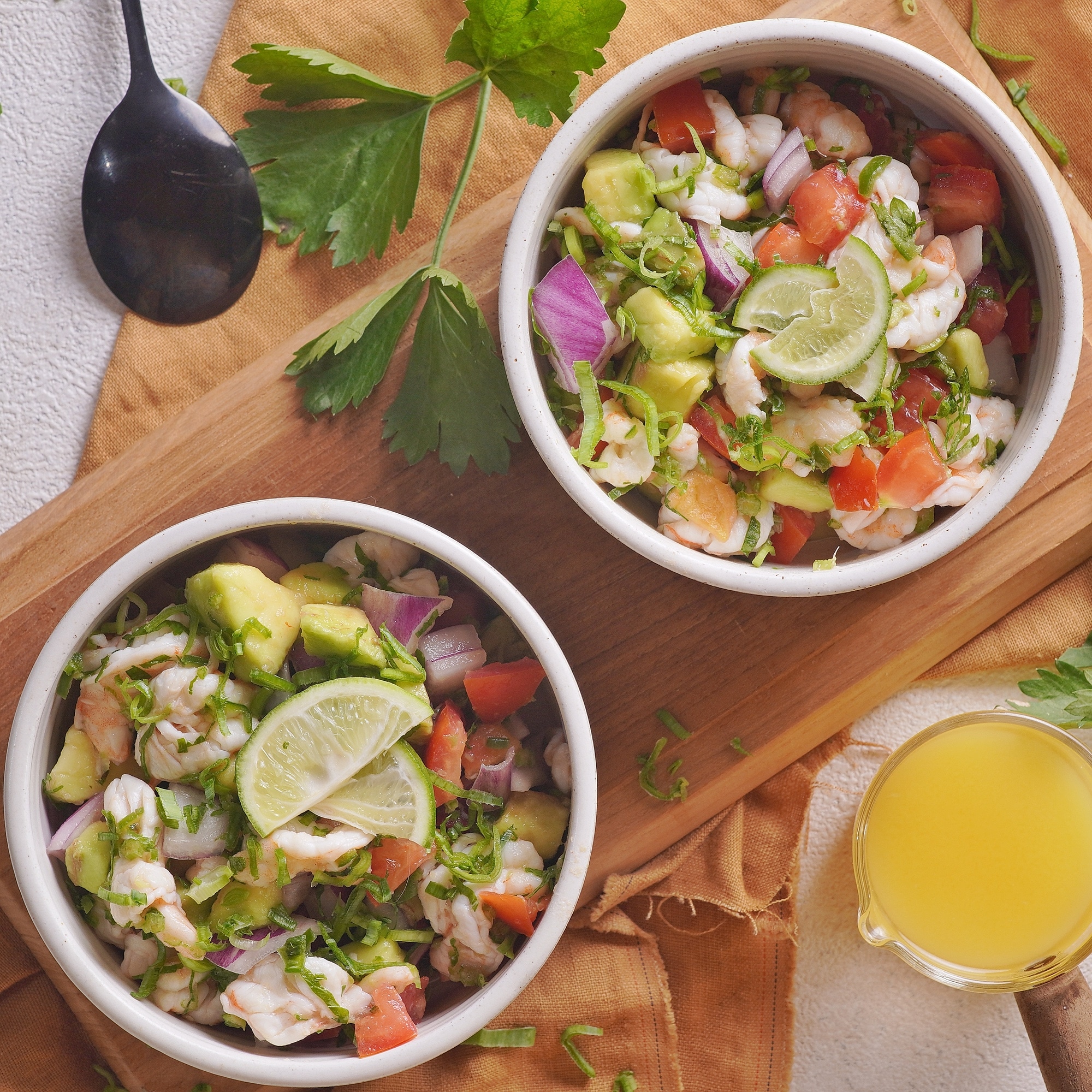 Ingredients
2

pounds

shrimp

peeled, deveined, tails off, sliced in half lengthwise

2

oranges

juiced

4

limes

juiced

1

small red onion

¼" diced

1

serrano chili

sliced fine (more if you like it spicy)

2

vine ripe tomatoes

1

small bunch fresh cilantro

chopped

½

cup

tomato juice

½

teaspoon

honey

1

avocado

5-6

sprigs spring onion

sliced thin
Instructions
All ingredients ready? Let's begin!

Place the shrimp in a bowl.

Add the juice from the oranges and the lime.

Toss the juices to coat the shrimp. Cover the bowl with plastic wrap.

Refrigerate the shrimp for at least 30 minutes. This is when the shrimp are going to cook. When removing the shrimp for the refrigerator, make sure that the shrimp is no longer gray and translucent, but pink and opaque in color. Leave the shrimp in the marinade until they are completely cooked.

While the shrimp is marinating, you can prepare the rest of the ingredients. Slice the tomato in half and remove the liquidy flesh and seeds. Dice the tomatoes into ¼" dice.

Combine the tomato, diced red onion, serrano chili, chopped cilantro, tomato juice, and honey in a large bowl.

Once you remove the shrimp from the refrigerator, using tongs or a slotted spoon, place the shrimp into the large bowl with the other ingredients. Reserve the juices for now.

Slice the avocado in half and remove the pit. Dice the avocado into ½" pieces. Gently toss the avocado into the shrimp mixture, trying not to bruise or mash the avocado.

Divide the ceviche into four equal servings. Drizzle a small amount of the citrus juice into the serving container.

Garnish with the sliced green onions and serve immediately.
Video
Nutrition
Calories:
359
kcal
|
Carbohydrates:
27
g
|
Protein:
49
g
|
Fat:
9
g
|
Saturated Fat:
1
g
|
Polyunsaturated Fat:
1
g
|
Monounsaturated Fat:
5
g
|
Trans Fat:
1
g
|
Cholesterol:
365
mg
|
Sodium:
285
mg
|
Potassium:
1334
mg
|
Fiber:
9
g
|
Sugar:
13
g
|
Vitamin A:
1101
IU
|
Vitamin C:
79
mg
|
Calcium:
226
mg
|
Iron:
3
mg
Notes & Tips
You can get creative with other ingredients, but try not to go overboard. The beauty of ceviche is in its simplicity. So, stick to three to four different fruits, vegetables, and herbs. Some other options could be mango, cucumber, bell pepper, pineapple, and mint.
Always use the freshest ingredients you can find. Do not substitute the herbs with dried herbs.
The shrimp is sliced in half so there are more bites and the shrimp will cook faster. You can always leave the shrimp whole if you'd like, but increase your marinating time. Alternatively, you can use smaller shrimp and not slice them in half.
Some Mexican ceviche recipes call for ketchup. That's perfectly fine to use instead of the tomato juice and honey. We use tomato juice and honey in this recipe to avoid unnecessary sugar and other artificial flavors that might come in bottled ketchup.
As mentioned before, orange soda can also be found in ingredient lists for ceviche Acapulco. It seems a little wild, but it does provide an interesting flavor. For this recipe, fresh squeezed orange juice is recommended for it's natural flavor and minimal ingredients. However, feel free to try orange soda. It will give your ceviche a very unique and bubbly profile.
Can You Use Frozen Shrimp For Ceviche?
You're going to want to use fresh caught wild shrimp for the ultimate best flavor. But, most of the time, due to seasonality or geographic location, that's not possible. Using frozen shrimp will also work fine, and in fact, you may prefer it for safety reasons.
You just need to thaw the shrimp per the packaged instructions and then go from there. A perk to using frozen shrimp is that the freezing process kills any harmful bacteria and parasites. So if you're a little hesitant on working with raw seafood, go ahead and grab a bag from the freezer to be safe.
When Is Shrimp Ceviche Done?
You have seen cooked shrimp before. It's plump, has a shiny opaque-pink color, and is curled up. Looking for those three criteria will assure you that your shrimp is cooked.
You can add more acid (lime and/or orange juice) to speed up the cooking process. But be careful, you can overcook shrimp while making ceviche. It may take longer than 30 minutes for the shrimp to cook for this recipe and other ceviche recipes.
Overcooked shrimp will look matte white or grey. They may be chewy and have more of an "O" shape than the "C" shape that properly cooked shrimp have.
Always use your eyes to check the shrimp out and feel it before giving it a taste.
Is Shrimp Ceviche Safe To Eat?
The process of cooking seafood without any sort of heating element might be a bit intimidating to you. You may be nervous that shrimp ceviche might not be safe to eat.
As mentioned before, using frozen shrimp will assure that you have killed any parasite or bacteria.
If you're still a bit leery, there is no hard rule that you cannot poach the shrimp prior to making this recipe. You can poach the shrimp in lightly salted boiling water and then immediately place them in an ice bath so that they do not overcook. Then, you can proceed to marinade per the recipe for about half the time or simply move forward with building the ceviche.
For added flavor, you could add some items to the poaching water. A lime wedge, sliced pepper, or even a few slices of fresh ginger will enhance the flavor of the shrimp.
More Shrimp Recipes
Are you looking for more shrimp recipes? Try some of these out:
---
Recent Recipes