Lacto-Fermented Bok Choy Kimchi
The process of preserving food using fermentation is an ancient practice. The most familiar fermented foods are those made using a lacto-fermentation method.
The term lacto refers to the lactobacillus bacteria that is present on the surface of most living plants. Humans consume this bacteria and it helps to keep the gastrointestinal tract healthy. Lacto-fermented foods are regarded as those with beneficial probiotic properties. Fermentation increases the available lactobacillus in certain foods.
In Korea and other Asian cultures, kimchi is a dietary staple. Kimchi is cabbage that has been well seasoned and fermented in a salt-based solution for many days or longer. As the cabbage ferments the probiotic and enzyme levels increase. Most meals in Korea include some form of fermented or pickled component because it is believed to aid in digestion.
You shouldn't be afraid of trying to make your own fermented foods. It sounds like a scary science experiment at first. Once you get the hang of it, you will want to do it on a regular basis. Start with this very simple lacto-fermented bok choy kimchi. You will know if your first batch hasn't worked out because the pungent smell wafting out of an opened jar will tell you to toss it and try again.
What Makes This Recipe Interesting?
This lacto-fermented bok choy is a great recipe to start with because it has very few and affordable ingredients, is a small batch project that doesn't have a lot of prep time, and has the added component of chili pepper flakes that also help to keep harmful bacteria at bay.
The red chili flakes in this recipe give the bok choy a vibrant red hue. Aside from the heat, the veggies are pretty in the jar and on the plate.
This recipe is 100% vegan unless you decide to add fish sauce.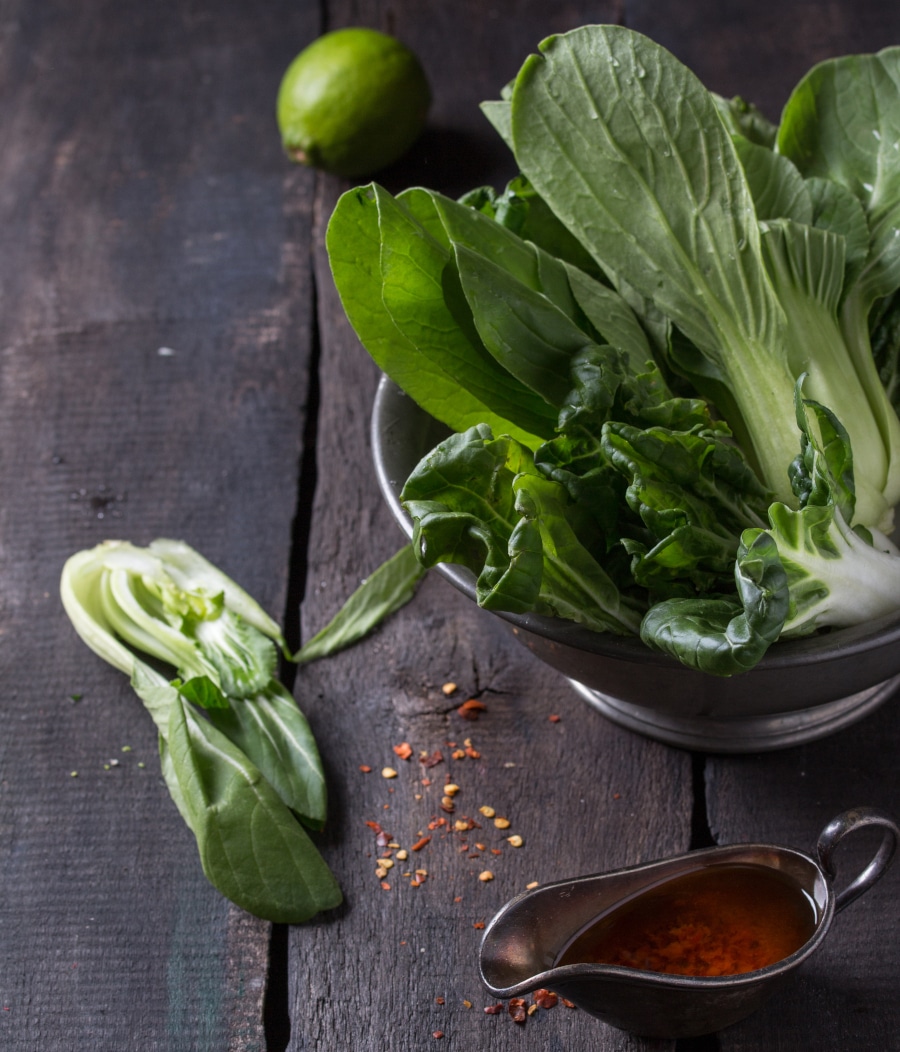 Ingredients
1

large head mature bok choy or 3 heads baby bok choy

washed

6

ounces

daikon radish

peeled

4

scallions

2

large garlic cloves

1-

inch

piece of ginger

peeled

1/4 to 1/3

cup

Korean red chili flakes or ancho chili powder

to taste

1-1/2

TBS

sea salt
Instructions
Wash a wide-mouth quart glass mason jar with hot soapy water and set aside.

Trim off the root ends of the bok choy and roughly chop the leaves. Slice the daikon radish into matchsticks approximately 1-1/2 inches long. Cut the green and white portions of the scallions into small slices.

Place the vegetables in a clean bowl. Sprinkle the salt all over the vegetables and mix thoroughly. Using your hands, crush and squeeze everything with your hands for at least 2 minutes to release water from the vegetables.

In a food processor, blend the garlic, ginger, and chili flakes. If needed, add a little bit of water to create a paste.

Add the chili paste to the bowl of vegetables and mix to thoroughly coat everything. Set the veggies aside to rest for 30 minutes.

Fill the jar with the bok choy mixture and any liquid in the bowl, pressing it all down firmly with a wooden spoon or similar blunt kitchen tool. Do this until the water level starts to rise above the vegetables. The jar should be almost full.

Place the lid on and leave the jar at room temperature for 3-7 days. Make sure you open the lid every day to release the carbon dioxide that naturally develops during the fermentation process. If the water level rises too much, drain some off. If the vegetables rise above the level of the water, press them back down under the water. If needed, you can add a tiny bit of pure filtered or spring water to keep everything just submerged.

Begin tasting a small amount of the kimchi at day 3 to see if it has fermented. It should taste a little sour and spicy. Once the kimchi tastes right to you, seal the jars and store them in your refrigerator for up to 6 weeks, as it continues to ferment.
Nutrition
Calories:
67
kcal
|
Carbohydrates:
12
g
|
Protein:
5
g
|
Fat:
2
g
|
Saturated Fat:
1
g
|
Polyunsaturated Fat:
1
g
|
Monounsaturated Fat:
1
g
|
Sodium:
1010
mg
|
Potassium:
769
mg
|
Fiber:
7
g
|
Sugar:
4
g
|
Vitamin A:
11109
IU
|
Vitamin C:
85
mg
|
Calcium:
234
mg
|
Iron:
4
mg
Substitutions and Shortcuts
I like the bok choy in this recipe because it is mild in flavor and has some sturdy leaves that retain their texture. A lot of kimchi is made with savoy or napa cabbage. Any of these will work in this recipe. If you want a little more spice, try adding mustard greens or turnip greens to the cabbage.
When shopping for daikon radish, look for the long white variety. This has a bit of a spicy flavor, similar to a salad radish. The round purple versions are almost too sweet in flavor.
There is a good amount of heat in the recipe, so adjust the chili pepper seasoning to your liking. There is mild kimchi that has almost no heat. This is referred to as white kimchi because it lacks the deep red color that the hot chilis impart.
If you are going for heat, Korean chili flakes will get the job done. These are called gochugara and can be found online or in Asian markets. Alternatively, you can use gochujang. This is a deep red thick paste made from the same chili flakes. If you can't find either, use what is available to you, such as ancho chili powder or cayenne pepper flakes.
Feel free to add any other spices or fresh herbs that you like. Try adding star anise, mustard seeds, fresh cilantro or dill leaves, or perhaps Chinese jujube (red date). Some recipes recommend adding a dash or so of fish sauce.
Success Tips
You must use really fresh produce in this fermented bok choy recipe. Don't use cabbage that is starting to turn brown or ginger that is getting a bit slimy or moldy. The fresher the produce the more natural lactobacillus will be present on the surface. You need this for the process to work.
It is important that you start with very clean equipment. Wash your cutting board, knife, bowl, jar, and lid well with hot soapy water and rinse completely. You don't want any foreign matter or harmful bacteria to spoil the kimchi because it will be sitting at room temperature for several days.
I recommend finding a cool, dark area of your kitchen for placing the jars of kimchi. It is best not to place them on a windowsill in direct sunlight. And, don't forget to release the carbon dioxide daily.
---
Recent Recipes