Best Guyanese Cassava Pone
Guyanese cassava pone is a very special type of cake, although you might not be able to tell at first glance because its texture is so unusual. It is not fluffy or crumbly like a traditional Western-style cake, but I enjoy pone better. If you've ever had Japanese mochi, it is a little like that. Not as chewy or stretchy, but sort of bouncy. A closer comparison is mochi brownies. The brownies have the same combination chewy-cakey consistency.
Unlike the brownies or other mochi, cassava pone does not use any flour, not even glutinous rice flour. Instead, its base and texture are attributed to the cassava itself. If you are not familiar with cassava, read below the main recipe for more info and where to find it.
Depending on the style of ingredients you use for this recipe (frozen or otherwise), you will need to defrost it beforehand. The butter also needs to be softened at room temperature, so it could be helpful if you set out both items a few hours prior to baking.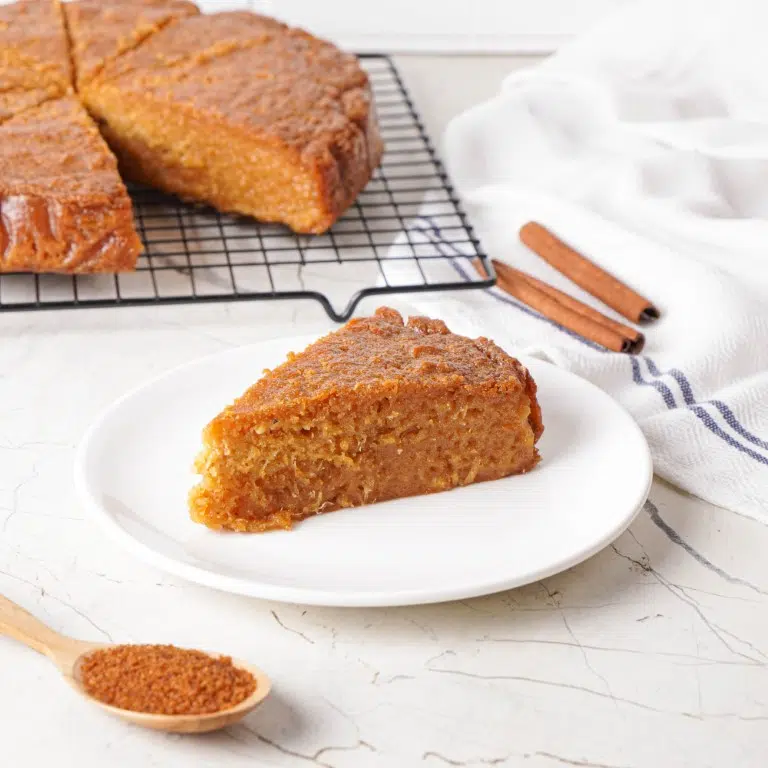 Ingredients
4 ½

cups

cassava root

grated

½

cup

shredded coconut

6

tbsp

butter

1 ½

cups

brown sugar

½

tsp

cardamom

1

tsp

cinnamon

½

tsp

nutmeg

½

tsp

ground pepper

2 ¼

tsp

vanilla

1

tsp

almond extract

3

cups

evaporated milk
Instructions
All ingredients ready? Let's begin!

Start by preheating your oven to 350F. Prepare a 9-inch cake pan by lining it with parchment paper and spraying with a sparse amount of non-stick oil.

In a large mixing bowl, add your grated cassava and grated coconut.

Add the softened butter, sugar, cardamom, cinnamon, nutmeg, and pepper to the bowl.

Use a spatula to mix together.

Add the vanilla, almond extract, and evaporated milk. Mix again, making sure to thoroughly integrate all ingredients.

Pour the batter into the previously prepared pan and lightly smooth the surface with spatula.

Bake for an hour. The top should be lightly browned and the finished product shouldn't jiggle in the pan. To test, you can insert a skewer or fork in the center of the cassava pone. If it comes out clean, the pone should be done. If not, continue baking.

Once done, remove from oven and allow to cool for 15 minutes in the pan before turning onto a wire rack to finish cooling.

Allow to cool completely before cutting. Serve, and enjoy!
Nutrition
Calories:
262
kcal
|
Carbohydrates:
43
g
|
Protein:
6
g
|
Fat:
8
g
|
Saturated Fat:
5
g
|
Polyunsaturated Fat:
0.2
g
|
Monounsaturated Fat:
2
g
|
Cholesterol:
23
mg
|
Sodium:
112
mg
|
Potassium:
308
mg
|
Fiber:
0.4
g
|
Sugar:
42
g
|
Vitamin A:
200
IU
|
Vitamin C:
2
mg
|
Calcium:
242
mg
|
Iron:
1
mg
Notes & Tips
Cassava pone can be stored covered at room temperature for five days. To freeze, put in an airtight container before placing in freezer. It can keep for several months this way. When you're ready to eat, the best method to defrost it is to leave it at room temperature for a few hours.
What Ingredients to Buy
3 cups of evaporated milk should equal two 12-ounce cans that you buy at the store. If that's how you buy it, there's no need to bother measuring, just add both cans.
You can buy frozen, grated cassava or you can buy a fresh cassava and grate it yourself. This may take a while though because you need so much. If you have a kitchen aid or similar appliance, you can attach a grater accessory that will make it much easier and faster to grade things (my family uses it for mozzarella cheese blocks to make pizza).
Shredded coconut is usually easy to find pre-shredded, so don't feel the need to crack open a fresh nut and attempt to pull the flesh out. Grated coconut is commonly available in the baking section of most grocery stores, though there are usually a few options. Look for unsweetened, shredded coconut. Shredded coconut can also be found frozen.
If using frozen cassava or frozen coconut, please thoroughly defrost both before baking.
What Is Cassava & Where to Find It
Cassava is a tuber full of starch and carbs. It is often used as a filler in dishes to reduce cost and stretch food further. It has a pleasant nutty flavor and a few health benefits as well. It originates in South America, which is why it's so popular in Guyanese cuisine.
Cassava probably isn't a staple of your local grocery store, but they might have it seasonally sometimes. Look in the frozen section for shredded cassava or fresh section if you want to shred your own. If not in your nearby stores, check a specialty food shop or a Caribbean food store.
Substitutions
Cassava pone can easily be made vegan if you want. To do so, you will need to exchange the butter for a vegan, plant-butter option and the evaporated milk for coconut milk. Because evaporated milk is so thick, you will need to use canned coconut milk; not the thinner kind that you might buy in a box and use as a regular drink. If you want to make sure it is extra thick, you can even use coconut cream diluted with a little bit of water.
If you don't like coconut, you can omit it altogether. I'm not always a big fan of coconut texture in my baked goods, but it works well in this recipe, so it might be worth trying two different batches, one with and one without.
There are a lot of additions you can make to cassava pone. This recipe covers the simple base, but a lot of Guyanese versions include more spices and even dried fruit. If you want to experiment with these options, feel free! Here are a few suggestions:
Pumpkin: If you want to make your own pumpkin to add, cut a pumpkin in half, spoon out all the guts (maybe save the seeds and roast them as a snack) then roast both halves in the oven. Once softened you can use a spoon or fork to shred the flesh of the pumpkin. Add ½ – 1 cup of shredded pumpkin to the batter.
Carrots: Shred them before adding or buy them pre shredded. Add ¼ – ½ cup to the batter.
Raisins: Add ¼ – ½ cup to the batter.
---
Recent Recipes