Guyanese braided bread is something I cannot get enough of! As the name indicates, it is a popular type of bread in Guyana. Braided bread is pretty easy to recognize, and Guyana is not the only country or people to make it. Another braided bread that you might be slightly more familiar with is challah bread, which has Jewish origins. I am a fan of both kinds of bread, but they do have one main difference. Challah bread has eggs, while Guyanese bread does not.
Because this bread does not require eggs, is it very easy to make a vegan version. All you need to do is replace the butter with your favorite kind of plant butter and you have an equally delicious and totally vegan bread.
Like almost all bread, Guyanese bread takes over 2 hours to make because of its long rising times. Don't worry, you don't actually have to be working in the kitchen for the whole 2 ½ hours! Just make sure you plan this recipe in advance so it can be ready in time for dinner or whenever you are wanting to serve it.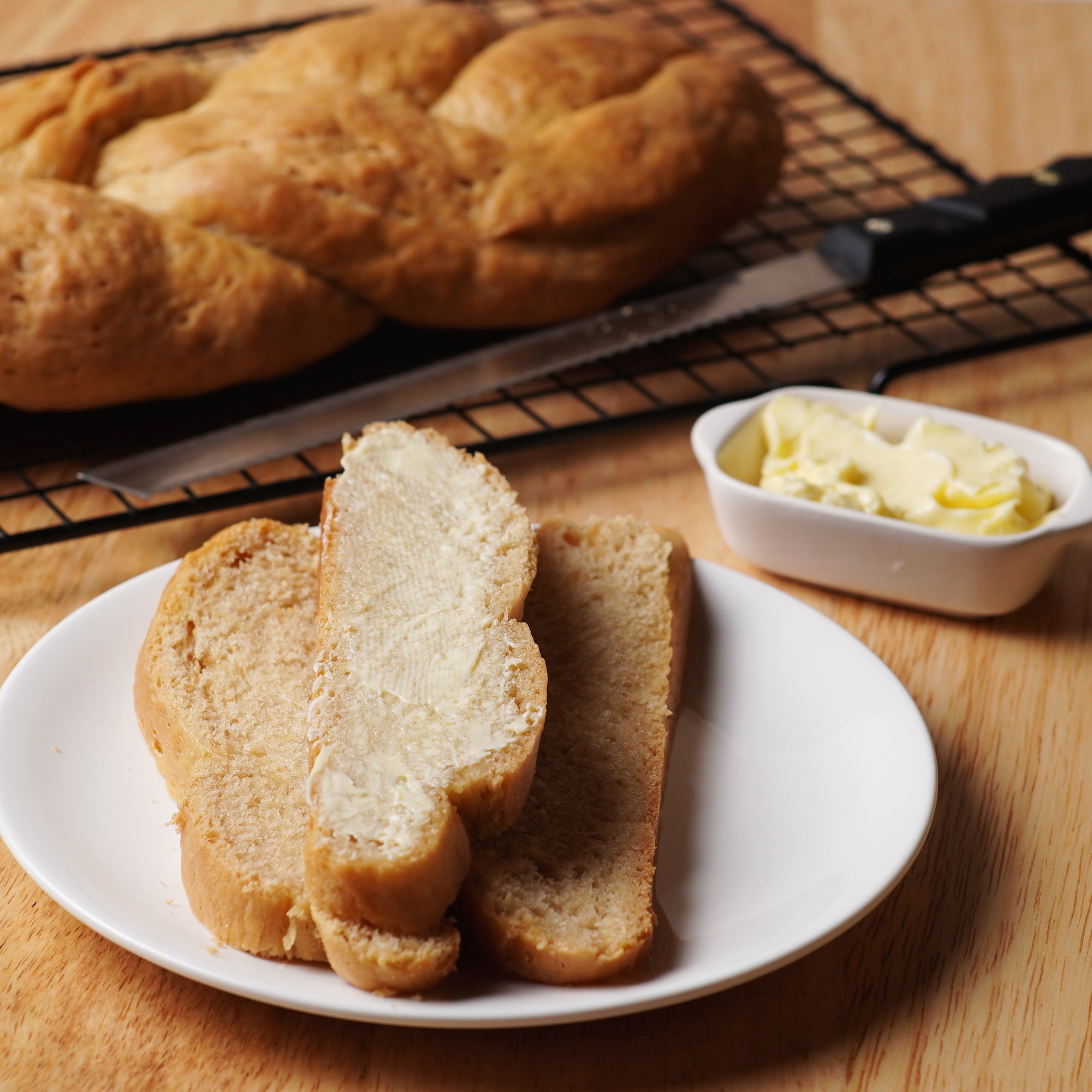 Ingredients
1

tablespoon

of dry active yeast

1 ¼

cup

of warm water

¼

cup

of brown sugar

3 ¼

cup

of all-purpose flour

¼

teaspoon

salt

¼

cup

of room temperature butter

2

tbsp

melted butter
Instructions
Put the warm water in the bowl and add the yeast and sugar. Gently mix together until the sugar dissolves then allow to sit in a warm area for at least 5 minutes.

In a large mixing bowl, mix together the salt and the flour.

Chop the butter into chunks and add to the flour bowl. Use your hands (or a stand mixer fitted with a dough hook) to mix the butter in with the flour until it gets a crumbly texture.

Push the flour to the sides of the bowl to form a well in the center. Add the yeast water into the well and slowly mix the flour into it.

Use your hands or a stand mixer to mix all the flour from the sides into the yeast water. Mix just until it all hold together.

Lightly flour a medium surface and dump out the dough onto it. Use your hands to knead consistently for about 5 minutes. The dough should be soft and well mixed.

Shape the dough into a ball by kneading or pulling the edges together and tucking in to form a smooth surface on the other side.

Place the dough, seam side down, into a large, lightly greased bowl and cover it with a slightly moist dish cloth.

Leave the dough to rise in a warm spot for about an hour. You want it to have doubled in size.

Once the dough has gotten big enough, place it back on the floured surface and knead again into a smooth ball. The dough will deflate, so don't worry about that.

Divide the dough into three equal portions and roll each portion out into a long log shape.

Each strip should be about 1 ½ feet long and be as even as possible in girth.

Lay all the dough strips next to each other at one end and pinch the tips together.

Braid the strips together, being careful not to rip the dough anywhere. When you have finished the braid, pinch the tips together at that end as well.

Put a sheet of parchment paper on top of a baking tray and grease it with non-stick baking spray or a little bit of butter. Transfer the dough onto the baking tray.

Cover the braided dough with a moist kitchen towel again and allow it to rise in a warm spot for 45-60 minutes. It should double in size again.

Once the dough has doubled in size, preheat the oven to 350 F.

Put the bread in the heated oven for 20-30 minutes, depending on how your oven works. When done, the bread should be golden brown and cooked all the way through.

Take the bread out of the oven and immediately use a pastry brush to brush melted butter on top.

Move the bread to a wire cooling rack and allow to cool before serving.
Video
Nutrition
Calories:
289
kcal
|
Carbohydrates:
46
g
|
Protein:
6
g
|
Fat:
9
g
|
Saturated Fat:
6
g
|
Polyunsaturated Fat:
1
g
|
Monounsaturated Fat:
2
g
|
Trans Fat:
1
g
|
Cholesterol:
23
mg
|
Sodium:
153
mg
|
Potassium:
71
mg
|
Fiber:
2
g
|
Sugar:
7
g
|
Vitamin A:
265
IU
|
Vitamin C:
1
mg
|
Calcium:
17
mg
|
Iron:
2
mg
Notes & Tips
The bread will be easier to cut once fully cool, but it is delicious warm too! I prefer to have mine warm.
This Guyanese braid bread can be kept in an airtight container at room temperature for a week. If you want to get that just-baked warmness again, you can pop a slice in the microwave for about 30 seconds before eating.
Serving Suggestions
This bread is soft and sweet, but not too sweet, so it can be used for any meal. One of my favorite ways to enjoy Guyanese braided bread is have it warm with butter and honey. The honey accentuates the sweetness of the bread and the butter just…makes it better. Butter makes everything better.
This bread is also a really yummy alternative to your traditional dinner rolls and goes with any entrée.
Where is Guyana?
Guyana's official name is the Co-operative Republic of Guyana. It is located in South America, near Brazil and Venezuela. It is part of the Caribbean and very culturally close with other Caribbean nations. It is one of the smallest and least populated countries in South America. Guyana is one of those countries that was colonized and eventually became a British territory before gaining its independence back in 1966.
Because of its history, Guyana is a melting pot of cultures and is home to a myriad of people from around the globe. That means that the country has a unique variety of food from many different cultures! If you want to try a dish from the neighboring country of Venezuela, try this Patacon Maracucho. You can even find many Asian dishes in Guyana, like this delicious mooncake.
---
Recent Recipes