Simple Guyanese Hot Cross Buns
Hot cross buns are not exclusive to Guyana, but they are very popular there. The bun is a sweet bread filled with dried fruit and topped with a little bit of frosting. If you don't enjoy dried fruits in your bread, but you still want something a little bit fancier, give this easy Guyanese braided bread a try.
Hot cross buns are very aesthetic and very delicious! They were originally made to be an Easter treat and are still traditionally served around Easter weekend, but you can and should eat them year-round. They go particularly well with a mid-morning coffee or tea.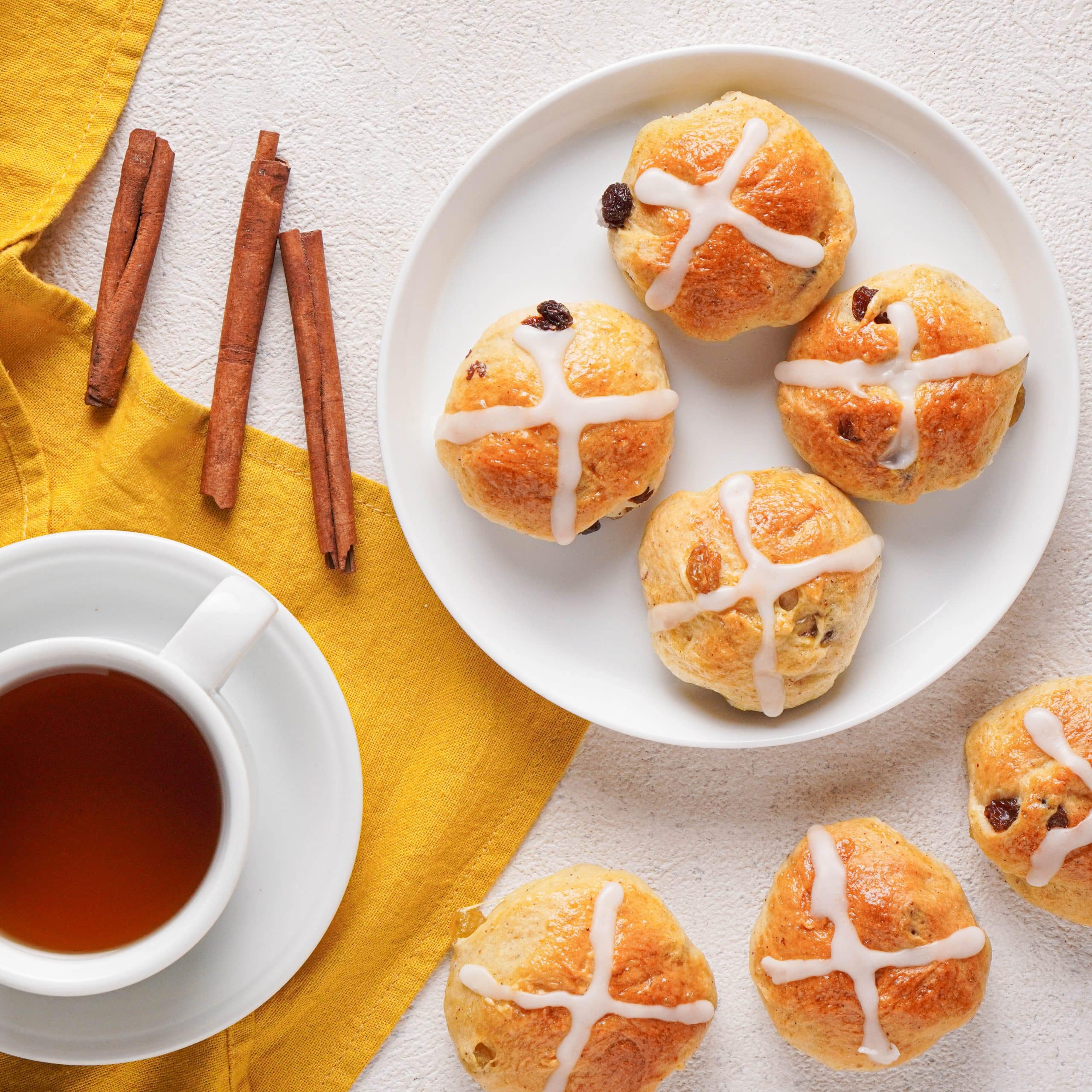 Ingredients
Buns
2

eggs

¼

cup

butter

½

cup

raisins

¾

cup

milk

3

tbsp

instant yeast

3 ⅓

cups

flour

½

tsp

salt

½

cup

sugar

½

tsp

cinnamon

¼

tsp

nutmeg

½

tsp

allspice

1

tsp

vanilla

1

oz

candied orange peel

½

cup

sultanas
Topping:
1

egg

1

cup

powdered sugar

2 ½

tsp

milk
Instructions
All ingredients ready Let's begin!

Set the eggs and butter out to sit at room temperature before preparing.

Place the raisins into a heat-proof bowl. Use a kettle or the stovetop to boil about 1 cup of water, then add it to the raisins. This is to help the raisins be chewier after the buns have finished cooking, so you don't end up with hard lumps. Let the raisins sit until you need them.

In another, small, heat-proof bowl, add the milk. Heat it in the microwave until it is decently warm. This will probably take 30-90 seconds, depending on your microwave.

Remove the milk from the microwave and add the instant yeast. Gently stir to make sure it is all incorporated. Allow to sit for 5 minutes.

While the yeast activates, add to a large bowl or the bowl of a stand mixer the flour, salt, sugar, cinnamon, nutmeg, and allspice. Whisk or beat to combine.

Add the yeast mixture to the flour mixture. Also add the eggs, butter, and vanilla.

Knead for a few minutes until the dough comes together and is sticky. This is easiest done using a stand mixer, but you can do it with your hands and a bit of elbow grease.

Towards the end, add the candied orange peels and sultanas. Drain the raisins of any excess liquid and add them as well. Beat until well incorporated.

Once the dough has formed in the bowl, turn it out onto a lightly floured surface. Use your hands to knead it for 5-10 minutes. The dough should become soft and springy, but not sticky. If it is too sticky, try sprinkling a little bit of flour on it and kneading it in. Repeat until it reaches the right consistency.

Lightly grease a large bowl with butter or non-stick cooking spray. Roll the dough into a ball. Alternatively, pull its sides down to meet at the bottom. The top should be smooth and soft.

Place the dough into the greased bowl, seam side down. Cover with a kitchen towel and leave in a warm spot to rise for at least an hour or until it has doubled in size. One the dough has grown, punch it right in the middle to deflate then turn it back out onto a lightly floured surface.

Knead a few times to smoothen the dough, then divide it into 30 equal portions. You can do this by eye or more accurately by using a kitchen scale.

Use your hand to roll the individual portions into balls or pull down the edges to pinch on the bottom so the top is stretched and smooth.

Line baking sheets with parchment paper and set the balls on them, leaving 2 inches of space around each one.

Cover with kitchen towels and leave in a warm place to rise again for 30 minutes or until they have doubled in size.

Preheat the oven to 375F while the dough rises for the last few minutes.

Use a sharp knife to cut a cross on top of the buns.

Crack an egg into a small bowl and beat it with a fork. Use a pastry brush to brush the egg over each bun before putting them in the oven.

Cook for 15-20 minutes. The buns should be golden brown.

Remove from oven and allow to cool on a wire rack.

While the buns are cooling, combine the powdered sugar and a little bit of milk together. Start with less milk and add more if needed–it should be more of a frosting consistency than a glaze.

Once the buns have cooled, put the frosting in a piping bag and trace the cross atop each bun.

Serve and enjoy!
Nutrition
Calories:
224
kcal
|
Carbohydrates:
48
g
|
Protein:
5
g
|
Fat:
2
g
|
Saturated Fat:
1
g
|
Polyunsaturated Fat:
0.3
g
|
Monounsaturated Fat:
1
g
|
Trans Fat:
0.003
g
|
Cholesterol:
35
mg
|
Sodium:
104
mg
|
Potassium:
153
mg
|
Fiber:
2
g
|
Sugar:
21
g
|
Vitamin A:
76
IU
|
Vitamin C:
0.4
mg
|
Calcium:
36
mg
|
Iron:
2
mg
Notes & Tips
These buns are best enjoyed warm. They are perfect on their own, but also go well with some butter and maybe even a bit of fruit jam. If you want to get warm buns the day after, just pop them in the microwave for a few seconds. Be careful not to go too long though––bread in a microwave can get very dry and hard if heated too long.
Hot cross buns are like any other bread; to store, close them in an airtight container (a ziplock bag works well) and they should last for a week. You can also freeze them if you put them in an airtight container. If frozen, the buns should be good for several months. To reheat frozen buns, either leave them at room temperature to thaw or defrost in the microwave. Be careful when using the microwave though, as the outside can get hard even when the inside is still frozen.
3 tbsp of yeast is roughly equal to one small packet of yeast, so if that's how you buy your yeast, there's no need to measure it out.
This recipe serves 15, assuming each person gets 2 buns. So, altogether, you should get roughly 30 hot cross buns out of one batch.
---
Recent Recipes