I have been curious about honey bun cake for a while. So, I did some research to find out about the origins of this tasty dessert. Though, I enjoy it more as a sweet breakfast treat with a cup of steaming matcha tea.
When I think of the honeybuns of my childhood, I remember those rolled-up pastries that were filled with cinnamon and topped with a sticky honey glaze. Though, I think the glaze was actually all sugar. I only ever saw them wrapped in plastic. They sat next to the cash register at the corner store and could be found in vending machines. These were yeasted dough cakes or breakfast pastries that were obscenely sweet and sticky. You had to lick the glaze off of your fingers. What kid wouldn't like that?
I discovered that a honey bun cake was much lighter, easier to make, and just as good. What I love about the classic honey bun cake recipe is that it calls for a boxed cake mix. There is no need to make yeasted pastry dough and wait for it to proof. I never apologize for using a boxed cake mix. Boxed mixes were invented for a reason. They save a couple of steps and never fail to bake perfectly. I have ruined a few birthday cakes in my day so I keep a box mix in my pantry for such emergencies.
You can use any boxed yellow cake mix for this recipe. I do prefer the ones labeled "super moist". You will have to add vegetable oil, eggs, and sour cream to the cake mix. In the center of the cake will be a layer of brown sugar and cinnamon. You bake the cake in a 9 x 13-inch baking dish or pan in a 350°F oven. This is a single-layer rectangular cake. The icing is powdered sugar, vanilla, and milk. The whole thing is finished in about 40 minutes. After the cake cools, you slice it into squares and enjoy. It's pretty simple.
Just to be clear, a honey bun cake does not have honey in the recipe.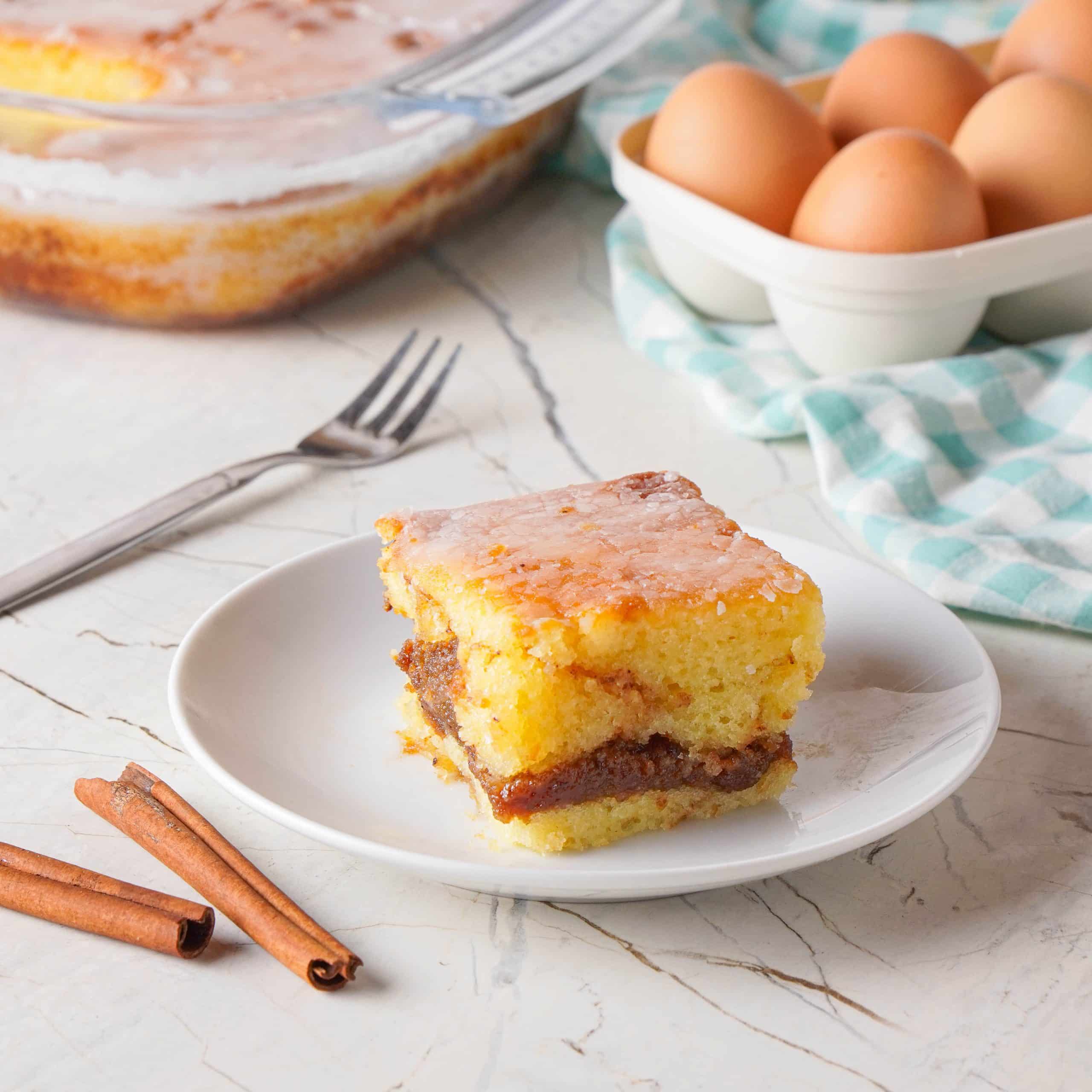 Ingredients
1

box yellow cake mix

4

large whole eggs

⅔

cup

neutral vegetable oil

canola, sunflower, or safflower

8

ounces

of full-fat sour cream

1

cup

packed brown sugar

2

tsp

ground cinnamon

1

cup

powdered sugar

1

Tbsp

whole milk

1

tsp

pure vanilla extract
Instructions
All ingredients ready? Let's begin!

Preheat your oven to 350°F. Grease a 9 x 13-inch glass baking dish or pan.

In a large mixing bowl, add the cake mix, eggs, vegetable oil, and sour cream. Using an electric hand mixer, or a wooden spoon, mix everything together until well combined and creamy.

In a small mixing bowl, add the brown sugar and cinnamon. Stir well to combine.

Pour 1/2 of the cake batter into the greased baking dish and spread out evenly. Sprinkle the brown sugar and cinnamon evenly over the layer of batter. Carefully pour and spread the rest of the batter over the layer of sugar and cinnamon.

Sprinkle the brown sugar and cinnamon evenly over the layer of batter. Carefully pour and spread the rest of the batter over the layer of sugar and cinnam

Place the cake in the oven and bake for 30 minutes until golden brown. Use a toothpick to check the center of the cake. If it comes out clean, the cake is cooked through. Remove the cake from the oven and set it on your stovetop while you prepare the icing.

In a medium mixing bowl, stir together the powdered sugar, milk, and vanilla until the sugar has dissolved.

Using a fork, prick the surface of the warm cake in several areas so the icing can soak into the cake a bit. Spread the icing evenly over the warm cake. Set aside for about 1 hour until the cake cools and the icing solidifies to form a glaze.

Cut the cake into 12 squares and enjoy or cover the cake and store until ready to serve.
Nutrition
Calories:
404
kcal
|
Carbohydrates:
60
g
|
Protein:
4
g
|
Fat:
17
g
|
Saturated Fat:
4
g
|
Polyunsaturated Fat:
2
g
|
Monounsaturated Fat:
10
g
|
Trans Fat:
0.1
g
|
Cholesterol:
68
mg
|
Sodium:
322
mg
|
Potassium:
88
mg
|
Fiber:
1
g
|
Sugar:
43
g
|
Vitamin A:
195
IU
|
Vitamin C:
0.2
mg
|
Calcium:
129
mg
|
Iron:
1
mg
Notes & Tips
When a recipe calls for "packed" brown sugar, that means you should press the sugar firmly into the measuring cup to get rid of any air pockets.
Be sure to use pure vanilla extract for the best flavor. Imitation vanilla brings nothing to this cake.
Frosting a warm cake is not the easiest of tasks. You need to do it carefully, moving in one direction so the cake doesn't stick to the spatula by moving back and forth. I recommend using an offset icing spatula.
Substitutions & Additions
Cake Mix: I like the super moist yellow cake mix for this recipe, but really any will work. This is also pretty good with a pound cake mix for a richer and denser texture. You can definitely switch things up and make a chocolate honey bun cake or a chocolate and yellow marbled cake. And of course, you can make this cake from scratch if so inclined.
Vanilla: I often opt for pure almond or lemon extract instead of vanilla.
Dairy: If you are lactose intolerant, you can swap out the sour cream for vegan sour cream and the milk for non-dairy milk, such as almond, oat, or rice.
Additions: You can take this simple cake up a notch with the addition of chocolate chips or small wild blueberries. You can add some cocoa powder to the icing for a hint of chocolate. I have also seen recipes for honey bun cake with the chopped pecans added to the brown sugar and cinnamon layer or to the icing. I think that is a nice spin.
More Cake Recipes
If you enjoyed this recipe, you might want to try some of our other favorite cake recipes. We have a Homemade Haitian Cake recipe which is another yellow cake, but with the addition of rum and evaporated milk.
Our Cuban Tres Leches Cake is a sponge cake made with 3 kinds of milk: cream, evaporated milk, and sweetened condensed milk. The cake is soaked in the milks for a moist and sweet dessert that is very popular for birthdays and quinceañera celebrations.
If you enjoy citrus, you will really like Zesty Orange Loaf Cake. The batter has orange zest and sour cream. The cake itself is fragrant and bright. The glaze is made with freshly squeezed orange juice that takes on the color of the sun.
For something a little different, try Banh Bo Nuang, also known as Vietnamese Honeycomb Cake. This is a simple yet spectacular dessert because of the unique honeycomb structure when you slice into it. The cake is soft and chewy with the use of rice flour, tapioca starch, and coconut cream.
---
Recent Recipes