Greek manestra is a Mediterranean dish comprising orzo pasta in a tomato-based sauce. Orzo is a type of Greek pasta but it's shaped like grains of rice. This recipe is similar to risotto, in that the pasta is cooked in the sauce, but it's a decidedly Greek version.
The word 'manestra' refers to the orzo pasta in Greek, but the term is also used for this tomato stew. It's a popular dish in Greece and sometimes includes meat, such as beef, pork, chicken, or lamb. The meat-free version makes a delicious side dish to your protein of choice.
How To Cook Orzo
Orzo is a type of pasta so, like with any other pasta variety, it releases starch during cooking. The starch is good because it acts as a sauce thickener but if you don't stir the mixture often you risk it sticking to the bottom of the pan.
The orzo absorbs the sauce during cooking and continues to do this when it's cooked, so it's best to serve Greek manestra right away. If not the orzo will continue to swell and will eventually absorb all the sauce!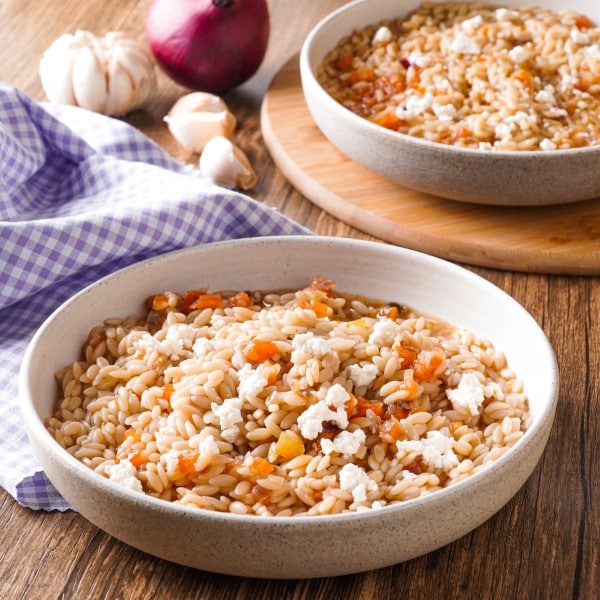 Servings:
4
as a side dish
Ingredients
3

very ripe peeled

finely chopped or grated tomatoes

1

finely chopped red onion

9

ounces

medium-sized orzo pasta

6

allspice berries

2

dried bay leaves

1½

tablespoons

tomato paste

7

tablespoons

olive oil

1

minced garlic clove

¼

cup

red wine

⅔

teaspoon

white sugar

2

pints

vegetable stock or hot water

Salt and black pepper

to taste
Instructions
All ingredients ready? Let's begin!

Heat the oil in a pot then add the onion.

Sauté for a minute, stirring all the time.

Add the garlic and cook until that and the onion are both soft and caramelized.

Turn the heat down a bit and stir in the orzo.

Cook for 1 minute then stir in the tomato pasta.

Cook, stirring, for 2 minutes.

Add the wine and cook until it completely evaporates.

Add the tomatoes and cook for 2 minutes, stirring often.

Add the bay leaves, allspice, sugar, salt, and black pepper to taste.

Now add the stock or hot water, a little at a time, stirring with a wooden spoon.

The orzo will quickly absorb the liquid and it will take about 15 minutes to cook.

When the orzo is al dente (tender but with a slight bite to it) take the pan off the heat.

Let it sit for 5 minutes.

You will see the orzo soaks up more of the sauce and the mixture thickens during this time.

Serve the Greek menestra warm.
Video
Nutrition
Calories:
516
kcal
|
Carbohydrates:
60
g
|
Protein:
10
g
|
Fat:
26
g
|
Saturated Fat:
4
g
|
Polyunsaturated Fat:
3
g
|
Monounsaturated Fat:
18
g
|
Sodium:
1005
mg
|
Potassium:
488
mg
|
Fiber:
4
g
|
Sugar:
9
g
|
Vitamin A:
1397
IU
|
Vitamin C:
17
mg
|
Calcium:
39
mg
|
Iron:
2
mg
Notes
Crumbled feta sprinkled over the top is a great serving suggestion for Greek menestra.
Just like when making risotto, you will add the liquid a bit at a time, waiting for the orzo to absorb it before adding the next ladleful.
You will know the red wine has been completely absorbed by the fact you won't be able to smell it any more. Use alcohol-free red wine (or unsweetened red grape juice) if you prefer.
Greek menestra is a versatile recipe which can be enjoyed as a side dish or as a vegetarian main course. The flavors of tomato, garlic and allspice make this a very special and unusual dish.
---
Recent Recipes