This is another one of those good ole slow cooking recipes. Rub some seasoning on the beef, toss it in the crock pot, and get on with your day knowing that a warm meal waits for you at dinner time. Perfect for anybody with a busy life (which is pretty much everyone). This is a classic southern dish that brings up memories of busy winter days when I was a kid.
Because of the nature of this recipe, make sure you leave plenty of time for the beef to cook. While this recipe is easy, it is not quick, so I recommend starting this in the morning and allowing it to cook throughout the day. If it finishes before you're ready, just turn the crock pot to the lowest setting and it will keep the beef warm until you want it.
This beef serves about 8 people, but that's assuming you serve it with a little extra. See below the recipe for serving suggestions so you can round-out your dinner.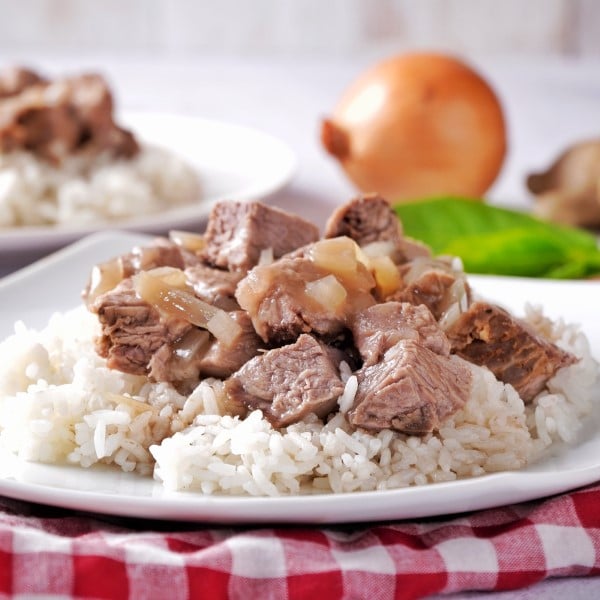 Ingredients
¼

cup

of bacon drippings

5

lbs

beef rump roast

2

tsp

salt

¼

tsp

of ground black pepper

1

tsp

ground ginger

1

onion

2

bay leaves

5

whole cloves
Instructions
All ingredients ready? Let's begin!

To get bacon grease, first you will need to cook some bacon, if you don't already have some. To do so, preheat your oven to 392F. Prep a baking tray with a lip by lining it with tin foil.

Place the bacon strips on the baking sheet. You can put the bacon down with no spaces or even slightly overlap the edges to save space. The bacon will shrivel up in the oven anyway.

Cook the bacon for 15-25 minutes. The thickness of your bacon slices will determine how long you need to leave them in the oven.

Once the bacon is done, move it from the pan and onto a plate or tray lined with paper towels to absorb some of the grease. Keep the grease that is left in the pan.

Add the bacon grease into a crockpot and put the bacon away for yourself later.

In a small bowl, add the salt, pepper, and ginger. Whisk to combine, then use your hands to rub the seasoning all over the beef.

Put the seasoned beef into the crockpot with the bacon grease and turn the crockpot on high so you can lightly sear the sides of the beef.

Allow each side of the beef to sear for about 10 minutes.

While you let the beef sear, chop the onion roughly.

Add a cup of water, the chopped onion, bay leaves, and cloves to the crockpot.

Turn the heat to medium low and leave the beef to simmer for about 4 hours. After that time, check and see if the beef is soft enough to pull apart. If not, leave it for another hour or two. If the liquid evaporates, add more water.

Once the beef is cooked to your desired level of tenderness, remove it from the crockpot and cut into bite-sized pieces. Make sure to remove any bay leaves or cloves before serving.

Any liquid left in the pot should have mixed with the bacon grease and become a thick, gravy-like sauce that you can drizzle over your beef before serving.

Enjoy!
Video
Nutrition
Calories:
586
kcal
|
Carbohydrates:
2
g
|
Protein:
55
g
|
Fat:
40
g
|
Saturated Fat:
17
g
|
Polyunsaturated Fat:
4
g
|
Monounsaturated Fat:
20
g
|
Trans Fat:
2
g
|
Cholesterol:
203
mg
|
Sodium:
825
mg
|
Potassium:
973
mg
|
Fiber:
1
g
|
Sugar:
1
g
|
Vitamin A:
54
IU
|
Vitamin C:
1
mg
|
Calcium:
58
mg
|
Iron:
6
mg
Notes & Tips
You can store any leftovers in an airtight container in the fridge for 5 days. Reheat in a microwave when you want it next.
Serving Suggestions
This beef goes best with some vegetables and a starchy side. I always have a lot of rice on hand and it's really easy to make. Chopping up the beef and drizzling sauce on top of rice is tasty and easy.
If you don't have a rice cooker, it is still very easy to cook rice. The rice package should have instructions to follow, but if not, the general rule is a 1-to-1 ratio of rice and water, at least with short grained rice or fragrant rice (which is what I usually use). Boil over high heat for 15 minutes or until the rice is soft. Sprinkle a little salt in while the rice is cooking and stir if you're using a pot so the rice doesn't stick to the bottom and burn.
To make some vegetables to go with kettle beef, I recommend steaming or stir frying them. If you're already making rice in a rice cooker, some of them come with a steamer basket, so you can put vegetables there and leave them to steam while the rice cooks.
If you don't have a steamer, use a skillet. Toss a tbsp of oil into the skillet and add veggies over medium-high heat. You can use any veggies, whether fresh or frozen (or both). I like to use a mix of carrots and broccoli. Stir the veggies until they become soft and plate them to the side of the beef.
Perhaps you are making this kettle beef for extended family or friends, so you want something a bit more special to serve on the side. The beef goes well with bread and this lard bread is great! If you have extra bacon grease, you could use it instead of butter or lard to add to the flavor of the bread.
For dessert, why not make this Haitian cake? You'll have a full meal with sides and a dessert and everyone will be impressed with your skills!
Substitutions
If you don't have bacon drippings or don't want to cook up some bacon, that's fine. It adds extra flavor, but you can replace it with ¼ cup of butter. Vegetable oil can also work for this, but, again, it doesn't add much flavor.
You can swap out the meat in this recipe if you are looking to use up whatever is in your freezer. This would work well for other large cuts of beef, pork, or any other big hunk. You can use meat with bones, but make sure to remove the bones before serving.
---
Recent Recipes