Easy Pumpkin Spice Tikvenik
Tikvenik is a traditional Bulgarian pie or strudel that is made with phyllo dough, filled with pumpkin, and baked. It is often referred to as Pumpkin Banitsa. It is basically a pumpkin-spiced phyllo pastry.
There are a couple of ways of preparing the pumpkin, you can grate the pumpkin and mix it with the other spices, you can boil and cook the pumpkin so that it is nice and soft, or you can do what I did, and grate the pumpkin and then sauté it in butter before mixing in with the other ingredients for the most delicious Easy Pumpkin Spice Tikvenik. All three ways give you a delicious pumpkin filling, but I like sauteing it with butter as I think it is more flavorful and butter on anything is always a thumbs up from me.
I just peeled and grated the pumpkin, sauteed it in butter, mixed it in with sugar, cinnamon, and walnuts, and baked it. You can add your own flavoring to it, like ginger, nutmeg, allspice, and cloves. I do like the flavor of cloves in my pastries and baked goods, but I ran out and settled for this simple, authentic Tikvenik.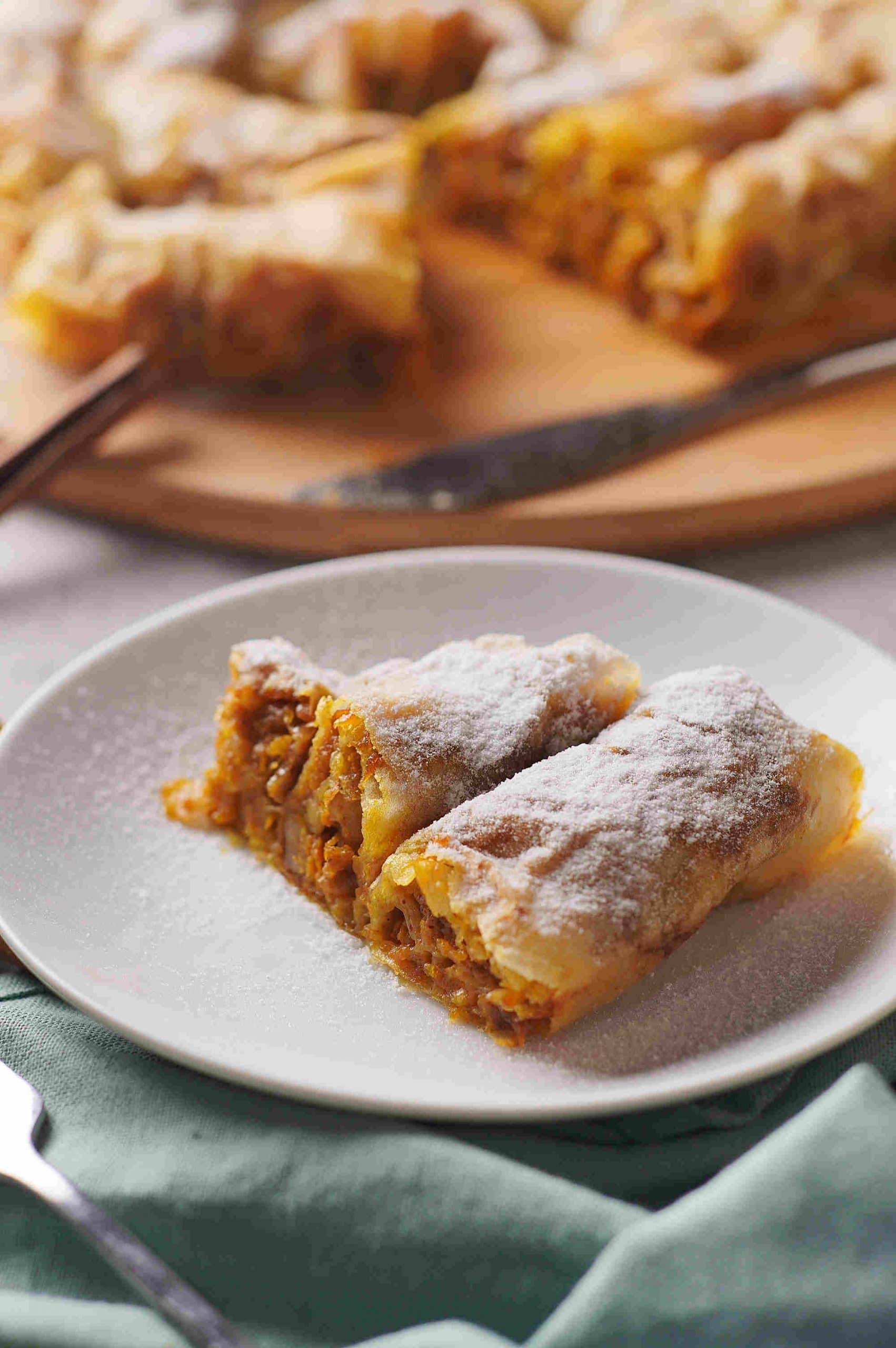 Ingredients
1

lb

phyllo dough

1

pumpkin

peeled, deseeded, and grated.

1/2

cup

sugar

1

cup

walnuts

chopped

4

tablespoons

of butter

1

teaspoon

of cinnamon

Powdered sugar
Instructions
Start by getting all your ingredients together.

Spray the round baking pan and set it aside

Preheat the oven to 400 degrees F

In a large pan, melt the butter.

Once it is bubbling add the grated pumpkin and sauté in low heat.

Add the sugar, cinnamon, and walnuts and mix well.

Keep mixing the filling, until it takes on a jam-like consistency. Then take off the heat.

Roll out a sheet of phyllo dough and brush it with butter.

Add some of the pumpkin filling to it, don't overstuff it, and gently roll the sheet. Place the rolled sheet on the edge of the round pan.

Repeat the process until you have filled the entire pan with stuffed, rolled phyllo sheets.

Brush some butter on top and place in the oven

Bake for 40 minutes

It should have a nice brown, golden crust on top.

Sprinkle with some powdered sugar and enjoy.
Video
Nutrition
Calories:
545
kcal
|
Carbohydrates:
74
g
|
Protein:
11
g
|
Fat:
25
g
|
Saturated Fat:
7
g
|
Polyunsaturated Fat:
10
g
|
Monounsaturated Fat:
6
g
|
Trans Fat:
1
g
|
Cholesterol:
20
mg
|
Sodium:
435
mg
|
Potassium:
917
mg
|
Fiber:
4
g
|
Sugar:
24
g
|
Vitamin A:
19534
IU
|
Vitamin C:
21
mg
|
Calcium:
81
mg
|
Iron:
5
mg
Tips & Tricks
You can use any kind of pumpkin or squash
Make sure the walnuts are chopped, they need to be bite-sized.
Don't put too much stuffing in each roll as it will cook unevenly, and it will start breaking apart
Don't overload the baking pan as you want the phyllo dough to cook properly and evenly.
If you see the phyllo dough browning too fast, cover it with parchment paper. Ensure you have brushed the top of the dough with enough butter, this prevents burning.
Storage
Store the Easy Pumpkin Spice Tikvenik in an airtight container in the fridge. It can be eaten warm or cold. I would not recommend freezing it as the filling is soft and freezing and thawing it might make the texture pasty.
But you can make the filling ahead, this saves a lot of time on prep as peeling, coring, and grating the pumpkin is what is actually time-consuming. You can of course peel and grate the pumpkin or squash and store it in an airtight container. You can keep it in the fridge for up to 2 days. You can take it out on the day of mixing it with the spices and nuts.
You can also sauté it with butter, spices, and nuts and store it in an airtight container. Let it sit out for about 30 minutes before you stuff and roll the dough.
FAQs
What Is Tikvenik?
Banitsa is a traditional Bulgarian phyllo pastry made with different types of filling and Tikvenik is a pumpkin stuffed Banitsa. This is traditionally had during Christmas time, specifically the night before. It is usually made with pumpkin or squash, phyllo pastry, cinnamon, sugar, walnuts, and sunflower oil. But you can use any oil or butter of your choice.
Is Tikvenik Like Pumpkin Pie?
Tikvenik goes by a lot of names, but it is not a pie. It can be cut to resemble a pie and share a lot of ingredients with pumpkin pie, but they are different. For starters, Tikvenik is a Bulgarian Banitsa pastry, made using phyllo dough. Pies usually have a base crust or dough that is then filled and baked, while Tikvenik is rolled out and placed in a circular ring formation.
What Other Stuffing Can I Use?
You can make Banitsa with sweet and savory fillings. You can have cheese, meats, milk and eggs and even fruits like apples. You can also use variations of other squashes and nuts.
Substitutions
While traditionally this Easy Pumpkin Spice Tikvenik is made with pumpkin, walnuts and spices here are a few things you can change to suit your tastes.
Pumpkin Many people prefer the taste of butternut squash to pumpkin, and they are a wonderful alternative with a lovely, mild flavor.
Walnuts You can use pecans instead of chopped almonds. Raisins can be used along with nuts.
Spices Some of the other spices you can use for this recipe are nutmeg, ginger, allspice, and cloves. You can also use vanilla extract for some extra flavor.
Butter You can use any oil like sunflower, vegetable, canola, Mazola, or even olive oil.
Accompaniments
So, the Easy Pumpkin Spice Tikvenik makes for a great dessert, breakfast pastry, a snack, a treat or a filling, sweet something to tide you over between meals. You can add some whipped cream on top or a dollop of your favorite ice cream. It also makes for a great accompaniment to your cup of tea or coffee.
For more interesting recipes using fruits and spices try the Cardamom Spice Cookies and the Apricot Khubani ka Meetha.
---
Recent Recipes