Homemade Cabbage Flatbread
When I feel like adding a head of cabbage to my shopping cart, I get excited because it is a lot of food for so little money. When I get home, I look at that big green or purple ball and wonder what I am going to do with all that cabbage, other than making my favorite cabbage slaw.
Cabbage is a leafy green or red vegetable that is a member of the brassica family of edible plants. Cabbage is very low in calories and fat and high in dietary fiber. This vegetable has potent antioxidants that are known to help reduce LDL cholesterol. Fresh cabbage is loaded with healing vitamins C and K. It is also rich in a variety of B vitamins. Cabbage contains a fair amount of the minerals manganese and potassium. There isn't a good reason not to include this healthy and nutritious vegetable in our diets.
I tried the Scarsdale diet many years ago. It was basically eating cabbage soup all day long. I lost a ton of weight, but I was completely over the cabbage by the end of a month. Honestly, I think the fiber is what caused me to lose weight. I didn't feel terrible, but I had to find new recipes for using cabbage after that experience. I came across a recipe for cabbage flatbreads a while ago and made them a lot. I varied the recipe because I actually lost the original recipe I had when I moved to a new home.
My current recipe for cabbage flatbread has curry powder, ginger, and poblano peppers in the dough. I make individual discs rather than one large flatbread. The breads are soft and resemble tortillas. I fry them in oil. They are best eaten with your hands either as a snack or with a hearty stew or a chopped salad on top. I make a lot of these and have them for lunch during the week. They can be warmed up easily and they also store well in the freezer.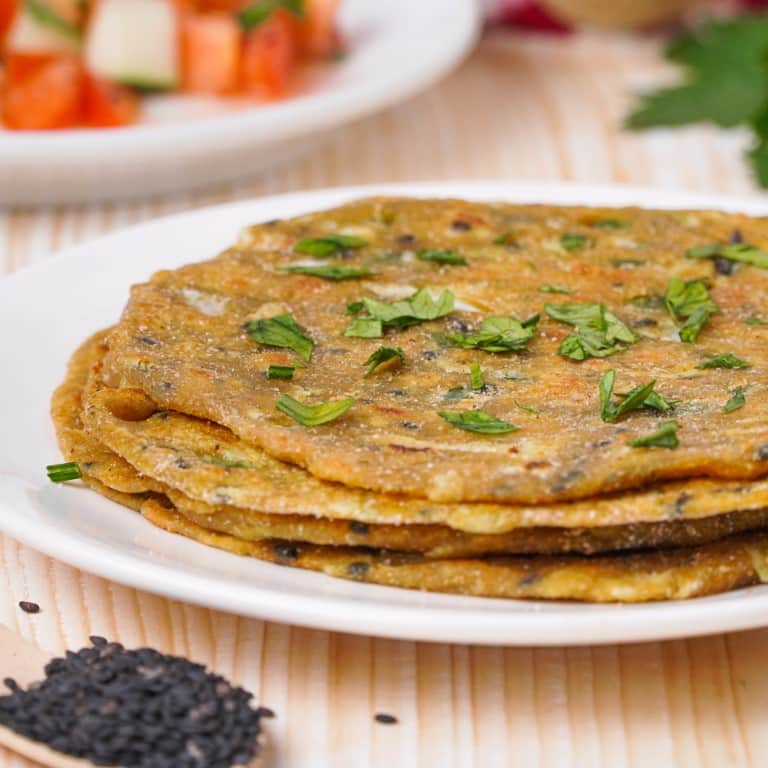 Ingredients
1

cup

whole wheat flour

1

cup

unbleached all-purpose flour

1 ½

tsp

curry powder

½

tsp

kosher salt

2

cups

shredded savoy cabbage

2

Tbsp

minced poblano pepper

seeds removed

2

Tbsp

minced fresh ginger

2 ½

tsp

black sesame seeds

¾

cup

of water

Flour for dusting and rolling

Vegetable oil for frying
Instructions
All ingredients ready? Let's begin!

In a large mixing bowl, stir together the 2 flours, curry powder, and salt.

Shred or chop the cabbage. Mince the pepper and ginger. Add the cabbage, pepper, and ginger to the flour and mix this all together using clean hands.

Stir the water and sesame seeds into the flour and cabbage mixture. Mix until very well to combine.

Lightly dust a flat work surface with flour. Turn the ball of dough onto the work surface and knead with your hands for at least 5 minutes until elastic. Cover the dough with a clean kitchen towel and allow it to rest for 15 minutes.

Separate the dough into 12 equal-sized balls. Dust your work surface with flour again. As well, dust a rolling pin with flour.

Roll out each ball into a circular bread about 1/8" thick, turning the disc a couple of times to achieve a round shape. Don't worry if the circles are rustic. That is part of the charm of this bread.

Heat a large flat skillet or griddle pan over medium heat. I use a cast-iron pancake pan. Place enough oil on the hot pan or griddle to coat it. Fry a batch of flatbreads until golden on the bottom, approximately 2 minutes. Flip them over and continue to cook until the other side is golden brown, about 2 to 3 minutes longer. Taste one flatbread to make sure it is cooked through and has a good texture – not gummy. Transfer the cooked flatbreads to a serving platter or cloth napkin-lined basket to keep them warm.

Apply more oil to the pan and continue to cook in batches until all the flatbreads are finished. Serve while warm.
Nutrition
Calories:
83
kcal
|
Carbohydrates:
16
g
|
Protein:
3
g
|
Fat:
1
g
|
Saturated Fat:
0.1
g
|
Polyunsaturated Fat:
0.4
g
|
Monounsaturated Fat:
0.3
g
|
Trans Fat:
0.002
g
|
Sodium:
102
mg
|
Potassium:
88
mg
|
Fiber:
2
g
|
Sugar:
0.4
g
|
Vitamin A:
126
IU
|
Vitamin C:
5
mg
|
Calcium:
15
mg
|
Iron:
1
mg
Notes & Tips
If you enjoy heat, leave the seeds in the peppers when you mince them.
Resting the dough for 15 minutes allows for the gluten/gliadin to relax. As the proteins rest they soften and expand a little, which makes for better volume and a slightly lighter bread.
You can roll out this dough into 3 or 4 larger flatbreads that you can top with fresh or grilled veggies and vegan cheese to eat like pizzas.
Substitutions & Variations
Wheat Flour: I use wheat flour for this recipe because it makes a more pliable and lighter bread. I think you could make a gluten-free version with teff flour. I have actually made a version of these flatbreads with chickpea flour and a little arrowroot starch.
Curry Powder: If you don't like curry powder, try 1 teaspoon of turmeric and 1 tsp of cumin for a mellower spice combination.
Savoy Cabbage: I like savoy cabbage for this recipe because it is less dense than traditional green cabbage. But green cabbage does work here. You could also try napa cabbage, which is almost fluffy compared to savoy and green.
Poblano Pepper: I have made this bread with chipotle peppers when I can't find poblano. I think jalapeno peppers can work as well. When I make these flatbreads for kids, I use sweet red bell pepper for no heat and a fun pop of color.
Fresh Ginger: If you don't have fresh ginger, you could use 1 to 2 teaspoons of ginger powder (or to taste).
Sesame Seeds: The black sesame seeds add a nice speckled pattern to the flatbreads. You can use white sesame seeds or a combination of black and white. You could also add hemp hearts, caraway seeds, or fennel seeds.
What to Serve with Cabbage Flatbread
These flatbreads are great all by themselves as a healthy vegan snack. They are also terrific topped with fresh salad and eaten like a taco. As well, they are good accompaniments for curries and stews. Here are some of our favorite vegan salads and stew dishes, as well as a couple that are not vegan.
---
Recent Recipes