Beef Mechado or Mechadon Baka is a Filipino beef stew made in a tomato sauce with tender beef chucks and root vegetables. Mechado is a popular beef stew that is made with a lot of local ingredients found in the Philippines like patis and calamansi juice. The beef is marinated and then cooked along with potatoes, carrots and red peppers in a rich and flavorful tomato sauce. The important thing is to marinate the beef well. The longer the beef marinates the more tender and flavorful it will be.
Keep in mind the beef takes a while to cook, you do have the option of cooking it separately in the Instant Pot or pressure cooker and then incorporate the beef into the stew. It will taste great both ways, but with the slow cooking process everything simmers together blending the flavors together beautifully.
The mechado should be served warm and pairs great with white rice.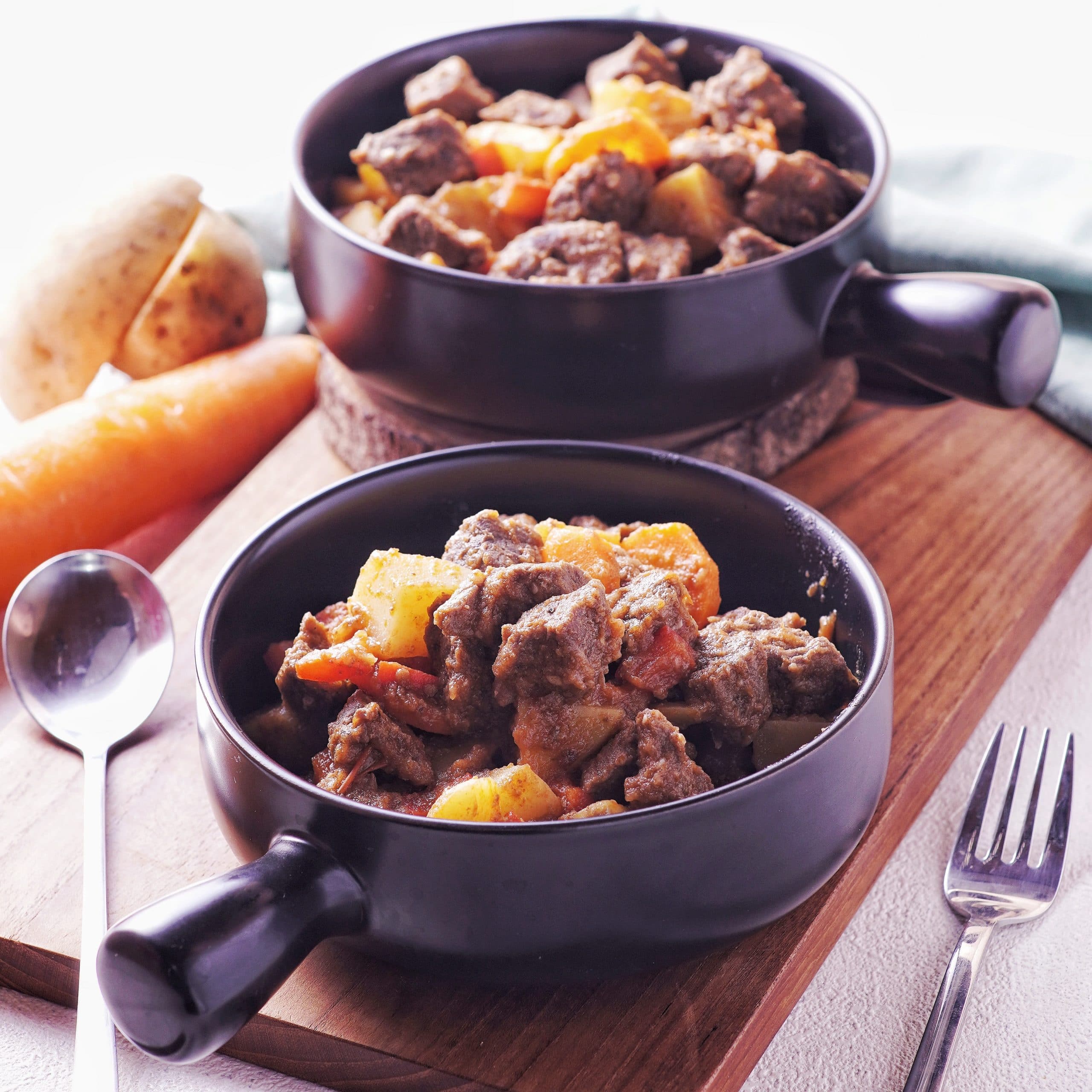 Ingredients
3

pounds

of beef chuck

½

cup

soy sauce

½

a lemon

juiced

½

teaspoon

of ground black pepper

1

small onion

diced

2

cloves

of garlic minced

1 to

mato

diced

3

tablespoons

tomato paste

1

cup

tomato sauce

1

carrot

cut into roundels

3

potatoes

peeled and cubed

1

red pepper

cubed

2

cups

of beef stock

3

bay leaves

1

tablespoon

of patis

fish sauce

Salt and pepper

Oil
Instructions
In a bowl, place the beef chuck. Add the soy sauce and lemon juice and a little bit of fresh ground black pepper.

Cover with saran wrap or foil and let it marinate for a minimum of an hour.

While it marinates, heat two tablespoons of oil.

Add the diced potatoes and carrots and sauté for about 5 minutes. Make sure they don't burn or stick to the bottom of the pan. Remove the potatoes and carrots and set aside.

In the same pan, add some more oil.

Add the chopped onions and garlic and sauté for a few minutes, till they start to change color and turn fragrant.

Then add the chopped tomatoes and sauté till the tomato softens.

Add the bay leaves and continue sautéing.

Now add the marinated beef to this and mix well together.

Add a tablespoon of patis and mix again.

Cover and cook for about 15 minutes in medium-low heat.

Add the 1 cup of tomato sauce and 3 tablespoons of the tomato paste and mix well, till everything is well combined.

Add 2 cups of beef broth and stir well.

Cover it again and let it all simmer together for about 45 minutes.

Add the potatoes and carrots to the simmering stew. Add more broth if needed. Stir. Cover and cook for about 10 minutes.

Add the bell peppers and let it simmer with the rest of the stew.

Take off heat and serve warm.
Video
Nutrition
Calories:
828
kcal
|
Carbohydrates:
45
g
|
Protein:
77
g
|
Fat:
40
g
|
Saturated Fat:
17
g
|
Polyunsaturated Fat:
3
g
|
Monounsaturated Fat:
20
g
|
Trans Fat:
2
g
|
Cholesterol:
235
mg
|
Sodium:
2896
mg
|
Potassium:
2640
mg
|
Fiber:
7
g
|
Sugar:
10
g
|
Vitamin A:
4241
IU
|
Vitamin C:
91
mg
|
Calcium:
129
mg
|
Iron:
11
mg
Tips & Tricks
The beef has to marinate for at least one hour. You can also marinate it overnight to make it more flavorful and juicy.
This stew has a rich, tomato flavor which is why we have to use fresh cut tomatoes as well as paste and sauce. The paste adds some thickness to it, but don't use too much, as it makes the mechado very tangy. You have to balance it with the tomato sauce, which adds some depth to it.
Patis is fish sauce very common in Southeast Asian cuisine
The beef does take a long time to cook, so you can cook it separately in an Instant Pot or pressure cooker while the rest of the stew is being cooked and then add it to it.
You have to add the bell peppers last as they don't require too much cooking
Storage
The beef mechado can definitely be stored in the refrigerator for about 3 to 4 days in an airtight container. You can also freeze it for about 2 months. Before eating it, let it thaw in the fridge overnight and then reheat over the stovetop. Add more beef stock or water if it is too thick.
The mechado is a great dish to prep ahead. Marinate the beef a day or two before and keep it in an airtight container or Ziplock. You can also cut all the vegetables the night before and save in airtight containers and cook it all together on the day of.
FAQs
What is Patis?
Patis is a type of Filipino fish sauce that is very popular in Southeast Asian cuisine. It is usually fish like anchovies, sardines or even shrimp that is salted and left to ferment for a couple of months. It is a quintessential Filipino condiment that is often used in soups and stews.
Substitutions
The beef mechado lends itself to a couple of substitutions depending on availability.
Beef chuck: It is popular to stuff the beef with pork fat to make the mechado.
Tomatoes: This is an essential ingredient, you can use canned, diced tomatoes
Tomato Sauce: If you don't have tomato sauce, use canned tomatoes and increase the tomato paste so that the stew remains thick and tangy
Tomato Paste: Tomato paste has a very distinct and strong taste. It adds a splash of color and a robust flavor to the dish, if you don't have tomato paste, double up on the tomato sauce and tomatoes.
Beef Broth: You can use water or chicken or vegetable broth
Red Peppers: You can use any color pepper
Potatoes: These are found in traditional beef mechado, baking potatoes work well here
Soy Sauce: You can use hoisin sauce or any low-sodium soy sauce
Lemon Juice: Traditionally calamansi juice is used. Calamansi is a Filipino lemon or lime. You can also use apple cider vinegar instead.
Accompaniments
The beef mechado can be enjoyed all on its own like a stew or with rice. Basmati, jasmine or any long grain rice will work.
If you like your beef, you have to try this delicious Low FODMAP Beef Stew and this Thai Beef Salad.
---
Recent Recipes