Best Substitutes For Boursin Cheese
Boursin is a classic French brand: you know that once you've opened that package, there's a bundle of foil-wrapped delicious, creamy goodness that's the hero of your cheese platter. It's a versatile cheese that you can eat on crackers and add to many other recipes. But what if you can't find any of this tasty cheese? What's the best substitute for Boursin cheese?
The best substitutes for Boursin cheese are flavored cream cheese, farmer's cheese, chèvre, and gorgonzola dolce. In cooking, use fromage frais, mascarpone, Neuchâtel. For a low-calorie option, use cottage cheese or quark. For a vegan replacement, use dairy-free cream cheese, cashew cheese, or tofu.
Boursin's airy, buttery consistency and tongue-tingling flavors have made it a household favorite. However, there are other cheeses you can substitute for Boursin, even making a version of it at home.
Substitutes for Boursin Cheese
Originally a French phenomenon, Boursin has been a much-loved cream cheese since the 1960s. Many of us enjoy it simply as a spreadable cheese, but it can serve as part of an appetizer, pasta sauce, or quiche.
Before we look at the best substitutes for this creamy cream, let's find out a little more about Boursin.
What Is Boursin Cheese?
Boursin is a brand name for a French cow's milk cheese. Similar in flavor and texture to cream cheese, Boursin is soft, spreadable, light, and crumbly and comes in various exciting flavors.
Developed by a French cheesemaker, Françoise Boursin, in Normandy, France, in 1957, Boursin cheese became a phenomenon in the 1960s. After an advertisement mistakenly offering his cheese with garlic flavor, Boursin quickly developed the now legendary garlic and herb Boursin, with chives, parsley, garlic, and pepper.
More flavors followed, including Shallot and Chive, Cranberry and Spice, Pepper, Fig, and Nut, Red Chili Pepper, and Sun-dried Tomato and Mediterranean Herbs. There are also goat's cheese and vegan variations of Boursin.
Apart from being a luxurious snack, Boursin is a valuable ingredient in pasta sauces, mashed potatoes, stuffing, and dressing.
Best Substitutes For Boursin In Appetizers
One of the most beloved ways of enjoying Boursin is spreading it on crackers as an appetizer or snack. However, you could use this tasty cheese to stuff phyllo cases, top potato skins, or make crostini. What cheeses could you use instead?
Best For: Appetizers, dips, sauces
The ideal substitute for Boursin's classic Garlic and Herb variety is the American Laughing Cow's Garlic and Herb flavor, which tastes very similar to the traditional as it contains garlic, parsley, and onions.
Laughing Cow is not only a good flavor match but has a similar airy, creamy consistency that makes it a delicious spread. Use this substitute for appetizers, dips, and pasta sauces.
A low-calorie version of this cheese is also available for those who prefer a lighter cheese — Laughing Cow comes in at 35 calories versus Boursin's 120.
Best For: Appetizers, dips, cheese platters
One of the joys of Boursin is that it comes in several delectable flavors, which make it ideal for occasions where you want to serve something special.
Beecher's Handmade Cheese is a farmer's cheese, with that typical salty taste of unripened cheese. This version also packs a flavor punch, ideal for an unusual appetizer or after-dinner cheese platter.
An excellent match for texture, Beecher's has the same soft, spreadable quality as Boursin and is flavored with garlic, herbs, and even olives. If you'd like to serve something more sophisticated than cheese spread, this is what you should grab.
If you enjoy farmer's cheese, but can't get hold of this artisanal pleasure, look at Best Substitutes For Farmer's Cheese.
Best Substitutes For Boursin On Cheese Platters
One of the handiest ways of serving a crowd is to set out a cheese platter loaded with freshly chopped fruit and vegetables, cold cuts, and crispbreads or chips. What can you use instead of the reliable Boursin?
Chèvre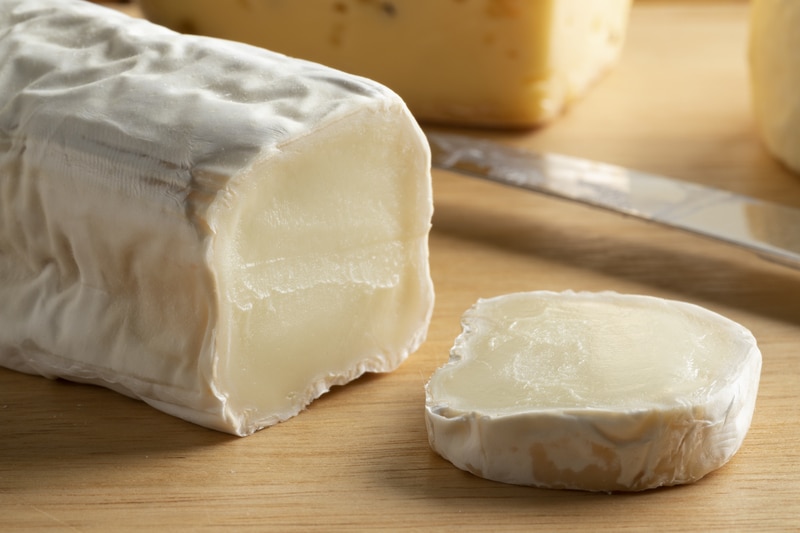 Best For: Appetizers, cheese platters, salads, pizza, pasta
Chèvre is a French goat's cheese and can substitute for Boursin if you choose the soft, creamy variety — as this cheese ages, it becomes dry and crumbly.
You'll generally find chèvre sold as delicate white logs, often rolled in herbs or peppercorns. The aged variety comes in wheels, sometimes rolled in ash.
In terms of consistency, chèvre is an excellent replacement for Boursin, as it is rich, creamy, and spreadable.
Flavorwise, you can find goat's cheese enriched with garlic, herbs, pepper, and other spices. However, despite its butteriness, the natural goaty flavor of chèvre makes it something of an acquired taste and may challenge guests who are used to Cow's milk cheeses.
Try putting out some of this delightful cheese with fresh French baguettes the next time you're serving grapes or pears and enjoy the sharp, addictive flavor. Add some crisp white wine for a taste experience.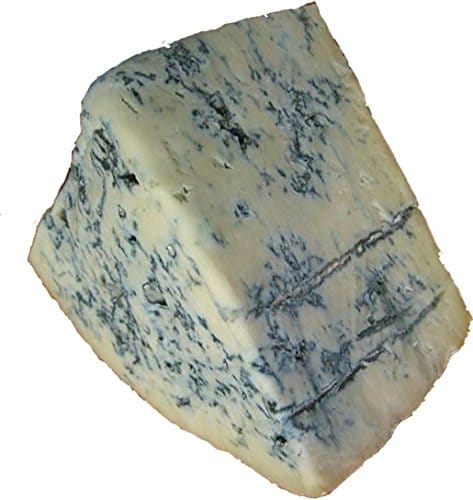 Best For: Appetizers, cheese platters, salads
If you're looking for an unusual cheese for a cheese platter, try gorgonzola dolce. Yes, this is a rich blue cheese, but the Italian dolce version is much milder and creamier than the harsher naturale or piccante varieties, with a flavor profile more like sour cream than stilton.
The texture of gorgonzola is more crumbly and less spreadable than Boursin. It lacks the herbaceous zing of the herbs but has a delicious flavor of its own that will satisfy your longing for a salty bite of cheese as a snack or to accompany figs and port.
Best Substitutes For Boursin In Cooking and Baking
Boursin cheese has many applications as an ingredient in the kitchen, and you can happily add it to tarts, soups, sauces, and salads. What else helps enrich dishes with the creaminess of Boursin?
Fromage Frais
Best For: Appetizers, dips, sauces, baking, potatoes, dressing, salads, crudites
Fromage frais, a soft, creamy French cheese, was one of Boursin's original ingredients to develop his name-brand cheese, so it is an excellent substitute.
Sometimes confused with yogurt, fromage frais also contains live cultures, but it is more like cream cheese than the dairy product you put on your granola.
Fromage frais, although made with cream, is low in fat and has a bland taste. This taste makes it the ideal base for other flavors, so use it instead of Boursin if you create an appetizer or dip with lots of garlic, herbs, or spices.
Fromage frais is also suitable for sweet and savory bakes and makes fabulous desserts, especially when combined with fruit.
Cream Cheese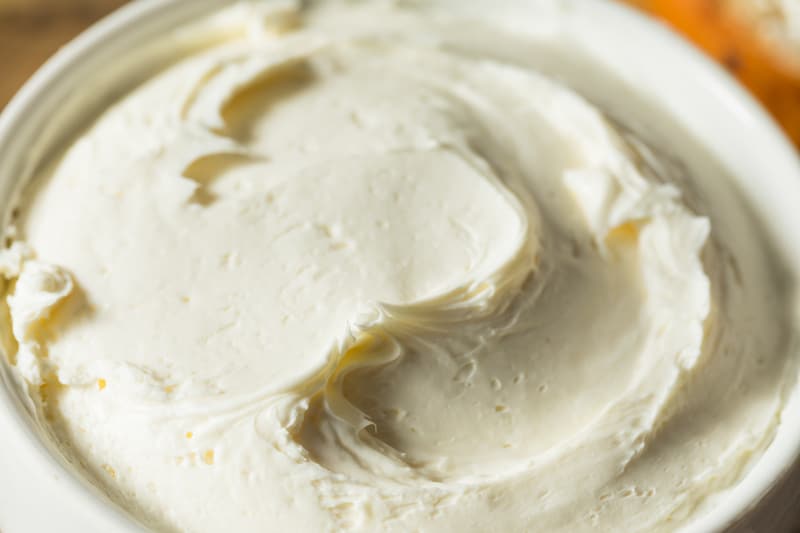 Best For: Dips, sauces, baking, potatoes, dressing, salads, mac and cheese, soups
Although the Laughing Cow brand mentioned above is a cream cheese spread, you could use any brand of cream cheese as a substitute for Boursin.
If what you want from your Boursin is the texture, that creamy ability to melt into sauces for pasta or chicken, enrich mashed potatoes, or add lusciousness to a quiche, then any full-fat cream cheese will do the trick.
Unless you choose a flavored cream cheese, you won't get the tang or spice of Boursin's tantalizing additions, but you will get the rich cheesy flavor.
Neufchâtel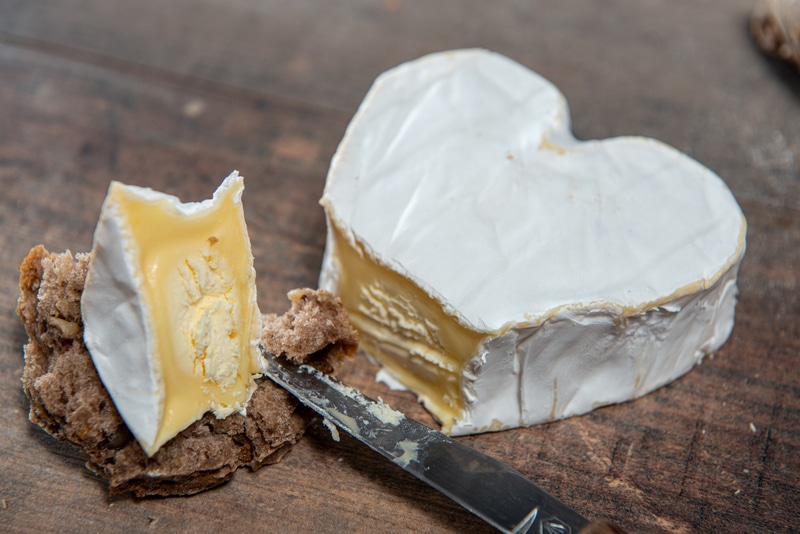 Best For: Dips, quiches, tarts, pastries, baked veg
Another French cow's milk cheese, Neufchâtel, is similar to cream cheese, especially if it is unaged.
Although you can find French Neufchâtel, which is made only with cream and often in the shape of a heart, American Neufchâtel combines milk and cream and is usually lighter and has fewer calories.
Aged Neufchâtel develops a rind, rather like brie or camembert, but younger cheese is very similar in texture to Boursin. Flavorwise, it is much like cream cheese
Use Neufchâtel in any dish you were planning to bake with Boursin, as it offers the same luscious consistency and melting richness. The advantage of Neufchâtel is that you can also use it in sweet desserts and bakes.
Mascarpone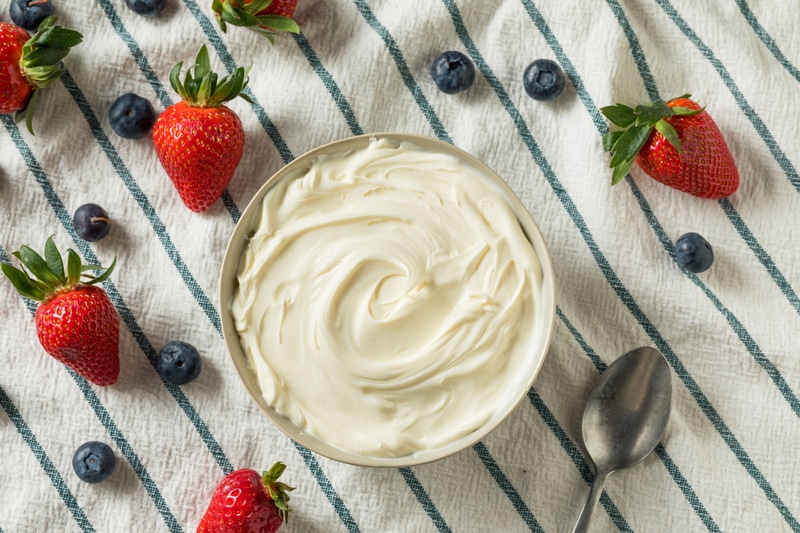 Best For: Sauces, stuffing, toppings, soups
You've guessed it — mascarpone is another soft, creamy cheese, this time Italian in origin. With almost double the amount of cream than cream cheese, mascarpone is more like sour cream than cheese and is decadently rich.
Mascarpone is the main ingredient in tiramisu, that glorious Italian dessert, but can work well as a substitute for Boursin when you're cooking. Add a dollop of mascarpone to pasta sauces, stuffing for chicken, rich soups, risotto, scrambled eggs, or savory vegetable tarts.
There's not an exact consistency or flavor match between the two kinds of cheese, but if you want to add a hint of luxury to any meal, this is a good substitute.
Best Low-Calorie Substitutes For Boursin
Boursin cheese packs a heart 120 calories per portion, with plenty of saturated fat, so if you're looking to cut calories or eat low-fat, then you can look at one of these substitutes.
Cottage Cheese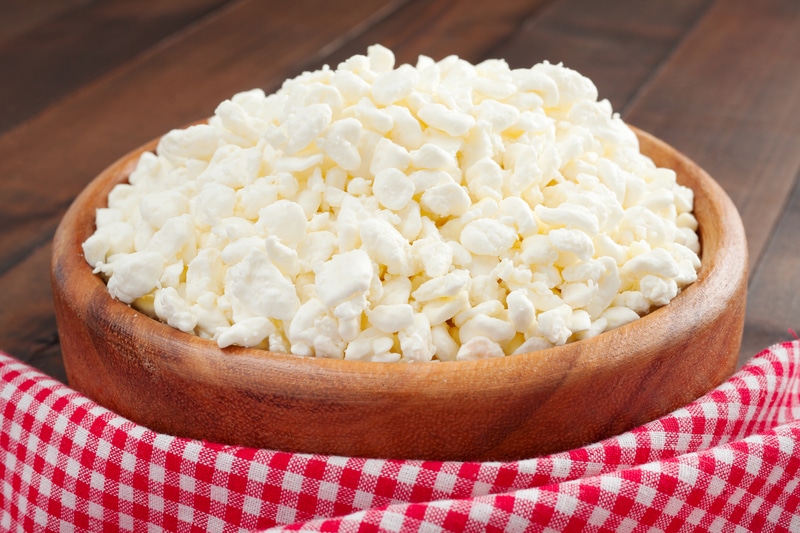 Best For: Dips, snacks, salads
The healthier cousin of cream cheese, cottage cheese, is lower in fat than Boursin and even comes in a no-fat variety. An entire cup of cottage cheese has only 163 calories.
In terms of texture and flavor, cottage cheese isn't the most fantastic match for Boursin, but its chunky lightness spreads happily on crackers, makes a decent dip, and provides creaminess when added to other dishes.
Quark
Best For: Dips, sauces, appetizers, salads, baking
If cottage cheese is a step too far, try quark, a German cheese that combines heavy cream and buttermilk. Tasting like a cross between cream cheese and yogurt, quark is lighter than cream cheese and a good choice when watching calories.
Quark is a better match for Boursin with a thicker, creamier consistency than cottage cheese and a tang from the buttermilk. Quark is delicious with herbs chopped into it, and the addition of chives and garlic gives you the impression that you're eating Boursin.
Very versatile, you can use quark as a spread, in savory dishes, desserts, and topping for fruit, honey, and granola.
For more healthy alternatives to rich, creamy cheeses, read 14 Healthy Cream Cheese Substitutes.
Best Vegan Substitutes For Boursin
If you're avoiding lactose or living a vegan lifestyle, there are some excellent substitutes for Boursin, so you can still enjoy those crackers.
Best For: Dips, appetizers, salads, toppings
There are many varieties of dairy-free cream cheese made from plant sources.
For example, Kite Hill produces a delicious almond-milk cheese-style spread with the same herbaceous flavor as Boursin, with chives and pepper.
Violife's vegan cream cheese contains potato starch, coconut oil, and olives, making it a suitable Boursin flavor replacement.
Tofutti's offering is tofu-based cream cheese, with a blander flavor, which tastes delicious with added herbs and seasonings.
These dairy-free cheeses are salty, tangy, and delightful on crackers, dolloped into a baked potato, or filling a savory pancake.
Cashew Cheese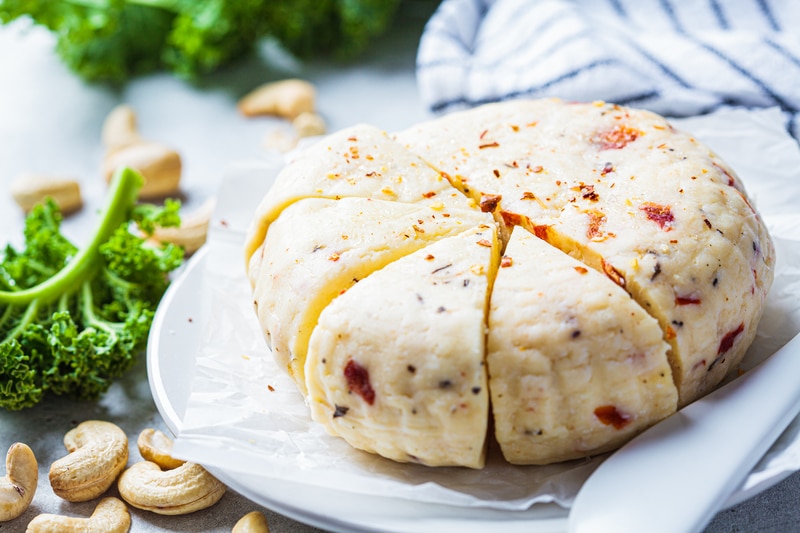 Best For: Dips, appetizers, salads
Another popular vegan alternative to soft, white cheese is cashew cheese. This spreadable cheese contains cashews, water, and nutritional yeast.
Many vegans make their own cashew cheese, seasoning it to taste like their favorite Boursin variation, including herbs (especially chives and oregano), garlic, lemon juice, miso, and red pepper.
Cashew cheese can stand as a spread in its own right, with many fans enjoying its buttery nuttiness and creamy denseness more than the blandness of traditional dairy cheeses.
Best For: Dips, sauces, baking, potatoes, dressing, salads, mac and cheese, soups
Silken tofu can be a Boursin substitute if you need a creamy element to thicken a sauce or soup. However, tofu doesn't have a strong flavor of its own and tends to take on the flavor of other ingredients, so it's not a good substitute for the taste of Boursin.
What Are The Best Substitute For Boursin Cheese?
If you're out of Boursin cheese or subscribing to a vegan way of life, there's no reason to panic. You can substitute cream cheese, farmer's cheese, fromage frais, mascarpone, Neuchâtel, chèvre, gorgonzola, cottage cheese, or quark, whether you're making an appetizer, dip, soup, or salad. Several dairy-free options mimic the texture and flavor of Boursin.
---
Recent Recipes