Irresistible Low FODMAP Muesli
When you're living with a low FODMAP diet, there are certain things that are just plain hard to find. One of those things is breakfast. So many options for breakfast come with dried fruits or honey glazes that just don't fit the low FODMAP requirements. No one wants to skip a meal, so what can be done? We've found the answer for you!
If you're missing the delightful crunch of muesli in the morning, then keep reading. We're going to teach you how to make a low FODMAP muesli that you'll love. It doesn't sacrifice any flavor, either, so you won't feel like you're missing out on the most important meal of the day whatsoever!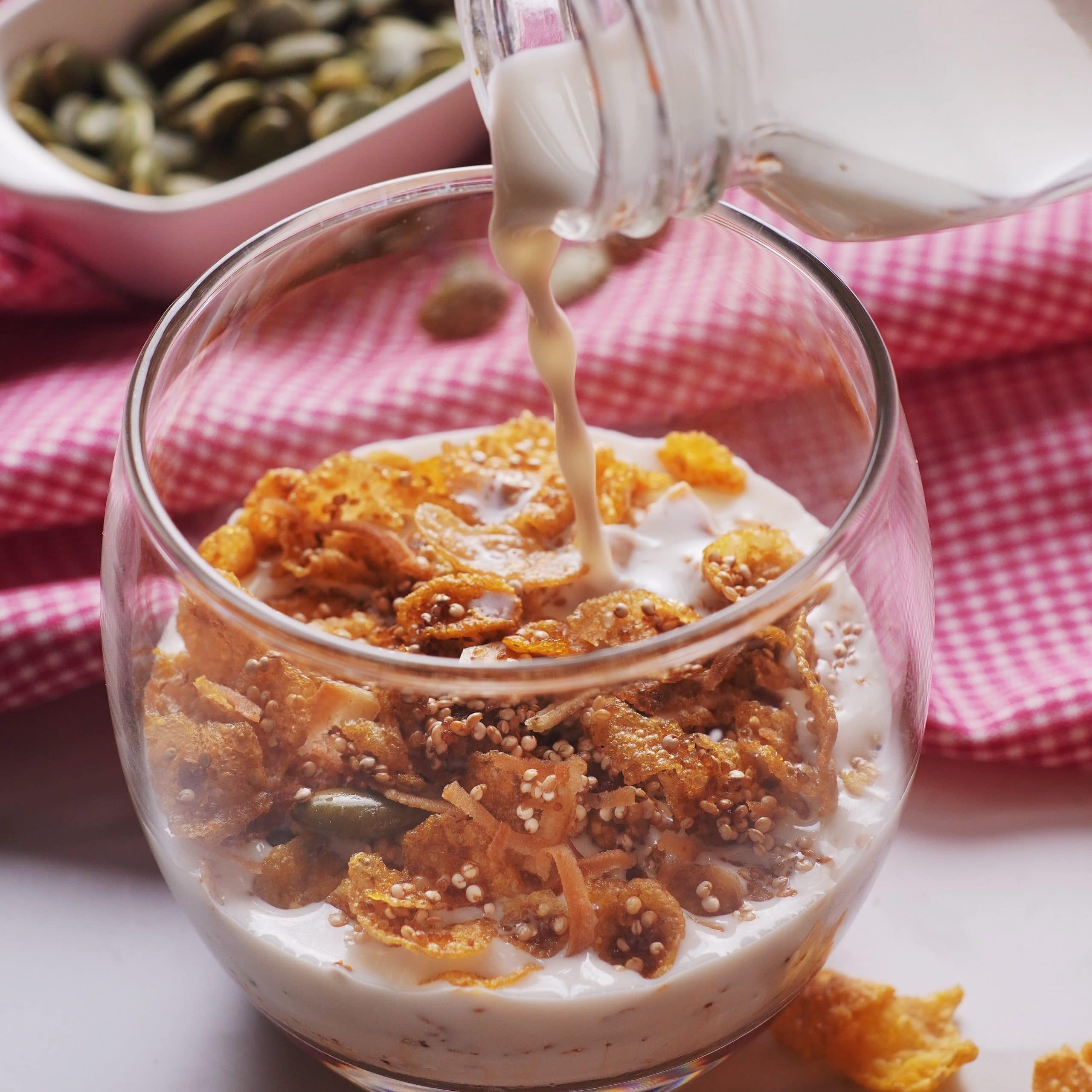 Ingredients
5

cups

of gluten-free cornflakes

1.5

cups

of puffed quinoa

7

tablespoons

of dried shredded coconut

4

tablespoons

of pumpkin seeds

⅓

cup

of brown sugar

6

tablespoons

of olive oil

⅛

cup

of banana chips
Instructions
Preheat your oven to 300ºF.

Take a look at your cornflakes. If they're large, place them in a plastic bag and crush them slightly. You want them to be the size of cereal.

Place the cornflakes, puffed quinoa, dried shredded coconut, pumpkin seeds, and brown sugar into a large mixing bowl. Mix them together until evenly distributed.

Add the oil to the bowl, and mix it with the ingredients thoroughly. All of the muesli should be evenly coated so that it cooks evenly.

Line a baking sheet or roasting tray with baking paper. Lay the muesli on the tray evenly.

Place the pan with the muesli on it into the oven. After 10 minutes, toss the ingredients evenly.

After tossing, allow the muesli to cook for another 10 minutes.

Remove the muesli from the oven and allow it to cool completely.

Lightly crush the banana chips and add it to the muesli. Mix the ingredients thoroughly.

Store in an airtight container for up to two weeks!

Enjoy your Low FODMAP Muesli!
Video
Nutrition
Calories:
535
kcal
|
Carbohydrates:
72
g
|
Protein:
11
g
|
Fat:
24
g
|
Saturated Fat:
6
g
|
Polyunsaturated Fat:
4
g
|
Monounsaturated Fat:
12
g
|
Trans Fat:
1
g
|
Sodium:
83
mg
|
Potassium:
402
mg
|
Fiber:
5
g
|
Sugar:
16
g
|
Vitamin A:
99
IU
|
Vitamin C:
1
mg
|
Calcium:
35
mg
|
Iron:
3
mg
Notes & Tips
This is an easy way to make your own muesli at home. However, you may be wondering about some of the ingredients. Puffed quinoa is an ingredient you may or may not be familiar with. If you haven't seen it in your grocery store before, check the gluten-free section first. It tends to be stocked there.
When buying your cornflakes, ingredient checking is a must. Many cornflakes are gluten-free, but they're sweetened with ingredients that aren't conducive to a low FODMAP diet. Some of the ingredients you may see are inulin, apple juice, pear juice, apple fiber, concentrated juices, or honey. Some even contain high fructose corn syrup, which can be very detrimental to someone who must adhere to a low FODMAP diet.
Now, onto the shredded coconut. You may be saying to yourself, "That's got to be a mistake, right?" Well, thankfully, shredded dried coconut can be consumed by people on a low FODMAP diet! It just has to be restricted. Each serving of this muesli recipe provides just over a tablespoon of the dried, shredded coconut. This is well within the limits of the low FODMAP diet, as the recommended safe serving size for dried shredded coconut is ¼ of a cup or less. If you have specific issues with coconut, tread with caution. Otherwise, you're good to go!
The last thing to take into consideration when it comes to the ingredients list are the banana chips. Like the cornflakes, check your ingredients. Naturally dried banana chips are safe, but any added sweeteners can present a problem.
Substitutions
With a recipe as simple as this, it's hard to come up with too many solutions! However, if you're not affected by oats, you can certainly substitute some cornflakes with oats instead! Start small, substituting about 1 cup of oats for 1 cup or cornflakes. Then, if you decide that's the way you prefer this recipe, then you're good to go! You can also increase the yield of the recipe by adding oats instead of substituting them in.
If you're looking for a sweeter variation that still adheres to the needs of a low FODMAP diet, you can add a tablespoon or two of maple syrup! Maple syrup is a low FODMAP sweetener that can take your muesli to the next level.
Now, are you looking to make your muesli a little more fruity? Sometimes, banana chips don't do the job alone. Thankfully, there are some dried fruits that are low FODMAP when added in small quantities. In most cases, you can add raisins, cranberries, and dates. Just be sparing with these, as they need to fall under a certain serving amount, just like the coconut. Sticking to a tablespoon or less is the best practice.
Common Questions
How long does this muesli recipe stay fresh?
No matter how large the batch you make is, the "best by" date for this muesli recipe stays the same. You've got two weeks to get this muesli eaten before it isn't considered good.
Do I need to line my roasting pan with baking paper?
It prevents a lot of the possible mess that you may encounter if you don't. The brown sugar likes to stick to the pan, making it feel impossible to clean sometimes!
Is this good as a hot cereal?
It could be, if you substitute the oats for the cornflakes. Regardless, it's absolutely delicious when it comes out of the oven, right after roasting!
Sides & Pairings
The best thing to pair this with is your favorite low FODMAP milk, as well as some fresh, low FODMAP fruits! It also pairs well with Greek yogurt, as long as you keep the serving size small, of course.
If you're looking for more recipes to add some variety to your diet, be sure to check out all of our online guides! We have plenty of information when it comes to global recipes, as well as vegan recipes! We also cover plenty of different food substitutions. Be sure to check them all out!
---
Recent Recipes