Homemade Pineapple Upside Down Cake
Making homemade pineapple upside down cake from scratch may sound intimidating, but it's surprisingly simple. This easy delicious pineapple upside down cake will surely impress your guests. It's also remarkably budget-friendly, but no one would've guessed because it looks so elegant and classy.
Pineapple upside down cake is the only cake my dad knows how to bake and he proudly claims to have perfected the recipe over the years. So, you can imagine if a non-baker can make it, anybody can. I'm happy to be able to share all our family trade secrets here.
My dad vows that the best method for making homemade pineapple upside down cake is in a cast iron skillet. Now, I've tried making this recipe in a round baking pan as well and it still turned out great, but he's right.
The cast iron skillet helps the pineapples in butter and sugar caramelize and release this delicious syrup that penetrates the bottom (or top?) of the cake. I don't know about you, but caramelized butter and sugar is one of those flavor combos that I live for. Mixed with the fruity pineapple slices…it's absolutely divine.
Now, let me share the easy steps on how to make homemade pineapple upside down cake in a cast iron skillet (or baking pan)!
A 15-ounce can of pineapples has about 8 slices which are perfect for this recipe. But you can use an additional 3 ½ slices (all cut in half) to place on the border of the skillet/pan in between the other 7 pineapple slices. This will give you a pineapple border in addition to the pineapple top. Ideal if you want a fruitier cake.
If you're making this cake in a round springform pan, don't remove the sides before flipping it. Simply run a butter knife around the sides and loosen them slightly. Then, wearing oven mittens, place a large plate on top of the pan, grab the edges of the cake pan and quickly flip it.
Let the cake cool for at least 10-15 minutes before flipping it and make sure to use oven mittens to hold the skillet or pan. Because it's still going to be hot and you don't want to burn yourself.
Flip the cake quickly. This ensures that the pineapple syrup and caramelized butter and sugar don't start to slide to one side of the cake. It also leaves fewer chances of getting burned.
I highly recommend making this homemade pineapple upside down cake from scratch, don't use a cake mix. This vanilla sponge cake recipe has been tested to be the perfect consistency for pineapple upside down cake, specifically.
Wondering how to make pineapple upside down cake moister? Just bake it for 5 minutes less. If you love cakes that are a little under-baked, this is a good option, but you'll compromise the caramelization on top (or bottom?).
Pineapple upside down cake tastes best warm, but you can store it outside of the fridge for up to 2 days, covered or uncovered.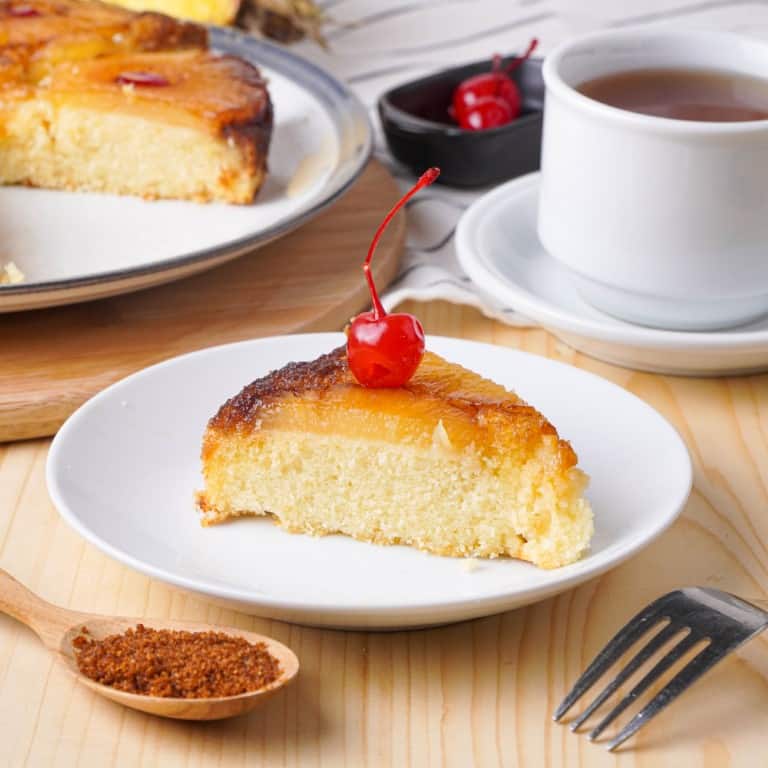 Ingredients
3

Tbsp.

butter

⅓

cup

packed brown sugar

8

pineapple slices

drained and patted dry

Optional: 4 maraschino cherries

halved

1 ⅓

cups

all-purpose flour

⅔

cup

granulated sugar

2

tsp.

baking powder

2/3

cup

milk

¼

cup

butter

softened

1

egg

1

tsp.

pure vanilla extract

¼

tsp.

salt
Instructions
All ingredients ready? Let's begin!

Melt the 3 tablespoons of butter and pour into a 9-inch cast iron skillet or round baking pan. Stir in brown sugar until dissolved.

Arrange pineapple slices in a circle with one in the center, and place the cherries halves in the center of the pineapple rounds. Set pan aside.

In a medium mixing bowl, beat together softened butter, granulated sugar, vanilla extract, and salt until fluffy and creamy. Use an electric mixer or a standing mixer with a whisk attachment. Add egg and milk, and beat until combined.

Pour flour and baking soda into the bowl on top of the wet ingredients, and sift them together as best you can. Then beat the flour and baking powder into the wet ingredients on medium speed for about 1 minute until combined. Use a spatula to transfer all the batter onto the prepared pan with pineapples, and spread it out evenly.

Bake at 350°F for 30-35 minutes or until a wooden toothpick comes out clean. Cool on a wire rack for 10-15 minutes, then loosen the sides with a butter knife. Using oven mittens, invert the cake onto a plate. Allow to cool for 5 minutes, but not more.

Serve warm with an optional cup of tea or a Pina Colada Mocktail. Enjoy!
Nutrition
Calories:
230
kcal
|
Carbohydrates:
51
g
|
Protein:
4
g
|
Fat:
2
g
|
Saturated Fat:
1
g
|
Polyunsaturated Fat:
0.3
g
|
Monounsaturated Fat:
1
g
|
Trans Fat:
0.003
g
|
Cholesterol:
24
mg
|
Sodium:
223
mg
|
Potassium:
140
mg
|
Fiber:
3
g
|
Sugar:
36
g
|
Vitamin A:
113
IU
|
Vitamin C:
5
mg
|
Calcium:
146
mg
|
Iron:
1
mg
Substitutions & Serving Suggestions
The maraschino cherries are entirely optional. I find they complement the pineapple upside down cake wonderfully. You can also substitute fresh pitted cherries or defrosted cherries, cut in half if you'd like.
Canned pineapple slices are sweeter, cheaper, and ready to use which makes them perfect for this easy delicious pineapple upside down cake. But did you know that you can also use fresh pineapple rounds? Just make sure to remove the core and skin to avoid any tough pieces, and cut them into equal ½" slices.
If you want to make this recipe dairy-free, you can use vegetable shortening or vegan butter instead of butter. And replace the milk with your unsweetened vegan milk of choice.
To make a vegan pineapple upside down cake, replace the butter and milk as mentioned above, and substitute a vegan egg for the egg. We have compiled a list of the best vegan egg brands for you to check out. I wouldn't use a flax egg in this recipe.
To make homemade gluten-free pineapple upside down cake, substitute a gluten-free flour mix for the all-purpose flour. Make sure to read the package instructions to ensure you use the right amount.
I love serving this cake with a cup of tea after dinner or for a snack. But if you want to make a pineapple extravaganza, serve it with this delicious and easy Pina Colada Mocktail. Or spike it with a little white rum for a classic piña colada.
How To Store Homemade Pineapple Upside Down Cake
Homemade pineapple upside down cake can be left at room temperature and uncovered for up to 24 hours. Cover it with plastic wrap and you'll increase its life by up to 48 hours.
To keep the pineapple upside down cake for up to 4 days, store it in the fridge in an airtight container. Wait until the cake has cooled completely before storing it.
Can You Freeze Homemade Pineapple Upside Down Cake?
Yes, you can! To store it in the freezer, let the cake cool completely, then cover it with a layer of plastic wrap, followed by a layer of aluminum foil, and place it in an airtight container for up to 3 months.
Easy Pineapple Upside Down Mini Cakes
You can make this recipe into adorable mini pineapple upside down cakes using muffin cups and a cookie sheet to flip them. Here's how:
Divide the melted butter and the sugar into 8 teaspoons each and add one teaspoon of each to ungreased large muffin cups.
Place one pineapple slice in each muffin cup with half a maraschino cherry in the center.
Divide the cake batter evenly amongst the muffin cups.
Bake for 20-25 minutes or until golden brown. Let cool for 5-10 minutes.
To flip the mini cakes, place a cookie sheet upside down over each muffin cup and use oven mittens to hold the muffin pan. Turn it quickly and remove the pan. Serve warm and enjoy your cute creation.
---
Recent Recipes