Easy Low FODMAP Sandwich Bread
Don't make the mistake of thinking you have to sacrifice all your favorite sandwiches because of your low FODMAP or elimination diet. Our Low FODMAP sandwich bread recipe will have you baking up a springy, delicious loaf with texture and taste that gives any gluten-flour bread a run for its money. Many will end up preferring the substantial serving.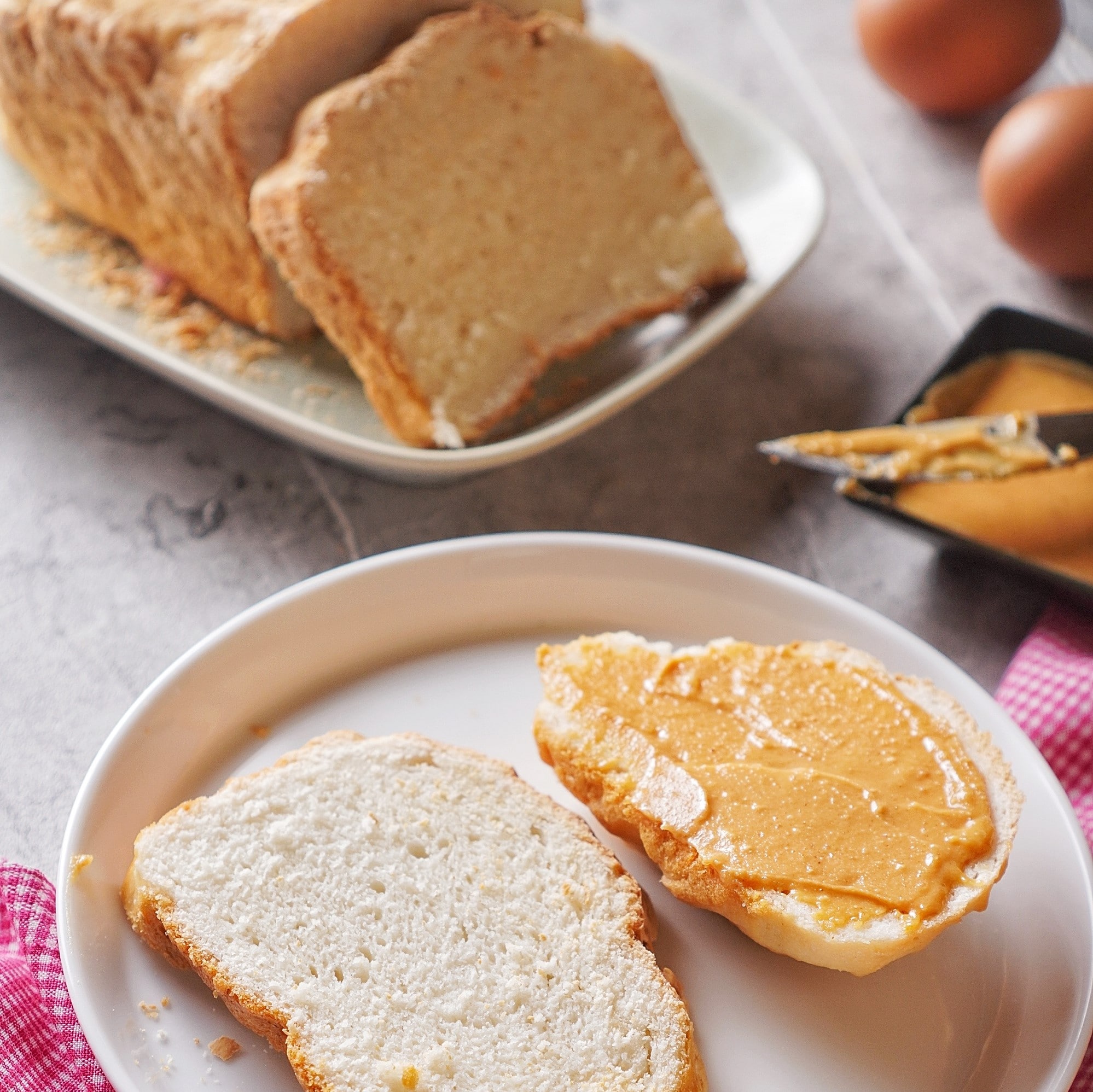 Ingredients
¾

Cup

Warm Water

2

Tablespoons

Granulated Sugar

1

Packet / 2 ¼ Teaspoons Instant Yeast

1

Cup

Sweet/Glutinous Rice Flour

1 ¼

Cups

Brown Rice Flour

¾

Cup

Tapioca Flour

¾

Tablespoon

Xanthan Gum

½

Teaspoon

Baking Powder

3

Large Egg Whites

Whisked

2

Tablespoons

Olive / Vegetable Oil

1

Teaspoon

Apple Cider Vinegar

1

Teaspoon

Refined Salt
Instructions
Dissolve the sugar in warm water and mix in the yeast. Allow it to stand for 10 minutes.

Sift the sweet rice flour, brown rice flour, and tapioca flour into a large bowl or the bowl of a stand mixer.

In a large bowl or the bowl of your stand mixer, combine the sweet rice flour, brown rice flour, tapioca flour, xanthan gum, and baking powder. Whisk until well combined.

Add the yeast, eggs, oil, and apple cider vinegar.

Mix until a sticky dough has formed and add the salt.

Continue mixing until you have a smooth dough that springs back when depressed.

Oil, grease, or nonstick spray an 8 1/2" loaf pan and evenly transfer the dough into the pan.

Cover the dough with oiled plastic wrap and place it in a warm area undisturbed. Allow the dough to rise for an hour or until it has reached just under double its original size.

Preheat your oven to 350°F.

Remove the plastic wrap from your bread.

Bake at 350° for 45 minutes.

After removing the loaf from the oven, transfer it to a wire rack and allow it to cool completely before slicing.

Enjoy your low FODMAP sandwich bread!
Video
Nutrition
Calories:
252
kcal
|
Carbohydrates:
49
g
|
Protein:
4
g
|
Fat:
4
g
|
Saturated Fat:
1
g
|
Polyunsaturated Fat:
1
g
|
Monounsaturated Fat:
3
g
|
Sodium:
366
mg
|
Potassium:
112
mg
|
Fiber:
2
g
|
Sugar:
3
g
|
Calcium:
21
mg
|
Iron:
1
mg
Tips
Don't make the mistake of plastic wrapping your bread for rising without first oiling or applying nonstick cooking spray to the plastic wrap first. You'll have a sticky mess that ruins the soft, silky smooth texture of your bread. The temperature of your home and kitchen makes a huge difference to the rising time. If your loaf hasn't doubled in size after an hour or more, simply leave it to rise until it has doubled. Otherwise, your bread will be dense, chewy, and lacking texture.
Pay close attention to the top crust of your loaf of sandwich bread. Cover the top of the loaf with a sheet of aluminum foil if it begins to show signs of browning too early. Remove just before the end of baking to brown off the crust to completion. Unless you leave your loaf to cool on a wire rack significantly, it'll be hard to slice. Slicing bread while too hot and freshly removed from the oven can cause the shape of your loaf to distort.
Substitutions
If you don't have xanthan gum available, substitute it with a solution of two tablespoons of water to a tablespoon of flaxseed. Allow the solution to stand for twenty minutes and combine it into your dough. The texture won't have the perfect crumb of bread made with xanthan gum, but it'll come close.
What Size Baking Pan Do I Need?
The optimally sized baking pan for a tall loaf of sandwich bread is an 8 ½" x 4 ½ " x 2 ¾ " pan. However, a 9 x5″ baking pan is suitable but grants a sorter loaf. Keep in mind, this low FODMAP sandwich bread recipe makes dough best suited to the taller pan, which has a 15% higher capacity.
Why Does My Gluten-Free Bread Collapse Or Flatten?
Gluten-free bread falls flat when it has overrisen. Do not allow your dough to rise higher than the top of your pan, or the excessive exposure to air will aerate the dough and cause it to collapse either before baking or in the oven.
How Long Does Low FODMAP Sandwich Bread Last?
Our low FODMAP sandwich bread stays fresh for two to three days. It can also be conveniently frozen to be later reheated, but this generally dries out the bread. Low FODMAP sandwich bread dough can be made in advance and refrigerated either before or after resting in an airtight container up to seven days in advance. We do not recommend freezing dough as it grants harder crumbs and lower overall volume.
Is It Important To Sift Gluten-Free Flour?
It is imperative that you sift gluten-free flour as it is more prone to clumping together and forming lumps than other varieties of flour that contain gluten. It is far more important to sift gluten-free flour than regular flour. Sifting aerates the flour, making it easier to combine with the wet ingredients, creating a fluffier consistency overall.
Is Xanthan Gum Necessary In Baking?
Xanthan gum helps to give dough elasticity in much the same way as gluten does in a regular recipe. It can be omitted, but the difference in the final is profound. Gluten-free flours baked without xanthan gum or a suitable substitute like flaxseed or chia seed and water come out dry and crumbly while struggling to rise and reach their full volume. Both gluten-free and gluten-containing baked goods rely on xanthan gum to enhance texture, promote elasticity, increase viscosity, and reduce moisture loss. Xanthan gum also improves gas retention during proofing and baking.
What Is Xanthan Gum?
Xanthan gum is a food additive that's very useful to gluten-free baking and various other culinary applications.Despite sounding unnatural, xanthan gum is actually made by inoculating corn sugar with a Xanthomonas campestris, the plant-bacteria responsible for black rot. With the help of xanthan gum, bakers and cooks can emulsify, stabilize, thicken and prevent the separation of various ingredients.
What To Serve With Low FODMAP Sandwich Bread?
Who doesn't love a meatball sandwich? Give this tasty bread a try with our homemade low FODMAP meatballs. Those with leftover low FODMAP spaghetti sauce have a real treat waiting when it comes to sandwiches the next day. While any sauce will work, slathering your sandwich with homemade fermented sriracha sauce, Bulgarian Lutenitsa, or spicy ajvar spread is sure to lift its flavor to all-new levels.
---
Recent Recipes