Best Low FODMAP Spelt Bread
When it comes to specialized diets, one food always seems to be problematic for people. Yep, you guessed it, it's bread. Bread tends to be harder for people to eat when they have dietary restrictions. This can be due to the gluten content found in breads, or because of all of the different sugars. Thankfully, there are plenty of gluten-free options available, but not as many low FODMAP options can be found.
However, there is a way that you can eat bread, even if you have to follow a low FODMAP diet. That's by learning to bake your own spelt bread! Spelt bread is known to be lower in FODMAPs than modern wheat varieties, thanks to the low content found in spelt grain and spelt flour. Combining that with the sourdough process, you'll be able to enjoy a low FODMAP bread made in the comfort of your own home! Keep reading to learn how!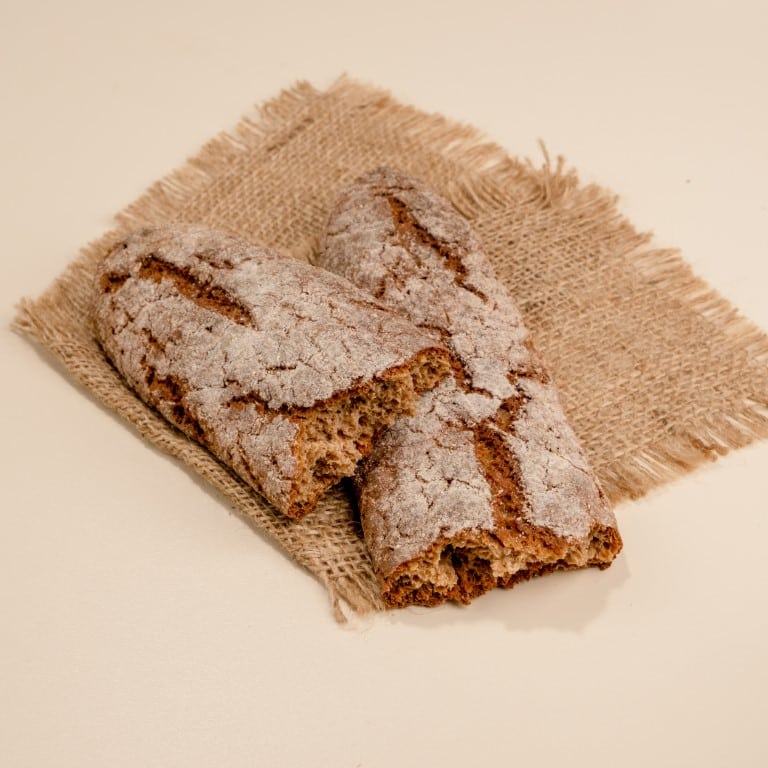 Ingredients
Sourdough starter

14

ounces

of strong spelt flour

10.5

ounces

of water

½

teaspoons

of salt
Instructions
To make your own low FODMAP sourdough spelt bread, you're going to need two days. This is because the sourdough process that makes spelt bread low FODMAP takes time. We'll explain the details behind that later on though! If you don't have a sourdough starter, don't worry! We have one listed under our sourdough bread recipe that can help make this baking project some to life!
Day One – Morning
This process starts on the morning of the first day. You're going to need to feed your sourdough starter. To do this, you'll discard about half your starter, replacing it with equal parts strong flour and water. After combining these three ingredients, you'll leave it someplace cool to ferment for the remainder of the day.
Day One – Evening
When you come back to your starter, you should find that it's quite a bit more bubbly than what it was in the morning. This means that the fermentation process is working! Now that you have a stronger starter, it's time to make your Poolish. From your starter, take about 1.5 ounces and place it in a bowl. Then, add 5 ounces of strong spelt flour, and 5 ounces of water. Mix everything, then cover the bowl, leaving it out at room temperature.
Day Two – Morning
In the morning you'll have your Poolish to work with. Mix the Poolish with 9 ounces of strong spelt flour, 5.5 ounces of water, and ½ teaspoons of salt. Knead the dough until it's stretchy and smooth. You don't want any patches that look like they're still dry flour. After this has been accomplished, cover the bowl once again, leaving it out to prove for the day.
Day Two – Evening
All of the work for the last day and a half is about to pay off! Dust a cutting board or your counter with flour and roll the dough out of the bowl. It will have a side with a skin, as well as a sticky side. You want to roll the dough in such a way that the sticky side is contained within the skin of the dough. When doing this, be sure to shape the dough into what your loaf will look like! Once accomplished, cover the dough with a cloth, leaving it out for 2 or 3 more hours.

After the time has passed, preheat your oven to 400°F. Once warm, bake the loaf for 45 minutes. When you check the loaf to see if it has finished baking, tap the underside of it. The thump should sound hollow.

Congratulations, you've baked your very own low FODMAP spelt bread!
Nutrition
Calories:
182
kcal
|
Carbohydrates:
34
g
|
Protein:
6
g
|
Fat:
1
g
|
Sodium:
119
mg
|
Potassium:
0.02
mg
|
Fiber:
5
g
|
Calcium:
1
mg
|
Iron:
2
mg
Notes & Tips
The amount of water that each flour can carry is very different, be sure to check the consistency of the dough. If needed add more water.
When you're baking a bread with a strong flour, you may be wondering how it can be considered low FODMAP. There's a couple of reasons behind this. The first reason relates to spelt flour to begin with. Spelt is lower in FODMAP content than other flours available for your bread baking endeavors. However, the sourdough process further reduces the FODMAPs in your bread.
Sourdough is based on the process of fermentation. During fermentation, small organisms, like yeast, feed on the sugars in the flour that you're using. This causes the bubbling that you see in your sourdough starter. As such, the bread's FODMAP content reduces greatly! This allows you to create your low FODMAP bread.
Substitutions
If you don't want a spelt bread, you can actually use a whole wheat flour instead! The FODMAPs content will be higher, but it is still considered to be a low FODMAP bread. Again, this is all thanks to the sourdough process, and the fermentation that takes place.
In addition to substitutions, however, herbs can be added to the dough during the last steps before baking. This gives you a delicious, herb-infused bread that pairs well with a number of different dishes! It also provides some flavor to an otherwise bland recipe, meaning that you could eat it on its own!
Common Questions
What is strong flour?
Strong flour is any flour that has a higher content of gluten and protein. These flours are especially important when you're making a sourdough loaf, because the starter feeds on the available sugars.
What is spelt flour?
Spelt is an ancient species of wheat that has lower fructan and gluten content than other grains in the same family. This makes it ideal for making low FODMAP and low-gluten breads. It's a flour that you should definitely know about if you have a restrictive diet.
Sides & Pairings
Depending on who you ask, bread goes with just about anything! As such, there are a number of dishes that this spelt sourdough loaf would go well with. We like making this delicious blackened salmon sandwich using the spelt sourdough. It also goes well with a simple lentil soup. No matter what your favorite flavors are, you can be sure we have something for you on our recipe guide!
---
Recent Recipes