Fried Chicken and Waffles Ice Cream
You have probably heard of fried chicken and waffles before. It is more popular in the South and can be found at several fast-food restaurants or you can make it at home. It may sound unusual if you have not grown up around the idea, but it is very yummy (though maybe not the healthiest). Fried chicken and waffles are usually complemented with maple syrup on top or to the side, which adds a good, sweet contrast to the savory fried chicken and more neutral waffles.
As delicious as fried chicken and waffles are, this recipe is another twist on them that turns them into ice cream. This makes a usually hot dish perfect for warmer weather so you can enjoy your favorite tastes while also cooling down in the sun. Fried chicken and waffles ice cream seems to have originated from a restaurant called Coolhaus that is located in Los Angeles. It's been around since 2009, which has given it a lot of time to spread its ice cream's popularity.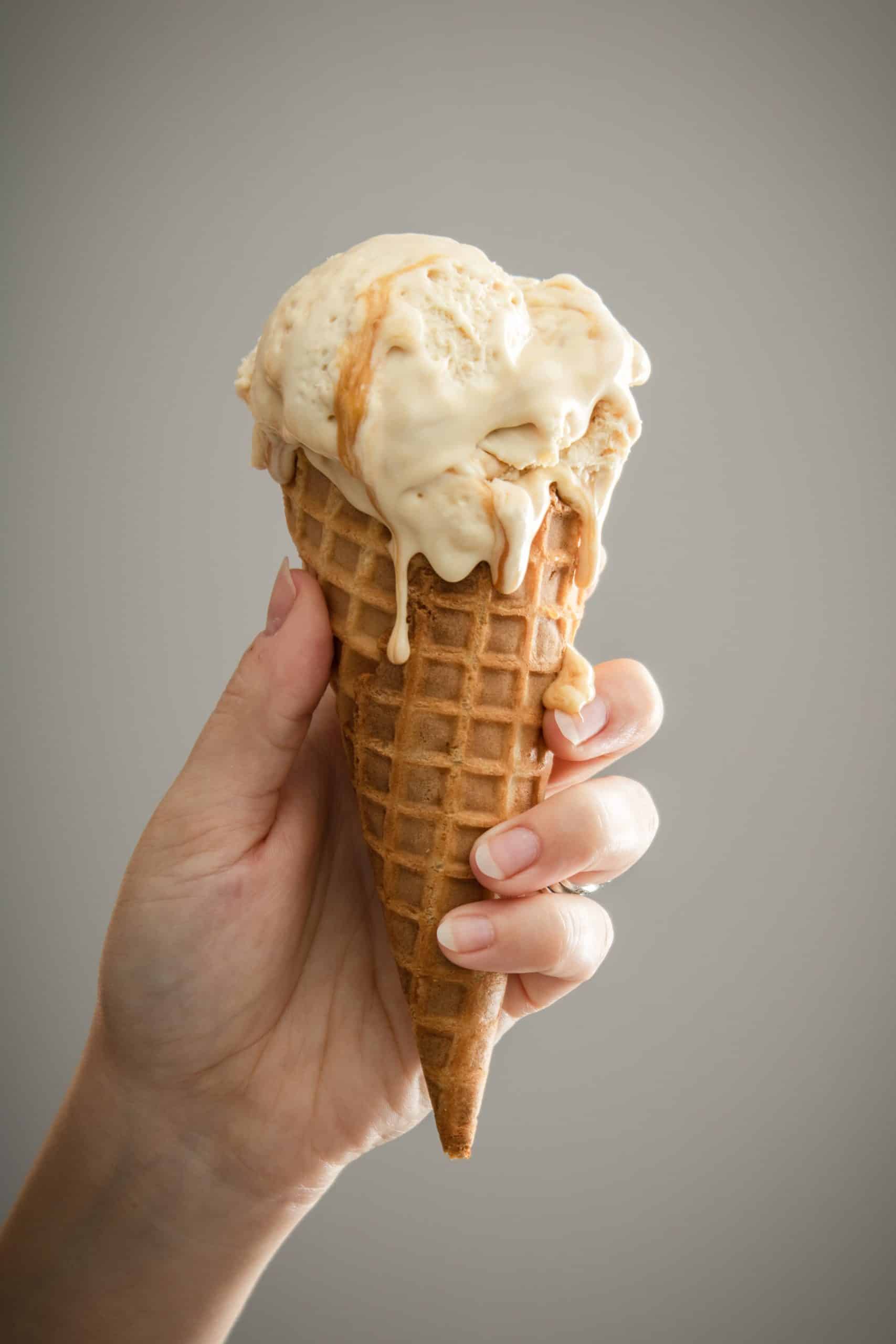 Ingredients
For the Caramel:
1

stick butter

2 ½

cup

brown sugar

2

cup

heavy whipping cream
For the Chicken:
1

tsp

butter

¾

cup

chicken skin

1

tsp

salt

½

tsp

rosemary

¼

tsp

chili powder

1

cup

chicken broth

1

cube chicken bouillon
For the Custard:
2

cups

milk

2

cups

heavy whipping cream

1

cup

brown sugar

6

eggs

1

packet waffle cones
Instructions
To make the caramel: In a saucepan over medium heat, add the butter and brown sugar. Mix with a spoon or spatula while it heats through. The butter and sugar should melt together.

Stir over heat for about another minute, then gently and slowly add the heavy whipping cream. Be careful when stirring as it will probably bubble.

Stir occasionally for about another minute to allow it to thicken.

Remove from heat and let cool. It will thicken as it cools.

To make the chicken: roughly chop the chicken skin into small pieces. Finely chop the rosemary.

In a large pan, add the butter. Place over medium heat and wait for the butter to melt before adding the chicken skin pieces, salt, rosemary, and chili powder.

Stir while the chicken cooks, making sure to get all sides evenly cooked. Do this for 10 minutes or until all the pieces are crunchy and browned.

Add the chicken broth and chicken bouillon cube. Once it begins to boil, immediately turn the heat to low and allow to simmer for 30 minutes.

After 30 minutes, remove the individual pieces of chicken skin and discard.

Add the previously made caramel sauce to the pot and stir until incorporated.

Leave the pot over low heat and allow to simmer for another 30 minutes, stirring occasionally.

Remove from heat and allow to cool before transferring to an airtight container and leaving in the fridge until needed.

To make the custard base: In a medium pot, add the milk and heavy whipping cream. Place it over medium-high heat and allow it to come to a boil before removing from heat.

Separate the yolks from the whites and discard the whites or save them for another recipe. Add the yolks to a medium, heat-proof mixing bowl. Also add the sugar.

Beat together the yolks and sugar until it becomes light and fluffy. You can also do this using a handheld electric whisk or a stand mixer.

After the milk has begun to boil, slowly stir 1 cup into the eggs while frantically whisking the whole time to prevent the eggs from scrambling in the heat. Whisk for a minute.

Transfer the egg mix back to the pot and return it to the stovetop, turning the heat down to low.

Mix together for about 5 minutes or until the mixture is thick enough to lightly coat the back of your spoon.

Pour through a mesh sieve into a large bowl. This is to remove any clumps or skin that may have formed.

Cover and put to chill in the fridge for a minimum of 2 hours, but preferably overnight.

After you have allowed the cream mixture to chill, you may remove it from the fridge and transfer it to the bowl of your ice cream maker. To freeze, follow the machine's instructions. This will likely take several hours.

About an hour before you estimate the ice cream to be done, add the caramel chicken sauce into the bowl of the ice cream machine. The machine should swirl it in with the ice cream.

Place your waffle cones in a ziplock bag and squeeze the air out of it before sealing.

Use a meat mallet or a rolling pin to smash the cones into chunks (or you could just do it by hand if you wanted).

Add the chunks to the ice cream just before finishing so they can be mixed in.

Depending on what texture you prefer, you can serve immediately or transfer to the freezer for a few hours. Serving promptly will result in soft serve style ice cream while freezing it first will yield a harder product.

Serve and enjoy!
Nutrition
Calories:
1157
kcal
|
Carbohydrates:
135
g
|
Protein:
15
g
|
Fat:
65
g
|
Saturated Fat:
40
g
|
Polyunsaturated Fat:
4
g
|
Monounsaturated Fat:
17
g
|
Trans Fat:
0.04
g
|
Cholesterol:
363
mg
|
Sodium:
879
mg
|
Potassium:
541
mg
|
Fiber:
0.03
g
|
Sugar:
134
g
|
Vitamin A:
2731
IU
|
Vitamin C:
1
mg
|
Calcium:
341
mg
|
Iron:
2
mg
Notes & Tips
This ice cream can be stored in an airtight, freezer-proof container in the freezer for several months. Homemade ice cream tends to get harder than store-bought ice cream, so the next time you serve it, you may need to let it sit out for a few minutes first. Alternatively, you can try running it under hot water in the closed container or popping it in the microwave for a few seconds. This can make it much more manageable to scoop and serve.
Serving Suggestions
This ice cream is delicious eaten on its own, but it also makes a wonderful accompaniment to a traditional plate of chicken and waffles. You can always make some fried chicken and waffles to serve alongside, but my personal preference is to make fresh, warm waffles then plop a couple scoops of this ice cream on top. It adds a little texture variety which is fun! The ice cream also is extra special when served in waffle cones.
You do not need any extra topping, as the chicken caramel mixture should be sweet and flavorful enough, but if you want a little bit more you can drizzle maple syrup on top to harken to the topping of regular fried chicken and waffles. There is no wrong way to enjoy this ice cream and I hope you like it just as much as I do! 
Looking to really turn some heads? Make this with our onion ice cream to make people do a double take. Onion ice cream and fried chicken. Yeah.
---
Recent Recipes