Sweet & Easy Flavored Ice Cubes
As a child, you likely made your own flavored ice cubes. Popular flavors included lemonade, fruit punch, and whatever variety of Kool-Aid your parents had on hand. Making flavored ice cubes was a fun little activity that you could easily do without needing adult supervision.
And when the weather was hot, these convenient little treats came in quite handy. We often made a couple of trays as kids and passed them out to our friends as we played outside.
If you would like to show your kids how to make flavored ice cubes, you've come to the right place. We're here to inject some nostalgic fun into your day. And if your kids are old enough, you will give them a fun activity that they can do on their own.
We will also show you how to make some grown-up versions of flavored ice cubes that take the traditional method to the next level. You can still include your kids in this activity, but they will likely require adult supervision. So with that out of the way, let's proceed!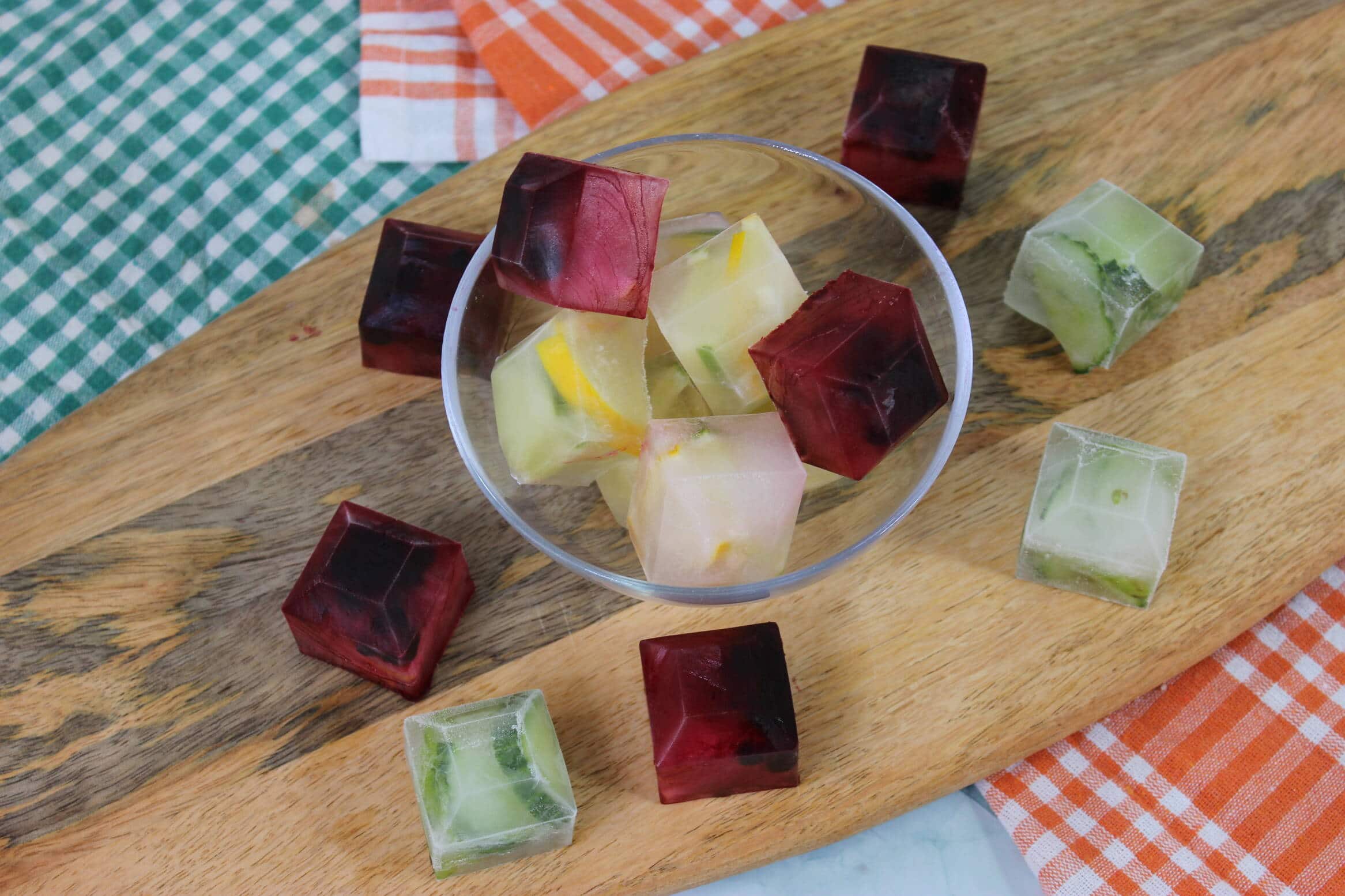 Ingredients
Fruit Juice Cubes
Fruit juice of your choice
Real Fruit Cubes (Pick One or Many)
Grapefruit and rosemary

Blueberry and raspberry

Watermelon and basil

Orange and pineapple

Mango and pineapple

Blueberry and lemon

Strawberry and basil

Blackberry and mint

Cucumber and mint

Lavender and mint

Grape and cherry

Lemon and lime

Apple and pear
Instructions
Fruit Juice Cubes
This recipe is a breeze. Simply pour your favorite fruit juice into ice cube trays and stick them in the freezer.

In about 3 to 4 hours, you will have tasty flavored ice cubes.

Feel free to stick toothpicks or popsicle sticks into the juice. This way, you'll have handy little handles to hold onto when the juice freezes into ice cubes.
Real Fruit Cubes
Thoroughly wash the fruit you wish to use.

But if small portions of each fruit. You want to make sure that they are small enough to fit in each cube compartment in the ice cube tray.

Drop the fruit in each compartment and fill the remaining space with fresh, clean water.

Freeze for 3 to 4 hours.

Enjoy.
Video
Notes
As you can see, there is a virtually endless list of possible combinations you can use when making flavored ice cubes. Don't be afraid to experiment with different combinations to achieve your favorite flavor.
Notes & Tips
Your little ones are going to love making different ice cube flavors. Be sure to let them get in on the action and try their own combinations. This is a great learning opportunity to show your kids how fruit interacts with other fruits and the flavors they're capable of producing.
As you're likely aware, water often gets hazy when it freezes. An easy workaround for this is to boil the water you're going to be freezing before putting it in the cube compartments. For best results, we recommend boiling the water twice.
When your flavored ice cubes are frozen and ready, simply pop them out of the tray and place the cubes in a large freezer bag for later use.
If you're entertaining guests, flavored ice cubes are an excellent way to provide something different from the norm. There's nothing exciting about ice cubes — but when they're filled with fruit combinations, even they become a talking point. It's just a fun way to stand out from the crowd and break free from the typical.
Substitutions
There really are a bunch of different fruit combinations you can come up with for flavored ice cubes. You can stick to the traditional pairings or think outside the box and create new and exciting flavors from all of the different fruits available.
Get your kids involved and let them pick out different types of fruit at the supermarket. It's a great way to get them excited for something other than TV or video games.
Common Questions
Can I use flavored water instead of regular water?
Sure! There's no reason you can't use flavored water to give your flavored ice cubes some extra kick. Just bear in mind how it might affect the fruit flavors. If you're hosting a party or gathering, do a trial run ahead of time so you can see whether they're usable.

You may find that some flavored water and fruits don't mix well when frozen, but you won't know which ones work until you try.
Can I use something other than fruit?
Absolutely! As you can see from the ingredients list, we included things like mint and basil. So you aren't limited to fruits only. You really have an endless amount of options when it comes to making flavored ice cubes.

Don't be afraid to try new ingredients not listed here in our recipe. And be sure to try as many combinations as you like until you land on that perfect blend of flavors.
Sides & Pairings
There are countless beverages that you can try with these flavored ice cubes. They are the perfect addition to birthday parties and social gatherings of all kinds. So be sure to make up a bunch of different combinations of flavors.
You can even separate them in different freezer bags to let your guests know what's available. Try each flavor in various drinks so you can advise your friends and family on the best pairings.
If you are interested in learning about even more wonderful recipe ideas for additional snacks or main courses, be sure to head on over to our recipes section and explore the many unique meals and treats that we've compiled for your consideration. If you're strictly looking for vegan recipes, you can find a whole assortment of them here.
---
Recent Recipes