Homemade Haitian Lalo Beef Stew
This is an interesting dish that captures the variety and range of Haitian cuisine, while showing why its flavors are so popular and unique. When people think of Haitian cuisine they always think of seafood and spices. While they are not wrong, both seafood and spice are a large part of their cuisine, there is so much more. Enter the Haitian Lalo. It is basically jute leaves and marinated stew beef cooked together with spinach, onions and tomatoes simmered together with herbs and spices for a long time to make a delightfully hearty stew.
This Easy and Delicious Jute Leaves and Beef Stew is very filling and very healthy and all the time you put into it is totally worth it. You can find jute leaves in most African, Asian or Latin American supermarkets. While fresh jute leaves would be great, you can use frozen jute leaves, if that is what is available, you might have to reduce the amount of water you use by one or two cups as frozen Lalo leaves has a lot of water.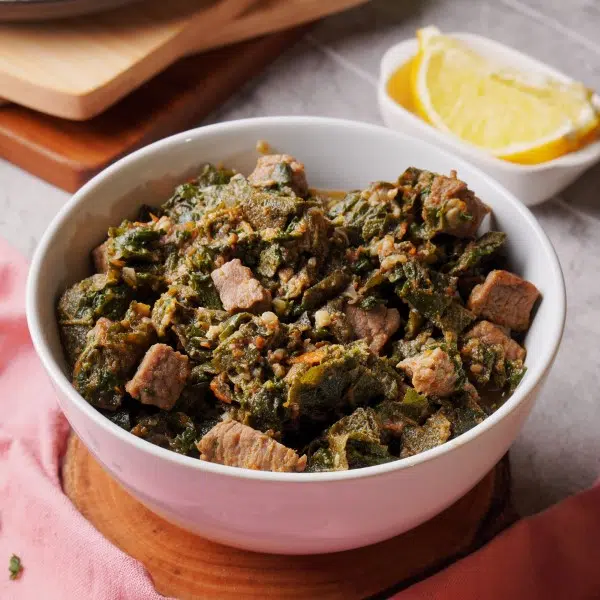 Ingredients
1

pound

stew meat

3

bags of jute leaves

frozen of fresh, chopped

2

bags of baby spinach

chopped

1

onion

chopped

3

cloves

of garlic

minced

1/2

cup

tomato paste

4

tablespoons

of Epis

1

bouillon cube

3

sprigs of parsley

3

sprigs of thyme

1

habanero pepper

1

tablespoon

butter

Lemon juice

Extra virgin olive oil

Salt and pepper

Water
Instructions
All ingredients ready? Let's begin!

Marinate the stew beef in Epis and set aside for a minimum of 30 minutes.

Triple wash the jute leaves to remove the bitterness, let it drain on a colander and set aside.

In a big pot heat 3 tablespoons of olive oil. Add the onions and garlic and sauté till it turns fragrant.

Now add the beef and let is start browning.

Now add the jute leaves and spinach leaves and mix it all together.

Now add 6 cups of water, close the lid and let it all cook together for about 40 minutes.

Open the lid and give it a stir. The jute leaves, spinach and beef should have all cooked well and you should have a fresh, green, simmering broth.

Add the bouillon cube, tomato paste, butter, salt, pepper, habanero pepper, parsley and thyme. Stir and combine well together.

Cover with lid again and let it cook on medium heat for about 20 minutes.

Remove from heat. Taste and add more salt if required.

Add about two teaspoons of lemon juice before serving.

Enjoy your Haitian Lalo Beef Stew!
Video
Nutrition
Calories:
174
kcal
|
Carbohydrates:
10
g
|
Protein:
16
g
|
Fat:
9
g
|
Saturated Fat:
2
g
|
Polyunsaturated Fat:
1
g
|
Monounsaturated Fat:
5
g
|
Cholesterol:
35
mg
|
Sodium:
3785
mg
|
Potassium:
558
mg
|
Fiber:
4
g
|
Sugar:
3
g
|
Vitamin A:
3914
IU
|
Vitamin C:
36
mg
|
Calcium:
195
mg
|
Iron:
2
mg
Tips & Tricks
You have to repeatedly wash the jute leaves, else the stew will be bitter
You can use scotch bonnet pepper for more fieriness
The jute leaves take a long time to cook on the stove. Even using the Instant Pot only cuts a few minutes off.
If you don't have or want to use butter, just use olive oil instead.
Since you are using stew beef, it takes a long time to cook, and it is perfect to use in this Easy and Delicious Jute Leaves and Beef Stew.
You have to marinate the beef in the Epis. You can marinate and refrigerate it for up to a day. The longer it marinates, the more flavor it is going to get.
Storage
This Easy and Delicious Jute Leaves and Beef Stew needs to be made in a big batch considering how time consuming it is. Place the leftovers in an airtight container and store in the fridge for up to a week. When reheating, you can add some water to help thin it out.
You can also freeze the Easy and Delicious Jute Leaves and Beef Stew. Place it in an airtight container and freeze for about 2-3 months. Let it thaw in the fridge overnight before you heat it. You can heat it in the microwave or stovetop.
Substitutions
The jute leaves cannot be substituted with anything else. If you want jute leaf stew, you need to use jute leaves. The only allowance is that you can use frozen of fresh.
Beef: Chuck roast is a popular choice. You can also use pork cuts instead like shoulder, sirloin and blade roast. Blue crabs are often added to this dish. Add it along with the beef and cook together.
Spinach: Use fresh or frozen. You can also use kale. Watercress is another good choice, but it is best to use it along with the spinach, instead of replacement for the spinach.
Habanero: Scotch bonnet pepper is the obvious choice, but it will make your stew a lot spicier. You can also use jalapeno instead.
Extra virgin olive oil: Butter and ghee are both good alternatives. You can also go with any vegetable oil.
Tomato paste: Tomato gives it a nice tangy and acidic flavor, but you can make it a totally green, rich stew and eliminate tomato entirely. You can use regular, diced tomatoes instead of tomato paste.
Thyme and parsley: They make a fantastic combination in this dish. Rosemary and cilantro are poor substitutes but will work in a pinch.
Seasoning: You can also use cloves; they give the stew so much flavor.
Lemon juice: Orange juice or lime juice are both good substitutes. It gives this hearty stew a bit of lightness.
Accompaniments
This Easy and Delicious Jute Leaves and Beef Stew is perfect all on its own. You can also have it with white rice or bread.
Indulge in more rich stews with these recipes, the Low FODMAP Beef Stew and this simple Irish Bean and Cabbage Stew.
FAQs
What are Lalo leaves?
Lalo leaves, also known as jute leaves, are traditionally found and consumed in Asia and Africa. Jute leaves are usually used in soups, stews and curries and need to be cooked for a long time, as they tend to get sticky. Edible jute leaves are considered vegetables, they can be tender or fibrous. If they are overtly bitter, they are not edible. Lalo or jute leaves have a slightly bitter taste and need to be washed multiple times, or even soaked in water before cooking, as that is the only way to remove the bitterness.
What is stew beef?
Stew beef is a cut of beef that is used in slow cooking. It is perfect for stews, soups and broths as they need to be cooked for a long time to soften and cook.
---
Recent Recipes